Zusammenfassung
Im Rahmen der Industrie 4.0 kann es zu einer Überforderung von Arbeitspersonen durch eine Vielzahl unterschiedlicher Software-Systeme kommen. Der Beitrag beschreibt die menschzentrierte Konzeption einer Cockpit-Applikation, die sehr unterschiedliche, arbeitsbezogene Softwareinhalte ordnet, einfach zusammenfasst und Mitarbeiter damit entlasten kann. Sie wurde für eine heterogene Nutzergruppe entwickelt und enthält arbeitsbezogene Funktionen, individualisierbare Inhalte, standardisierte Kommunikationsmöglichkeiten und soziale Aktivitäten. Durch einen "App-Store" kann sie an verschiedene Mitarbeiter angepasst werden. Nach zwei Iterationen und insgesamt drei Evaluationen mit Usability-Experten und Unternehmensvertretern zeigte sich eine gute Nutzerakzeptanz.
Praktische Relevanz: Der Beitrag stellt ein Konzept vor, das unterschiedliche Assistenzsysteme und verschiedene arbeitsbezogene Inhalte in einer Plattform übersichtlich darstellt. Die Evaluationen zeigten eine gute Nutzerakzeptanz und das Potential des Konzepts, Mitarbeiter zu entlasten.
Abstract
In the Context of "Industry 4.0", employees can be overstrained by numerous software systems. This article describes the human-centered design of a cockpit application that organizes various work-related software contents to relieve employees. Designed for a heterogeneous user group it contains work-related functions, customizable content, standardized communication and social activities. It can be adapted to employees by an "App-Store". After two iterations with usability experts and representatives of a company a good user acceptance can be attested.
Practical Relevance: The article shows a concept that summarizes various assistance systems and work related content in an intuitive platform application. Evaluations show a good user acceptance and the potential for releasing employees.
This is a preview of subscription content, log in to check access.
Access options
Buy single article
Instant access to the full article PDF.
US$ 39.95
Price includes VAT for USA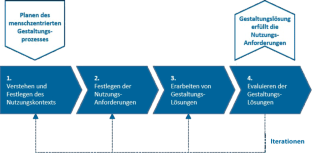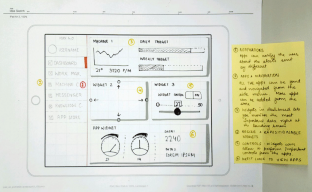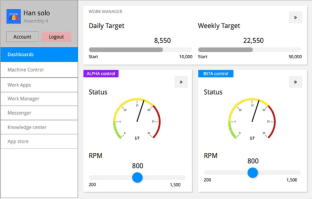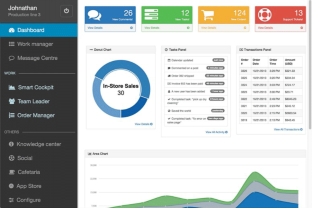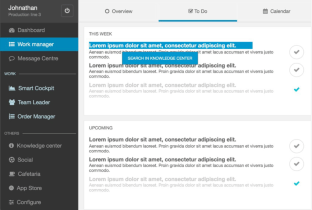 Literatur
Becker K‑D (2015) Arbeit in der Industrie 4.0? Erwartungen des Instituts für angewandte Arbeitswissenschaft e. V. In: Botthof A, Hartmann EA (Hrsg) Zukunft der Arbeit in Industrie 4.0. Springer, Berlin, Heidelberg, S 23–29

DIN EN ISO 9241-210 (2011) Ergonomie der Mensch-System-Interaktion – Teil 210: Prozess zur Gestaltung gebrauchstauglicher interaktiver Systeme (ISO 9241-210:2010); Deutsche Fassung EN ISO 9241-210:2010. Beuth, Berlin

Gebhardt J, Grimm A (2016) High-Tech-Strategie und Industrie 4.0. Auswirkungen auf Technik, Arbeit und Berufsbildung. lernen & lehren 31(121):4–9

Kagermann H (2011) Industrie 4.0: Mit dem Internet der Dinge auf dem Weg zur 4. industriellen Revolution. VDI, Düsseldorf

Kerber F, Lessel P (2015) Adaptive und gamifizierte Werkerassistenz in der (semi-) manuellen Industrie 4.0-Montage. In: Rathmayer P (Hrsg) Proceedings of DeLFI Workshops 2015 co-located with 13th e‑Learning Conference of the German Computer Society (DeLFI 2015) München. 2015, S 28–35

Knoch S, Lessel P, Reiplinger M, Köster M, Pavlov V, Hörauf L, Speicher C, Vierfuß R, Joppien T (2015) Teamleader App – a Collaborative System Allowing Ad-Hoc Planning Decisions. Int J Adv Internet Technol 8:29–40

Römer T, Stockinger C, Bier L (2016) Evaluation of a real-time feedback solution for ergonomic parameters using smart sensors and user centered design. In: Soares F, Ahram (Hrsg) Advances in ergonomics modeling, usability & special populations AHFE 2016 International Conference on Human Factors and System Interactions, Florida, 2016. Springer, Berlin, Heidelberg, S 3–14

Schmidtler J, Körber M, Radlmayr J, Aringer C, Kassirra R, Rausch H (2016) Der mobile Mensch in der Industrie 4.0. Ergonomie Aktuell 017:6–12

Spath D, Ganschar O, Gerlach S, Hämmerle M, Krause T, Schlund S (2013) Produktionsarbeit der Zukunft – Industrie 4.0. Fraunhofer Verlag, Stuttgart

Vogel-Heuser B, Bauernhansl T, Hompel M (2017) Handbuch Industrie 4.0 Bd. 1. Springer, Berlin, Heidelberg
About this article
Cite this article
Stockinger, C., Verma, R. & König, C. Konzipierung einer Cockpit-Applikation für smarte Fabriken zum Abbau von Komplexität. Z. Arb. Wiss. 71, 224–232 (2017). https://doi.org/10.1007/s41449-017-0077-4
Schlüsselwörter
Industrie 4.0

Apps

Menschzentrierte Gestaltung
Keywords
Industry 4.0

Apps

Human-centered design