Abstract
Thermal aging effects on surface of 2.5 MeV Fe ion-irradiated Fe–0.6%Cu alloy were investigated using positron annihilation techniques. The samples were irradiated at 573 K to a dose of 0.1 dpa. Their thermal aging was performed at 573 K for 5, 50 and 100 h. From the results of Doppler broadening measurement, an obvious trough could be seen in near-surface region from the S parameters and inflection point form at S–W curves. This indicates changes in the annihilation mechanism of positrons in surface region after thermal aging. Coincident Doppler broadening indicates that the density of Cu precipitates in the thermal aged samples decreased, due to recovery of the vacancies.
Access options
Buy single article
Instant access to the full article PDF.
USD 39.95
Price includes VAT (USA)
Tax calculation will be finalised during checkout.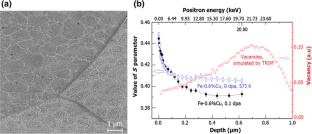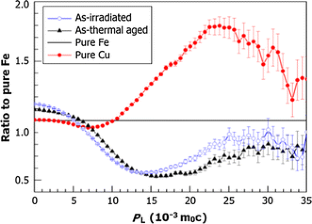 Additional information
This work was supported by the National Natural Science Foundation of China (Nos. 91026006, 91226103, 11475193, 11475197, 11575205 and 11505192) and Beijing Natural Science Foundation (No. 1164017).
About this article
Cite this article
Hu, YC., Cao, XZ., Zhang, P. et al. Effects of thermal aging on Fe ion-irradiated Fe–0.6%Cu alloy investigated by positron annihilation. NUCL SCI TECH 28, 16 (2017). https://doi.org/10.1007/s41365-016-0172-9
Received:

Revised:

Accepted:

Published:
Keywords
Fe–Cu alloy

Positron annihilation

Irradiation

Thermal aging