Abstract
In high-energy flash radiography, scattered photons degrade the acquiring image, which limits the resolving power of interfaces and density of dense object. The application of large anti-scatter grid can reduce the scattered photons remarkably, but this requires a stable source position in order to reduce the loss of signal photons in the grid structure. The pinhole imaging technique is applied to observe spatial jitters of a triple-pulse radiographic source of a linear induction accelerator. Numerical simulations are conducted to analyze the imaging performance with the same or close parameters of the pinhole object and experimental alignment. Experiments are carried out to observe spatial jitters of the source between different measurements. Deviations of the source position between different pulses are measured in each experiment.
We're sorry, something doesn't seem to be working properly.
Please try refreshing the page. If that doesn't work, please contact support so we can address the problem.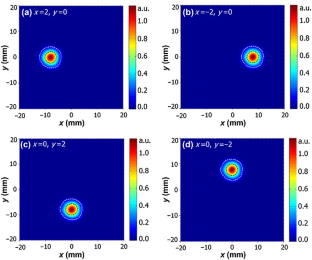 References
1.

T.P. Hughes, D.C. Moir, R.L. Carlson, Upgrade of the PHERMEX Accelerator, Conference Record of the 1991 IEEE Particle Accelerator Conference, vols 1–5 (Accelerator Science and Technology, 1991)

2.

P. Allison, M.J. Burns, G.J. Caporaso et al., Beam-Breakup Calculation for the DARHT Accelerator, Conference Record of the 1991 IEEE Particle Accelerator Conference, vols 1–5 (Accelerator Science and Technology, 1991)

3.

C. Ekdahl, Modern electron accelerators for radiography. IEEE Trans. Plasma Sci. 30, 254–261 (2002)

4.

B.T. McCuistian, O. Abeyta, P. Aragon et al., DARHT-II Commissioning Status, PPC-2003: 14th IFFF International Pulsed Power Conference, vols 1 and 2 (Digest of Technical Papers, 2003)

5.

J. Deng, B. Ding, H. Wang et al., Physical design of the Dragon-I linear induction accelerator. High Power Laser Part. Beams 15, 502–504 (2003). (in Chinese)

6.

B.N. Ding, J.J. Deng, H.C. Wang et al., Dragon-I linear induction electron accelerator. High Energy Phys. Nucl. Phys. Chin. Ed. 29, 604–610 (2005). (in Chinese)

7.

B. Li, J. Shi, J. Liu et al., Numerical simulation of distribution of scattered exposure and reduced scatter in flash radiographic system. High Power Laser Part. Beams 17, 788–792 (2005). (in Chinese)

8.

J. Shi, B. Li, J. Liu et al., Analytic determination of scatter exposure for radiography. High Power Laser Part. Beams 18, 1211–1214 (2006). (in Chinese)

9.

J.L. Gerstenmayer, M. Nicolaizeau, P. Vibert, Multihole graded collimator: quantitative tomographic measurements, Proc. SPIE 1757, Ultrahigh- and High-Speed Photography, Videography, and Photonics, 40 (1993). doi:10.1117/12.139152

10.

F.J. Goldin, S. Mitchell, Collimated step-wedge spectrometer for flash X-ray radiography sources. Hard X-ray Gamma-ray Detect. Phys. V 5198, 126–133 (2004). doi:10.1117/12.503868

11.

Z. Xiao, J. Liu, B. Hu et al., Experimental research of the performance of graded collimators in high-energy flash X-ray radiography. Nucl. Electron. Detect. Technol. 27, 512–515 (2007). (in Chinese)

12.

S.A. Watson, M. Appleby, J. Klinger et al., Design, Fabrication and Testing of a Large Anti-Scatter Grid for Megavolt Gamma-ray Imaging, 2005 IEEE Nuclear Science Symposium Conference Record, Vols 1–5 (2005)

13.

T. Tsunoo, N. Nakamori, H. Kanamori et al., The influences of incorrect placement of the focused grid an X-ray image formation. Phys. Med. Imaging 3336, 651–659 (1998). doi:10.1117/12.317070

14.

Y. Kiwamoto, Y. Kikuchi, T. Takahashi et al., Pinhole camera imaging of X-rays and energetic neutral atoms for hot plasma diagnostics. Rev. Sci. Instrum. 69, 2574–2575 (1998). doi:10.1063/1.1148962

15.

W. Leitenberger, H. Wendrock, L. Bischoff et al., Pinhole interferometry with coherent hard X-rays. J. Synchrotron Radiat. 11, 190–197 (2004). doi:10.1107/s0909049503029169

16.

E. Samei, M.J. Flynn, D.A. Reimann, A method for measuring the presampled MTF of digital radiographic systems using an edge test device. Med. Phys. 25, 102–113 (1998). doi:10.1118/1.598165

17.

C. Ekdahl, Characterizing flash-radiography source spots. J. Opt. Soc. Am. A Opt. Image Sci. Vis. 28, 2501–2509 (2011)

18.

S. Agostinelli, J. Allison, K. Amako et al., GEANT4-a simulation toolkit. Nucl. Instrum. Methods Phys. Res., Sect. A 506, 250–303 (2003). doi:10.1016/s0168-9002(03)01368-8

19.

D. Sardari, R. Maleki, H. Samavat et al., Measurement of depth-dose of linear accelerator and simulation by use of Geant4 computer code. Rep. Pract. Oncol. Radiother. 15, 64–68 (2010). doi:10.1016/j.rpor.2010.03.001

20.

J.M. Boone, J.A. Seibert, An analytical edge spread function model for computer fitting and subsequent calculation of the LSF and MTF. Med. Phys. 21, 1541–1545 (1994). doi:10.1118/1.597264

21.

A. Karellas, L.J. Harris, H. Liu et al., Charge-coupled device detector—performance considerations and potential for small-field mammographic imaging applications. Med. Phys. 19, 1015–1023 (1992). doi:10.1118/1.596819

22.

Y.J. Chen, Corkscrew modes in linear accelerators. Nucl. Instrum. Methods Phys. Res., Sect. A 292, 455–464 (1990). doi:10.1016/0168-9002(90)90403-s

23.

W. Zhang, Z. Dai, H. Li et al., Beam Instability and Correction for "Dragon-I", 2007 IEEE Particle Accelerator Conference, vols 1–11 (2007)

24.

H.B. Xu, Y. Ye, N. Zheng, Influence of source out of focused grid on image in high-energy X-ray radiography. High Power Laser Part. Beams 27, 115103 (2015). doi:10.11884/HPLPB201527.115103. (in Chinese)
About this article
Cite this article
Wang, Y., Yang, ZY., Jing, XB. et al. Pinhole imaging to observe spatial jitters of a triple-pulse X-ray source on the Dragon-II LIA. NUCL SCI TECH 27, 110 (2016). https://doi.org/10.1007/s41365-016-0106-6
Received:

Revised:

Accepted:

Published:
Keywords
Spatial jitter

X-ray source

Pinhole imaging

Linear induction accelerator