Zusammenfassung
Anknüpfend an die Forschung zu Persönlichkeitsmerkmalen der Direktkandidaten bei Bundestagswahlen untersucht der Beitrag den stimmengenerierenden Einfluss von lokaler Verbundenheit und Kompetenz der Kandidaten. Wir unterscheiden Merkmale, die ein Kandidat bereits zu seiner ersten Nominierung mitbringt, von der Erfahrung als Bundestagsabgeordneter bzw. als nominierter Parteinachfolger eines nicht mehr kandidierenden Wahlkreisabgeordneten. So können wir einen Netto-Stimmenbonus der Inhaber des Direktmandats als Differenz zum Stimmenerfolg des Nachfolgers bestimmen und einen Selektionseffekt durch die lokale Partei nach Erststimmen generierenden Merkmalen. Wir prüfen, inwieweit unsere Merkmale als Valenzmerkmale aufgefasst werden können, und unterscheiden dabei zwischen instrumenteller Valenz im Sinne der Ressourcenausstattung für den lokalen Wahlkampf und intrinsischer Valenz, die zu persönlicher Wertschätzung der Kandidaten führt. Die Untersuchung der Direktkandidaten zur Bundestagswahl 2013 zeigt, dass objektive Kandidatenmerkmale eher indirekt als Ressourcen für den lokalen Wahlkampf wirken, als dass sie die Wertschätzung erhöhten. Intrinsische Valenzvorteile in der Wahlkreiswählerschaft allgemein, jenseits des engeren Kreises der Parteianhänger, sind im deutschen gemischten Wahlsystem schwer zu erwerben, weil jede Bundestagspartei Wahlkreisbewerber in (fast) jedem Wahlkreis nominiert. Diese Praxis setzt der Persönlichkeitswahl Grenzen.
Abstract
Building on the literature on vote earning characteristics of candidates, this paper analyzes the impact of local ties and political competence on the electoral success of constituency candidates of Bundestag elections. We distinguish between traits candidates possess before their first nomination and experience as a member of the Bundestag or as a nominated successor of a retired district representative. This helps us to measure a net incumbency advantage as the vote difference between direct incumbents and successors and to identify a selection effect applied by the local party when nominating viable candidates with the same profile as their successful predecessors. In addition, we examine to what extent our vote earning characteristics function as valence indicators. Hereby, we distinguish between instrumental valence in the sense of campaign resources and intrinsic valence leading to personal esteem in the eyes of the electorate. Our research shows that objective candidate characteristics function more as indirect resources for constituency campaigns than as properties boosting personal esteem. Viable German constituency candidates are confronted with a disadvantageous campaign situation as all Bundestag parties nominate constituency candidates. This makes party identification the main cause of personal esteem thereby limiting the chance to earn a reputation beyond party lines. This practice limits the scope for a personal vote.
This is a preview of subscription content, log in to check access.
Access options
Buy single article
Instant access to the full article PDF.
US$ 39.95
Price includes VAT for USA
Subscribe to journal
Immediate online access to all issues from 2019. Subscription will auto renew annually.
US$ 78
This is the net price. Taxes to be calculated in checkout.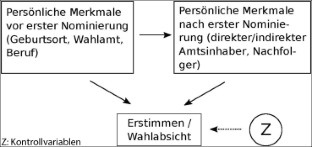 Notes
1.

Wir verwenden in der Regel die männliche Form; damit sind Kandidatinnen, Wählerinnen etc. mit gemeint. Bei Personal- und Relativpronomen, die sich auf ein derartiges genus collectivum beziehen, verwenden wir die männliche und weibliche Form.

2.

Da wir Amtsinhaber und Nachfolger nur im Querschnitt der Wahlkreise vergleichen, bekommen wir nur einen Näherungswert für den incumbency effect, für den in der amerikanischen Literatur viele Schätzgrößen vorgeschlagen wurden (vgl. z. B. Erikson 2017).

3.

Bundeswahlleiter 2013, Homepages der Abgeordneten, Kandidaten bzw. ihrer Parteien und Lokalzeitungen. Die aufwendigeren Recherchen waren für Wahlämter auf kommunaler und Landes-Ebene nötig. Der Geburtsort wurde nach der Postleitzahl einem Wahlkreis zugeordnet, wenn es wenigstens eine Teilüberschneidung zwischen Wahlkreis und Postleitzahlenbezirk gab.

4.

Die Linken hatten im Wahlkreis Kleve (112) und die FDP im Wahlkreis Passau (229) keinen eigenen Direktkandidaten aufgestellt, so dass sich 299 × 5 − 2 = 1493 Fälle ergeben.

5.

"Sagen Sie mir bitte, ob sie viel oder nicht so viel von [Name des Kandidaten] halten …".

6.

Da es sich nur um Kontrollvariablen handelt, verzichten wir auf eine Differenzierung der Koalitionswahl zwischen Union und FDP einerseits und SPD und Grünen andererseits. Eine Ausdifferenzierung in einen Effekt der FDP-Zweitstimmenprozente von 2009 in ihrer Wirkung auf die Erststimmenprozente der Unions-Kandidaten 2013 und eines analogen Grünen-Effekts auf die SPD-Kandidaten zeigt zwar, dass der FDP-Effekt größer ist als der Grünen-Effekt, dass aber bei den anderen Koeffizienten keine substanziellen Unterschiede auftreten.
Literatur
Adams, James Samuel Merrill, III, Elizabeth N. Simas, und Walter J. Stone. 2011. When candidates value good character: A spatial model with applications to congressional elections. The Journal of Politics 73(1):17–30.

Bawn, Kathleen. 1999. Voter responses to electoral complexity: Ticket splitting, rational voters and representation in the Federal Republic of Germany. British Journal of Political Science 29(3):487–505.

Cain, B.E., A. Ferejohn, und M.P. Fiorina. 1987. The personal vote. Constituency service and electoral independence. Cambridge, MA: Harvard University Press.

Campbell, R., und P. Cowley. 2014. What voters want: Reactions to candidate characteristics in a survey experiment. Political Studies 62(4):745–765.

Carey, John M., und Matthew S. Shugart. 1995. Incentives to cultivate a personal vote: A rank ordering of electoral formulas. Electoral Studies 14(4):417–439.

Childs, Sarah, und Philip Cowley. 2011. The politics of local presence: Is there a case for descriptive representation. Political Studies 59:1–19.

Der Bundeswahlleiter. 2013. Die Wahlbewerber zum 18. Deutschen Bundestag 2013. Wiesbaden: DeStatis.

Detterbeck, Klaus. 2016. Candidate selection in Germany: Local and regional party elites still in control? American Behavioral Scientist 60(7):837–852.

Duverger, Maurice. 1959. Die politischen Parteien. Tübingen: J.C.B. Mohr.

Erikson, Robert S. 2017. The congressional incumbency advantage over sixty years: Measurement, trends, and implications. In Governing in a polarized age. Elections, parties, and political representation in america, Hrsg. Alan S. Gerber und Eric Schickler. New York: Cambridge University Press.

Evans, Jocelyn A.J. 2017. Candidate location and vote choice. In The SAGE handbook of electoral behavior, Hrsg. Kai Arzheimer, J. Evans, und M.S. Lewis-Beck. Los Angeles: SAGE.

Ferrara, Federico, Erik S. Herron, und Misa Nishikawa. 2005. Mixed electoral systems. Contamination and its consequences. Houndmills, Basingstoke, England: Palgrave Macmillan.

Fisher, Stephen D., Anthony Heath, David Sanders, und Maria Sobolewska. 2014. Candidate ethnicity and vote choice in Britain. British Journal of Political Science 45(4):883–905.

Gelman, Andrew, und Gary King. 1990. Estimating incumbency advantage without bias. American Journal of Political Science 34(4):1142–1164.

Giebler, Heiko, Bernahrd Weßels, und Andreas M. Wüst. 2014. Does personal campaigning make a difference? In Voters on the move or on the run?, Hrsg. Bernahrd Weßels, Hans Rattinger, Sigrid Roßteutscher, und Rüdiger Schmitt-Beck. Oxford: Oxford University Press.

Green, Jane, und Will Jennings. 2017. Valence. In The Sage Handbook of Electoral Behavior, Hrsg. K. Arzheimer, Jocelyn A.J. Evans, und M.S. Lewis-Beck. Los Angeles: SAGE.

Gschwend, Thomas. 2007. Ticket-splitting and strategic voting under mixed electoral rules: Evidence from Germany. European Jornal of Political Research 41(1):1–23.

Gschwend, Thomas, und Thomas Zittel. 2012. Machen Wahlkreiskandidaten einen Unterschied? Die Persönlichkeitswahl als interaktiver Prozess. In Wählen in Deutschland, Hrsg. Rüdiger Schmitt-Beck. Baden-Baden: Nomos.

Gschwend, Thomas, und Thomas Zittel. 2015. Do consituency candidates matter in German Federal Elections? The personal vote as an interactive process. Electoral Studies 39:338–349.

Hainmüller, Jens, und Holger Lutz Kern. 2008. Incumbency as a source of spillover effects in mixed electoral systems: Evidence from a regression-discontinuity design. Electoral Studies 27:213–227.

Herrmann, Michael. 2015. Strategisches Wählen in Deutschland. Logik und politische Konsequenzen. Wiesbaden: Springer VS.

Herrmann, Michael, und Franz U. Pappi. 2008. Strategic voting in German constituencies. Electoral Studies 27(2):228–244.

Jäckle, Sebastian, und Thomas Metz. 2016. Brille, Blazer oder Bart? Das Aussehen als Determinante des Wahlerfolgs von Bundestags-Direktkandidaten. Politische Vierteljahresschrift 57(2):276–299.

Jesse, Eckhard. 1985. Wahlrecht zwischen Kontinuität und Reform. Düsseldorf: Droste.

Jesse, Eckhard. 1995. Das Parteiensystem nach den Wahlen 1994. In Parteiendemokratie zwischen Identität und Wandel. Die deutschen Parteien nach den Wahlen 1994, Hrsg. Gerhard Hirscher. München: Hans-Seidel-Stiftung.

Klein, Markus, und Ulrich Rosar. 2005. Physische Attraktivität und Wahlerfolg. Eine empirische Analyse am Beispiel der Wahlkreiskandidaten bei der Bundestagswahl 2002. Politische Vierteljahresschrift 46(2):263–287.

Klein, Markus, und Ulrich Rosar. 2017. Candidate atractiveness. In The Sage Handbook of Electoral Behavior, Hrsg. K. Arzheimer, J. Evans, und M.S. Lewis-Beck. Los Angeles: SAGE.

Klingemann, Hans-Dieter, und Bernhard Weßels. 2001. The political consequences of Germany's mixed-member system: Personalization at the grass-roots? In Mixed-member electoral systems: The best of both worlds?, Hrsg. Matthew S. Shugart und Martin P. Wattenberg. Oxford: Oxford University Press.

Krosnick, Jon A. 2006. In the voting booth, bias starts at the top. The New York Times, 4. November.

Kurella, Anna-Sophie. 2017. "Using panel mixed effects analysis to estimate dynamics in incumbency effects." Working Paper.

Mackenrodt, Christian. 2008. Wie wichtig ist die Person? Zur Bedeutung von Persönlichkeitsfaktoren von Wahlkreisbewerbern bei Bundestagswahlen. Zeitschrift für Parlamentsfragen 39(1):69–83.

Manow, Philip, 2010. Dimensionen der Disporoportionalität – Erststimmen und Direktmandate in den Bundestagswahlen von 1953 bis 2009. Politische Vierteljahresschrift 51(3):433–455.

Mansbridge, Jane. 1999. Should blacks represent blacks and women represent women? A contingent 'yes'. The Journal of Politics 61(3):628–657.

Mechtel, Mario. 2014. It's the occupation, stupid! Explaining candidates' success in low-information elections. European Journal of Political Economy 33:53–70.

Nohlen, Dieter. 2014. Wahlrecht und Parteiensystem. Zur Theorie der Wahlsysteme. Opladen: Budrich.

Pappi, Franz Urban, und Paul W. Thurner. 2002. Electoral behavior in a two-vote-system: Incentives for ticket splitting in German Bundestag elections. European Journal of Political Research 41:207–232.

Pedersen, Mogens N., Ulrik Kjoer, und Kjell A. Eliassen. 2007. The geographical dimension of parliamentary recruitment – among native sons and parachutists. In Democratic representation in Europe, Hrsg. Maurizio Cotta, Heinrich Best. Oxford: Oxford University Press.

Rattinger, Hans, Sigrid Roßteutscher, Rüdiger Schmitt-Beck, Bernhard Weßels, Bernhard Wolf, Ina Bieber und Philipp Scherer. 2017. Pre-election Cross Section (GLES 2013). Köln: GESIS Data Archive. ZA5700 Data file Version 2.0.1, doi:10.4232/1.12808.

Roßteutscher, Sigrid, Ina Biber, Manuela Blumenberg, und Stövsand Lars-Christopher. 2017. Candidate perception and individual vote choice: The role of social cues. In Voters and voting in context, Hrsg. Harald Schoen und Sigrid Roßteutscher, Rüdiger Schmitt-Beck, Bernhard Weßels, und Christof Wolf. Oxford: Oxford University Press.

Schneider, Sebastian, und Markus Tepe. 2011. Dr. Right and Dr. Wrong: Zum Einfluss des Doktortitels auf den Wahlerfolg von Direktkandidaten bei der Bundestagswahl 2009. Politische Vierteljahresschrift 52(2):248–285.

Schüttemeyer, Suzanne S., und Roland Sturm. 2005. Der Kandidat – das (fast) unbekannte Wesen: Befunde und Überlegungen zur Aufstellung der Bewerber zum Deutschen Bundestag. Zeitschrift für Parlamentsfragen 36(3):539–554.

Shugart, Matthew Soberg, und Martin P. Wattenberg. 2001. Mixed-member electoral systems: a definition and typology. In Mixed Member Electoral Systems. The Best of Both Worlds?, Hrsg. Matthew Soberg Shugart und Martin P. Wattenberg. Oxford: Oxford University Press.

Shugart, Matthew S., Melody Ellis Valdini, und Kati Suominen. 2005. Looking for locals: Voter information demands and personal vote-earning attributes of legislators under proportional representation. American Journal of Political Science 49(2):437–449.

Steg, Christian. 2016. Die Kandidatenaufstellung zur Bundestagswahl. Analyse der Nominierungen von CDU und SPD in Baden-Württemberg zur Bundestagswahl 2009. Baden-Baden: Nomos.

Stoffel, Michael F. 2014. MP behavior in mixed-member electoral systems. Electoral Studies 35:78–87.

Stokes, Donald E. 1963. Spatial models of party competition. American Political Science Review 57(2):368–377.

Stone, Walter J. 2017. Candidates and voters. Ideology, valence and representation in U.S. elections. Cambridge: Cambridge University Press.

Stone, Walter J., und Elizabeth N. Simas. 2010. Candidate valence and ideological positions in U.S. House elections. American Journal of Political Science 54(2):371–388.

Stratmann, Thomas, und Martin Baur. 2002. Plurality rule, proportional representation, and the German Bundestag: How incentives to pork-barrel differ across electoral systems. American Journal of Political Science 46(3):506–514.

Tavits, Margit. 2010. Effect of local ties on electoral success and parliamentary behaviour. Party Politics 16(2):215–235.

Weßels, Bernahrd. 2016. Wahlkreiskandidaten und politischer Wettbewerb. In Wahlen und Wähler. Analysen aus Anlass der Bundestagswahl 2013, Hrsg. Harald Schön, Bernhard Weßels. Wiesbaden: Springer VS.

Zittel, Thomas. 2015. Patterns of personal vote seeking in mixed electoral systems: The politics of retrenchment in German defence policy. Representation 50:41–53.

Zittel, Thomas. 2017. The Personal Vote. In The Sage handbook of electoral behavior, Hrsg. K. Arzheimer, J. Evans, und M.S. Lewis-Beck. Los Angeles: SAGE.
About this article
Cite this article
Pappi, F.U., Kurella, A. & Bräuninger, T. Erststimmen generierende Merkmale der Direktkandidaten bei Bundestagswahlen. Z Politikwiss 27, 305–326 (2017). https://doi.org/10.1007/s41358-017-0111-2