Abstract
Anthracnose, caused by Colletotrichum spp., is the most significant field and post-harvest disease of mango worldwide and is mainly controlled through the use of systemic fungicides belonging to the methyl benzimidazole carbamate (MBC) class. In Mexico, this disease in mango has been associated with at least seven cryptic species belonging to the C. gloeosporioides complex. In this study, the distribution of sensitivity to MBC (benomyl and carbendazim) and prochloraz fungicides of 101 Colletotrichum spp. isolates obtained from 101 commercial orchards in Mexico's most important mango-producing states was determined. All Colletotrichum spp. isolates were obtained from commercial mango orchards with applications of MBC fungicides and that had not been exposed to applications of prochloraz, or any other DMI (demethylation inhibitors) class fungicide. Isolates were evaluated using an in vitro test to determine the effective fungicide concentration at which 50% of mycelial growth is inhibited (EC50) for each isolate-fungicide combination. EC50 values for benomyl and carbendazim ranged from 0.0967 to 0.3995 µg mL−1 (median = 0.1923 µg mL−1) and from 0.0880 to 0.1703 µg mL−1 (median = 0.1171 µg mL−1), respectively, while those for prochloraz ranged from 0.0066 to 0.0813 µg mL−1 (median = 0.0253 µg mL−1). Our results revealed a wide distribution in Mexico of Colletotrichum spp. isolates from mango sensitive to MBC fungicides and prochloraz. Data obtained in this study will serve as a source of comparison of the evolution of the sensitivity of Colletotrichum spp. populations obtained from mango to MBC and DMI fungicides in the future.
Access options
Buy single article
Instant access to the full article PDF.
US$ 39.95
Tax calculation will be finalised during checkout.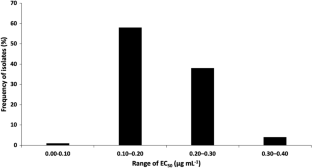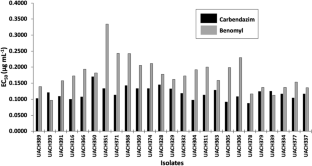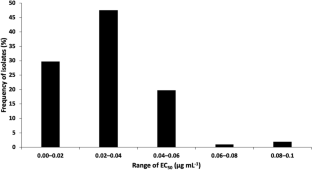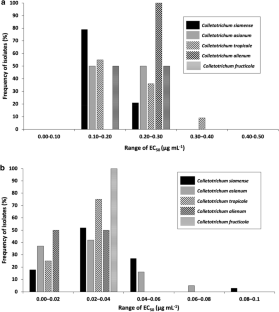 References
Adaskaveg JE, Hartin RJ (1997) Characterization of Colletotrichum acutatum isolates causing anthracnose of almond and peach in California. Phytopathology 87:979–987

Akem CN (2006) Mango anthracnose disease: present status and future research priorities. Plant Pathol J 5:266–273

Arauz LF (2000) Mango anthracnose: economic impact and current options for integrated management. Plant Dis 84:600–611

Archana S, Raguchander T, Prabakar K (2018) Detection of β-tubulin gene from benomyl sensitive isolates of Colletotrichum gloeosporioides causing anthracnose disease in mango. Afr J Microbiol Res 12(33):806–814

Cools HJ, Fraaije BA (2008) Are azole fungicides losing ground against Septoria wheat diseases? Resistance mechanisms in Mycosphaerella graminicola. Pest Manage Sci 64:681–684

Dang KTH, Singh Z, Swinny EE (2008) Impact of postharvest disease control methods and cold storage on volatiles, color development and fruit quality in ripe Kensington Pride mangoes. J Agric Food Chem 56:10667–10674

Diedhiou PM, Mbaye N, Faye R, Samb PI (2014) Field tests of fungicides against postharvest rot of mangoes in Senegal. Int J Sci Environ Te 3(2):597–606

Escalada JP, Pajares A, Gianotti J, Massad WA, Berolotti S, Amat-Guerri F, García AN (2006) Dye-sensitized photodegradation of the fungicide carbendazim and related benzimidazoles. Chemosphere 65:237–244

Estrada AB, Jeffries P, Dodd JC (1996) Field evaluation of a predictive model to control anthracnose disease of mango in Philippines. Plant Pathol 45:294–301

Farungsang U, Farungsang N (1992) Benomyl resistance of Colletotrichum spp. associated with rambutan and mango fruit rot in Thailand. Acta Hortic 321:891–897

Fitzell RD (1981) Effects of regular applications of benomyl on the population of Colletotrichum in mango leaves. Trans Brit Mycol Soc 77:529–533

Fitzell RD, Peak CM (1988) Management strategies for control of anthracnose and bacterial black spot of mango in Northern New South Wales. Acta Hortic 231:513–517

FRAC (2020) Available in https://www.frac.info/frac-teams/expert-fora/benzimidazoles/recommendation

Fuentes-Aragón D, Guarnaccia V, Rebollar-Alviter A, Juárez-Vázquez SB, Aguirre-Rayo F, Silva-Rojas HV (2020) Multilocus identification and thiophanate-methyl sensitivity of Colletotrichum gloeosporioides species complex associated with symptomatic fruit and asymptomatic leaves of mango. Plant Pathol. https://doi.org/10.1111/PPA.13195

Gutiérrez-Alonso JG, Gutiérrez-Alonso O, Nieto-Ángel D, Téliz-Ortiz D, Zavaleta-Mejía E, Delgadillo-Sánchez F, Vaquera-Huerta H (2003a) Resistencia a benomil y tiabendazol en aislamientos de Colletotrichum gloeosporioides (Penz.) Penz. y Sacc. obtenidos de mango (Mangifera indica L.) en cinco regiones de México. Rev Mex Fitopatol 21:260–266

Gutiérrez-Alonso JG, Gutiérrez-Alonso O, Nieto-Ángel D, Téliz-Ortiz D, Zavaleta-Mejía E, Delgadillo-Sánchez F, Vaquera-Huerta H (2003b) Evaluación de resistencia a imazalil, prochloraz y azoxystrobin en aislamientos de Colletotrichum gloeosporioides (Penz.) Penz. y Sacc. y control de la antracnosis del mango (Mangifera indica L.) en postcosecha. Rev Mex Fitopatol 21:379–383

Hasan NSA, Perveen R, Manzoor SA, Abbas Z (2014) Occurrence of mango anthracnose on inflorescence in Multan (Punjab) and it's in vitro control through various fungicides. Int J Biosci 4(7):184–191

Jabbar A, Malik AU, Saeed M, Malik OH, Amin M, Khan AS, Rajwana IA, Saleem BA, Hameed R, Mazhar MS (2011) Performance of hot water phytosanitary treated mangoes for intended export from Pakistan to Iran and China. Int J Agric Biol 13:645–651

Jadeja KB, Vaisnav MU (1984) Effective spray schedule for control of anthracnose and leaf blight of mango. Indian J Plant Prot 12:93–96

Jayasinghe CK, Fernando THPS (2009) First report of Colletotrichum acutatum on Mangifera indica in Sri Lanka. Cey J Sci (Bio Sci) 38:31–34

JrRT McMillan (1984) Control of mango anthracnose with foliar sprays. Proc Fla State Hort Soc 97:344–345

Kamvar ZN (2016) ezec: Easy Interface to Effective Concentration Calculations. R package version 1.0.1. https://CRAN.R-project.org/package=ezec

Kongtragoul P, Nalumpang S, Miyamoto Y, Izumi Y, Akimitsu K (2011) Mutation at codon 198 of TUB2 gene for carbendazim resistance in Colletotrichum gloeosporioides causing mango anthracnose in Thailand. J Plant Prot Res 51:377–384

Kumar AS, Reddy NPE, Reddy KH (2007) Evaluation of fungicidal resistance among Colletotrichum gloeosporioides isolates causing mango anthracnose in Agri Export Zone of Andhra Pradesh, India. Plant Pathol Bull 16:157–160

Kuo KC (2001) Sensitivity of mango anthracnose pathogen, Colletotrichum gloeosporioides, to the fungicide prochloraz in Taiwan. Proc Natl Sci Coun 25:174–179

Lim TK (1980) Chemical control of mango anthracnose in Malaysia. In vitro fungitoxicity of selected chemicals. Pertanika 3:5–9

Lima NB, Lima WG, Tovar-Pedraza JM, Michereff SJ, Câmara MPS (2015) Comparative epidemiology of Colletotrichum species from mango in Northeastern Brazil. Eur J Plant Pathol 141(4):679–688

López-Vásquez JM, Castaño-Zapata J (2010) Manejo de la antracnosis [Glomerella cingulata (Stoneman) Spauld and H Schrenk] del mango en postcosecha. Agronomía 18(1):47–57

Ma Z, Michailides TJ (2005) Advances in understanding molecular mechanisms of fungicide resistance and molecular detection of resistant genotypes in phytopathogenic fungi. Crop Prot 24:853–863

Marques MW, Lima NB, JrMA M, Barbosa MAG, Souza BO, Michereff SJ, Phillips AJL, Câmara MPS (2013) Species of Lasiodiplodia associated with mango in Brazil. Fungal Divers 61:181–193

Maymon M, Zveibil A, Pivonia S, Minz D, Freeman S (2006) Identification and characterization of benomyl-resistant and sensitive populations of Colletotrichum gloeosporioides from Statice (Limonium spp.). Phytopathology 96:542–548

Mehl A, Schmitz H, Stenzel K, Bloomberg J (2019) DMI Fungicides (FRAC Code 3): Sensitivity status if key target pathogens, field versus laboratory resistance, and resistance mechanisms. In: Stevenson KL, McGrath MT, Wyenandt CA (eds) Fungicide Resistance in North America, 2nd edn. APS Press, Minnesota, pp 51–68

Monteon-Ojeda A, Mora-Aguilera JA, Villegas-Monter A, Nava-Diaz C, Hernández-Castro O-C, Hernández-Morales J (2012) Temporal analysis and fungicide management strategies to control mango anthracnose epidemics in Guerrero. Mexico Trop Plant Pathol 37(6):375–385

Mukherjee SK, Litz RE (2009) Introduction: botany and importance. In: Litz RE (ed) The mango: botany, production and uses. CABI Publishing, London, pp 1–18

Nalumpang S, Miyamoto Y, Miyake C, Izumi Y, Akitmitsu K, Kongtragoul P (2010) Point mutations in the beta-tubulin gene conferred carbendazim-resistant phenotypes of Colletotrichum gloeosporioides causing 'Nam Dok Mai' mango anthracnose. J Agric Tech 6:365–378

Narkar SP, Shetty DS, Sawant IS, Sawant SD (2012) Paradigm shift in the resistance of grape isolates of Colletotrichum gloeosporioides to carbendazim and their bio-control by Trichoderma harzianum. Indian Phytopathol 65(4):373–377

Olaya G, Geddens R (2019) The methyl benzimidazole carbamate fungicides (FRAC Code 1). In: Stevenson KL, McGrath MT, Wyenandt CA (eds) Fungicide resistance in North America, 2nd edn. APS Press, Minnesota, pp 29–40

Oosthuyse SA (2000) Differences in the effect on various packline fungicidal treatments on the manifestation of disease in mango. Acta Hortic 509:725–731

Pandey A, Yadava LP, Mishra RK, Pandey BK, Muthukumar M, Chauhan UK (2012) Studies on the incident and pathogenesis of Colletotrichum gloeosporioides penz. causes anthracnose of mango. Int J Sci Nat 3(2):220–232

Paull RE, Duarte O (2011) Tropical Fruits, 2nd edn. CABI Publishing, London, p 400

Peres NAR, Souza NL, Peever TL, Timmer LW (2004) Benomyl sensitivity of isolates of Colletotrichum acutatum and C. gloeosporioides from Citrus. Plant Dis 88:125–130

Pérez-Rodríguez A, Monteón-Ojeda A, Mora-Aguilera JA, Hernández-Castro E (2017) Epidemiology and strategies for chemical management of powdery mildew in mango. Pesqui Agropecu Bras 52(9):715–723

Ploetz RC (2003) Diseases of mango. In: Ploetz RC (ed) Diseases of tropical fruit crops. CABI Publishing, London, pp 327–363

Prusky D, Kobiler I, Miyara I, Alkan N (2009) Fruit Diseases. In: Litz RE (ed) The mango: botany, production and uses. CABI Publishing, London, pp 210–230

Ray SK, Das S, Hasan MA, Jha S (2009) Efficacy of different fungicides for the management of anthracnose of mango on old and rejuvenated orchard in West Bengal. Acta Hortic 820:529–534

Ritz C, Baty F, Streibig JC, Gerhard D (2015) Dose-response analysis using R. PLoS ONE 10(12):e0146021

Rivas BA, Carrizales L (2007) Control químico de la antracnosis del mango (Mangifera indica L.) en pre y postcosecha en el municipio de Cedeño, estado de Monagas. Venezuela Bioagro 19:19–25

Rondón O, de Albarracín NS, Rondón A (2006) Respuesta in vitro a la acción de fungicidas para el control de antracnosis, Colletotrichum gloeosporioides Penz, en frutos de mango. Agron Trop 56:219–235

Sanders GM, Korsten L, Wehner FC (2000) Survey of fungicide sensitivity in Colletotrichum gloeosporioides from different avocado and mango production areas in South Africa. Eur J Plant Pathol 106:745–752

SIAP (Servicio de Información Agroalimentaria y Pesquera) (2019) Available in: https://www.gob.mx/siap

Spalding DH (1982) Resistance of mango pathogens to fungicides used to control postharvest diseases. Plant Dis 66:1185–1186

Swart SH, Serfontein JJ, Swart G, Labuschagne C (2009) Chemical control of post-harvest diseases of mango: the effect of fludioxinil and prochloraz on soft brown rot, stem-end rot and anthracnose. Acta Hortic 820:503–509

Talhinhas P, Sreenivasaprasad S, Neves-Martins J, Oliveira H (2002) Genetic and morphological characterization of Colletotrichum acutatum causing anthracnose of lupins. Phytopathology 92:986–996

Tovar-Pedraza JM, Mora-Aguilera JA, Nava-Díaz C, Lima NB, Michereff SJ, Sandoval-Islas JS, Câmara MPS, Téliz-Ortiz D, Leyva-Mir SG (2020) Distribution and pathogenicity of Colletotrichum species associated with mango anthracnose in Mexico. Plant Dis 104:137–146

Wong FP, de la Cerda KA, Hernández-Martínez R, Midland SL (2008) Detection and characterization of benzimidazole resistance in California populations of Colletotrichum cereale. Plant Dis 92:239–246

Xu DG, Pan RQ, Zheng Z (2004) Monitoring of the resistance of Colletotrichum gloeosporioides on mango anthracnose to the fungicide carbendazim. J S China Agric Univ 25:35–37

Xu XF, Lin T, Yuan SK, Dai DJ, Shi HJ, Zhang CQ, Wang HD (2014) Characterization of baseline sensitivity and resistance risk of Colletotrichum gloeosporioides complex isolates from strawberry and grape to two demethylation-inhibitor fungicides, prochloraz and tebuconazole. Australas Plant Pathol 43:605–613

Yang Y, He SH, Zhang SJ, Hu MJ (2008) Resistance of mango anthracnose pathogen Colletotrichum gloeosporioides to carbendazim in Hainan province. Chin J Trop Crops 29:73–77

Yokosawa S, Eguchi N, Kondo K, Sato T (2017) Phylogenetic relationship and fungicide sensitivity of members of the Colletotrichum gloeosporioides species complex from apple. J Gen Plant Pathol 83(5):291–298

Young JR, Tomaso-Peterson M, de la Cerda KA, Wong FP (2010) Two mutations in B-tubulin 2 gene associated thiophanate-methyl resistance in Colletotrichum cereale isolates from creeping bentgrass in Mississippi and Alabama. Plant Dis 94:207–212

Yousef YA, Akasheh TS (2011) Photolysis of some benzimidazole base pesticides. In: Stoytcheva M (ed) Pesticides in the modern world: trends in pesticides analysis. InTech Publisher, London, pp 43–54

Zhan RL, Huang JS (2007) Cloning of a carbendazim-resistant gene from Colletotrichum gloeosporioides of mango in South China. Afr J Biotechnol 6:143–147

Zhan RL, Li W, Zheng FC (2005) Studies on carbendazim-resistance of Colletotrichum gloeosporioides on mango fruit. Acta Phytophy Sin 32:71–76

Zhang LH, Li M, Gao ZY, Zhang ZK, Yang FZ, Xie YX, Hu MJ, Yang Y (2013) Screening and cross-resistance analysis of alternative fungicides against carbendazim-resistant Colletotrichum gloeosporioides Penz. from mango (Mangifera indica L.). Acta Hortic 992:415–421
Ethics declarations
Conflict of interest
The authors declare that they have no conflict of interest.
Additional information
Publisher's Note
Springer Nature remains neutral with regard to jurisdictional claims in published maps and institutional affiliations.
About this article
Cite this article
Mora-Aguilera, J.A., Ríos-López, E.G., Yáñez-Zúñiga, M. et al. Sensitivity to MBC fungicides and prochloraz of Colletotrichum gloeosporioides species complex isolates from mango orchards in Mexico. J Plant Dis Prot (2021). https://doi.org/10.1007/s41348-020-00412-z
Received:

Accepted:

Published:
Keywords
Colletotrichum
Mangifera indica sensitivity

Fungicides