Abstract
In Mexico, okra (Abelmoschus esculentus L.) is grown mainly for export, but its production is affected by various pests and diseases. Plants with mosaic and chlorotic mottling symptoms were collected in Iguala, Mexico. The transmission tests revealed that the disease was not transmitted neither by seed nor by mechanical means. However, it was transmitted by grafting and by insect vectors. The entire nucleotide sequences of the DNA-A component of three isolates were obtained by PCR and sequencing; all of them were bipartite begomoviruses. The composition of the DNA-A component consists of five open reading frames (ORFs), one in the sense orientation (AV1) and four in antisense orientation (AC1, AC2, AC3 and AC4), in addition to the common region (CR). Sequence comparison and demarcation analyses revealed the presence of a new strain of Okra yellow mosaic Mexico virus—[Mexico:Isolate 13–14:2010], and a new species not previously reported and tentatively named Okra mottle Mexico virus, OMoMV—[Mexico:2005]. The phylogenetic analysis placed the new species in the clade that contains Chino del tomate virus. Recombination analyses suggest that this virus has a putative recombinant event of 93 bases, which may have originated across the exchange of genomic segments in the ORF AV1 + CR region from Chino del tomate virus, Okra yellow mosaic Mexico virus and Corchorus yellow spot virus.
Access options
Buy single article
Instant access to the full article PDF.
USD 39.95
Price excludes VAT (USA)
Tax calculation will be finalised during checkout.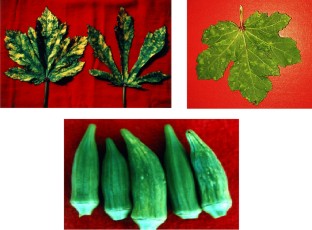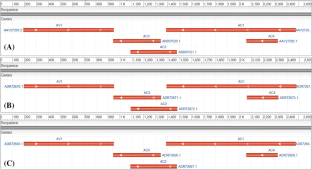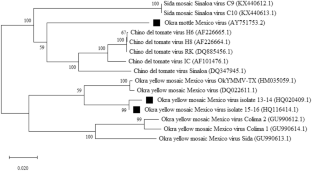 References
Biswas KK, Palchoudhury S, Shukla P, Godara S, Balram N, Bhattacharyya UK, Kumar TM (2018) DNA-A sequences of whitefly transmitted begomovirus infecting okra (Abelmoschus esculentus) in India are extensively diverse. Indian Phytopathol 71:249–256. https://doi.org/10.1007/s42360-018-0042-y

Brown JK (2007) The Bemisia tabaci complex: genetic and phenotypic variability drives begomovirus spread and virus diversification. Retrieved on September 25, 2019 from: https://www.apsnet.org/edcenter/apsnetfeatures/Pages/BemisiatabaciComplex.aspx

Brown JK, Ostrow KM, Idris AM, Stenger DC (2000) Chino del tomate virus: relationships to other begomoviruses and identification of a-component variants that affect symptom expression. Phytopathology 90:546–552. https://doi.org/10.1094/PHYTO.2000.90.5.546

Brown JK, Zerbini FM, Navas-Castillo J, Moriones E, Ramos-Sobrinho R, Silva JCF, Fiallo-Olive E, Briddon RW, Hernandez-Zepeda C, Idris A, Malathi VG, Martin DP, Rivera-Bustamante R, Ueda S, Varsani A (2015) Revision of Begomovirus taxonomy based on pairwise sequence comparisons. Arch Virol 160:1593–1619. https://doi.org/10.1007/s00705-015-2398-y

Czosnek H, Hariton-Shalev A, Sobol I, Gorovits R, Ghanim M (2017) The incredible journey of begomoviruses in their whitefly vector. Viruses 9:273. https://doi.org/10.3390/v9100273

De la Torre-Almaráz R, Monsalvo-Reyes AC, Méndez-Lozano J, Rivera-Bustamente RF (2004) Caracterización de un nuevo geminivirus asociado con los síntomas de moteado amarillo de la okra (Abelmoschus esculentus) en México. Agrociencia 38:227–238

Dellaporta SL, Wood J, Hicks JB (1983) A plant DNA minipreparation: version II. Plant Mol Biol Rep 1:19–21. https://doi.org/10.1007/BF02712670

Díaz-Franco A, Loera-Gallardo J, Rosales-Robles E, Alvarado-Carrillo M, Ayvar-Serna S (2007) Producción y tecnología de la okra (Abelmoschus esculentus) en el noreste de México. Agricultura Técnica en México 33:297–307

Fauquet CM, Briddon RW, Brown JK, Moriones E, Stanley J, Zerbini M, Zhou X (2008) Geminivirus strain demarcation and nomenclature. Arch Virol 153:783–821. https://doi.org/10.1007/s00705-008-0037-6

Gemede HF, Ratta N, Haki GD, Woldegiorgis AZ, Beyene F (2015) Nutritional quality and health benefits of okra (Abelmoschus esculentus): a review. J Food Process Technol 6:458. https://doi.org/10.4172/2157-7110.1000458

Gilbertson RL, Batuman O, Webster CG, Adkins S (2015) Role of the Insect Supervectors Bemisia tabaci and Frankliniella occidentalis in the emergence and global spread of plant viruses. Annu Rev Virol 2:67–93. https://doi.org/10.1146/annurev-virology-031413-085410

Haible D, Kober S, Jeske H (2006) Rolling circle amplification revolutionizes diagnosis and genomics of geminiviruses. J Virol Methods 135:9–16. https://doi.org/10.1016/j.jviromet.2006.01.017

Hall TA (1999) BioEdit: a user-friendly biological sequence alignment editor and analysis program for Windows 95/98/NT. Nucleic Acids Symp Ser 41:95–98

Hanley-Bowdoin L, Settlage S, Orozco BM, Nagar S, Robertoson D (1999) Geminivirus: models for plant DNA replication, transcription, and cell cycle regulation. Crit Rev Plant Sci 18:71–106. https://doi.org/10.1080/07352689991309162

Hernandez-Zepeda C, Isakeit T, Scott A Jr, Brown JK (2010) First report of Okra yellow mosaic Mexico virus in Okra in the United States. Plant Dis 94(7):924. https://doi.org/10.1094/PDIS-94-7-0924B

Hidayat SH, Rahmayani E (2007) Transmission of Tomato leaf curl begomovirus by two different species of whitefly (Hemiptera: Aleyrodidae). Plant Pathol J 23:57–61. https://doi.org/10.5423/PPJ.2007.23.2.057

Hughes J (2009) Just famine foods? What contribution can underutilized plant make to food security? Acta Hortic 806:39–47. https://doi.org/10.17660/ActaHortic.2009.806.2

Inoue-Nagata AK, Albuquerque LC, Rocha WB, Nagata T (2004) A simple method for cloning the complete begomovirus genome using the bacteriophage phi29 DNA polymerase. J Virol Methods 116:209–211. https://doi.org/10.1016/j.jviromet.2003.11.015

Jiang H, Hou Y-M, Guzman P, Gilbertson RL (1998) Complete nucleotide sequence of the infectious clone of tomato leaf crumple geminivirus. Phytopathol 88(SUPPL):S44

Koressaar T, Remm M (2007) Enhancements and modifications of primer design program Primer3. Bioinform 23:1289–1291. https://doi.org/10.1093/bioinformatics/btm091

Kumar RV, Prasanna HC, Singh AK, Ragunathan D, Garg GK, Chakraborty S (2017) Molecular genetic analysis and evolution of begomoviruses and betasatellites causing yellow mosaic disease of bhendi. Virus Genes 53:275. https://doi.org/10.1007/s11262-016-1414-y

Kumar S, Stecher G, Li M, Knyaz C, Tamura K (2018) MEGA X: molecular evolutionary genetics analysis across computing platforms. Mol Biol Evol 35:1547–1549. https://doi.org/10.1093/molbev/msy096

Kumar S, Tamura K, Nei M (2004) MEGA3: integrated software for molecular evolutionary genetics analysis and sequence alignment. Brief Bioinform 5:150–163. https://doi.org/10.1093/bib/5.2.150

Lefeuvre P, Moriones E (2015) Recombination as a motor of host switches and virus emergence: geminiviruses as case studies. Curr Opin Virol 10:14–19. https://doi.org/10.1016/j.coviro.2014.12.005

Martin DP, Murrell B, Golden M, Khoosal A, Muhire B (2015) RDP4: detection and analysis of recombination patterns in virus genomes. Virus Evol 1:vev003. https://doi.org/10.1093/ve/vev003

Martin HJ (1987) An identification guide to common whitefly pest species of the world (Homoptera, Aleyrodidae). Trop Pest Manag 33:298–322. https://doi.org/10.1080/09670878709371174

Mishra GP, Singh B, Seth T, Singh AK, Halder J, Krishnan N, Tiwari SK, Singh PM (2017) Biotechnological advancements and begomovirus management in Okra (Abelmoschus esculentus L.): status and perspectives. Front Plant Sci 8:1–16. https://doi.org/10.3389/fpls.2017.00360

Muhire BM, Varsani A, Martin DP (2014) SDT: a virus classification tool based on pairwise sequence alignment and identity calculation. PLoS ONE. https://doi.org/10.1371/journal.pone.0108277

Ortega-Acosta C, Ochoa-Martínez DL, Hernández-Morales J, Ramírez-Rojas S, Gutiérrez-Gallegos JA (2019) Evaluation of seed transmission of begomoviruses in roselle and roselle-associated weeds. Rev Mex Fitopatol 37:135–146. https://doi.org/10.18781/R.MEX.FIT.1806-3

Rojas MR, Gilbertson RJ, Russell DR, Maxwell DP (1993) Use of degenerate primers in the polymerase chain-reaction to detect whitefly-transmitted geminiviruses. Plant Dis 77:340–347. https://doi.org/10.1094/PD-77-0340

Rojas MR, Hagen C, Lucas WJ, Gilbertson RL (2005) Exploiting chinks in the plant's armor: evolution and emergence of geminiviruses. Annu Rev Phytopathol 43:361–394. https://doi.org/10.1146/annurev.phyto.43.040204.135939

Sabitha V, Ramachandran S, Naveen KR, Panneerselvam K (2011) Antidiabetic and antihyperlipidemic potential of Abelmoschus esculentus (L.) Moench. in streptozotocin-induced diabetic rats. J Pharm Bioallied Sci 3:397–402. https://doi.org/10.4103/0975-7406.84447

Sanwal SK, Venkataravanappa V, Singh B (2016) Resistance to bhendi yellow vein mosaic disease: a review. Indian J Agric Sci 86:835–843

Shetty AA, Singh JP, Singh D (2013) Resistance to yellow vein mosaic virus in okra: a review. Biol Agric Hortic 29:159–164. https://doi.org/10.1080/01448765.2013.793165

SIAP (2019) Servicio de Información Agroalimentaria y Pesquera-SAGARPA. https://www.siap.gob.mx/cierre-de-la-produccion-agricola-por-cultivo/

Torres-Pacheco I, Garzon-Tiznado JA, Brown JK, Becerra-Flora A, Rivera Bustamante RF (1996) Detection and distribution of geminiviruses in Mexico and the southern United States. Phytopathol 86:1186–1192

Uchibori M, Hirata A, Suzuki M, Ugaki M (2013) Tomato yellow leaf curl virus accumulates in vesicle-like structures in descending and ascending midgut epithelial cells of the vector whitefly, Bemisia tabaci, but not in those of nonvector whitefly Trialeurodes vaporariorum. J Gen Plant Pathol 79:115–122. https://doi.org/10.1007/s10327-012-0426-2

Velázquez-Fernández P, Zamora-Macorra EJ, Ochoa-Martínez DL, Negrete-Fernández G, Hernández-Morales J (2016) Virus asociados al amarillamiento de Hibiscus sabdariffa en Guerrero, México. Rev Mex Fitopatol 34:200–207. https://doi.org/10.18781/R.MEX.FIT.1602-1

Venkataravanappa V, Prasanna HC, Reddy CNL, Reddy MK (2015) Evidence for two predominant viral lineages, recombination and subpopulation structure in begomoviruses associated with yellow vein mosaic disease of okra in India. Plant Patholol 64:508–518. https://doi.org/10.1111/ppa.12292

Venkataravanappa V, Reddy CNL, Jalali S, Reddy MK (2013) Molecular characterization of a new species of begomovirus associated with yellow vein mosaic of bhendi (okra) in Bhubhaneswar, India. Eur J Plant Pathol 136:811–822. https://doi.org/10.1007/s10658-013-0209-4

Wege C, Saunders K, Stanley J, Jeske H (2001) Comparative analysis of tissue tropism of bipartite geminiviruses. J Phytopathol 149:359–368. https://doi.org/10.1046/j.1439-0434.2001.00640.x
Ethics declarations
Conflict of interest
All authors declare that they have no conflict of interest.
Additional information
Publisher's Note
Springer Nature remains neutral with regard to jurisdictional claims in published maps and institutional affiliations.
Electronic supplementary material
Below is the link to the electronic supplementary material.
About this article
Cite this article
Valadez-Moctezuma, E., Samah, S., Zelaya-Molina, L.X. et al. Molecular characterization of a new bipartite begomovirus that infects okra plants in guerrero, Mexico. J Plant Dis Prot 127, 753–762 (2020). https://doi.org/10.1007/s41348-020-00356-4
Received:

Accepted:

Published:

Issue Date:

DOI: https://doi.org/10.1007/s41348-020-00356-4
Keywords
Abelmoschus esculentus
Okra mottle Mexico virus

OMoMV

OYMMV

Viral transmission