Abstract
Finger millet (Eleusine coracana L.) is a staple food in many African and South Asian countries and is ranked fourth among millets produced worldwide. Finger millet crops are affected by a number of diseases, including blast disease, which is the most destructive and widely distributed disease of the world. It is generally caused by Pyricularia grisea (Cooke) Sacc. We observed blast like symptoms in finger millet crops in the field in Doddamaragowdana halli, Mysore District, India. The infected leaves were subjected to analysis to identify the causative agent. Histopathological studies were conducted at different stages of infection (namely 3, 6, 12, 24, 48 till 72 h) and infection process was observed beginning with adhesion of conidia on the leaf surface, production of germ tube, aspersorium formation followed by formation of hyphae and conidia. Based on the morphological characteristics of the colony, conidiophores and conidia as well as by performing Koch's postulate the organism was identified. Based on our results, the pathogen isolated from the foliar samples of finger millet collected from infected field was identified as Bipolaris sorokiniana Sacc. To our knowledge, this is the first report of blast disease in finger millet caused by Bipolaris sorokiniana Sacc.
Access options
Buy single article
Instant access to the full article PDF.
USD 39.95
Price includes VAT (USA)
Tax calculation will be finalised during checkout.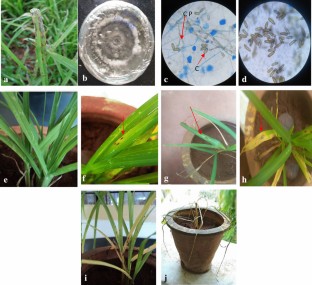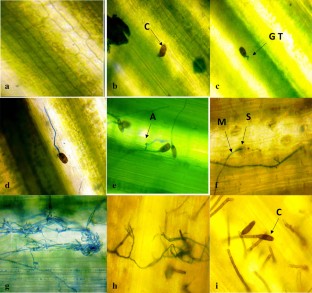 Availability of data and materials
This is an original publication and hence additional data not available.
References
Bakonyi J, Aponyi I, Fischl G (1997) Diseases caused by Bipolaris sorokiniana and Drechslera tritici repentis in Hungary. In: Duveiller Dubin HJ, Reeves J, McNab A (eds) Helminthosporium blights of wheat: spot blotch and tan spot. CIMMYT, Mexico, pp 80–85.f

Chauhan PK, Singh DP, Karwasa SS (2017) Morphological and pathogenic variability in Bipolaris sorokiniana causing spot bloch in wheat (Triticum aestivum, T. durum, T. dicoccum) in India. Int J Curr Microbiol Appl Sci 6(11):3499–3520

Dida MM, Srinivasachary, Ramakrishnan S, Bennetzen JL, Gale MD, Devos K (2008) Population structure and diversity in finger millet (Eleusine coracana) germplasm. Trop Plant Biol 1:131–141

Fakir GA, Khan AL, Neergaard P, Mathur SB (1997) Transmission of Drechslera sp. through wheat seed in Bangladesh. Bangladesh J Progress Agric 1:113–118

Forbes BA, Sham DF, Weissfeld AS (2002) Bailey and Scott's diagnostic microbiology, 11th edn. Mosby, St Louis, p 789

Kumar B, Singh KP (2010) Important small millets diseases in India and their management. Plant Pathology Section, College of Forestry and Hill agriculture, Hill Campus, Ranichauri, Tehri Garhwal, Uttarkand

Kumar J, Schafer P, Huckelhoven R, Langen G, Baltruschat H, Stein E, Subramanian N, Kogel KH, Kumar J, Nagarajan S (2002) Bipolaris sorokiniana, a cereal pathogen of global concern: cytological and molecular approaches towards better control. Mol Plant Pathol 3(4):185–195

Malaker PK, Khandaker MM, Reza MA (2007) Survival of Bipolaris sorokiniana (Sacc.) Shoemaker in soil and residue of wheat. Bangladesh J Bot 36(2):133–137

Mathur SB, Kongadal O (2003) Common laboratory seed health testing methods for detecting fungi. ISTA, Switzerland, p 227

Mc Rae W (1920) Administration report of Mycologist, Madras, 1919–1920

Naeimi S, Khosravi V, Tsukiboshi T (2011) Occurrence of rice infection by Bipolaris sorokiniana in Iran. Iran J Plant Pathol 47(4):123–125

Neupane AC, Sharma RC, Duveiller E, Shrestha SM (2010) Sources of Cochliobolus sativus inoculums causing spot bloch in warm wheat growing conditions in South Asia. Cereal Res Commun 38(4):541–549

Pande S, Mukuru S, Odhiambo RO, Karunakar RL (1994) Seed borne infection of Eleusine corocana by Bipolaris nodulosa and Pyricularia grisea in Uganda and Kenya. Plant Dis 78(1):60

Rashid AQMB, Neergaard E (1996) Histopathological behavior of seedborne Bipolaris sorokiniana in wheat seedling. Bangladesh J Plant Pathol 12:5–8

Reis EM, Zanatt T, Danelli AD (2014) Effect of the concentration of inoculum and tensoactive on the efficiency of Bipolaris sorokiniana infection in wheat leaves. Summa Phytopathol 40(2):178–181

Sharada MS, Shetty SA, Shetty HS (1995) Infection processes of Sclerospora graminicola on Pennisetum glaucum lines resistant and susceptible to downy mildew. Mycol Res 99:317–322

Upadhyaya HD, Gowda CLL, Reddy GV (2007) Morphological diversity in finger millet germplasm introduced from southern and eastern Africa. J Stat Agric Res 3:1–3

Zillinsky FJ (1983) Common diseases of small grain cereals: a guide to identification. CIMMYT, Mexico
Acknowledgements
The authors are thankful to the Department of Studies in Botany, University of Mysore, Mysuru, India, for providing facilities to carry out the research work.
Ethics declarations
Conflict of interest
There is no conflict of interest.
Consent to publication
All authors have agreed to publish this article in 'Journal of plant disease and protection' journal.
Additional information
Publisher's Note
Springer Nature remains neutral with regard to jurisdictional claims in published maps and institutional affiliations.
About this article
Cite this article
Preethi, P., Sharada, M.S. & Divya, C.R. Leaf blast disease in finger millet [Eleusine coracana (L.) Gaertn.] caused by Bipolaris sorokiniana Sacc.: a histopathological study. J Plant Dis Prot 127, 899–903 (2020). https://doi.org/10.1007/s41348-020-00355-5
Received:

Accepted:

Published:

Issue Date:
Keywords
Blast disease

Finger millet [Eleusine coracana (L.) Gaertn.]
Bipolaris sorokiniana Sacc.

Histopathological study