Abstract
The South America tomato pinworm Tuta absoluta is a serious invasive species in Nigeria. Its impacts on crop production are well understood, but its distribution in the country is unclear. Here, between March 2017 and July 2018, mapping surveys of the distribution of T. absoluta were conducted in 528 different locations across 11 states in Nigeria. Results showed that T. absoluta is present and established in all 360 sites surveyed in the northern and south-western parts of Nigeria. However, it was not recorded at all locations surveyed in two states, Edo and Delta, further south of the country. The implications of these findings are serious as the pest has demonstrated a rapid speed of spread following its arrival in 2015. Furthermore, tomato-dependent livelihoods could be potentially threatened due to the impact of this pest.
Access options
Buy single article
Instant access to the full article PDF.
US$ 39.95
Tax calculation will be finalised during checkout.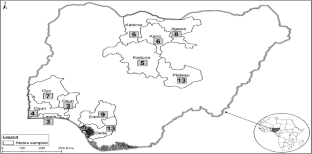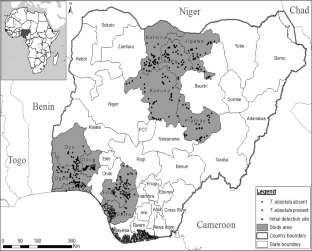 References
Bala I, Mukhtar M, Saka H, Abdullahi N, Ibrahim S (2019) Determination of insecticide susceptibility of field populations of tomato leaf miner (Tuta absoluta) in Northern Nigeria. Agriculture 9(1):7. https://doi.org/10.3390/agriculture9010007

Biondi A, Guedes RNC, Wan F, Desneux N (2018) Ecology, worldwide spread, and management of the invasive South American tomato pinworm, Tuta absoluta: past, present, and future. Annu Rev Entomol 63:239–258

Borisade OA, Kolawole A, Adebo GM, Uwaidem Y (2017) The tomato leafminer (Tuta absoluta) (Lepidoptera: Gelechiidae) attack in Nigeria: effect of climate change on over-sighted pest or agro-bioterrorism? J Agric Ext Rural Dev 9(8):163–171

Campos MR, Biondi A, Adiga A, Guedes R, Desneux N (2017) From the Western Palaearctic region to beyond: Tuta absoluta 10 years after invading Europe. J Pest Sci 90:787–796

Desneux N, Wajnberg E, Wyckhuys KAG, Burgio G, Arpaia S, Narváez-Vasquez CA, González-Cabrera J, Catalán Ruescas D, Tabone E, Frandon J, Pizzol J, Poncet C, Cabello T, Urbaneja A (2010) Biological invasion of European tomato crops by Tuta absoluta: ecology, history of invasion and prospects for biological control. J Pest Sci 83:197–215

Desneux N, Luna MG, Guillemaud T, Urbaneja A (2011) The invasive South American tomato pinworm, Tuta absoluta, continues to spread in Afro-Eurasia and beyond: the new threat to tomato world production. J Pest Sci 84:403–408

FAOSTAT (2017) CROPS Statistics for Countries, United Nations, NY. http://www.fao.org/faostat/en/#data/QC. Accessed 04 March 2019

Guedes RN, Roditakis E, Campos MR, Haddi K, Bielza P, Siqueira HA, Tsagkarakou A, Vontas J, Nauen R (2019) Insecticide resistance in the tomato pinworm Tuta absoluta: patterns, spread, mechanisms, management and outlook. J Pest Sci. https://doi.org/10.1007/s10340-019-01086-9

Han P, Bayram Y, Shaltiel-Harpaz L, Sohrabi F, Saji A, Esenali UT et al (2019) Tuta absoluta continues to disperse in Asia: damage, ongoing management and future challenges. J Pest Sci. https://doi.org/10.1007/s10340-018-1062-1

Karlsson MF, Rachidatou S, Sahadatou MS, Zannou JA, Georg G (2018) First report of Tuta absoluta Meyrick (Lepidoptera: Gelechiidae) in the Republic of Benin. BioInvasions Rec 7(4):463–468

Mansour R, Brévault T, Chailleux A, Cherif A, Grissa-Lebdi K, Haddi K, Mohamed SA, Nofemela RS, Oke A, Sylla S, Tonnang HEZ, Zappalà L, Kenis M, Desneux N, Biondi A (2018) Occurrence, biology, natural enemies and management of Tuta absoluta in Africa. Entomol Generalis 38:83–112

Oke OA, Kolawole RO, Ogunremi OA, Akinsola OA, Awe SA (2016) Detection of apanteles spp (Hymenoptera: Braconidae) larval parasitoid of tomato leafminer Tuta absoluta (Lepidoptera: Gelechiidae) on greenhouse tomato in Abeokuta, Ogun state, Nigeria. In: 25th International Congress of Entomology—Program Book, Orlando, Florida, USA, p 318

Oke OA, Kolawole RO, Akinsola OA, Olajide-Taiwo LO, Oladigbolu AA, Ajayi EO (2017a) The first effort at adopting integrated pest management (IPM) to contain the infestation of Tuta absoluta in Nigeria. In: Niassy S, Ekesi S, Migiro L, Otieno W (eds) Sustainable Management of Invasive Pests in Africa. Springer, Berlin

Oke OA, Oladigbolu AA, Hamisu HS (2017b) The first evaluation of resistance of different insecticides on Tuta absoluta populations from the major tomato growing states of Nigeria. In: 22nd meeting and conference of the African Association of Insect Scientist (AAIS 2017). Oct 23rd–26th Abstract Book. Wad Medani, Sudan, p 91

Punch Newspaper Online (2017) Tomato farmers in Kano lose N2bn to Tuta Absoluta. Punch Newspaper. https://punchng.com/tomato-farmers-in-kano-lose-n2bn-to-tuta-absoluta/. Accessed 04 March 2019

Sanda NB, Sunusi M, Hamisu H, Wudil B, Sule H, Abdullahi A (2018) Biological invasion of tomato leaf miner, Tuta absoluta (Meyrick) in Nigeria: problems and management strategies optimization: a review. Asian J Agric Hortic Res 1:1–14

Sylla S, Brévault T, Monticelli LS, Diarra K, Desneux N (2019) Geographic variation of host preference by the invasive tomato leaf miner Tuta absoluta: implications for host range expansion. J Pest Sci. https://doi.org/10.1007/s10340-019-01094-9

Uchoa-Fernandes M, Della Lucia T, Vilela E (1995) Mating, oviposition and pupation of Scrobipalpuloides absoluta (Meyr.) (Lepidoptera: Gelechiidae). An Soc Entomol Bras 24:159–164

Urbaneja A, Vercher R, Navarro V, Garca Marı F, Porcuna JL (2007) La polilla del tomate, Tuta absoluta. Phytoma Espana 194:16–23

Zekeya NA, Ndakidemi P, Chacha M, Mbega E (2017) Tomato leafminer, Tuta absoluta (Meyrick 1917), an emerging agricultural pest in Sub-Saharan Africa: current and prospective management strategies. Afr J Agric Res 12(6):389–396
Acknowledgements
We are grateful to Ismaila Yusuf, Otasowie Osasenagha, Edokpolor Osasuwmen, Ijeoma Echekube, Oghenekharo Joy, Idowu Bello, Taofeeq Lasisi, Joshua Ngwen, Umar Maje, Basheer Jaafaru, Gideon Efaku, and Musa Ibrahim for their assistance with the surveys. This study was funded by the National Horticultural Research Institute (NIHORT),  Oyo state, Nigeria.
Ethics declarations
Conflict of interest
The authors declared that they have no conflict of interest.
Additional information
Publisher's Note
Springer Nature remains neutral with regard to jurisdictional claims in published maps and institutional affiliations.
About this article
Cite this article
Aigbedion-Atalor, P.O., Oke, A.O., Oladigbolu, A.A. et al. Tuta absoluta (Lepidoptera: Gelechiidae) invasion in Nigeria: first report of its distribution. J Plant Dis Prot 126, 603–606 (2019). https://doi.org/10.1007/s41348-019-00255-3
Received:

Accepted:

Published:

Issue Date:
Keywords
Invasive insect

Tuta absoluta

Spread

Tomato production

Nigeria