Abstract
The efficacy of four bi- and tri-cyclic sesquiterpenes, namely inuloxins A, B and C and α-costic acid, extracted from aerial parts of Dittrichia viscosa collected in Algeria was assessed against the cowpea seed beetle Callosobruchus maculatus. The compounds were evaluated for their effect on adult mortality, oviposition and adult emergence. Three concentrations (100, 50 and 25 µg/ml) of each compound were tested with chickpea being used as the test plant. Complete adult mortality (100%) was achieved at only 1 day after exposure to inuloxins B and C and α-costic acid with LC50s less than 36 µg/ml. Lethal concentration values (LC50) were determined as 30.4, 35.2, 31.6 and 29.4 µg/ml, respectively, for inuloxins A, B and C and α-costic acid. Oviposition and F1 progeny emergence were significantly reduced (27% and 73%, respectively) after treatment with D. viscosa compounds. Our results also revealed that oviposition, adult emergence and sex ratio varied with the sex of the treated mating partner suggesting that the test compounds may have acted as male (or indirect female) chemosterilants resulting in reduced fecundity and fertility of untreated females that mated with treated males.
Access options
Buy single article
Instant access to the full article PDF.
US$ 39.95
Tax calculation will be finalised during checkout.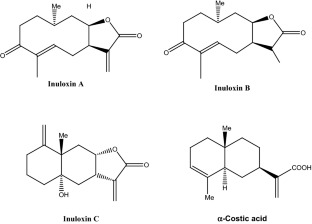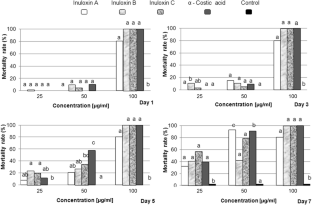 References
Abbas MA, Hameed NA, Al-Khateeb EH, Al Haj RM-N (2017) Evaluation of toxicity and fertility effects of Inula viscosa aerial parts extract in male rats. Jordan J Biol Sci 11(2):147–154

Abbott WS (1925) A method of computing the effectiveness of an insecticide. J Econ Entomol 18:268–267. Reprinted in J Am Mosq Control Assoc 1987, 3(2):302–303

Adeyemi MMH (2010) The potential of secondary metabolites in plant material as deterents against insect pests: a review. Afr J Pure Appl Chem 4(11):243–246

Aliyu AB, Adeyemi MMH, Abdulkadir I, Dambatta MB, Amupitan JO, Oyewale AO (2014) Antifeedant activity of Vernonia oocephala against stored product pest Tribolium casteneum (Herbst). Bangladesh J Sci Ind Res 49:243–248

Andolfi A, Zermane N, Cimmino A, Avolio F, Boari A, Vurro M, Evidente A (2013) Inuloxins A–D, phytotoxic cyclic sesquiterpene lactones produced by Inula viscosa: potential for broomrapes and field dodder management. Phytochemistry 86:112–120

Boeke SJ, Barnaud C, van Loon JJA, Kossou DK, Van Huis A, Dicke M (2004) Efficacy of plant extracts against the cowpea beetle, Callosobruchus maculatus. Int J Pest Manag 50:251–258

Chadwick M, Trewin H, Gawthrop F, Wagstaff C (2013) Sesquiterpenoids lactones: benefits to plants and people. Int J Mol Sci 14:12780–12805

Chandel BS, Singh A (2017) Entomotoxicity of Chromolaena odorata, Tagetes minuta and Reichardia tingitana in suppressing oviposition and adult emergence of Callasobruchus chinensis (L.) infesting stored chickpea seeds in U.P. Int J Zool Stud 2:38–44

Cimmino A, Masi M, Evidente M, Superchi S, Evidente A (2017) Application of Mosher's method for absolute configuration assignment to bioactive plants and fungi metabolites. J Pharm Biomed Anal 144:59–89

Demnati F, Allache F (2014) Effect of Verbascum sinuatum (Scrophulariaceae) on oviposition of Callosobruchus maculatus (Bruchidae). J Crop Prot 3:327–334

Evidente A, Andolfi A, Cimmino A (2011) Relationships between the stereochemistry and biological activity of fungal phytotoxins. Chirality 23:674–693

Evidente A, Cimmino A, Andolfi A (2013) The effect of stereochemistry on the biological activity of natural phytotoxins fungicides, insecticides and herbicides. Chirality 25:59–78

Evidente M, Santoro E, Petrovic AG, Cimmino A, Koshoubu J, Berova N, Evidente A, Superchi S (2016) Absolute configurations of phytotoxic inuloxins B and C based on experimental and computational analysis of chiroptical properties. Phytochemistry 130:328–334

Fatima SM, Usman A, Sohail K, Afzaal M, Shah B, Adnan M, Ahmed N, Junaid K, Shah SRA, Inayat-ur-Rahman (2016) Rearing and identification of Callosobruchus maculatus (Bruchidae: Coleoptera) in chickpea. J Entomol Zool Stud 4(2):264–266

Food and Agriculture Organization of the United Nations [FAO] (2015) Action plan for the international year of pulses: nutritious seeds for a sustainable future. http://www.fao.org/3/a-bl213e.pdf. Accessed 27 Mar 2018

García M, Sosa ME, Donadel OJ, Giordano OS, Tonn CE (2003) Effects of some sesquiterpenes on the stored-product insect Tenebrio molitor (Coleoptera: Tenebrionidae). Rev Soc Entomol Argent 62:17–26

Guleria S, Tiku AK (2009) Botanicals in pest management: current status and future perspectives. In: Peshin R, Dhawan AK (eds) Integrated pest management: innovation-development process. Springer, Berlin, pp 317–329. https://doi.org/10.1007/978-1-4020-8992-3_12

Haouel-Hamdi S, Titouhi F, Boushih E, Dhraief MZ, Amri M, Mediouni-Ben Jemâa J (2017) Population demographic traits and reproductive parameters of the seed beetle Callosobruchus maculatus infesting stored lentil and chickpea commodities. Tunis J Plant Prot 12:67–81

Ivbijaro MF (1990) The efficacy of seed oils of Azadirachta indica A. Juss and Piper Guineense Schum and Thonn on the control of Callosobruchus maculatus F. Int J Trop Insect Sci 11:149–152

Johnson JL, Raghavan V, Cimmino A, Moeini A, Petrovic AG, Santoro E, Superchi S, Berova N, Evidente A, Polavarapu PL (2018) Chiroptical spectroscopic analyses of absolute configurations of chiral molecules with multiple stereogenic centers without prior knowledge of the relative configurations: a case study of inuloxin C. Chirality. https://doi.org/10.1002/chir.23013

Kima SI, Roha JY, Kima DH, Leeb HS, Ahna YJ (2003) Insecticidal activities of aromatic plant extracts and essential oils against Sitophilus oryzae and Callosobruchus chinensis. J Stored Prod Res 39:293–303

Lienard V, Seck D (1994) Review of control methods against Callosobruchus maculatus (F.) (Coleoptera: Bruchidae), a pest of grains of cowpea Vigna unguiculata (L.) Walp. in tropical Africa. Insect Sci Appl 15:301–311

Madanat MH, Al Antary TM, Abu Zarqa MH (2016) Toxicity of six ethanol plant extracts against the green peach aphid Myzus persicae Sulzer (Homoptera: Aphididae). Fresenius Environ Bull 25:706–718

Nawrot J, Harmatha J (2012) Phytochemical feeding deterrents for stored product insect pests. Phytochem Rev 11:543–566

Oka Y, Ben-Daniel BH, Cohen Y (2001) Nematicidal activity of powder and extracts of Inula viscosa. Nematology 3(8):735–742. https://doi.org/10.1163/156854101753625245

Okonkwo EU (2005) Plant materials used for controlling insect pests of stored products in Nigeria, Families Annonaceae, Piperaceae, and Rutaceae. J Herbs Spices Med Plants 11(1–2):47–69. https://doi.org/10.1300/j044v11n01_02

Omezzine F, Rinez A, Ladhari A, Farooq M, Haouala R (2011) Allelopathic potential of Inula viscosa against crops and weeds. Int J Agric Biol 13:841–849

Ouahchia C, Cherif HS, Hamaidi-Chergui F, Marzen L, Deradji S, Hemma R, Nouar N, Saidi F (2017) Acute and subacute toxicity of Inula viscosa L. (Dittrichia viscosa L.) methanolic extracts. AgroBiologia 7(2):562–573

Panzarino O, Bari G, Vernile P, De Lillo E (2011) Preliminary results on the preferences of Callosobruchus maculatus on Apulian germplasm of Cicer arietinum. Redia J Zool 94:45–52

Paranagama PA, Adhikari AACK, Abeywickrama KP, Bandara KANP (2003) Evaluation of volatile constituents of Neem (Azadirachta Indica A. Juss.) leaf extracts against Callosobruchus Maculatus (F.). J Natl Sci Found Sri Lanka 31:445–458

Peter G, Moss C, Dales M, Fidgen A, Evans J, Gudrups I (1999) The use of spices and medicinals as bioactive protectants for grains. Food and Agriculture Organization of the United Nations Rome and Natural Resources Institute Chatham Maritime Chatham, Kent UK. Fao Agricultural Services Bulletin No. 137. http://www.fao.org/3/x2230e/x2230e00.htm#con. Accessed 1 May 2019

Rahman A, Talukder FA (2006) Bioefficacy of some plant derivatives that protect grain against the pulse beetle, Callosobruchus maculatus. J Insect Sci 6:1–10

Raja N, Albert S, Ignacimuthu S, Dorn S (2001) Effect of plant volatile oils in protecting stored cowpea Vigna unguiculata (L.) Walpers against Callosobruchus maculatus (Coleoptera: Bruchidae) infestation. J Stored Prod Res 37:127–132

Rajendran S, Sriranjini V (2007) Plant products as fumigants for stored-product insect control. J Stored Prod Res 44:126–135

Rotundo G, Paventi G, Barberio A, De Cristofaro A, Notardonato I, Russo MV, Germinara GS (2019) Biological activity of Dittrichia viscosa (L.) Greuter extracts against adult Sitophilus granarius (L.) (Coleoptera, Curculionidae) and identification of active compounds. Sci Rep 9:6429. https://doi.org/10.1038/s41598-019-42886-4

Rozman V (2015) Control of stored products pests by natural products. IOBC-WPRS Bull 111:295–299

Russo S, Cabrera N, Chludil H, Yaber-Grass M, Leicach S (2015) Insecticidal activity of young and mature leaves essential oil from Eucalyptus globulus Labill. against Tribolium confusum Jacquelin du Val (Coleoptera: Tenebrionidae). Chil J Agric Res 75:375–379

Sallam MN (2000) Insect damage: damage on post-harvest. In: AGSI/FAO (ed) Insect damage: post-harvest operations, pp 1–38. http://www.fao.org/fileadmin/user_upload/inpho/docs/Post_Harvest_Compendium_-_Pests-Insects.pdf. Accessed 19 May 2018

Santoro E, Mazzeo G, Petrovic AG, Cimmino A, Koshoubu J, Evidente A, Berova N, Superchi S (2015) Absolute configurations of phytotoxins seiricardine A and inuloxin A obtained by chiroptical studies. Phytochemistry 116:359–366

Sarwar M (2010) Some possibilities on the effectiveness of plant powders as grain protectants against cowpea weevil, Callosobruchus maculatus (Fabricius) Walp. (Coleoptera: Bruchidae) infestation in chickpea. Int J Agron Plant Prod 1:45–50

Saxena BP, Koul O, Tikku K, Atal CK (1977) A new insect chemosterilant isolated from Acorus calamus L. Nature 270:512–513

Sharma S, Thakur DR (2014) Comparative developmental compatibility of Callosobruchus maculatus on cowpea, chickpea and soybean genotypes. Asian J Biol Sci 7:270–276

Singh S (2017) Natural plant products—as protectant during grain storage: a review. J Entomol Zool Stud 5:1873–1885

Smýkal P, Coyne CJ, Ambrose MJ et al (2015) Legume crops phylogeny and genetic diversity for science and breeding. Crit Rev Plant Sci 34:43–104

Sofou K, Isaakidis D, Spyros A, Büttner A, Giannis A, Katerinopoulo HE (2017) Use of costic acid, a natural extract from Dittrichia viscosa, for the control of Varroa destructor, a parasite of the European honey bee. Beilstein J Org Chem 13:952–959. https://doi.org/10.3762/bjoc.13.96

Stavrianakou S, Liakopoulos G, Miltiadou D, Markoglou AN, Ziogas BN, Karabourniotis G (2010) Antifungal and antibacterial capacity of extracted materiel from non-glandular and glandular leaf hairs applied at physiological concentrations. Plant Stress 4:25–30

Tripathi AK, Prajapati V, Aggarwal KK, Khanuja SPS, Kumar S (2000) Repellency and toxicity of oil from Artemisia annua to certain stored-product beetles. J Econ Entomol 93:43–47

Wei XM, Guo SS, Yan H, Cheng XL, Wei F, Du SH (2018) Contact toxicity and repellency of the essential oil from Bupleurum bicaule helm against two stored product insects. J Chem 2018:5830864
Acknowledgements
This work was partly supported by the General Directorate of Scientific Research and Technological Development (DGRSDT, Algeria) within the MEDILEG Project ARIMNet Call 2011. The first author mobility within a PhD program was supported by a Grant from the Algerian Ministry of Higher Education and Scientific Research (MESRS—Algeria).
Ethics declarations
Conflict of interest
The authors declare no conflict of interest.
Additional information
Publisher's Note
Springer Nature remains neutral with regard to jurisdictional claims in published maps and institutional affiliations.
About this article
Cite this article
Gueribis, F., Zermane, N., Khalfi-Habess, O. et al. Bioefficacy of compounds from Dittrichia viscosa (Asteraceae) as protectant of chickpea seeds against the cowpea seed beetle Callosobruchus maculatus (Coleoptera: Chrysomelidae). J Plant Dis Prot 126, 437–446 (2019). https://doi.org/10.1007/s41348-019-00240-w
Received:

Accepted:

Published:

Issue Date:
Keywords
Dittrichia viscosa

Sesquiterpenoids

Inuloxins

α-Costic acid

Callosobruchus maculatus

Chemosterilant