Abstract
Prior to the first occurrence of chestnut blight in 1976, leaf spot caused by Cylindrosporium castaneae was one of the most important diseases of European chestnut trees in Slovakia. In 2011, extensive damage of leaves by leaf spot was recorded in young chestnut trees in an experimental chestnut orchard in Príbelce, Slovakia, where seedlings and grafts of different species and hybrids (Castanea sativa, Castanea crenata, and C. sativa × C. crenata) exhibited visible differences in the extent of leaf spot. Morphological observations of the fungal species causing leaf spot were conducted, and the disease symptoms were described. Digital images of particular leaves were evaluated using Quick Micro Photo software, and the ratio of infected leaf area was calculated. Trees species showed a significant effect on the proportion of leaf spot area, indicating that the response to fungal attacks has a strong genetic determinism, with resistance being clearly influenced by species. The lowest leaf spot infection was recorded in C. crenata seedlings.
Access options
Buy single article
Instant access to the full article PDF.
US$ 39.95
Tax calculation will be finalised during checkout.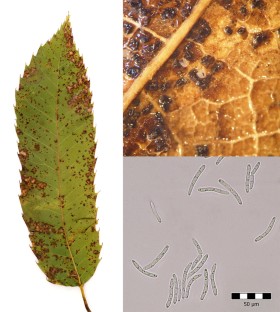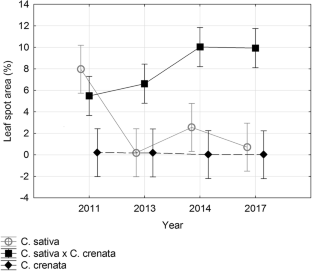 References
Banhégyi J, Tóth S, Ubrizsy G, Vörös J (1985) Magyarország mikroszkopikus gombáinak határozókönyve [Identification handbook of microscopic fungi in Hungary]. Akadémiai Kiadó, Budapest

Bolvanský M (2008) Gaštan jedlý (Castanea sativa Mill.) biológia, pestovanie a využívanie [European chestnut (Castanea sativa Mill.) biology, cultivation and use]. Agrobiodiverzita Press, Nitra

Ellis MB, Ellis JP (1997) Microfungi on land plants: an identification handbook. Richmond Publishing Ltd, London

Enderle R, Nakou A, Thomas K, Metzler B (2015) Susceptibility of autochthonous German Fraxinus excelsior clones to Hymenoscyphus pseudoalbidus is genetically determined. Ann For Sci 72(2):183–193. https://doi.org/10.1007/s13595-014-0413-1

Frankel S, Juzwik J, Koch F (2012) Forest tree diseases and climate change. US Department of Agriculture, Forest Service, Climate Change Resource Center. www.fs.usda.gov/ccrc/topics/forest-disease. Accessed 16 Aug 2018

Grove WB (1935) British stem- and leaf-fungi (Coelomycetes), vol 1. Cambridge University Press, Cambridge

Juhásová G (1974) Cylindrosporic spot disease of leaves of Spanish chestnut in Slovakia. Česká Mykol 28(2):96–98

Juhásová G (1999) Hubové choroby gaštana jedlého (Castanea sativa Mill.) [Fungal disease of European chestnut (Castanea sativa Mill.)]. VEDA Press of SAS, Bratislava

Juhásová G, Kamenická A (2000) Microscopical fungal parasites on chestnut. In: Proceeding from meeting and workshop of cost action G4 multidisciplinary chestnut research, May 4–6, 2000, Litochoro, pp 80–81

Krenner JA (1944) Tanulnányok az alsóbbrendü gombák köréböl [Studies about fungi imperfecti]. Botanikus Közlemények XLI:126

Léveillé JH (1846) Description des champignons de l´herbier du Muséum de Paris. Ann Sci Nat Ser 3 Bot 5:278–279

Pástor M, Benčať T, Slámová M (2017) Ekológia a rozšírenie gaštana jedlého (Castanea sativa Mill.) v oblasti Modrého Kameňa [Ecology and distribution of sweet chestnut (Castanea sativa Mill.) in the Modrý Kameň area]. Technical University, Zvolen

Saccardo PA (1884) Sylloge fungorum omnium hucusque cognitorum, vol III. Patavii, p 504

Tubby KV, Webber JF (2010) Pests and diseases threatening urban trees under a changing climate. Forestry 83(4):451–459
Acknowledgements
This work was supported by the VEGA under Grant No. 2/0143/15.
Additional information
Publisher's Note
Springer Nature remains neutral with regard to jurisdictional claims in published maps and institutional affiliations.
About this article
Cite this article
Pažitný, J., Kobza, M. & Adamčíková, K. Variance in leaf spot susceptibility in chestnut trees of different species and hybrids. J Plant Dis Prot 126, 169–172 (2019). https://doi.org/10.1007/s41348-019-00209-9
Received:

Accepted:

Published:

Issue Date:
Keywords
Cylindrosporium
Castanea crenata
Castanea sativa
C. sativa × C. crenata

Susceptibility

Intensity of infection