Abstract
Aleyrodes proletella Linnaeus (Hemiptera: Aleyrodidae) causes severe economic damage on cabbage crops especially in organic vegetable production. Cabbage producers lack efficient and sustainable control measures against this major pest. Knowledge on the regional diversity of its natural enemies is required for the development of biological and integrated strategies to regulate A. proletella populations. Therefore, a 3-year survey of the natural enemies of A. proletella was conducted at five locations across Germany. For this purpose, parasitoids and predators were sampled from organic Brussels sprouts fields that were highly infested with A. proletella. Encarsia tricolor Förster (Hymenoptera: Aphelinidae) was the dominant parasitoid species and comprised 99.5% of all parasitoids encountered. Other parasitoids were Encarsia inaron Walker (Hymenoptera: Aphelinidae) and Euderomphale chelidonii Erdös (Hymenoptera: Eulophidae). Most sampled predators were hoverfly larvae (49.6%) followed by spiders (33.8%), ladybeetles (14.2%), predatory bugs (1.6%) and lacewing larvae (0.8%). Harmonia (Coleoptera: Coccinellidae), Sphaerophoria, Episyrphus (Diptera: Syrphidae) and Tetragnatha (Araneae: Tetragnathidae) were the most abundant genera of predators. The only whitefly specialist among the predators was Clitostethus arcuatus Rossi (Coleoptera: Coccinellidae). A detailed list of identified natural enemies is provided, and their relevance in naturally regulating A. proletella populations discussed and possible implementations in pest management strategies are proposed.
Access options
Buy single article
Instant access to the full article PDF.
USD 39.95
Price excludes VAT (USA)
Tax calculation will be finalised during checkout.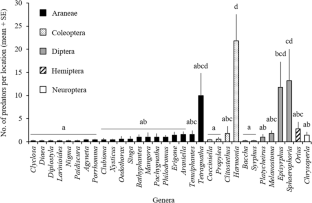 References
Brown PMJ, Adriaens T, Bathon H, Cuppen J, Goldarazena A, Hägg T, Kenis M, Klausnitzer BEM, Kovář I, Loomans AJM, Majerus MEN, Nedved O, Pedersen J, Rabitsch W, Roy HE, Ternois V, Zakharov IA, Roy DB (2008) Harmonia axyridis in Europe: spread and distribution of a non-native coccinellid. Biocontrol 53(1):5–21. https://doi.org/10.1007/s10526-007-9132-y

Butler CG (1936) The occurence of the chalcids Encarsia partenopea Masi and E. tricolor Förster in England (Hymenoptera). Proc R Soc Lond 11:79–80

Butler CG (1938) A further contribution to the ecology of Aleurodes brassicae Walk. (Hemiptera). Proc R Soc Lond 13:161

Cherry R, Dowell RV (1979) Predators of citrus blackfly [Hom.: Aleyrodidae]. Entomophaga 24(4):385–391

Evans GA (2007) The whiteflies (Hemiptera: Aleyrodidae) of the world and their host plants and natural enemies. Version: 070606. http://keys.lucidcentral.org/keys/v3/whitefly/PDF_PwP%20ETC/world-whitefly-catalog-Evans.pdf. Accessed Oct 2018

Francis AW, Stocks IC, Smith TR, Boughton AJ, Mannion CM, Osborne LS (2016) Host plants and natural enemies of rugose spiraling whitefly (Hemiptera: Aleyrodidae) in Florida. Fla Entomol 99(1):150–153. https://doi.org/10.1653/024.099.0134

Gould JR, Bellows TS, Paine TR (1995) Preimaginal development, adult longevity and fecundity of Encarisia inaron parasitizing Siphoninus phillyreae in California. Entomophaga 40(1):55–68

Gumovsky A (2005) Parasitoids (Hymenoptera: Eulophidae, Aphelinidae) of the cabbage whitefly, Aleyrodes proletella (Hemiptera: Aleyrodidae), associated with the greater celindine (Chelidonium majus). In: Second international symposium on biological control of arthropods, Davos, p 108

Hagler JR, Naranjo SE (2005) Use of a gut content ELISA to detect whitefly predator feeding activity after field exposure to different insecticide treatments. Biocontrol Sci Technol 15(4):321–339. https://doi.org/10.1080/09583150500086474

Heimer S, Nentwig W (1991) Spinnen Mitteleuropas. Paul Parey, Berlin und Hamburg

Huldén L (1986) The whiteflies (Homoptera, Aleyrodidae) and their parasitoids in Finland. Not Entomol 66:1–40

Laurenz S, Meyhöfer R (2017) Banker plants promote functional biodiversity in cabbage. IOBC-WPRS Bull 122:16–20

Ludwig M, Meyhöfer R (2016) Efficacy of crop cover netting against cabbage pests and their natural enemies and relevance of oilseed rape. J Plant Dis Prot 123(6):331–338. https://doi.org/10.1007/s41348-016-0038-8

Ludwig M, Schlinkert H, Meyhöfer R (2017) Wind-modulated landscape effects on colonization of Brussels sprouts by insect pests and their syrphid antagonists. Agric For Entomol. https://doi.org/10.1111/afe.12237

Mound LA, Halsey SH (1978) Whitefly of the world. Mound LA (ed). British Museum (Natural History), London

Nebreda M, Nombela G (2005) Comparative host suitability of some Brassica cultivars for the whitefly, Aleyrodes proletella (Homoptera: Aleyrodidae). Environ Entomol 34(1):205–209

Nentwig W, Blick T, Gloor D, Hänggi A, Kropf C (2018) Spiders of Europe. https://www.araneae.unibe.ch/. Accessed May 2017

Noyes JS (2017) Universal Chalcidoidea database. World Wide Web electronic publication. http://www.nhm.ac.uk/chalcidoids. Accessed Dec 2016

Ouvrard D, Martin JH (2015) The whiteflies—taxonomic checklist of the world's whiteflies (Insecta: Hemiptera: Aleyrodidae). https://doi.org/10.5519/0095728. http://www.hemiptera-databases.org/whiteflies/. Accessed Oct 2018

Perić P, Marčić D, Stamenković S (2009) Natural enemies of whitefly (Trialeurodes vaporariorum Westwood) in Serbia. Acta Hortic 830:539–544

Pickett C, Simmons G, Lozano E, Goolsby J (2004) Augmentative biological control of whiteflies using transplants. Biocontrol 49(6):665–688. https://doi.org/10.1007/s10526-004-0270-1

Pütz A, Klausnitzer B, Schwartz A, Gebert J (2000) Der Bogen-Zwergmarienkäfer Clitostethus arcuatus (Rossi, 1794)—eine mediterrane Art auf Expansionskurs (Col., Coccinellidae). Entomologische Nachrichten und Berichte 44:193–197

Richter E, Hirthe G (2014) Efficacy of drench and spray applications of insecticides to control cabbage whitefly Aleyrodes proletella. IOBC-WPRS Bull 107:151–156

Roberts MJ (1985) The spiders of Great Britain and Ireland, vol 1. E. J. Brill, Leiden

Roberts MJ (1987) The spiders of Great Britain and Ireland, vol 2. Harley Books, Colchester

Rotheray GE (1993) Colour guide to hoverfly larvae. Derek Whiteley, Sheffield

Saucke H, Schultz B, Wedemeyer R, Liebig N, Zimmermann O, Katz P (2011) Biotechnische Regulierung der Kohlmottenschildlaus in Kohlgemüse - Sachstand und Perspektiven. Gesunde Pflanzen 63(4):183–189. https://doi.org/10.1007/s10343-011-0264-8

Schaefer M (2010) Brohmer - Fauna von Deutschland, 23rd edn. Quelle & Meyer, Wiebelsheim

Schultz B, Wedemeyer R, Saucke H, Leopold J, Zimmermann O (2009) Regulierung der Weißen Fliege im Kohlanbau durch den kombinierten Einsatz von Kulturschutznetzen und Nützlingen – Erste Ergebnisse des BÖL-Projekts. In: Mayer J, Alföldi T, Leiber F, Dubois D, Fried P, Heckendorn F, Hillmann E, Klocke P, Lüscher A, Riedel S, Stolze M, Strasser F, van der Heijden M, Willer H (eds) Werte – Wege – Wirkungen: Biolandbau im Spannungsfeld zwischen Ernährungssicherung, Markt und Klimawandel. Verlag Dr. Köster, Berlin, pp 296–299

Sengonca C, Wang XQ, Lui B (2001) Development, longevity and parasitization of whitefly parasitoid, Encarsia tricolor Forster (Hym., Aphenlinidae), at different temperatures. Zeitschrift für Pflanzenkrankheiten und Pflanzenschutz 108(3):298–304

Southwood TRE, Reader PM (1988) The impact of predation on the viburnum whitefly (Aleurotrachelus jelinekii). Oecologia 74(4):566–570

Springate S (2017) The cabbage whitefly Aleyrodes proletella and its natural enemies on wild cabbage Brassica oleracea on the Kent coast. Trans Kent Field Club 20:42–58

Springate S, Arnold SEJ (2011) New vice-county records of Clitostethus arcuatus (Rossi) (Coleoptera: Coccinellidae) and new association with wild cabbage. Br J Entomol Nat Hist 24:224–225. https://doi.org/10.1203/00006450-198308000-00021

Stein E (1958) Untersuchungen über Biologie, Massenwechsel und Bekämpfung der Kohlmottenschildlaus, Aleurodes proletella L. Rheinische Friedrich Wilhelms-Universität Bonn

Telli Ö, Yigit A (2012) Natural enemies of citrus woolly whitefly, Aleurothrixus floccosus (Maskell) and nesting whitefly, Paraleyrodes minei Iaccarino (Hemiptera: Aleyrodidae) in Hatay province, Turkey. Turkiye Entomoloji Dergisi 36(1):147–154

Ulusoy RM, Ülgentürk S (2003) The natural enemies of whiteflies (Hemiptera: Aleyrodidae) in southern Anatolia. Zool Middle East 28:119–124. https://doi.org/10.1080/09397140.2003.10637961

van Rijn PCJ, den Belder E, Elderson J, Vlaswinkel M, van Alebeek F (2008) Perspectives for functional agro biodiversity in Brussels sprouts. IOBC/WPRS Bull 34(1):121–124

van Veen MP (2010) Hoverflies of northwest Europe: identification keys to the Syrphidae, 2nd edn. KNNV, Utrecht

Viggiani G (1987) Le specie italiane del genere Encarsia Foerster (Hymenoptera: Aphelinidae). Bollettino del Laboratorio di Entomologia Agraria 'Filippo Silvestri' 44:121–179

Williams T (1995) The biology of Encarsia tricolor—an autoparasitoid of whitefly. Biol Control 5:209–217. https://doi.org/10.1006/bcon.1995.1026

Williams T (1996) Invasion and displacement of experimental populations of a conventional parasitoid by a heteronomous hyperparasitoid. Biocontrol Sci Technol 6(4):603–618. https://doi.org/10.1080/09583159631244

World Spider Catalog (2017) World spider catalog. Natural History Museum Bern. https://doi.org/10.24436/2. http://wsc.nmbe.ch/. Accessed 18 May 2017
Acknowledgements
We thank the plant protection advisors for their support in finding appropriate Brussels sprouts fields. Special thanks go to the Vegetable Research and Information Center (GKZ) of the State Institute for Agriculture and Fisheries Mecklenburg-West Pomerania and all the vegetable farmers who participated in our survey and allowed us to sample natural enemies. The project was supported by funds of the Federal Ministry of Food and Agriculture (BMEL) based on a decision of the Parliament of the Federal Republic of Germany via the Federal Office for Agriculture and Food (BLE) under the innovation support programme.
Ethics declarations
Conflict of interest
The authors have no conflict of interest and confirm that there are no disputes over the ownership of the data presented and all contributions have been attributed appropriately.
About this article
Cite this article
Laurenz, S., Schmidt, S., Balkenhol, B. et al. Natural enemies associated with the cabbage whitefly Aleyrodes proletella in Germany. J Plant Dis Prot 126, 47–54 (2019). https://doi.org/10.1007/s41348-018-0194-0
Received:

Accepted:

Published:

Issue Date:

DOI: https://doi.org/10.1007/s41348-018-0194-0
Keywords
Aleyrodidae

Biological control

Functional biodiversity

Parasitoids

Predators