Abstract
This study examined the feasibility of using a mobile app to communicate mental health, parenting, and nutrition information to low-income mothers. Using focus group discussions, four sessions were conducted with an average of 8 participants in each session to gather their perceived health information needs, iterative feedback about the app design, usability, and relevance of messages and information shared via the app. Participants were recruited from low-income serving programs. Our results demonstrated the unique needs and concerns of low-income mothers, such as concerns regarding lack of social support as well as knowledge and skill deficits (e.g., parenting, nutrition). To address these key needs expressed, an app was developed with such components as a forum for parent interaction as well as health information and community resources. After 1-week trial of the app, an evaluation of participating women revealed that they found the content focused on local accessible resources and the discussion platform for interacting with other parents to be the most helpful. Further, the option for searchable content to address immediate questions or concerns was also emphasized. A mobile app could potentially provide social support as well as answers to common concerns that could ultimately be effective in minimizing stress for families and improving maternal and child health.
Access options
Buy single article
Instant access to the full article PDF.
US$ 39.95
Tax calculation will be finalised during checkout.
Subscribe to journal
Immediate online access to all issues from 2019. Subscription will auto renew annually.
US$ 79
Tax calculation will be finalised during checkout.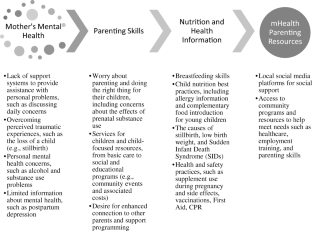 References
Banna, J., Campos, M., Gibby, C., Graulau, R. E., Meléndez, M., Reyes, A., Lee, J. E., & Palacios, C. (2017). Multi-site trial using short mobile messages (SMS) to improve infant weight in low-income minorities: development, implementation, lessons learned and future applications. Contemporary Clinical Trials, 62, 56–60.

Belle, D. (1990). Poverty and women's mental health. American Psychologist, 45(3), 385–389.

Broom, M. A., Ladley, A. S., Rhyne, E. A., & Halloran, D. R. (2015). Feasibility and perception of using text messages as an adjunct therapy for low-income, minority mothers with postpartum depression. JMIR Mental Health, 2(1), e4.

Carrion, B. V., Earnshaw, V. A., Kershaw, T., Lewis, J. B., Stasko, E. C., Tobin, J. N., & Ickovics, J. R. (2015). Housing instability and birth weight among young urban mothers. Journal of Urban Health, 92(1), 1–9.

Cunningham, C. E., Bremner, R., & Boyle, M. (1995). Large group community-based parenting programmes for families at risk for disruptive behaviour disorders: utilization, cost effectiveness, and outcome. Journal of Child Psychology and Psychiatry, 36, 1141–1159.

Fiscella, K., & Williams, D. R. (2004). Health disparities based on socioeconomic inequities: implications for urban health care. Academic Medicine, 79(12), 1139–1147.

Green, B. L., Furrer, C., & McAllister, C. (2007). How do relationships support parenting? Effects of attachment style and social support on parenting behavior in an at-risk population. American Journal of Community Psychology, 40(1–2), 96–108.

Griffiths, F., Lindenmeyer, A., Powell, J., Lowe, P., & Thorogood, M. (2006). Why are health care interventions delivered over the internet? A systematic review of the published literature. Journal of Medical Internet Research, 8(2), e10.

Jones, T. L., & Prinz, R. J. (2005). Potential roles of parental self-efficacy in parent and child adjustment: a review. Clinical Psychology Review, 25(3), 341–363.

Katz, K. S., Jarrett, M. H., El-Mohandes, A. A., Schneider, S., McNeely-Johnson, D., & Kiely, M. (2011). Effectiveness of a combined home visiting and group intervention for low income African American mothers: the pride in parenting program. Maternal and Child Health Journal, 15(1), 75–84.

Kushel, M. B., Gupta, R., Gee, L., & Haas, J. S. (2006). Housing instability and food insecurity as barriers to health care among low-income Americans. Journal of General Internal Medicine, 21(1), 71–77.

Le, C. H. H. (2016). The prevalence of anemia and moderate-severe anemia in the US population (NHANES 2003-2012). PLoS One, 11(11), e0166635.

Loveland Cook, C. A., Selig, K. L., Wedge, B. J., & Gohn-Baube, E. A. (1999). Access barriers and the use of prenatal care by low-income, inner-city women. Social Work, 44(2), 129–139.

McCurdie, T., Taneva, S., Casselman, M., Yeung, M., McDaniel, C., Ho, W., & Cafazzo, J. (2012). mHealth consumer apps: the case for user-centered design. Biomedical Instrumentation & Technology, 46(s2), 49–56.

Minas, A. M., & Ganga-Limando, M. (2016). Social-cognitive predictors of exclusive breastfeeding among primiparous mothers in Addis Ababa, Ethiopia. PLoS One, 11(10), e0164128.

Raikes, H. A., & Thompson, R. A. (2005). Efficacy and social support as predictors of parenting stress among families in poverty. Infant Mental Health Journal, 26(3), 177–190.

Raver, C. C., & Leadbeater, B. J. (1999). Mothering under pressure: environmental, child, and dyadic correlates of maternal self-efficacy among low-income women. Journal of Family Psychology, 13(4), 523–534.

Schnall, R., Rojas, M., Bakken, S., Brown, W., Carballo-Dieguez, A., Carry, M., Gelaude, D., Mosley, J. P., & Travers, J. (2016). A user-centered model for designing consumer mobile health (mHealth) applications (apps). Journal of Biomedical Informatics, 60, 243–251.

Shorey, S., Yang, Y. Y., & Dennis, C. L. (2018). A mobile health app–based postnatal educational program (Home-but not alone): descriptive qualitative study. Journal of Medical Internet Research, 20(4), e119.

Statistica (2019). Smartphone ownership in the U.S. 2015–2018, by age group. Available at https://www.statista.com/statistics/489255/percentage-of-us-smartphone-owners-by-age-group/

Teti, D. M., O'Connell, M. A., & Reiner, C. D. (1996). Parenting sensitivity, parental depression and child health: the mediational role of parental self-efficacy. Early Development and Parenting: An International Journal of Research and Practice, 5(4), 237–250.
Acknowledgments
We would like to thank our participants for their time and feedback and our community partners for their assistance. We are also grateful to project research staff, Shine DeHarder and Kassidy Colton, for their support and assistance with this research.
Funding
Research reported in this publication was supported by a Rochester's Child - Rochester Area Community Foundation Grant (20183010). The content is solely the responsibility of the authors and does not necessarily represent the official views of the Rochester Area Community Foundation.
Ethics declarations
The research complies with ethical standards and ethical approval of the procedures was granted for the Rochester Institute of Technology Institutional Review Board.
Conflict of Interest
The authors declare that there is no conflict of interest.
Additional information
Publisher's Note
Springer Nature remains neutral with regard to jurisdictional claims in published maps and institutional affiliations.
About this article
Cite this article
Godleski, S., Abu, B.A. & Kothari, A. A Qualitative Needs Assessment and Analysis of Perceptions of a Mobile Health App for Low-Income, At-Risk Mothers. J. technol. behav. sci. 6, 100–105 (2021). https://doi.org/10.1007/s41347-020-00151-w
Received:

Revised:

Accepted:

Published:

Issue Date:
Keywords
Mobile health

Parenting

Nutrition

Healthcare disparities

Low-income families