Abstract
Mental illness is highly prevalent among young adults in the USA, with anxiety disorders affecting a growing number of college students every year. Despite the availability of effective treatments, rates of help-seeking remain low among undergraduate students. One possible solution to overcoming the barriers to treatment-seeking is the use of mobile health (m-health), a set of electronic applications that aim to improve physical or mental health. This study aims to identify an alternative to formal treatment for anxiety disorders in order to best reach students who do not often use formal resources. In the present study, 18 undergraduate students utilized MindShift™, an anxiety-reducing phone application (app), for three weeks. Participants completed assessments at three time points measuring somatic anxiety, general anxiety, depression, and panic symptoms, and responded to open-ended questions evaluating app usability and satisfaction. Analyses of variance showed significant reductions in somatic anxiety (F3, 45 = 7.75, p = .001), general anxiety (F3, 45 = 15.90, p < .001), and depression symptoms (F3, 45 = 6.48, p = .004). In regard to app acceptability, participants reported a general satisfaction with MindShift™ with some critiques including technical difficulties and repetitive content. This study provides preliminary support for the efficacy of MindShift™ in managing anxiety symptoms and acceptability among college students. MindShift™ or similar apps should be further investigated as a tool for colleges and universities to use to combat the high levels of stress and anxiety their students are facing.
This is a preview of subscription content,
to check access.
Access this article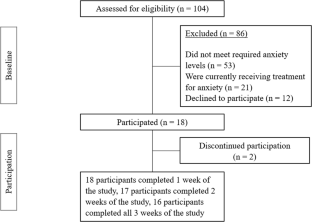 Ethics declarations
Approval for this study was obtained from the local IRB.
About this article
Cite this article
Paul, A.M., Eubanks Fleming, C.J. Anxiety Management on Campus: An Evaluation of a Mobile Health Intervention. J. technol. behav. sci. 4, 58–61 (2019). https://doi.org/10.1007/s41347-018-0074-2
Published:

Issue Date:

DOI: https://doi.org/10.1007/s41347-018-0074-2
Keywords