Abstract
Discernibility of Bhagirathi river course change detection was prepared via Remote Sensing and GIS in Murshidabad district among 41 years of period (1977–2017). Landsat MSS, TM, ETM+, TM, OLI sensor data from 1977, 1990, 2000, 2010 and 2017 respectively were considered to demarcate the chronological changes of the river course. Normalized Difference Water Index was used to extract the surface water bodies. Seventy-seven cross sections have been drawn to delimit the river course shifting pattern. The results shows that he Bhagirathi river course has been shifting towards south and west direction in different places, particularly in the lower and middle courses of the river. The adjacent riverine region has remained undeveloped due to infrastructure damaged by flood, changing course. Therefore, present study may be helpful for the overall management and planning for future prevention of flood, changing course, loss of properties.
Access options
Buy single article
Instant access to the full article PDF.
USD 39.95
Price excludes VAT (USA)
Tax calculation will be finalised during checkout.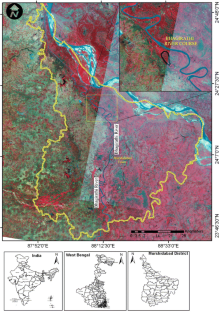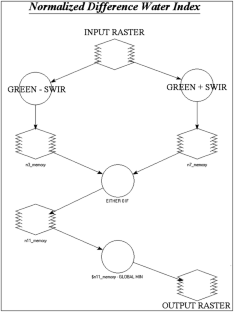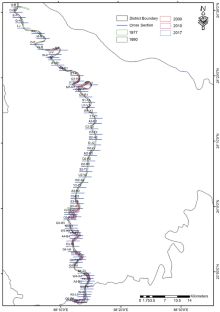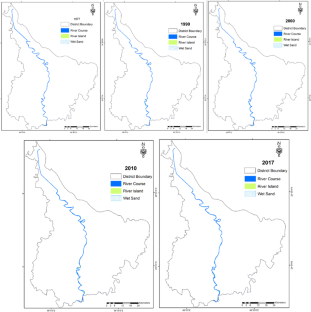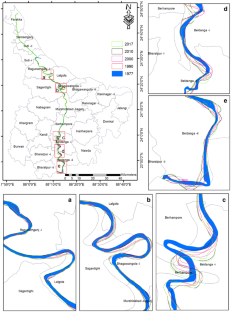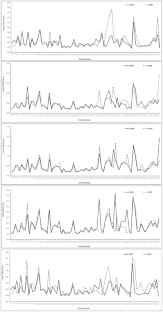 References
Ramachandra, T. V., Kumar, U. (2008). Wetlands of greater Bangalore, India: Automatic delineation through pattern classifiers. Electronic Green Journal, 26, 1–22. http://wgbis.ces.iisc.ernet.in/energy/water/paper/P25_1/TVR24_P25_1_3171-3811-1-PB.pdf.

Duong, N. D. (2012). Water body extraction from multi spectral image by spectral pattern analysis. In International archives of the photogrammetry, remote sensing and spatial information sciences, Volume XXXIX-B8, 2012 XXII ISPRS Congress, 25 August–01 September 2012, Melbourne, Australia (pp. 181–186).

Ghosh, S., & Mistri, B. (2015). Geographic concerns on flood climate and flood hydrology in monsoon-dominated Damodar river basin, Eastern India. Geography Journal, 486740, 1–16.

Dhar, O. N., & Nandargi, S. (2000). A study of floods in the Brahmaputra basin in India. International Journal of Climatology, 20, 771–781.

Mallick, S. (2016). Identification of fluvio-geomorphological changes and bank line shifting of river Bhagirathi-Hugli using remote sensing technique in and around of Mayapur Nabadwip area, West Bengal. International Journal of Science and Research (IJSR), 5(3), 1130–1134.

Thakur, P. K., Laha, C., & Aggarwal, S. P. (2011). River bank erosion hazard study of river Ganga, upstream of Farakka barrage using remote sensing and GIS. Natural Hazards, 61(3), 967–987. https://doi.org/10.1007/s11069-011-9944-z.

Lovric, N., & Tosic, R. (2016). Assessment of bank erosion, accretion and channel shifting using remote sensing and GIS: Case study—lower course of the Bosna river. Quaestiones Geographicae, 35(1), 81–92.

Panda, P., & Bandyopadhyay, J. (2011). Morphodynamic changes of Bhagirathi river at Murshidabad district using geoinformatics. Journal of Geographic Information System, 3, 85–97.

Morid, S. (2004). Investigate the morphological changes of the Karun river using remote sensing. Tehran, Iran: University Research Project, Tarbiyat Modarres.

Pathak, D., Gajurel, A. P., & Shrestha, G. B. (2007). Study of river shifting of Kodku Khola in Kathmandu valley using remotely sensed data. Journal of Nepal Geological Society, 36, 28.

Archana, S., Garg, R. D., & Nayan, S. (2012). RS-GIS based assessment of river dynamics of Brahmaputra river in India. Journal of Water Resource and Protection, 4, 63–72.

Sarp, G., & Ozcelik, M. (2017). Water body extraction and change detection using time series: A case study of Lake Burdur, Turkey. Journal of Taibah University for Science, 11(3), 381–391.

Xu, H. (2006). Modification of normalised difference water index (NDWI) to enhance open water features in remotely sensed imagery. International Journal of Remote Sensing, 27, 3025–3033.

Yi, L., Zhang, Z. X., Wang, X., Bin, L., Lijun, Z., Xiaoli, Z., et al. (2013). Spatial-temporal change of major reserve resources of arable land in China in recent 30 years. Transaction of the CSAE, 29, 1–12.

Wilding, L. P. (1985). Spatial variability: Its documentation, accommodation and implication to soil surveys. In D. R. Nielsen & J. Bouma (Eds.), Soil spatial variability (pp. 166–194). Wageningen, Netherlands: Pudoc.

Tuffour, H. O., Abubakari, A., Bashagaluke, J. B., & Djagbletey, E. D. (2016). Mapping spatial variability of soil physical properties for site-specific management. International Research Journal of Engineering and Technology (IRJET), 3(2), 149–163.

Einstein, A. (1926). The cause of the formation of meanders in the courses of rivers and of the co-called Baer's law. Die Naturwissenschaften, 14, 223–224.

Maurya, S. P., & Yadav, A. K. (2016). Evaluation of course change detection of Ramganga river using remote sensing and GIS, India. Weather and Climate Extremes, 13, 68–72.

Mandal, S. P., Kayet, N., Chakrabarty, A., Rahaman, G. (2016). Morphometric analysis of Bhagirathi river in Murshidabad district, West Bengal: Using geospatial and statistical techniques. Sustainable development and management of ground water resources, its remedial measures for emerging crisis and climate change in West Bengal (pp. 72–88). Kolkata: Central Ground Water Authority and Central Ground Water Board Eastern Region.

Laha, C. (2015). Oscillation of meandering Bhagirathi on the alluvial flood plain of Bengal Basin, India; as controlled by the palaeo-geomorphic architecture. International Journal of Geomatics and Geosciences, 5(4), 564–572.

U.S. Department of the Interior U.S. Geological Survey http://earthexplorer.usgs.gov.
About this article
Cite this article
Mandal, A.C., Patra, P., Majumder, R. et al. Evaluating meander shifting dynamics (1977–2017) of the Bhagirathi river course in Murshidabad District, West Bengal, India. Spat. Inf. Res. 26, 33–45 (2018). https://doi.org/10.1007/s41324-017-0153-z
Received:

Revised:

Accepted:

Published:

Issue Date:

DOI: https://doi.org/10.1007/s41324-017-0153-z
Keywords