Abstract
Compared with the size of a calibration board, the inspected area within the camera field of view is much bigger in many applications such as visual surveillance systems. In this paper, we present a global image-to-ground homography calibration method to obtain the mapping between the image and the planar scene lying in the whole camera field of view. The calibration approach is proposed by fusing multiple local homography matrices, with each of them only reflecting the relationship between a small calibration board and its corresponding small image part. By further calibrating a height-related homography, visual measurement can be extended for arbitrary planar surfaces with known heights. The proposed method presents such merits as no requirement for camera internal parameters, high calibration accuracy, and ease of implementation. Experimental results show that (1) the proposed global homography method achieves more accurate measurement results than the local homography method; (2) the height-related homography is calibrated with high accuracy; (3) the proposed approach can be used for mobile robot localization with accuracy close to the performance limit of a monocular camera.
Access options
Buy single article
Instant access to the full article PDF.
US$ 39.95
Tax calculation will be finalised during checkout.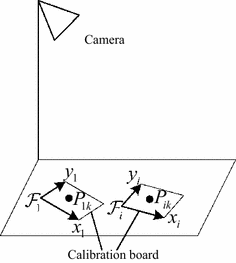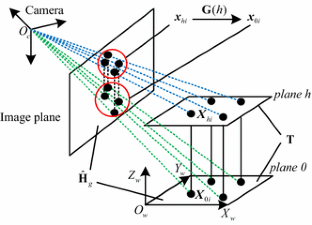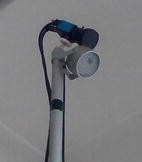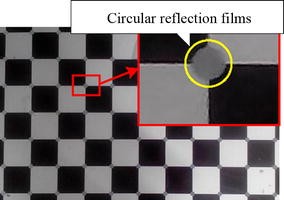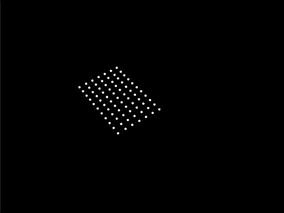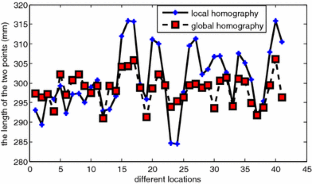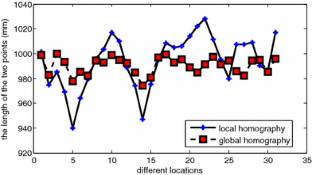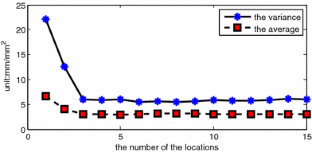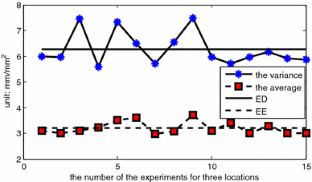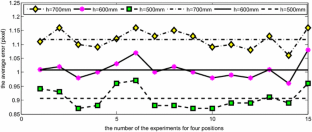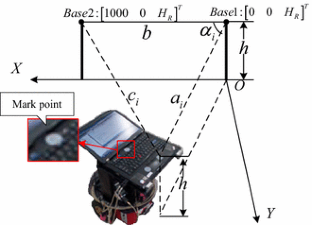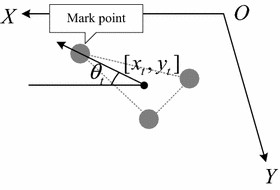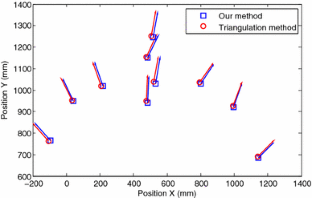 References
Ansar, A., Daniilidis, K.: Linear pose estimation from points or lines. IEEE Trans. Pattern Anal. Mach. Intell. 25(5), 578–589 (2003)

Elamsy, T., Habed, A., Boufama, B.: Self-calibration of stationary non-rotating zooming cameras. Image Vis. Comput. 32(3), 212–226 (2014)

Fischler, M.A., Bolles, R.C.: Random sample consensus: a paradigm for model fitting with applications to image analysis and automated cartography. Commun ACM 24(6), 381–395 (1981)

Gao, X., Hou, X., Tang, J., Cheng, H.: Complete solution classification for the perspective-three-point problem. IEEE Trans. Pattern Anal. Mach. Intell. 25(8), 930–943 (2003)

Hartley, R., Zisserman, A.: Multiple view geometry in computer vision, 2nd edn. Cambridge University Press, Cambridge (2004)

Hu, Z., Wu, F.: A note on the number of solutions of the noncoplanar p4p problem. IEEE Trans. Pattern Anal. Mach. Intell. 24(4), 550–555 (2002)

Kneip, L., Scaramuzza, D., Siegwart, R.: A novel parametrization of the perspective-three-point problem for a direct computation of absolute camera position and orientation. In: Proceedings of 2011 IEEE Conference on Computer Vision and Pattern Recognition (CVPR), pp. 2969–2976 (2011)

Knorr, M., Niehsen, W., Stiller, C.: Online extrinsic multi-camera calibration using ground plane induced homographies. In: IEEE Intelligent Vehicles Symposium (IV), pp. 236–241 (2013)

Lakemond, R., Fookes, C., Sridharan, S.: Evaluation of two-view geometry methods with automatic ground-truth generation. Image Vis. Comput. 31(12), 921–934 (2013)

Li, J., Ding, Q., Wang, P.: Monocular vision measurement method of object position and orientation based on quaternions. Aeronaut. Comput. Tech. 6, 006 (2011)

Li, J.-H., Xie, X.-Z.: Study of monocular measuring technique based on homography matrix. In: Wu, Y. (ed.) Computing and Intelligent Systems. ICCIC 2011. Communications in Computer and Information Science, vol. 234, pp. 316–324. Springer, Berlin (2011). doi:10.1007/978-3-642-24091-1_42

Madsen, K., Nielsen, H., Tingleff, O.: Methods for non-linear least squares problems. Technical report. Informatics and Mathematical Modelling, Technical University of Denmark (2004)

Meng, C., Zhou, N., Xue, X., Jia, Y.: Homography-based depth recovery with descent images. Mach. Vis. Appl. 24(5), 1093–1106 (2013)

Scoleri, T.: Video metrology without the image-to-ground homography. In: Preceedings of 2010 International Conference on Digital Image Computing: Techniques and Applications (DICTA), pp. 335–342 (2010)

Sun, C., Zhang, Z., Wang, P.: Measuring method for the object pose based on monocular vision technology. In: Proceedings of the SPIE, Optical Metrology and Inspection for Industrial Applications, Photonics Asia, Beijing, China, vol. 7855, pp. 78550Z (2010). doi:10.1117/12.868984

Wang, G., Hu, Z., Wu, F., Tsui, H.T.: Single view metrology from scene constraints. Image Vis. Comput. 23(9), 831–840 (2005)

Wang, G., Tsui, H.T., Hu, Z., Wu, F.: Camera calibration and 3d reconstruction from a single view based on scene constraints. Image Vis. Comput. 23(3), 311–323 (2005)

Wang, G., Wu, Y., Hu, Z.: A novel approach for single view based plane metrology. In: Proceedings of 16th International Conference on Pattern Recognition, vol. 2, pp. 556–559 (2002)

Wolfe, W., Mathis, D., Sklair, C., Magee, M.: The perspective view of three points. IEEE Trans. Pattern Anal. Mach. Intell. 13(1), 66–73 (1991)

Wu, B., Zhang, F., Xue, T.: Monocular-vision-based method for online measurement of pose parameters of weld stud. Measurement 61(2), 263–269 (2015)

Xu, D., Li, Y.F., Tan, M.: A general recursive linear method and unique solution pattern design for the perspective-n-point problem. Image Vis. Comput. 26(6), 740–750 (2008)

Yang, J., Jia, Z., Liu, W., Fan, C., Xu, P., Wang, F., Liu, Y.: Precision calibration method for binocular vision measurement systems based on arbitrary translations and 3d-connection information. Meas. Sci. Technol. 27(10), 105009 (2016)

Zhai, Y., Zeng, L., Xiong, W., Shan, Q.: Attitude disturbance correction for binocular vision cameras in rendezvous and docking. IEEE Aerosp. Electron. Syst. Mag. 30(12), 34–40 (2015)

Zhang, X., Chen, X., Alarcon, J., Fang, Y.: 3-d model-based multi-camera deployment: a recursive convex optimization approach. IEEE/ASME Trans. Mechatron. 20(6), 3157–3169 (2015)

Zhang, X., Fang, Y., Li, B., Wang, J.: Visual servoing of nonholonomic mobile robots with uncalibrated camera-to-robot parameters. IEEE Trans. Ind. Electron. 64(1), 390–400 (2017)

Zhou, J., Li, B.: Homography-based ground detection for a mobile robot platform using a single camera. In: Proceedings of the IEEE International Conference on Robotics and Automation, pp. 4100–4105 (2006)
Acknowledgements
This work is supported in part by National Natural Science Foundation of China (NSFC) under Grant U1613210 and 61573195.
About this article
Cite this article
Zhang, X., Wang, C., Fang, Y. et al. Global homography calibration for monocular vision-based pose measurement of mobile robots. Int J Intell Robot Appl 1, 372–382 (2017). https://doi.org/10.1007/s41315-017-0034-6
Received:

Accepted:

Published:

Issue Date:
Keywords
Visual measurement

Global image-to-ground homography

Height-related homography