Abstract
This study identified opportunities for social justice through inclusion in the curriculum and pedagogical practices in higher institution spaces in South Africa. A systematic review was done of past scientific studies carried out in South Africa that focused on social justice in the higher education curriculum and pedagogy delivery. Findings established that opportunities were available in higher education institutions' spaces for the elimination of injustice and inequality. Effective utilisation of these opportunities and taking responsibility for the realisation of social justice goals through classroom practices that shaped students' lives as social change agents was deemed necessary.
Access options
Buy single article
Instant access to the full article PDF.
US$ 39.95
Tax calculation will be finalised during checkout.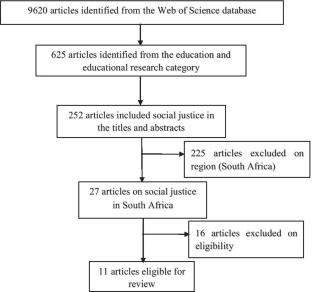 References
Abdullah, N. A., & Chaudhry, A. Q. (2018). Promoting social justice and equity through university education in Pakistan. International Journal for the Scholarship of Teaching and Learning, 12(2), 5

Adorno, T. W. (1959) Theorie der Halbbildung. In Ders.: Gesammelte Schriften, Band 8; Darmstadt: Wissenschaftliche Buchgesellschaft 1998, S. 93–121.

Allsup, R. E., & Shieh, E. (2012). Social justice and music education: the call for a public pedagogy. Music Educators Journal, 98(4), 47–51

Ammon, L. (2019). "Decolonising the university curriculum in South Africa: A case study of the University of the Free State." Master's thesis. Linnaeus University, Department for Social Studies. Peace and Development.

Australia, C. (2017). What is pedagogy? How does it influence our practice? https://www.childaustralia.org.au/wp-content/uploads/2017/02/CA-Statement-Pedagogy.pdf

Barrow, R. and Milburn G. (1992). A Critical Dictionary of Educational Concepts; Educating the Virtues: an essay on the philosophical psychology of moral development by David Carr; Effectiveness in Education and Training: the theory and practice of moral development by Max Taylor. Journal of Applied Philosophy, 9(2), 251–253.

Beauchamp, G. (1977). Basic components of a curriculum theory. In A. Bellack & H. Kliebard (Eds.), Curriculum and evaluation (p. 22). McCutchan.

Bozalek, V., Leibowitz, B., Swartz, L., Nicholls, L., Carolissen, R., & Rohleder, P. (2010). Engaging with difference in higher education through collaborative inter-institutional pedagogical practices. South African Journal of Higher Education, 24(6), 1023–1037

Brady, L. (1995). Curriculum development. Prentice Hall.

Brookfield, S. D. (2017). Becoming a critically reflective teacher. John Wiley & Sons.

de Kadt, E. (2019). Promoting social justice in teaching and learning in higher education through professional development. Teaching in Higher Education, 25( 7), 872–887 https://doi.org/10.1080/13562517.2019.1617685.

de Oliveira Andreotti, V., Stein, S., Ahenakew, C., & Hunt, D. (2015). Mapping interpretations of decolonization in the context of higher education. Decolonization: Indigeneity, Education & Society, 4(1), 21–40

Department of Education. (1995). White Paper on Education and Training. Government Printer.

Francis, D., & Le Roux, A. (2011). Teaching for social justice education: the intersection between identity, critical agency, and social justice education. South African Journal of Education, 31(3), 299–311

Freire, P. (2010). Pedagogy of the oppressed. The Continuum International Publishing Group Inc.

Freire, P. (2018). Pedagogy of the oppressed. Bloomsbury Publishing USA. Publish number 03–22–2018

Furman, G. (2012). Social justice leadership as praxis: developing capacities through preparation programs. Educational Administration Quarterly, 48(2), 191–229

Guerriero, S. (2014). Teachers' pedagogical knowledge and the teaching profession. Teaching and Teacher Education, 2(1), 7

Habermas, J. (1979). Communication and the Evolution of Society (Vol. 572). Boston: Beacon Press.

Jansen, J. (2017a). As by fire. Tafelberg.

Jansen, J. (2017). Introduction – Part II. Decolonising the curriculum given a dysfunctional school system? Journal of Education (University of KwaZulu-Natal), 68, 3–14

Le Grange, L. (2016). Decolonising the curriculum. South African Journal of Higher Education, 30(2), 1–12. https://doi.org/10.20853/30-2-709

Leibowitz, B. (2017). Cognitive justice and the higher education curriculum. Journal of Education (University of KwaZulu-Natal), 68, 93–112

Leibowitz, B., & Bozalek, V. (2016). The scholarship of teaching and learning from a social justice perspective. Teaching in Higher Education, 21(2), 109–122

Lindén, J., Annala, J., & Coate, K. (2017). The role of curriculum theory in contemporary higher education research and practice. In Theory and method in higher education research. Emerald Publishing Limited. Volume (3); (pp. 137-154)https://doi.org/10.1108/S2056-375220170000003008

Lotz-Sisitka, H., Wals, A. E., Kronlid, D., & McGarry, D. (2015). Transformative, transgressive social learning: rethinking higher education pedagogy in times of systemic global dysfunction. Current Opinion in Environmental Sustainability, 16, 73–80

Luckett, K., & Shay, S. (2017). Reframing the curriculum: a transformative approach. Critical Studies in Education., 61, 1–16. https://doi.org/10.1080/17508487.2017.1356341

Maddock, T. (1999). The nature and limits of critical theory in education. Educational Philosophy and Theory, 31(1), 43–61

Makhonza, L. O., Lawrence, K. C., & Nkoane, M. M. (2019). Polygonal ubuntu/botho as a superlative value to embrace orphans and vulnerable children in schools. Gender and Behaviour, 17(3), 13522–13530

Marsh, C. J. (ed.). (1997). Perspectives: key concepts for understanding curriculum 1. The Falmer Press.

McKenna, S. (2012). Interrogating the academic project. In L. Quinn (Ed.), Reimagining academic staff development, (15–26). Sun Press.

Müller, M., Motai, C., Nkopane, M., Mofokeng, T., Lephatsoe, N., & Mouton, R. (2018). Working toward a socially just curriculum in South Africa: a collaborative autobiographical narrative inquiry. Journal of Education (University of KwaZulu-Natal), 74, 85–101

Ntshoe, I. M. (2020). Ontologising social justice in decolonised and postapartheid settings. South African Journal of Higher Education, 34(3), 263–280.

Osman, R., Ojo, E., & Hornsby, D. J. (2018). Transforming higher education towards a socially just pedagogy. Journal of Human Behavior in the Social Environment, 28(4), 393–396. https://doi.org/10.1080/10911359.2018.1476641

Peca, K. (2000). Critical theory in education: Philosophical, research, sociobehavioral, and organizational assumptions. The Educational Resources Information Center. https://files.eric.ed.gov/fulltext/ED450057.pdf

Petersen, N., & Henning, E. (2018). Service learning and the practice of social justice and care. Journal of Human Behavior in the Social Environment, 28(4), 436–448

Pillay, R., Pretorius, E., & Canham, H. (2018). Are we getting socially just pedagogy right? Reflections from social work praxis. Journal of Human Behavior in the Social Environment, 28(3), 286–302

Pratt, D. (1994). Curriculum planning: a handbook for professionals. Harcourt Brace College Publishers.

Republic of South Africa (RSA). (2013). White Paper for Post-School Education and Training. Building an Expanded, Effective and Integrated Post-School System. https://www.gov.za/sites/default/files/gcis_document/201409/37229gon11.pdf

Riddell, S., Tinklin, T., & Wilson, A. (2005). New labour, social justice and disabled students in higher education. British Educational Research Journal, 31(5), 623–643

Ross, S. N. (2014). Diversity and intergroup contact in higher education: exploring possibilities for democratization through social justice education. Teaching in Higher Education, 19(8), 870–881

Sampaio, M., & Leite, C. (2018). Mapping social justice perspectives and their relationship with curricular and schools' evaluation practices: looking at scientific publications. Education as Change, 22(1), 1–21

Scottish Government. (2008). Building the curriculum 3: a framework for learning and teaching. Scottish Government.

Shay, S., & Peseta, T. (2016). A socially just curriculum reform agenda. Teaching in Higher Education, 21(4), 361–366

Siraj-Blatchford, I., Muttock, S., Sylva, K., Gilden, R., & Bell, D. (2002). Researching effective pedagogy in the early years. Volume/Part: 356. http://dera.ioe.ac.uk/id/eprint/4650

Storms, S. B. (2012). Preparing students for social action in a social justice education course: what works? Equity & Excellence in Education, 45(4), 547–560

Su, S. W. (2012). The various concepts of curriculum and the factors involved in curricula-making. Journal of Language Teaching & Research, 3(1), 153–158

Tom, A. R. (1984). Teaching as a moral craft. Longman.

Torres-Harding, S. R., Diaz, E., Schamberger, A., & Carollo, O. (2015). Psychological sense of community and university mission as predictors of student social justice engagement. Journal of Higher Education Outreach and Engagement, 19(3), 89–112

Tsegay, S. M., Zegergish, M. Z., & Ashraf, M. A. (2018). Pedagogical practices and students' experiences in Eritrean higher education institutions. Higher Education for the Future, 5(1), 89–103

Williams, A. C. (2018). Decolonising knowledge: reflections on colonial anthropology and a humanities seminar at the University of the Free State. Strategic Review for Southern Africa. 40(1), 82–103. https://www.up.ac.za/media/shared/85/Strategic%20Review/vol%2040(1)/williams-pp-82-103.zp159810.pdf

Wilson, F. (2011). Historical roots of inequality in South Africa. Economic History of Developing Regions, 26(1), 1–15

Winberg, C. & Winberg, S. (2017). Using a social justice approach to decolonize an engineering curriculum. IEEE Global Engineering Education Conference (EDUCON). (248–254). DOI: https://doi.org/10.1109/EDUCON.2017.7942855

Wood, L., & Davis, B. G. (1978). Designing and evaluating higher education curricula. AAHE-ERIC/Higher Education Research Report (No. 8). The American Association for Higher Education.

Young, M. (2013). Overcoming the crisis in curriculum theory: a knowledge-based approach. Journal of Curriculum Studies, 45(2), 101–118
Additional information
Publisher's note
Springer Nature remains neutral with regard to jurisdictional claims in published maps and institutional affiliations.
About this article
Cite this article
Lawrence, K.C., Maphalala, M.C. Opportunities for social justice in the curriculum and pedagogical practices in higher education institution spaces in South Africa. Curric Perspect (2021). https://doi.org/10.1007/s41297-021-00140-w
Received:

Revised:

Accepted:

Published:
Keywords
Curriculum

Higher education

Opportunities

Social justice