Abstract
Age and growth characteristics of the Indian oil sardine (Sardinella longiceps) was studied by interpreting microstructures on hard parts. Microstructures were validated to the time scales by observing their frequency of formation on hard parts of the fishes reared in confinement. Among the hard parts, sagittal otolith alone was found suitable for ageing the species as frequency of microstructure formation on them followed definite time scale. The estimates of age at length data and growth parameters from otolith analysis indicated faster growth in the species than the earlier estimates by other methods. Despite an expected sexual divergence in their growth, results show identical growth in both sexes. It further highlighted the prevalence of very distinct temporal growth variation driven by habitat environment indicating significance of hard part studies on ecological understanding of fishes. It also aided in tracing the precise time of birth with high precision, identifying the cohorts that supported the fishery and possible inter-regional migration of the species. The data generated from hard part ageing would aid in better eco-biological understanding of species, precise stock assessment outputs and fishery forecasting.
Access options
Buy single article
Instant access to the full article PDF.
USD 39.95
Price excludes VAT (USA)
Tax calculation will be finalised during checkout.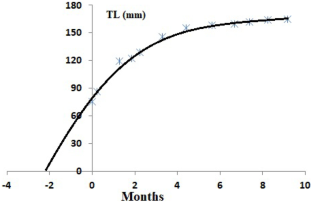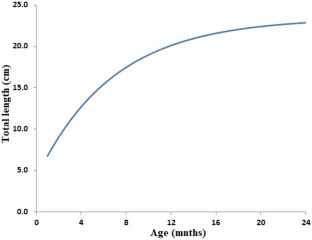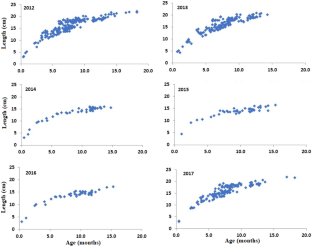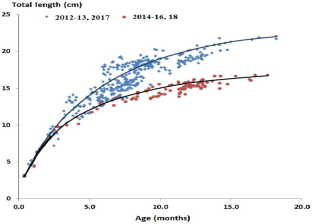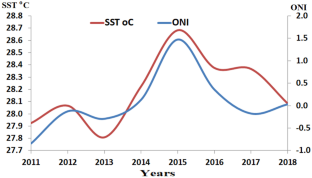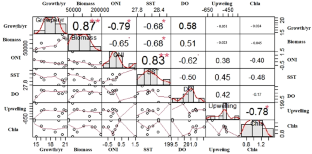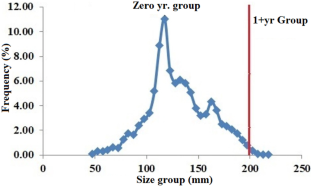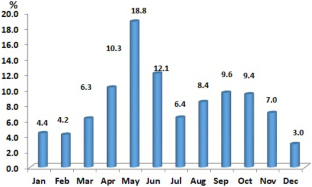 Data Availability
The datasets generated during and/or analysed during the current study are available from the corresponding author on reasonable request.
References
Abdussamad EM, Pillai NGK, Habeeb Mohammed OM, Jayabalan K (2010) Sardines of the Gulf of Mannar ecosystem - fishery and resource characteristics of major species. Indian J Fish 52:7–12

Abdussamad EM, Mini KG, Sasikumar G, Chakraborty RD, Retheesh TB, Deepthi NV, Mohammed AA, Saji Kumar KK, Akhil AR, Prakasan D (2019) Age determination in fishes using hard parts: A practical handbook, ISBN978-93-82263-30-2 80P.

Al-Anbouri IS, Ambak MA, Jaybalan N (2011) Studies on the age, growth and mortality rates of Indian Oil Sardine, Sardinella longiceps Valenciennes, 1847 off Oman Sea, Muscat, Sultanate of Oman. J Bio Agri Heal 1:19–26

Annigeri GG, Kurup KN, Kumaran M, Mohan M, Luther G, Nair PN, Rohit P, Kulkarni GM, Narayana GJC, Rao KV (1992) Stock assessment of oil sardine, Sardinella longiceps Val., off west coast of India. Indian J Fish 39:125–135

Antony Raja BT (1969) The oil sardine. Bull Central Mar Fish Res Inst 16:128

Antony Raja BT (1970) Estimation of age and growth of the Indian oil sardine, Sardinella longiceps Val. Ind J Fish 17:26–34

Balan V (1959) Age-determination of the Indian oil-sardine, Sardinella longiceps Val. by means of scales. Curr Sci 28:122–123

Balan V (1964) Studies on the age and growth of the oil-sardine Sardinella longiceps Val. by means of scales. Ind J Fish 11:663–686

Banerji SK (1968) Estimation of marine fish production. In symposium on the current status of fisheries statistics. 12–13, J Indian Soc Agric Stat 20(2):62–67

Bellido JM, Pierce GJ, Romero JL, Millan M (2000) Use of frequency analysis methods to estimate growth of anchovy (Engraulis encrasicolus L. 1758) in the Gulf of Cadiz (SW Spain). Fish Res 48:107–115

Bensam P (1964) Growth variations in the Indian oil sardine, Sardinella longiceps Valenciennes. Ind J Fish 11:699–708

Brothers EB (1987) Methodological approaches to the examination of otoliths in aging studies. The age and growth of fish. The Iowa State University Press, Ames IOwaa PP. 319–330

Campana SE, Neilson JD (1985) Microstructure of fish otoliths. Can J Fish Aquat Sci 42:1014–1032

Carbonara P, Follesa MC (2019) Handbook on fish age determination: a Mediterranean experience. General Fisheries Commission for the Mediterranean. Studies Rev 98:1–179

Cubillos LA, Arcos DF, Bucarey DA, Canales MT (2001) Seasonal growth of small pelagic fish off Talcahuano, Chile (37° S, 73° W): a consequence of their reproductive strategy to seasonal upwelling? Aquat Living Resour 14:115–124

Dayaratne P, Gjosaeter J (1986) Age and growth of four Sardinella species from Sri Lanka. Fish Res 4:1–33

Dehghani M, Kamrani E, Salarpouri A, Kamali E (2015) Age and growth of Sind sardine (Sardinella sindensis) using otolith from Qeshm Island (Persian Gulf). Iran J Fish Sci 14:236–250

Devanesan DW (1943) A brief investigation into the causes of the fluctuation of the annual fishery of the oil-sardine of Malabar, Sardinella longiceps Cuv. and Val., determination of its age and an account of the discovery of its eggs and spawning grounds. Madras Fish Bull 28:1–38

Fonteles Filho AA, Carvalho MOX, Paiva MP, Júnio MP (2005) Age and growth of Brazilian sardinella, Sardinella brasiliensis (Steindachner) (Osteichthyes: Clupeidae), in southeastern Brazil. Arquivos de Ciências do Mar 38(1–2):39–47

Ganga U, Pillai NGK (2006) Comparison of the growth of oil sardine Sardinella longiceps Val., off Vishakhapatnam and Malabar coasts. Ind J Fish 53:449–453

Gayanilo FC, Sparre P Pauly D (2005) FAO-ICLARM stock assessment tools II: User's guide (No. 8). Food Agric Org. http://www.fao.org/fi/statist/fisoft/fisat

Green BS, Mapstone BD Carlos G, Begg GA (2009) Tropical fish otoliths: information for assessment, management and ecology (Vol. 11). Springer Science and Business Media

Hornell J, Nayudu MR (1924) A contribution to the life history of the Indian oil sardine with notes on the plankton of the Malabar coast. Government Press 17:129–197

Jayabalan N, Zaki S, Al-Kiyumi F, Al-Kharusi L (2014) Age, growth and stock assessment of the Indian oil sardine Sardinella longiceps Valenciennes 1847 off Mahout coast, Sultanate of Oman. Ind J Fish 61:1–6

Jayaprakash AA (2007) Distribution and migration of oil sardine. CMFRI Newsletter Ser No 115:10–11

Kendall MG, Sturat A (1973) The advanced theory of statistics, vol II, 3rd edn. New York, Hafner

Krishnakumar PK, Rohit P, Nayak TH Rajagopalan M (2006) Assessing the impacts of climate change on marine fisheries of Karnataka and identifying regime shifts. In:B. M. Kurup and K. Ravindran (eds) Sustain Fish, School of Industrial Fisheries, CUSAT 378–386

Kumar K, Balasubramanian K (1987) Fishery and biology of oil sardine Sardinella longiceps (Valenciennes) from coastal waters of Parangipettai. In CMFRI Bulletin National Symposium on Research and Development in Marine Fisheries Sessions I and II 44:42–45

Kurup KN, Balan V, Vijayaraghavan P, Kumaran M (1989) Stock assessment of the Indian oil sardine (Sardinella longiceps) off the West Coast of India.

Morales-Nin B, Pertierra JP (1990) Growth rates of the anchovy Engraulis encrasicolus and the sardine Sardina pilchardus in the Northwestern Mediterranean Sea. Mar Biol 107:349–356

Nair PG, Joseph S, Kripa V, Remya R, Pillai VN (2016) Growth and maturity of Indian oil sardine Sardinella longiceps (Valenciennes, 1847) along southwest coast of India. J Mar Biol Assoc India 58:64–68

Nair RV (1949) The growth -rings on the otoliths of oil-sardine Sardinella longiceps Cuv. and Val. Curr Sci 18:9–11

Nair RV (1959) Notes on the spawning habits and early life history of the oil sardine, Sardinella longiceps Cuv. and Val. Ind J Fish 6:342–359

Nair RV (1960) Synopsis on the biology and fishery of the Indian sardines. Species synopsis No.11, Proc. World Sci. Meeting on Biology of Sardines 2:329–414

Nair RV, Chidambaram K (1951) A review of the Indian oil sardine fishery. Proc Nat Inst Sci India 17:71–85

Palomares ML, Muck P, Mendo J, Chuman E, Gomez O, Pauly D (1987) Growth of the Peruvian anchoveta (Engraulis ringens), 1953 to 1982. The Peruvian anchoveta and its upwelling ecosystem: three decades of change. ICLARM Stud Rev 15:117–141

Pauly D (1980) A new methodology for rapidly acquiring basic information on tropical fish stocks: growth, mortality and stock-recruitment relationships. Citeseer, City 154–7

Pauly D, Morgan GR (1987) Length-based methods in fisheries research (Vol. 13). World Fish

Prabhu MS, Dhulkhed MH (1967) On the occurrence of small sized oil sardine, Sardinella longiceps Val. Curr Sci 36:410–411

Rohit P, Sivadas M, Abdussamad EM, Margaret Muthu Rathinam A, Koya KP, Ganga U, Ghosh S, Rajesh KM, Mohammed Koya K, Chellappan A, Mini KG (2018) Enigmatic Indian oil sardine: An insight. ICAR-Central Marine Fisheries Research Institute

Rohit P, Bhat SU (2003) Sardine fishery with notes on the biology and stock assessment of oil sardine off Mangalore-Malpe. J Mar Biol Assoc India 45:63–71

Saccardo SA, Rossi-Wongtschowski CL, Cergole MC, Bittencourt MM (1988) Age and growth of the southeastern Brazilian sardine, Sardinella brasiliensis 1981–1983. Boletim Do Instituto Oceanográfico 36:17–35

Sam Bennet P (1965) Length and age composition of the oil sardine catch off Calicut coast in 1964 and 1965. Indian J Fish 12A (2):507–529

Sarang JD, Sundaram S (2010) Emergence of oil sardine fishery as an alternative resource for dolnetters at Arnala. Mar Fish Inf Serv Techn Extension Ser 206:7–9

Schreck CB, Moyle PB (1990) Methods for fish biology. American Fisheries Society Bethesda. Maryland, USA. The European anchovy Engraulis Encrasicolus. Fish Res 42:229–243

Shah T, Chakraborty S, Tarkeshwar K, Sadawarte R (2018) Observations on the fecundity of Sardinella longiceps from Ratnagiri waters off west coast of India. J Exp Zool India 21:237–240

Von Bertalanffy L (1938) A quantitative theory of organic growth (inquiries on growth laws. II). Hum Biol 10:181–213

Yohannan TM, Balasubramanian KK, Janaki VK (1998) Comparison of the growth patterns of Indian mackerel and oil sardine. J Mar Biol Assoc India 40:205–208
Acknowledgements
Authors are grateful to Indian Council of Agricultural Research (ICAR) and National Agricultural Innovation Project (NAIP) for the support in establishing fish ageing facility at the Institute. We sincerely acknowledge, Dr. A. Gopalakrishnan, Director, ICAR-Central Marine Fisheries Research Institute (CMFRI) for his constant encouragement and support in carrying out the work. Dr. G. Syda Rao, former Director, of the Institute and Dr. K. S. Mohammed, former Head, Molluscan Fisheries Division, is also thankfully acknowledged for their motivation and support.
Funding
The research leading to these results received funding from Indian Council of Agricultural Research (ICAR) under National Agricultural Innovation Project (NAIP).
Ethics declarations
Ethical Approval
All authors agree to its submission and the Corresponding author has been authorized by co-authors; This Article has not been published before and is not concurrently being considered for publication elsewhere. This Article does not violate any copyright or other personal proprietary right of any person or entity and it contains no abusive, defamatory, obscene or fraudulent statements, nor any other statements that are unlawful in any way.
Human and Animal Ethics
All experiments have been conducted as per the guidelines of the Institutional Animal Ethics Committee, Central Marine Fisheries Research Institute, Kochi. Only dead fish samples collected from the fish landing centers were used for this study.
Consent for Publication
I Abdussamad EM, corresponding author of this manuscript give my consent for the publication of identifiable details which can include figures, tables and details within the text to be published in the Thalassas journal and article on behalf of all the co-authors.
Competing Interests
The authors have no financial or proprietary interests in any material discussed in this article. The authors declare no competing interests.
Additional information
Publisher's Note
Springer Nature remains neutral with regard to jurisdictional claims in published maps and institutional affiliations.
Rights and permissions
Springer Nature or its licensor (e.g. a society or other partner) holds exclusive rights to this article under a publishing agreement with the author(s) or other rightsholder(s); author self-archiving of the accepted manuscript version of this article is solely governed by the terms of such publishing agreement and applicable law.
About this article
Cite this article
Abdussamad, E.M., Rohit, P., Ghosh, S. et al. Age and Growth Studies in Indian Oil Sardine (Sardinella longiceps) using Hard Part Microstructure, a Tool for Biological and Ecological Understanding. Thalassas (2022). https://doi.org/10.1007/s41208-022-00498-2
Received:

Revised:

Accepted:

Published:

DOI: https://doi.org/10.1007/s41208-022-00498-2
Keywords
Ageing

Hard parts

Sagittal otoliths

Microstructures

Ecology

Stock assessment

Forecasting