Abstract
The current status of the elasmobranchs' populations and distribution in the Canary Islands is uncertain. Here we investigate the abundance and distribution patterns of coastal elasmobranchs of Tenerife, with a special attention on the Aetomylaeus bovinus population using a photo-identification methodology. A total of 35 visual surveys were conducted in 5 coastal areas, in which pictures were taken every time an elasmobranch individual was sighted to conduct further biometry analyses. For A. bovinus sightings, pictures were used to identify each individual. Relative abundances and sex-ratios of the elasmobranchs recorded were calculated. The Western Coastline of the island was more diverse, showing 8 species out of the 9-total observed. The photo-identification technique allowed a preliminary estimation of the population size of A. bovinus in El Palmar area with 10 individuals identified and 10 re-sightings over a period of 12 months. This study provides the first relevant information regarding broad distribution, abundance and diversity of coastal elasmobranchs around Tenerife. The study also provides information regarding site fidelity of 3 mature individuals of Aetomylaeus bovinus in the South West area.
Access options
Buy single article
Instant access to the full article PDF.
USD 39.95
Price excludes VAT (USA)
Tax calculation will be finalised during checkout.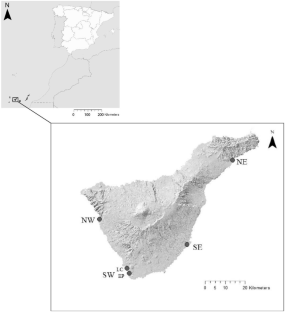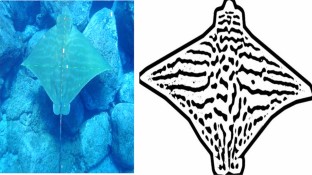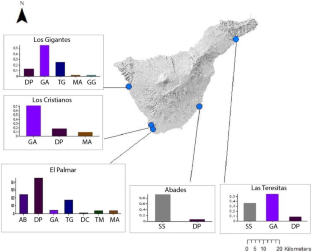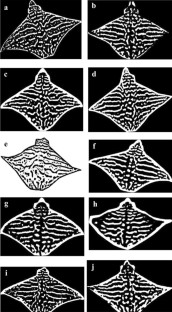 Availability of Data and Material
References 
Brito A, Pascual P, Falcón J, Sancho A, y González G (2002) Peces de las Islas Canarias (catálogo completo e ilustrado). San Cristóbal de La Laguna. Francisco Lemus (editor).

Boyra A, Sanchez-Jerez P, Tuya F et al (2004) Attraction of Wild Coastal Fishes to an Atlantic Subtropical Cage Fish Farms, Gran Canaria. Canary Islands Environmental Biology of Fishes 70:393–401. https://doi.org/10.1023/B:EBFI.0000035435.51530.c8

Capapé J, Zaouali JAT, Bouchereau JL (1992) Reproductive biology of the spiny butterfly ray, Gymnura altavela (Linnaeus, 1758) (Pisces: Gymnuridae) from off the Tunisian coasts. Sci Mar 56(4):347–355

Cardinale M, Nugroho D, Hernroth L (2009) Reconstructing historical trends of small pelagic fish in the Java Sea using standardized commercial trip based catch per unit of effort. Fish Res 99(3):151–158. https://doi.org/10.1016/j.fishres.2009.05.015

Clemente S, Hernández JC, Toledo K, Brito A (2007) Predation upon Diadema aff. Zantillarum in barren grounds in the Canary Islands. Sci Mar 71(4):745–754. https://doi.org/10.3989/scimar.2007.71n4745

Deakos MH (2010) Paired-laser photogrammetry as a simple and accurate system for measuring the body size of free-ranging manta rays Manta alfredi. Aquat Biol 10:1–10. https://doi.org/10.3354/AB00258

Dudgeon CL, Noad MJ, Lanyon JM (2008) Abundance and demography of a seasonal aggregation of zebra sharks Stegostoma fasciatum. Mar Ecol Prog Ser 368:269–281. https://doi.org/10.19185/matters.201903000016

Dulčić J, Lipej L, Orlando BM, Jenko R, Grbec B et al (2008) The bull ray, Pteromylaeus bovinus (Myliobatidae) in the northern Adriatic Sea. Cybium 32(2):119–123

Dulvy N, Fowler S, Musick J, Cavanagh R, Kyne P et al (2014) Extinction risk and conservation of the world's sharks and rays. eLIFE https://doi.org/10.7554/eLife.00590

Escánez A, Torres C, Rodríguez RS, Oñate M, Marrero PJ (2016) Estudio del primer área de cría del Angelote (Squatina squatina) descubierta em Canarias. Chronica Naturae 6:50–62

Graham RT, Roberts CM (2007) Assessing the size, growth rate and structure of a seasonal population of whale sharks (Rhincodon typus Smith 1828) using conventional tagging and photo identification. Fish Res 84(1):71–80. https://doi.org/10.1016/j.fishres.2006.11.026

Heupel M, Carlson JK, Simpfendorfer CA (2007) Shark nursery areas: Concepts, definition, characterization and assumptions. Mar Ecol Prog Ser 337:287–297. https://doi.org/10.3354/meps337287

Jabado RW, Chartrain E, Cliff G, Derrick D, Dia M, Diop M, Doherty P, Dossa J, Leurs GHL, Metcalfe K, Porriños G, Seidu I, Soares A, Tamo A, VanderWright W, Williams AB (2021) Aetomylaeus bovinus. The IUCN Red List of Threatened Species 2021:e.T60127A124441812. https://doi.org/10.2305/IUCN.UK.2021-1.RLTS.T60127A124441812.en

Kock A, O'Riain MJ, Mauff K, Mey ̈er M, Kotze D et al (2013) Residency, Habitat Use and Sexual Segregation of White Sharks, Carcharodon carcharias in False Bay, South Africa. Plos ONE 8(1):e55048. https://doi.org/10.1371/journal.pone.0055048

Loiseau N, Kiszka JJ, Bouveroux T, Heitahus MR, Soria M et al (2016) Using an unbaited stationary video system to investigate the behaviour and interactions of bull sharks Carcharhinus leucas under an aquaculture farm. Afr J Mar Sci 1–7 https://doi.org/10.2989/1814232X.2016.1156578

Marshall D, Dudgeon CL, Bennett MB (2011) Size and structure of a photographically identified population of manta rays Manta alfredi in southern Mozambique. Mar Biol 158:1111–1124. https://doi.org/10.1007/s00227-011-1634-6

Mendoza J, Dorta C, Brito A, Hernández JC (2018) Elasmobranch bycatch on astinaca trammel net fishery in the Canary Islands. Revista Scientia Insularum 1:87–102

Meyers EK, Tuya F, Barker J, Jiménez Alvarado D, Castro‐Hernández JJ et al (2017) Population structure, distribution and astina use of the Critically endangered Angelshark. Squatina Squatina, in the Canary Islands. https://doi.org/10.1002/aqc.2769

Papastamatiou YP, Itano DG, Dale JJ, Meyer CG, Holland KN (2010) Site fidelity and movements of sharks associated with ocean-farming cages in Hawaii. Mar Freshw Res 2010(61):1366–1375

Pauly D, Zeller D (2016) Catch reconstructions reveal that global marine fisheries catches are higher than reported and declining. Nat Commun 7:10244. https://doi.org/10.1038/ncomms10244

Riera R, Becerro MA, Stuart-Smith RD, Delgado JD, Edgar GJ (2014) Out of sight, out of mind: Threats to the marine biodiversity of the Canary Islands (NE Atlantic Ocean). Mar Pollut Bull 86(1–2):9–18. https://doi.org/10.1016/j.marpolbul.2014.07.014

Rohner CA, Richardson AJ, Marshall AD, Weeks SJ, Pierce SJ (2011) How large is the world's largest fish? Measuring whale sharks Rhincodon typus with laser photogrammetry. J Fish Biol 78(1):378-385

Schlaff AM, Heupel MR, Simpfendorfer CA (2014) Influence of environmental factors on shark and ray movement, behaviour and habitat use: a review. Rev Fish Biol Fisheries 24(4):1089–1103

Sobral AF, Afonso P (2014) Occurrence of mobulids in the Azores, central North Atlantic. J Mar Biol Assoc UK 94(08):1671–1675. https://doi.org/10.1017/s0025315414000964

Solleliet S et al (2018) Photo-Identification of Aetomylaeus bovinus (Geoffroy Saint-Hilaire, 1817) The Forgotten Giant of the Shallows. Proceedings of the 22nd Annual European Elasmobranch Association Meeting, Peniche, Portugal

Walls RHL, Buscher E (2016) Aetomylaeus bovinus. The IUCN Red List of Threatened Species 2016: e.T60127A81163810.

Ward-Paige, Lotze HK (2011) Assessing the Value of Recreational Divers for Censusing Elasmobranchs. PLoS One 6(10). https://doi.org/10.1371/journal.pone.0025609

Watters R, Deriso RB (2000) Catches per unit of effort of bigeye tuna: a new analysis with regression trees and simulated annealing. Inter-American Tropical Tuna Commission Bulletin 21(8):527–571

Webster T, Dawson S, Slooten E (2010) A simple laser photogrammetry technique for measuring Hector's dolphins (Cephalorhynchus hectori) in the field. Mar Mamm Sci 26(2):296–308. https://doi.org/10.1111/j.1748-7692.2009.00326.x

Yigin CC, Ismen A (2012) Age, growth and reproduction of the common stingray, Dasyatis pastinaca from the North Aegean Sea. Mar Biol Res 8(7):644–653. https://doi.org/10.1080/17451000.2012.659667
Acknowledgements
We would like to thank Alberto Brito and Sabrina Clemente from La Laguna University. Also, we thank all the volunteers that willingly accompanied me during the surveys of this study, specially to Mr. Samuel Bello Alonso. We thank National Geographic Society and Oceanário de Lisboa for the support.
Ethics declarations
Ethics Approval
No animal has been harmed during the conduction of this research.
Consent to Participate
Not applicable.
Consent for Publication
Not applicable.
Conflict of Interest
On behalf of all authors, the corresponding author states that there is no conflict of interest.
Additional information
Publisher's Note
Springer Nature remains neutral with regard to jurisdictional claims in published maps and institutional affiliations.
About this article
Cite this article
Moreno, J., Solleliet-Ferreira, S.E. & Riera, R. Distribution and Abundance of Coastal Elasmobranchs in Tenerife (Canary Islands, NE Atlantic Ocean) with Emphasis on the Bull Ray, Aetomylaeus bovinus. Thalassas 38, 723–731 (2022). https://doi.org/10.1007/s41208-021-00316-1
Received:

Revised:

Accepted:

Published:

Issue Date:

DOI: https://doi.org/10.1007/s41208-021-00316-1
Keywords