Abstract
Salinity, pH, dissolved oxygen (DO), dissolved inorganic nitrate (DIN), dissolved inorganic phosphate (DIP), and reactive silicate (DSi) concentrations were measured in three tidal creeks in the Sagar Island (situated within the Sundarban Biosphere Reserve, India) during 2016–17, once in a month throughout an annual cycle. The present observations were compared with a study carried out three-decade ago in the same locations during 1988–89. There was no significant difference in salinity between the years 1988-89 and 2016-17. Compared to the 1988–89 scenario, pH reduced considerably during 2016–17, indicating the dominance of heterotrophic activities over autotrophic processes. The comparative analysis shows that DO varied between 3.8 mg l− 1 and 5.4 mg l− 1 during 1988–89, which went to hypoxic levels (< 2 mg l− 1) during 2016–17. Such hypoxic conditions can lead to direct mortality of several marine biotas that thrives in these creeks. DIN and DSi concentrations reduced significantly. Compared to the 1988–89 scenario, DIN and DSi concentrations reduced by three times and ten times, respectively, in the year 2016-17. DIP concentration showed an increase in annual mean concentration, which was statistically not significant. Despite that DIN:DIP ratio reduced significantly during 2016–17 compared to that of 1988–89, which can lead to changes in the primary productivity potential of the phytoplankton community. Such changes in concentrations of the physicochemical and nutrient parameters can adversely affect the sustenance of several aquatic life forms and lead to changes in species composition or total abandonment.
We're sorry, something doesn't seem to be working properly.
Please try refreshing the page. If that doesn't work, please contact support so we can address the problem.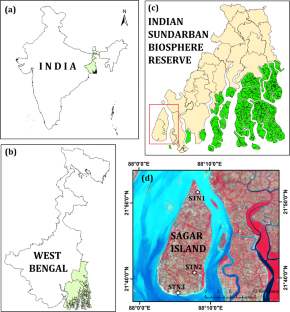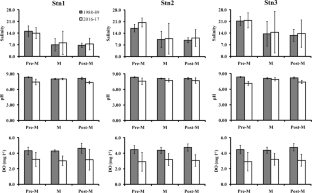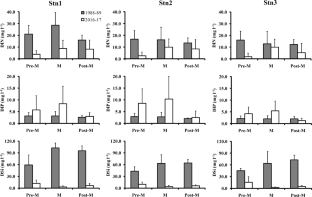 References
Alongi DM (1998) Coastal ecosystem processes. CRC Press, Boca Raton, p 448

Alvisi F, Cozzi S (2016) Seasonal dynamics and long-term trend of hypoxia in the coastal zone of Emilia Romagna (NW Adriatic Sea, Italy). Sci Total Environ 541:1448–1462. https://doi.org/10.1016/j.scitotenv.2015.10.011

An KG (2003) Determination of a limiting nutrient regulating algal biomass using in situ experiments of nutrient enrichment bioassay (NEB) and empirical relations of nutrients and chlorophyll-a. J Environ Biol 24:229–239

Bandyopadhyay S (1997) Natural environmental hazards and their management: a case study of Sagar Island, India. Singapore J Trop Geogr 18(1):20–45. https://doi.org/10.1111/1467-9493.00003

Banerjee K, Mukherjee D, Das S, Banerjee S, Mitra A (2005) Physicochemical characteristics of coastal waters of West Bengal. J Ecotoxicol Environ Monit 7:37–46

Barcellos D, Queiroz HM, Nóbrega GN, de Oliveira Filho RL, Santaella ST, Otero XL, Ferreira TO (2019) Phosphorus enriched effluents increase eutrophication risks for mangrove systems in northeastern Brazil. Mar Pollut Bull 142:58–63 https://doi.org/10.1016/j.marpolbul.2019.03.031

Caffrey JM (2004) Factors controlling net ecosystem metabolism in U.S. estuaries. Estuaries 27:90–101. https://doi.org/10.1007/BF02803563

Caffrey JM, Chapin TP, Jannasch HW, Haskins JC (2007) High nutrient pulses, tidal mixing and biological response in a small California estuary: variability in nutrient concentrations from decadal to hourly time scales. Estuar Coast Shelf Sci 71:368–380. https://doi.org/10.1016/j.ecss.2006.08.015

Cai WJ, Huang WJ, Luther GW, Pierrot D, Li M, Testa J, Xue M, Joesef A, Mann R, Brodeur J, Xu YY, Chen B, Hussain N, Waldbusser GG, Cornwell J, Kemp WM (2017) Redox reactions and weak buffering capacity lead to acidification in the Chesapeake Bay. Nat Commun 8(1):369. https://doi.org/10.1038/s41467-017-00417-7

Cameron SG, Schipper LA (2010) Nitrate removal and hydraulic performance of organic carbon for use in dentrification beds. Ecol Engg 36:1588–1595 https://doi.org/10.1016/j.ecoleng.2010.03.010

Chaudhuri A, Mitra A, Trivedi S, Gupta A, Choudhury A (1994) Phosphate and nitrate status in the east coast of Indian Subcontinent. Seminar on our environment: its challenges to development projects. American Society of Civil Engineers – India Section, Kolkata

Chaudhuri K, Manna S, Sarma KS, Naskar P, Bhattacharyya S, Bhattacharyya M (2012) Physicochemical and biological factors controlling water column metabolism in Sundarbans estuary, India. Aquat Biosyst 8(1):26. https://doi.org/10.1186/2046-9063-8-26

Dhal PK, Kopprio GA, Gärdes A (2019) Insights on aquatic microbiome of the Indian Sundarbans mangrove areas. Bio Rxiv 732842. https://doi.org/10.1101/732842

Dubuc A, Baker R, Marchand C, Waltham NJ, Sheaves M (2019) Hypoxia in mangroves: occurrence and impact on valuable tropical fish habitat. Biogeosciences 16(20):3959–3976. https://doi.org/10.5194/bg-16-3959-2019

Feely RA, Simone RA, Jan N, Christopher LS, Mark W, Allan D, Christopher K, Carol M et al (2010) The combined effects of ocean acidification, mixing, and respiration on pH and carbonate saturation in an urbanized estuary. Estuar Coast Shelf Sci 88:442–449 https://doi.org/10.1016/j.ecss.2010.05.004

Fitzer SC, Torres Gabarda S, Daly L, Hughes B, Dove M, O'Connor W, Potts J, Scanes P, Byrne M (2018) Coastal acidification impacts on shell mineral structure of bivalve mollusks. Ecol Evol 8(17):8973–8984. https://doi.org/10.1002/ece3.4416

Ghosh A, Schmidt S, Fickert T, Nüsser M (2015) The Indian Sundarban mangrove forests: history, utilization, conservation strategies and local perception. Diversity 7(2):149–169. https://doi.org/10.3390/d7020149

Grellier S, Janeau JL, Hoai ND, Kim CNT, Phuong QLT, Thu TPT, Nhu TT, Marchand C (2017) Changes in soil characteristics and C dynamics after mangrove clearing (Vietnam). Sci Total Environ 593:654–663 https://doi.org/10.1016/j.scitotenv.2017.03.204

Harris LA, Duarte CM, Nixon SW (2006) Allometric laws and prediction in estuarine and coastal ecology. Estuar Coast 29:340–344. https://doi.org/10.1007/BF02782002

Heip CHR, Goosen NK, Herman PMJ, Kromkamp J, Middelburg JJ, Soetaert K, Ansell AD, Gibson RN, Barnes M (1995) Production and consumption of biological particles in temperate tidal estuaries. Oceanogr Mar Biol: An Annu Rev 33:1–149

Hughes BB, Haskins JC, Wasson K, Watson E (2011) Identifying factors that influence expression of eutrophication in a central California estuary. Mar Ecol Prog Ser 439:31–43. https://doi.org/10.3354/meps09295

Jeffrey LC, Maher DT, Santos IR, McMahon A, Tait DR (2016) Groundwater, acid and carbon dioxide dynamics along a coastal wetland, lake and estuary continuum. Estuar Coast 39(5):1325–1344. https://doi.org/10.1007/s12237-016-0099-8

Jha DK, Devi MP, Vidyalakshmi R, Brindha B, Vinithkumar NV, Kirubagaran R (2015) Water quality assessment using water quality index and geographical information system methods in the coastal waters of Andaman Sea, India. Mar Pollut Bull 100(1):555–561. https://doi.org/10.1016/j.marpolbul.2015.08.032

Kim T, Khangaonkar T (2012) An offline unstructured biogeochemical model (UBM) for complex estuarine and coastal environments. Environ Model Softw 31:47–63. https://doi.org/10.1016/j.envsoft.2011.11.010

Kundu S (1992) Ecology of Zooplankton in Hooghly Estuary, India and investigation on some of their chemical constituents. PhD Thesis. University of Calcutta

Luther GW, Reimers C, Nuzzio DB, Lovalvo D (1999) In situ deployment of voltammetric, potentiometric and amperometric microelectrodes from a ROV to determine dissolved O2, Mn, Fe, S(–2) and pH in pore waters. Environ Sci Technol 33:4352–4356. https://doi.org/10.1021/es9904991

Manasrah R, Raheed M, Bardan MI (2006) Relationship between water temperature, nutrients and dissolved oxygen in the northern Gulf of Aqaba, Red Sea. Oceanologia 48(2):237–253

Mitra A (1998) Status of coastal pollution in West Bengal with special reference to heavy metals. J India Ocean Stud 5(2):135 – 138

Mitra A (2000) The Northeast coast of the Bay of Bengal and deltaic Sundarbans. In: Sheppard C (ed) Seas at the Millennium – An environmental evaluation. Chapter 62, University of Warwick, Coventry (UK), Elsevier Science, Amsterdam, pp 143–157

Mitra A (2013) Blue carbon: A hidden treasure in the climate change science. J Marine Sci Res Develop 3(2):1–2. https://doi.org/10.4172/2155-9910.1000e116

Mitra A, Bhattacharyya DP (1999) An ecological profile of Sundarbans ecosystem. Indian J Biodivers II(2):63–71

Mitra A, Trivedi S, Zaman S, Pramanick P, Chakraborty S, Pal N, Fazli P, Banerjee K (2015) Decadal variation of nutrient level in two major estuaries in Indian Sundarbans. Jordan J Biol Sci 147(3380):1–6. https://doi.org/10.1021/es9904991

Mondal B, Saha AK, Roy A (2019) Mapping mangroves using LISS-IV and Hyperion data in part of the Indian Sundarban. Int J Remote Sens 842:191–217. https://doi.org/10.1080/01431161.2019.1630784

Moore-Maley BL, Ianson D, Allen SE (2018) The sensitivity of estuarine aragonite saturation state and pH to the carbonate chemistry of a freshet-dominated river. Biogeosciences 15(12):3743. https://doi.org/10.5194/bg-15-3743-2018

Nandy T, Mandal S, Deb S, Ghosh M, Nath T, Chatterjee M (2018) Short-term variations in surface water properties in the Sundarban Estuarine System, India. Sustainable Water Resour Manag 4(3):559–566. https://doi.org/10.1007/s40899-017-0139-y

Ngah AS, Braide S, Dike CC (2017) Physico-chemistry of elechi creek in the upper bonny estuary, Rivers State, Nigeria. J Geosci Environ Prot 5(08):181. https://doi.org/10.4236/gep.2017.58015

Nixon SW, Oviatt CA, Frithsen J, Sullivan B (1986) Nutrients and the productivity of estuarine and coastal marine ecosystems. J Limnol Soc South Afr 12:43–71. https://doi.org/10.1080/03779688.1986.9639398

Orpin AR, Ridd PV, Thomas S, Anthony KRN, Marshall P, Oliver J (2004) Natural turbidity variability and weather forecasts in risk management of anthropogenic sediment discharge near sensitive environments. Mar Pollut Bull 49:602–612. https://doi.org/10.1016/j.marpolbul.2004. 03.020

Panja U, Majumdar S, Mitra A (2003) An ecological profile of Sundarbans ecosystem. Sea Explor 6:21–27

Pawar PR (2013) Monitoring of impact of anthropogenic inputs on water quality of mangrove ecosystem of Uran, Navi Mumbai, West coast of India. Mar Pollut Bull 75(1–2):291–300. https://doi.org/10.1016/j.marpolbul.2013.06.045

Ramasamy SM, Muthukumar M, Subagunasekar M (2015) Water quality index of estuarine environment. Curr Sci 108:1430–1438. https://www.jstor.org/stable/24905385

Ruley JE, Rusch KA (2002) An assessment of long-term post-restoration water quality trends in a shallow, subtropical, urban hypertrophic lake. Ecol Eng 19:265–280. https://doi.org/10.1016/S0925-8574(02)00096-4

Sadat-Noori M, Santos IR, Tait DR, Reading MJ, Sanders CJ (2017) High porewater exchange in a mangrove-dominated estuary revealed from short-lived radium isotopes. J Hydrol 553:188–198. https://doi.org/10.1016/j.jhydrol.2017.07.058

Sahana M, Sajjad H (2019) Vulnerability to storm surge flood using remote sensing and GIS techniques: A study on Sundarban Biosphere Reserve, India. Remote Sens Appl Soc Environ 13:106–120. https://doi.org/10.1016/j.rsase.2018.10.008

Sanchez E, Colmenarejo MF, Vicente J, Rubio A, Garcia MG, Travieso L, Borja R (2007) Use of the water quality index and dissolved oxygen deficit as simple indicators of watersheds pollution. Ecol Indic 7(2):315–328. https://doi.org/10.1016/j.ecolind.2006.02.005

Santana R, Lessa GC, Haskins J, Wasson K (2018) Continuous monitoring reveals drivers of dissolved oxygen variability in a small California estuary. Estuar Coast 41(1):99–113. https://doi.org/10.1007/s12237-017-0329-8

Scully ME (2016) Mixing of dissolved oxygen in Chesapeake Bay driven by the interaction between wind-driven circulation and estuarine bathymetry. J Geophys Res Ocean 121(8):5639–5654. https://doi.org/10.1002/2016JC011924

Shahidul I, Tanaka M (2004) Impacts of pollution on coastal and marine ecosystems including coastal and marine fisheries and approach for management: a review and synthesis. Mar Pollut Bull 48:624–649. https://doi.org/10.1016/j.marpolbul.2003.12.004

Shields E, Weidman C (2008) A quantitative approach to characterizing hypoxic events. J Coast Res :50–58. https://doi.org/10.2112/SI55-003.1

Singh G, Ramanathan AL, Prasad MBK (2005) Nutrient Cycling in Mangrove ecosystem: A brief overview. J Ecol Environ Sci 30:231–244

Song GD, Liu SM, Marchant HM, Kuypers MM (2013) Anaerobic ammonium oxidation, denitrification and dissimilatory nitrate reduction to ammonium in the East China Sea sediment. Biogeosciences 10:4671–4710. https://doi.org/10.5194/bg-10-6851-2013

Souza VF, Santoro AL, WeereltMV PrastAE (2012) Sediment denitrification, DNRA and ANAMMOX rates in tropical floodplain lake (Pantanal, Brazil). Oecol Aust 16:734–744. https://doi.org/10.4257/oeco.2012.1604.01

Strickland JDH, Parsons TR (1972) A practical handbook of seawater analysis. Bulletin, vol 167. FisheriesResearch Board of Canada, Ottawa, p 326

Takeda S (1998) Influence of iron availability on nutrient consumption ratio of diatoms in oceanic waters. Nature 393(6687):774. https://doi.org/10.1038/31674

Velasco J, Millán A, Hernández J, Gutiérrez C, Abellán P, Sánchez D, Ruiz M (2006) Response of biotic communities to salinity changes in a Mediterranean hypersaline stream. Saline Syst 2(1):12. https://doi.org/10.1186/1746-1448-2-12

Vos AT, Roos JC (2005) Causes and consequences of algal blooms in Loch Logan, an urban impoundment. Water S Afr 31:385–392. https://doi.org/10.4314/wsa.v31i3.5210

Walsh JJ (1991) Importance of the continental margins in the marine biogeochemical cycling of carbon and nitrogen. Nature 350:53–55. https://doi.org/10.1038/350053a0

Wang F, Chen N, Yan J, Lin J, Guo W, Cheng P, Liu Q, Huang B, Tian Y (2019) Major processes shaping mangroves as inorganic nitrogen sources or sinks: Insights from a multidisciplinary study. J Geophys Res: Biogeosci. https://doi.org/10.1029/2018JG004875

Wang J, Fu Z, Qiao H, Liu F (2019a) Assessment of eutrophication and water quality in the estuarine area of Lake Wuli, Lake Taihu, China. Sci Total Environ 650:1392–1402. https://doi.org/10.1016/j.scitotenv.2018.09.137

Zaman S, Mitra A (2014) Warning bell of climate change in the lower gangetic delta. Res Rev J Ecol 3(1):41–45

Zhao HD, Kao SJ, Zhai WD, Zang KP, Zheng N, Xu XM, Wang JY (2017) Effects of stratification, organic matter remineralization and bathymetry on summertime oxygen distribution in the Bohai Sea, China. Cont Shelf Res 134:15–25. https://doi.org/10.1016/j.csr.2016.12.004
Acknowledgements
The authors are grateful to Prof. Pankaj Kumar Roy, Director, School of Environmental Studies, Jadavpur University, for furnishing the laboratory support. The authors are also deeply grateful to the anonymous reviewers for their suggestions and recommendations to enhance the quality of the manuscript.
Ethics declarations
Conflict of Interest
All the authors declare that they have no conflict of interest. 
Ethical Statement
The authors declare all the rules and all the accepted principles of ethical and professional conduct were stringently followed. While carrying out the present research, no animals were harmed or used as subjects of experiment. There was no involvement of human beings in this research and hence there is no question of sharing any private or personal information without informing the persons concerned. The authors also declare that they have strictly complied with the authorship principles furnished by the journal. 
Consent
All the author's have provided consent to communicate the manuscript to 'Thalassas: An International Journal of Marine Sciences' and the institutions of the respective author's have no objection in this regard. 
Data
The author's themselves have measured the primary data used in this study and the secondary data used in this study is duly cited all through the manuscript.
Additional information
Publisher's Note
Springer Nature remains neutral with regard to jurisdictional claims in published maps and institutional affiliations.
Supplementary Information
About this article
Cite this article
Basu, S., Chanda, A., Gogoi, P. et al. A Multi-decadal Comparative Analysis of a Set of Physicochemical and Nutrient Parameters in the Tropical Tidal Creeks of Indian Sundarban Mangrove Biosphere Reserve. Thalassas 37, 303–312 (2021). https://doi.org/10.1007/s41208-020-00273-1
Received:

Revised:

Accepted:

Published:

Issue Date:

DOI: https://doi.org/10.1007/s41208-020-00273-1
Keywords
Nitrate

Phosphate

Silicate

Long-term change

Anthropogenic activities