Abstract
The present study reports the taxonomic notes on Homolax megalops (Alcock 1894) off Kollam, Southeastern Arabian Sea. Homolax displayed close relationship with Paromola species, even though these were found to differ with respect to the length of pseudorostral spines. Additionally, the study documented the DNA sequences and genetic divergence between the genus Homolax and Homola (COI: 27.3%). Phylogenetic relationship of Homolidae with available 16S sequences from GenBank was also documented..
Access options
Buy single article
Instant access to the full article PDF.
USD 39.95
Price excludes VAT (USA)
Tax calculation will be finalised during checkout.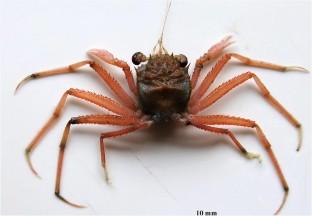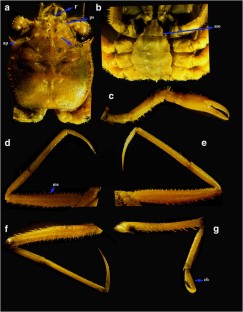 References
Ahyong ST, Naruse T, Tan SH, Ng PKL (2009). Part II. Infraorder Brachyura: Sections Dromiacea, Raninoida, Cyclodorippoida. In: Chan TY, Ng PKL, Ahyong ST, Tan SH (eds) Crustacean Fauna of Taiwan: Brachyuran Crabs (1): 27–180

Alcock A (1894) Natural History Notes from H. M. Indian Marine Survey Steamer "Investigator". Ser. II. N°L On the results of Deep-sea Dredging during the Season of 1890-1891. The Annals and Magazine of Natural History, Ser 6, 13 (75): 225–245

Alcock A (1899). An account of the Deep-Sea Brachyura collected by the Royal Indian Marine Survey Ship Investigator. Trustees of the Indian Museum, Calcutta, i–iv+1–85, index, pls. I–IV

Alcock A (1900). Materials for a Carcinologieal Fauna of India. N°5. The Brachyura Primigenia or Dromiacea. J Asiat Soc Bengal 68(Part II. - Natural Science):123–169

Alcock A (1901) Catalogue of the Indian Decapod Crustacea in the collection of the Indian Museum. Part 1. Brachyura. Fasc. 1. Introduction and Dromides or Dromiacea (Brachyura Primigenia). Trustees of the Indian Museum, Calcutta 80:1–8

Alcock A, Anderson ARS (1894) Natural History Notes from H. M. Indian Marine Survey Steamer "Investigator", Commander CF, Oldham R N, commanding. Series II, No.14. An Account of a Recent Collection of Deep Sea Crustacea from the Bay of Bengal and Laccadive Sea. J Asiat Soc Bengal 63(Part II No.3):141–185 

Chakraborty Rekha D, Purushothaman P, Kuberan G, Jomon S, Maheswarudu G (2015) Morphological analysis and molecular phylogeny of Aristeus alcocki Ramadan, 1938 from south-west coast of India. IJMS 44(11):1716–1725

Eldredge L (1980) Two species of Homola (Dromiacea, Homolidae) from Guam. Micronesica 16(2):271–277

Folmer O, Black M, Hoeh W, Lutz R, Vrijenhoek R (1994) DNA primers for amplification of mitochondrial cytochrome c oxidase subunit I from diverse metazoan invertebrates. Mol Mar Biol Biotechnol 5:294–299

George MJ, Rao PV (1966) On some decapods crustaceans from the South-West coast of India. In: Proc. Symp. Crustacea, Ernaku1am. Part I, vol 2. J Mar Biol Assoc India, Symposium Series 2:327–336

Gordon I (1950) Crustacea Dromiacea. Part 1: Systematic account of the Dromiacea collected by the "John Murray" Expedition. Part II. The morphology of the spermatheca in certain Dromiacea. Scientific Report of John Murray Expedition 1933·34, 9(3): 201–253

Guinot D, Richer de Forges B (1995). Crustacea Decapoda Brachyura: Révision de la famille des Homolidae de Haan, 1839. In: Crosnier A (ed) Résultats des campagnes MUSORSTOM, 13, Mémoires du Museum National d'Histoire Naturelle, Paris, sec. A Zoologie 163:283-517

Ihle JEW (1913). Die Decapoda Brachyura der Siboga-expedition. 1. Dromiacea. Siboga Expeditie., Monograph, 39(b) 71:1–96, pl. 1–4

Kazmi, Q.B. (1988) Zoogeographical considerations of Non brachyrhynchan Crabs from the Pakistan Coast, Northern Arabian Sea, 11: 121-130. ln : M. F. Thompson & N. M. Tirmizi (eds), Marine science of the Arabian Sea. Proc. Intern. Conf. Karachi, March 1986. Washington, American Institute of Biological Sciences

Kemp S, Sewell RBS (1912). Notes on Decapoda in the Indian Museum, III. The Species obtained by RIMS "lnvestigator" during the Survey Season 1910–11. Records of the Indian Museum, 7, 1(2):26-32, pl. 1

Palumbi SR, Benzie J (1991) Large mitochondrial DNA differences between morphologically similar Penaeus shrimp. Mol Mar Biol Biotechnol 1:27–34

Puntip W (2011) Guideline to identification of deep-sea crabs. Training workshop on identification of deep sea benthic macroinvertebrate vulnerable to fishing gear. Thailand

Radulovici AE, Sainte-Marie B, Dufrensne F (2009) DNA barcoding of marine crustaceans from the Estuary and Gulf of St Lawrence: A Regional-Scale Approach. Mol Ecol Resour 9(Suppl. 1):181–187

Sakai T (1976) Crabs of Japan and the Adjacent Seas. Tokyo, Kodansha Ldt., 3 vol: XXXIX+773, fig. 1–379, (2) Plates, 16 pp, pls.1-251,(3) Japanese text, 461 pp

Sakai T (1979). Description of three new species of crabs of the fami1y Homo1idae from Japan. Researches on Crustacea, 9: 1-8, 8-12, figs. 1–3, 1 frontispiece 

Serène R, Lohavanijaya P (1973). The Brachyura (Crustacea : Decapoda) collected by the Naga Expedition, including a review of the Homolidae. ln: Brinnton E, Newman WA, Wooster WS (eds.). Scientific Results of Marine Investigations of the South China Sea and the Gulf of Thailand 1959–1961. Naga Report, 4(4): 187

Tamura K, Stecher G, Peterson D, Kumar S (2013) MEGA6: Molecular Evolutionary Genetics Analysis Version 6.0. Molecular Biology Evolution 30(12):2725–2729

Tirmizi NM, Kazmi QB (1991). Crustacea: Brachyura (Dromiacea, Archaeobrachyura, Oxystomata, Oxyrhyncha). ln: Marine Fauna of Pakistan: 4. Publ.1. BCCI Foundation chair, Institute of Marine Science, University of Karachi, 1–246

Yaldwyn JC, Dawson EW (1976) First records of the crab genera Homola, Randallia, and Rochinia from New Zealand (Crustacea : Decapoda : Brachyura). National Museum of New Zealand Records 1(6):91–103

Zarenkov NA (1994) Crabs from the seamounts of the western part of the Indian Ocean. Trudy Instituta Okeanologii im. P.P. Shirshova. Rossiskaya. Akademiya Nauk 129:97–125
Acknowledgments
The authors express thanks to the Department of Science and Technology, India for a financial grant towards the Fast Track Scheme for Young Scientists (SR/FT/LS-73/2012, SERB). They express their gratitude to the Director, CMFRI for the facilities provided and encouragement. Thanks are also due to Dr. T.Y. Chan, Professor, and Director, National Taiwan Ocean University for confirmation of the species.
Ethics declarations
Conflict of Interests
The authors declare that they have no conflict of interest.
Additional information
Publisher's Note
Springer Nature remains neutral with regard to jurisdictional claims in published maps and institutional affiliations.
About this article
Cite this article
Chakraborty, R.D., Maheswarudu, G. & Purushothaman, P. Taxonomic Notes on Juvenile Homolax megalops (Alcock 1894) from Kollam, Southwest Coast of India, Arabian Sea. Thalassas 37, 353–356 (2021). https://doi.org/10.1007/s41208-020-00266-0
Received:

Revised:

Accepted:

Published:

Issue Date:

DOI: https://doi.org/10.1007/s41208-020-00266-0
Keywords
Deep-sea

Cytochrome c oxidase

Homolax

Mitochondrial DNA