Abstract
The present study reports the Scolopsis xenochrous Günther, 1872 off Vizhinjam coast, from Wadge Bank, Southeastern Arabian Sea. Four specimens of S. xenochrous were collected at a depth of 20 to 30 m by a gill net operated by traditional fishing craft. The morphometric and molecular identification characters of the verified specimens are described. The most of the morphometric measurement and meristic counts were confirmed with earlier explanation of S. xenochrous: Totally 45–46 lateral line scale, caudal fin deeply forked and upper lobe slightly lengthier than the lower lob and produced into a short or moderately long filament. Further, it has six oblique rows with thirty-two numbers of brown spots and an elongate white to bluish blotch below the lateral line. The present Indian specimen's sequences were compared with other sequences of the S. xenochrous and other species of this genus obtained from the NCBI, BOLD, and Cryobank. The overall level of intra-species genetic distances was 2.7%, between Taiwan, Indonesia and Philippines were showed 0.0-0.5% of variation except for KY362992. The present study revealed the first record for the Wadge Bank coast of Southeastern Arabian Sea.
Access options
Buy single article
Instant access to the full article PDF.
USD 39.95
Price excludes VAT (USA)
Tax calculation will be finalised during checkout.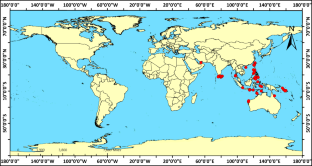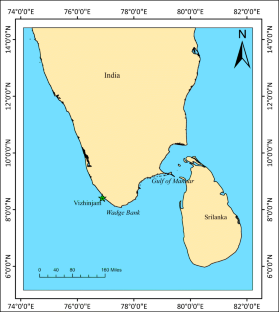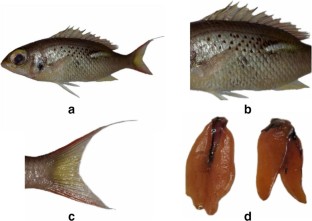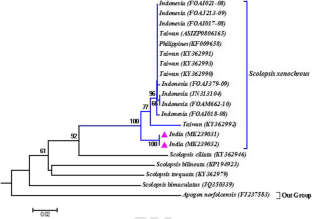 References
Arvedlund M (2009) First records of unusual marine fish distributions—can they predict climate changes?. J Mar Biol Assoc of the UK 89(4):863-866

Barman RP, Mishra SS (2009) A pictorial guide to the fishes of the family Nemipteridae of India. Zoological Survey of India, Kolkata, India Eschmeyer, W.N. (ed.) (2000). Catalogue of fishes. Updated database version of November 2000

Evermann BW, Seale A (1907) Fishes of the Philippine Islands (No. 607). US Government Printing Office, Washington, D.C.

Felsenstein J (1985) Phylogenies and the comparative method. Am Nat 125(1):1–15

Günther A (1872) LX.—On some new species of reptiles and fishes collected by Brenchley J, Esq. J Nat Hist 10(60):418–426

Hall TA (1999) BioEdit: a user-friendly biological sequence alignment editor and analysis program for Windows 95/98/NT. In Nucleic acids symposium series (Vol. 41, No. 41, pp. 95–98). [London]: Information Retrieval Ltd., c1979-c2000

Hubbs CL, Lagler KF (1958) Fishes of the Great Lakes region. Cranbrook Inst Sci Bull 26:1–213

Karuppasamy K, Davidkingston SD, Jawahar P, Aanand S, Venkataramani VK, Vidhya V (2018a) Population dynamics and stock assessment of Delegoa threadfin bream, Nemipterus bipunctatus (Nemipteridae), from the Wadge Bank, South India. J Appl Nat Sci 10(1):59–63

Karuppasamy K, Davidkingston S, Jawahar P, Ranjith L, Kathirvelpandian A, Aanand S (2018b) New record of the starry flying gurnard, Dactyloptena peterseni (Scorpaeniformes; Dactylopteridae); from Wadge Bank, Southwest coast of India. Natl Acad Sci Lett, 1–5

Kumar S, Stecher G, Tamura K (2016) MEGA7: molecular evolutionary genetics analysis version 7.0 for bigger datasets. Mol Biol Evol 33(7):1870–1874

Lee SC (1986) Fishes of the family Nemipteridae (Teleostei, Percoidei) of Taiwan. Bull Inst Zool Acad Sin 25(2):161–175

Mishra SS, Biswas S, Russell BC, Satpathy KK, Selvanayagam M (2013) A new species of the genus Scolopsis Cuvier, 1830 (Perciformes: Nemipteridae) from southern India and Sri Lanka. Zootaxa 3609(4):443–449

Murty VS (1969) Catalogue of Fishes (excluding from the Laccadives) in the Reference Collections of the Central Marine Fisheries Research Institute. CMFRI Bull 10:1–38

Nair RJ, Dinesh Kumar S, Somy K (2016) First report of dwarf monocle bream Parascolopsis capitinis (Teleostei: Nemipteridae) from south-west coast of India. Mar Biodivers Rec 9(74):1–4

Nakamura J, Russell BC, Moore GI, Motomura H (2018) Scolopsis Meridiana, a new species of monocle bream (Perciformes: Nemipteridae) from northern Australia. Zootaxa 4500(2):222–234

Öhman MC, Rajasuriya A, Ólafsson E (1997) Reef fish assemblages in north-western Sri Lanka: distribution patterns and influences of fishing practises. Environ Biol Fishes 49(1):45–61

Padate VP, Rodrigues R, Rivonker CU (2014) New records of rare marine fishes from the Gulf of Mannar India. Acta Ichthyol Piscat 44(3):241–248

Psomadakis PN (2015) Field identification guide to the living marine resources of Pakistan.FAO, Rome (Italy). Fisheries and Aquaculture Dept. Eng 185034

Ranjith L, Kannan K, Joshi KK, Vinod K (2016) Range extension of the titan cardinalfish, Holapogon maximus (Boulenger, 1888) in the southern coast of India. Natl Acad Sci Lett 39(2):95–98

Ranjith L, Kannan K, Suresh Kumar K, Joshi KK, Sivadas M, George RM, Madan MS (2015) Note on Cheilodipterus macrodon (Lacepede, 1802) (Perciformes: Apogonidae) from Gulf of Mannar, Southeast Coast of India. Thalassas 31(2):49–54

Regan CT (1913) II.The antarctic fishes of the Scottish National Antarctic Expedition. Earth Environ Sci Trans Roy Soc Edinb 49(2):229–292

Russell BC (1990) FAO species catalogue. Nemipterid fishes of the world (threadfin breams, whiptail breams, monocle breams, dwarf monocle breams and coral breams). Family Nemipteridae. An annotated and illustrated catalogue of the nemipterid species known to date. FAO Fish Synop 1–149:1–8

Russell BC (2001) Nemipteridae, threadfin breams (also whiptail breams, monocle breams, dwarf monocle breams, and coral breams). In: Carpenter KE, Niem VH (eds) FAO species identification guide for fishery purposes. The living marine resources of the western central Pacific. vol 5. Bony fishes part 3 (Menidae to Pomacentridae). FAO, Rome pp 3051– 3089

Russell BC, Golani D (1993) A review of the fish genus Parascolopsis (Nemipteridae) of the Western Indian Ocean, with description of a new species from the northern Red Sea. Isr J Ecol Evol 39(4):337–347

Saitou N, Nei M (1987) The neighbour-joining method: a new method for reconstructing phylogenetic trees. Mol Biol Evol 4(4):406–425

Shen SC (1997) A Review of the Genus Scolopsis of Nemipterid Fishes, with Descriptions of Three New Records from Taiwan. Zool Stud 36(4):345–352

Sluka RD (2013) Coastal marine fish biodiversity along the western coast of India. JoTT 5(1):3574–3579

Ward RD, Zemlak TS, Innes BH, Last PR, Hebert PD (2005) DNA barcoding Australia's fish species. Philos Trans Roy Soc B Biol Sci. https://doi.org/10.1098/rstb.2005.1716
Acknowledgements
The authors are very grateful to the Tamil Nadu Dr. J. Jayalalithaa Fisheries University (TNJFU) provided financial support. The authors express heartfelt thanks to the Dean of Fisheries College and Research Institute, Thoothukudi for the encouragement during the course of this study. The authors also wish to acknowledge the GBIF.org for the datasets of previous year records in Worldwide.
Ethics declarations
Conflict of Interest
On behalf of all authors, the corresponding author states that there is no conflict of interest.
Ethical Approval
This article does not contain any experimental studies with animals performed by any of the authors.
Additional information
Publisher's Note
Springer Nature remains neutral with regard to jurisdictional claims in published maps and institutional affiliations.
About this article
Cite this article
Karuppasamy, K., Jawahar, P., Kathirvelpandian, A. et al. New Distributional Record of Oblique-barred Monocle Bream Scolopsis xenochrous, Günther, 1872 (Perciformes: Nemipteridae) from Wadge Bank of Southeastern Arabian Sea. Thalassas 36, 517–523 (2020). https://doi.org/10.1007/s41208-020-00219-7
Received:

Revised:

Published:

Issue Date:

DOI: https://doi.org/10.1007/s41208-020-00219-7
Keywords
Nemipteridae

Wadge Bank

COI

Southwest coast of India

Scolopsis

Biology