Abstract
Present study deals with new distributional records of Strongylura incisa (Belonidae) based on five specimens collected from the Andaman Islands and Tuticorin Coast (Tamil Nadu), India during 2016–17. Specimens were identified by absence of scales at bases of dorsal and anal fins, 19–20 dorsal fin rays, 21–23 anal fin rays, 102–113 predorsal scales, dorsal fin origin over 4–5 anal fin rays, prominent elongate spot on cheek between opercle and preopercle, and double lobe of gonad. Strongylura incisa can be distinguished from its most similar congener S. leiura based on number of predorsal scales (100–125 in S. incisa versus 130–180 in S. leiura), dorsal fin origin over anal fin rays (4–6 in S. incisa versus 7–10 in S. leiura), number of gonad lobes (2 in S. incisa versus 1 in S. leiura) and colour characteristics (prominent elongate spot on cheek between opercle and preopercle in S. incisa versus black bar on cheek between opercle and preopercle and anterior region of the body in S. leiura). Present study provides the first documented record of S. incisa from the Andaman and Nicobar Islands and East Coast of India with an updated key for Strongylura species. Further, it is an addition to the ichthyofaunal biodiversity of the Andaman and Nicobar Islands and East Coast of India.
Access options
Buy single article
Instant access to the full article PDF.
USD 39.95
Price excludes VAT (USA)
Tax calculation will be finalised during checkout.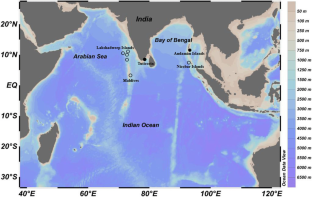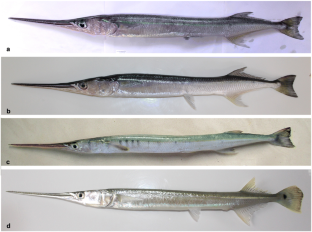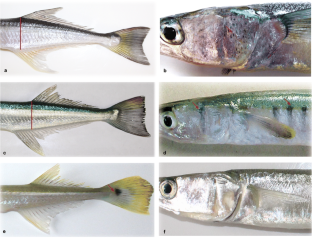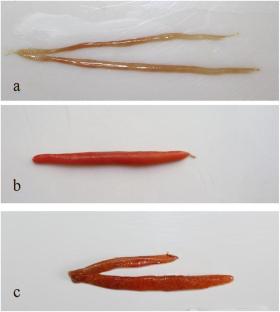 References
Collette BB (1984) Family Belonidae. In: Fischer, W. and Bianchi, G. (eds.). FAO species identification sheets for fishery purposes. Western Indian Ocean (Fishing Area 51). Vol. 1, FAO, Rome

Collette BB (1999) Belonidae (needlefishes). In: Carpenter KE, Niem VH (eds) FAO species identification guide for fishery purposes. The living marine resources of the Western Central Pacific, FAO, Rome. Volume 4, bony fishes part 2 (Mugilidae to Carangidae), pp 2151–2161

Collette BB (2003) Family Belonidae Bonaparte 1832 - needlefishes. Calif Acad Sci Annotated Checklists of Fishes 16:1–22

Froese R, Pauly D (eds) (2018) FishBase 2018, version (January, 2018). World Wide Web electronic publication Retrieved from http://www.fishbase.org

Hubbs CL, Lagler KL (1958) Fishes of the Great Lakes region, 2nd edition. Cranbrook Institute of Science Bulletin, p 332

Rajan PT, Sreeraj CR, Immanuel T (2013) Fishes of Andaman and Nicobar Islands: a checklist. J Andaman Sci Assoc 18(1):47–87
Acknowledgements
The authors are grateful to Dr. A. Gopalakrishnan, Director, ICAR-CMFRI, Cochin and Dr. Gopal Krishna, Director, ICAR-CIFE, Mumbai for providing all necessary facilities and constant support during the entire study period. We also thank Mr. Ramesh for helping in collection of reported specimens of needlefish at Tuticorin. We are deeply indebted to Dr. P. P. Manojkumar, Scientist-in-Charge, Tuticorin Research Centre of CMFRI for providing lab facility. We also thank Sajikumar K. K. for preparing a beautiful distributional map.
Funding
The work was supported by Indian Council of Agricultural Research (Ministry of Agriculture and Farmers Welfare), Krishi Bhavan, New Delhi, India.
Ethics declarations
Conflict of Interests
The authors declare that they have no conflict of interest.
Ethical Approval
All applicable international, national, and/or institutional guidelines for the care and use of animals were followed by the authors.
Sampling and Field Studies
All necessary permits for sampling and observational field studies have been obtained by the authors from the competent authorities and are mentioned in the acknowledgements.
About this article
Cite this article
Roul, S.K., Kumar, R., Rahangdale, S. et al. Extending Geographical Distribution Range of Reef Needlefish Strongylura incisa (Valenciennes, 1846) (Teleostei: Beloniformes: Belonidae) in the Eastern Indian Ocean with a Key to the Species of Needlefish Occurring in the Area. Thalassas 35, 209–214 (2019). https://doi.org/10.1007/s41208-018-0111-0
Received:

Published:

Issue Date:

DOI: https://doi.org/10.1007/s41208-018-0111-0
Keywords
Strongylura incisa

Belonidae

Eastern Indian Ocean

Andaman and Nicober Islands

And needlefish