Abstract
The antimicrobial potency of cultivable associated bacteria in Callyspongia subarmigera was determined. C. subarmigera, the predominant sponge along the South east coast of India at 10 to 15 m (Lat 8° 4′ 41″, Long 77° 32′ 28″ E) of the Indian Ocean was collected off 'by catch'. The temperature and pH for maximum retrieval of colonies were standardized at 30 °C and 8.5. The retrievable associates from the sponge were isolated for a period of 1 year and their antibacterial activity studied against 16 test pathogens. Among the 56 isolates, six isolates with broad antibacterial spectrum were optimized at different cultural conditions and biochemically characterized. Two Lactobacillus isolates in MRS agar and an extreme salt tolerant isolates in Halophilic agar were noticed during the isolations. The isolates survived the pH range of 4.0–13, while S. rubidae CSP and B. amyloliquefaciens CSG propagated at temp range of 20°- 45 °C. The cell free filtrates of Serratia rubidaea CSP and Bacillus amyloliquefaciens CSG showed profound antibacterial activity even during prolonged incubation time while the antifungal activity noticed was considerably low. Consortia of specific cultivable bacteria in Callyspongia diffusa were isolated. The two potent strains were characterized to the species level. Further studies are required to sort out the antibacterial principle in the sponge associated bacteria.
Access options
Buy single article
Instant access to the full article PDF.
USD 39.95
Price excludes VAT (USA)
Tax calculation will be finalised during checkout.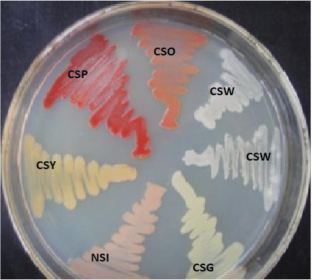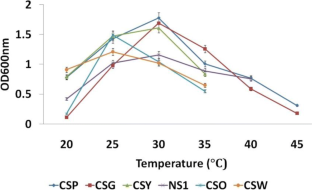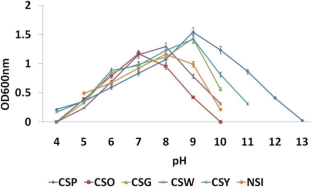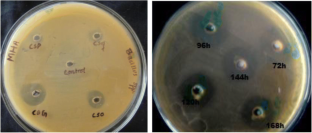 References
Abdelmohsen UR, Pimentel-Elardo SM, Hanora A, Radwan M, Abou-El-Ela SH, Ahmed S, Hentschel U (2010) Isolation, phylogenetic analysis and anti infective activity screening of marine sponge-associated Actinomycetes. Mar Drugs 8(3):399–412

Aboul Ela HM, Shreadah MA, Abdel-Monem NM, Yakout GA, van Soest RWM (2012) Isolation, cytotoxic activity and phylogenetic analysis of Bacillus sp. bacteria associated with the red sea sponge Amphimedon ochracea. Adv Biosci Biotechnol 3:815–823

Aishwarya MS, Lipton AP, Sarika AR (2013) Phylogenetic appraisal of the drug bearing marine sponge Callyspongia subarmigera (Ridley, 1884) from South India. Indian J Mar Sci 42(1):139–145

Angshumanjana, Anirbanjana, Dipjitdey, Arijitmajumdar, Jayantabikashdey, Tudu N (2016) Selection of storage methods for maintenance of different stock cultures. Int J Curr Microbiol App Sci 5(10):1097–1104

Arunachalam K, Appadorai RAJ (2013) Antioxidant Potential and Biochemical Evaluation of Metabolites from Marine Bacteria Virgibacillus sp. associated with the Sponge Callyspongia diffusa, Free Radicals and Antioxidants 3(1): 47–57

Bauer AW, Kirby WMM, Sherris JC, Turck M (1966) Antibiotic susceptibility testing by a standardized single disk method. Am J Clin Pathol 45:493–496

Chelossi E, Pantile R, Pronzato R, Milanese M, Hentschel U (2007) Bacteria with antimicrobial properties isolated from the Mediterranean sponges Chondrilla nucula and Petrosia ficiformis. Aquat Microb Ecol 49:157–163

Dupont S, Carré-Mlouka A, Descarrega F, Ereskovsky A, Longeon A, Mouray E, Florent I, Bourguet-Kondracki ML (2014) Diversity and biological activities of the bacterial community associated with the marine sponge Phorbas Tenacior (Porifera, Demospongiae). Lett Appl Microbiol 58(1):42–52

Gatesoupe FJ (1999) The use of probiotics in aquaculture. Aquaculture 180(1–2):147–165

Gopi M, Kumar TT, Balagurunathan R, Vinoth R, Dhaneesh KV, Rajasekaran R, Balasubramanian T (2012) Phylogenetic study of sponge associated bacteria from the Lakshadweep archipelago and the antimicrobial activities of their secondary metabolites. World J Microbiol Biotechnol 28(2):761–766

Graça AP, Viana F, Bondoso J, Correia MI, Gomes L et al (2015) The antimicrobial activity of heterotrophic bacteria isolated from the marine sponge Erylus deficiens (Astrophorida, Geodiidae). Front Microbiol 6(389):2015

Hentschel U, Schmid M, Wagner M, Fieseler L, Gernert C, Hacker J (2001) Isolation and phylogenetic analysis of bacteria with antimicrobial activities from the Mediterranean sponges Aplysina aerophoba and Aplysina cavernicola. FEMS Microbiol Ecol 35(3):305–312

Kiran GS, Thomas TA, Selvin J, Sabarathnam B, Lipton AP (2010) Optimization and characterization of a new lipopeptide biosurfactant produced by marine Brevibacterium aureum MSA13 in solid state culture. Bioresour Technol 101(7):2389–2396

Krause E, Wichels A, Gimenez L, Lunau M, Schilhabel MB, Gerdts G (2012) Small changes in pH have direct effectson marine bacterial community composition: a microcosm approach. PLoS ONE 7(10):e:47035

Laport MS, Santos OC, Muricy G (2009) Marine sponges: potential sources of new antimicrobial drugs. Curr Pharm Biotechnol 10(1):86–105

Li X, Qin L (2005) Metagenomics-based drug discovery and marine microbial diversity. Trends Biotechnol 23:539–543

Li X, Zhang Y, Wei Z, Guan Z, Cai Y, Liao X (2016) Antifungal activity of isolated Bacillus amyloliquefaciens SYBC H47 for the biocontrol of peach gummosis. PLoS ONE 11(9):e0162125. https://doi.org/10.1371/journal.pone.0162125

Mehbub MF, Perkins MV, Zhang W, Franco CM (2016) New marine natural products from sponges (Porifera) of the order Dictyoceratida (2001 to 2012); a promising source for drug discovery, exploration and future prospects. Biotechnol Adv 34:473–491. https://doi.org/10.1016/j.biotechadv.2015.12.008

Mohamed NM, Enticknap JJ, Lohr JE, McIntosh SM, Hill RT (2008) Changes in bacterial communities of the marine sponge Mycale laxissima on transfer into aquaculture. Appl Environ Microbiol 74(4):1209–1222

Murniasih T, Kosela S, Kardono LBS, Hanafi M, Priyono W (2014) An antibacterial compound isolated from sponge-associated bacteria Rhodobacteracea bacterium. J Med Sci 14(2):75–80

Palomo S, González I, De La Cruz M, Martín J, Tormo JR et al (2013) Sponge-derived Kocuria and Micrococcus spp. as sources of the new thiazolyl peptide antibiotic Kocurin. Mar Drugs 11(4):1071–1086

Passarini MRZ, Miqueletto PB, de Oliveira VM, Sette LD (2015) Molecular diversity of fungal and bacterial communities in the marine sponge Dragmacidon reticulatum. J Basic Microbiol 55(2):207–220

Perez C, Pauli M, Bazerque P (1990) An antibiotic assay by agar-well diffusion method. Acta Biol Med Exp 15:113–115

Rua CPJ, Trindadae-Silva AE, Appolinario LR, Venas TM, Garcia GD et al (2014) Diversity and antimicrobial potential of culturable heterotrophic bacteria associated with the endemic marine sponge Arenosclera brasiliensis. Peer J 2:e419. https://doi.org/10.7717/peerj.419

Santos-Gandelman JF, Santos OC, Pontes PV, Andrade CL, Korenblum E et al (2013) Characterization of cultivable bacteria from brazilian Sponges. Mar Biotechnol 15(6):668–676

Satheesh S, Ba-akdah MA, Abdulmohsin AA-S (2016) Natural antifouling compounds production by microbes associated with marine macroorganisms - a review. Electron J Biotechnol 21:26–35. https://doi.org/10.1016/j.ejbt.2016.02.002

Schmitt S, Angermeier H, Schiller R, Lindquist N, Hentschel U (2008) Molecular microbial diversity survey of sponge reproductive stages and mechanistic insights into vertical transmission of microbial symbionts. Appl Environ Microbiol 74(24):7694–7708

Selvin J, Joseph S, Asha KR, Manjusha WA, Sangeetha VS et al (2004) Antibacterial potential of antagonistic Streptomyces sp. isolated from marine sponge Dendrilla nigra. FEMS Microbiol Ecol 50:117–122

Taylor MW, Radax R, Steger D, Wagner M (2007) Sponge-associated microorganisms: evolution, ecology, and biotechnological potential. Microbiol Mol Biol Rev 71(2):295–347. https://doi.org/10.1128/MMBR.00040-06

Vijayalakshmi SK, Abha S, Chander P (2012) Isolation and characterisation of Bacillus subtilis KC3 for Amylolytic activity. Int J Biosci Biochem Bioinf 2(5):336–341

Wang F, Luo H, Song G, Liu C, Wang J, Xu J, Su X, Ma X (2013) Prodigiosin found in Serratia marcescens y2 initiates phototoxicity in the cytomembrane. Electron J Biotechnol 16(4). https://doi.org/10.2225/vol16-issue4-fulltext-7

Yuan J, Raza W, Shen Q, Huang Q (2012) Antifungal activity of Bacillus amyloliquefaciens NJN-6 volatile compounds against Fusarium oxysporum f. sp. cubense. Appl Environ Microbiol 78(16):5942–5944
Acknowledgements
Authors are thankful to Professor and Head of Centre for Marine Science and Technology (CMST), Manonmaniam Sundaranar University, Tirunelveli and Scientist-In-Charge of Vizhinjam Research Centre (VRC) of Central Marine Fisheries Research Institute (CMFRI), Vizhinjam, Thiruvananthapuram providing the facilities in carrying out this work.
Ethics declarations
Conflict of Interest
The authors declare that the research was conducted in the absence of any commercial or financial relationships that could be construed as a potential conflict of interest.
About this article
Cite this article
Aishwarya, M.S., Lipton, A.P. & Sarika, A.R. Consortia of Specific Bacteria in Callyspongia subarmigera (Ridley, 1884) and their Exocellular Activity against Clinical and Fish Pathogens. Thalassas 35, 193–200 (2019). https://doi.org/10.1007/s41208-018-0109-7
Received:

Published:

Issue Date:

DOI: https://doi.org/10.1007/s41208-018-0109-7
Keywords
Callyspongia subarmigera

Antibacterial activity

Sponge associated bacteria

Serratia rubidaea CSP and Bacillus amyloliquefaciens CSG