Abstract
Champsodon sagittus, a species belonging to group popularly known as gapers has earlier known to occur in a narrow region of Indo-pacific along the coast of Australia, Philippines and Indonesia. The current report is the first record of the species from the Bay of Bengal, suggesting its possible wider distribution of the species in Indo-pacific Ocean. C. sagittus can be separated from other congeneric species by the combination of two gill rakers of upper limb, naked belly, five pair of sensory papillae on snout and no expansion of haemal spine The study also gives an insight into its depth of occurrence and habitat sharing with deep sea crustaceans.
Access options
Buy single article
Instant access to the full article PDF.
USD 39.95
Price excludes VAT (USA)
Tax calculation will be finalised during checkout.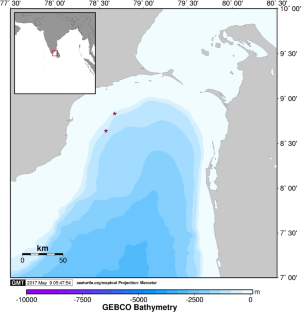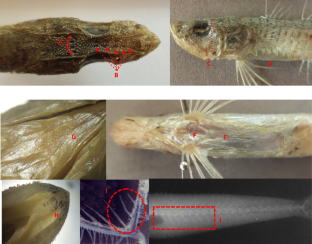 References
Behera PR, Felix J, Menon M, Jishnudev MA (2017) First record of the longfin gaper, Champsodon Longipinnis Matsubara and Amaoka, 1964 (Family: Champsodontidae) along Indian coast. Thalassas 33(1):51–55

Froese R, Pauly D (2017). Family Champsodontidae. Retrieved from http://www.fishbase.org/

Ganga U, Jinesh PT, Beni N (2013) New records of Champsodon nudivittis and Champsodon snyderi (Fam: Champsodontidae) from Indian EEZ. Mar Fish Infor ServTech Ext Ser 218:03–04

Ganga U, Jinesh PT, Beni N (2014) New record of the gaper Champsodon nudivittis (Ogilby, 1895) from the deep waters of north-east Arabian Sea with notes on its biology. Indian J Fish 61(4):128–130

Goren M, Ganga U, Jinesh TP (2014) Champsodon vorax and Champsodon nudivittis, two new records from the north-eastern Arabian Sea (Perciformes, Champsodontidae). Mar Bio Rec 7:01–04

Günther A (1867) Descriptions of some new or little-known fishes in the British Museum. In Proc Zool Soc London. London, pp. 99‑104

Matsubara K, Ochiai A, Amaoka K, Nakamura I (1964) Revisional study of the trachinoid fishes of the family Champsodontidae from the waters around Japan, and Tonking Bay. BullMisaki Mar Biol Inst 6:1–20

Nelson JS (1984) Fishes of the world. A Wiley-Interscience Pub1., New York

Nemeth D (1994) Systematics and distribution of fishes of the family Champsodontidae (Teleostei: Perciformes), with descriptions of three new species. Copeia 1994:347–371

Nemeth D (2001) Champsodontidae. In: Carpenter KE, Niem VH (eds) FAO species identification guide for fishery purposes. The living marine resources of western Central pacific. Vol. 6. Bony fishes Part 4. FAo, Rome, pp 3497–3499

Pietsch TW (1989) Phylogenetic relationships of trachinoid fishes of the family Uranoscopidae. Copeia 1989:253–303

Rajan PT, Sreeraj CR, Immanuel T (2013) Fishes of Andaman Andaman and Nicobar Islands: a checklist. JAndaman Sci Assoc 18(1):47–87

SEATURTLE.ORG Maptool (2002) SEATURTLE.ORG, Inc. http://www.Seaturtle.org/maptool/(25.06.2017)
Acknowledgements
Authors wish to express their thanks to the Director, CMFRI, Kochi for providing necessary facilitates. The constant support and encouragement from HOD, Pelagic Fisheries Division is also acknowledged. The seaturtle.org/maptool is also highly acknowledged for online mapping services.
Ethics declarations
Conflict of Interests
The authors declare that they have no conflict of interest.
About this article
Cite this article
Rahangdale, S., Kumar, R., Kannan, K. et al. First Record of Arrow Gaper, Champsodon sagittus Nemeth, 1994 (Family: Champsodontidae) from Bay of Bengal, Eastern Indian Ocean. Thalassas 35, 161–166 (2019). https://doi.org/10.1007/s41208-018-0105-y
Received:

Published:

Issue Date:

DOI: https://doi.org/10.1007/s41208-018-0105-y
Keywords
Champsodon sagittus

Gulf of Mannar

Morpho-meristic characters

Tamil Nadu

Indian EEZ