Abstract
A single specimen of the Stanaland's sole, Solea stanalandi was caught by a commercial trawl from Gujarat coast and landed in Mangrol fish landing centre on 23rd January, 2017. The species is presently considered as one of the data deficient species by the International Union for Conservation of Nature (IUCN) due to the dearth of crucial information on the ecology, distribution and population characteristics of the species. Hitherto, the species was believed to be endemic in Persian Gulf alone. This is the first report of its occurrence from Indian waters, describing the extension of its geographical distribution within the Indian water. The fish was examined for its morphometrics and meristic characters and described. The new report of S. stanalandi in Indian fisheries could provide a novel avenue for generating vital baseline information to understand the ecological significance of the species in the region.
Access options
Buy single article
Instant access to the full article PDF.
USD 39.95
Price excludes VAT (USA)
Tax calculation will be finalised during checkout.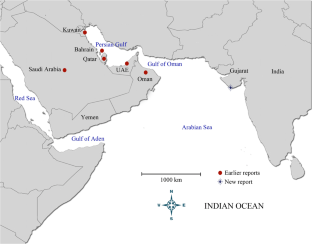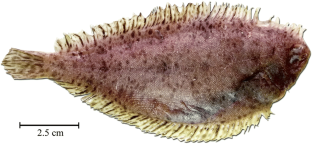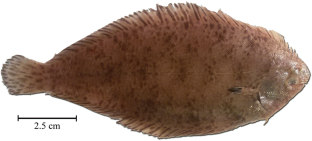 References
Carpenter KE, Krupp F, Jones DA, Zajonz U (1997) Living marine resources of Kuwait, eastern Saudi Arabia, Bahrain, Qatar, and the United Arab Emirates. FAO, Rome, p 293

Chen W, Almatar S, Alsaffar A, Yousef AR (2013) Retained and discarded bycatch from Kuwait's shrimp fishery. Aquat Sci Technol 1(1):86–100

FishBase (2018) Displayed from computer generated distribution maps for Solea stanalandi (Stanaland's sole), with modelled year 2100 native range map based on IPCC A2 emissions scenario. www.aquamaps.org, version of Aug. 2016. Web. https://www.aquamaps.org/preMap.php?cache=1&SpecID=Fis-55412. Accessed 8 Jul 2018

Munroe T, Bishop J, Al-Husaini M, Almukhtar M, Kaymaram F, Hartmann S, Alghawzi Q (2015). Solea stanalandi. (errata version published in 2017) the IUCN Red List of Threatened Species 2015: e.T46096141A115521530. https://doi.org/10.2305/IUCN.UK.2015-4.RLTS.T46096141A57245330.en. Downloaded on 31 October 2017

Nair JR, Gopalakrishnan A (2013) Milk sole fish Aseraggodes kobensis (Pleuronectiformes: Soleidae)-a new record from western Indian Ocean. Indian J Mar Sci 42(2):174–176

Randall JE (1995) Coastal fishes of Oman. University of Hawaii Press, Honolulu, Hawaii, p 439

Randall JE, McCarthy LJ (1989) Solea stanalandi, a new sole from the Persian Gulf. Jap J Ichthyol 36(2):196–199

Sheppard C, Al-Husiani M, Al-Jamali F, Al-Yamani F, Baldwin R, Bishop J, Benzoni F, Dutrieux E (2010) The Gulf: a young sea in decline. Mar Pollut Bull 60:13–38
Acknowledgements
Authors are grateful to Dr. A. Gopalakrishnan, Director of Central Marine Fisheries Research Institute (CMFRI), Kochi for providing all the necessary facilities for the present study. The authors are also grateful to Dr. Mohammed Koya, Scientist-In-Charge, Veraval regional centre of CMFRI and Dr. P.U. Zacharia, Head of Demersal Fisheries Division, CMFRI for their constant support and encouragement.
Ethics declarations
Ethical Approval
On behalf of all authors, the corresponding author states that the ethical standards have been complied in accordance with the journals instruction.
Conflict of Interests
On behalf of all authors, the corresponding author states that there is no conflict of interest.
About this article
Cite this article
Sen, S., Bharadiya, S.A., Dash, G. et al. First Record of Stanaland's Sole (Solea stanalandi, Randall & McCarthy) 1989 from Indian Waters. Thalassas 35, 95–98 (2019). https://doi.org/10.1007/s41208-018-0094-x
Received:

Accepted:

Published:

Issue Date:

DOI: https://doi.org/10.1007/s41208-018-0094-x
Keywords
Solea stanalandi

New distribution

Endemic species

Persian gulf, Gujarat waters