Abstract
Morphological deformities in blue-spotted maskray, Neotrygon kuhlii (Muller & Henle, 1841) were observed from the regular fishery of the Gulf of Mannar, Southeast coast of India. The deformities were mostly noticed in the head (pectorals not fused) and the vertebral column (scoliotic/lordotic/kyphotic curve). The detailed observations on various deformities have been briefly described in the present investigation.
Access options
Buy single article
Instant access to the full article PDF.
USD 39.95
Price excludes VAT (USA)
Tax calculation will be finalised during checkout.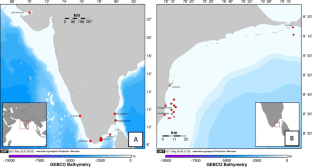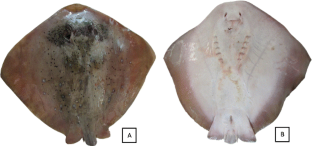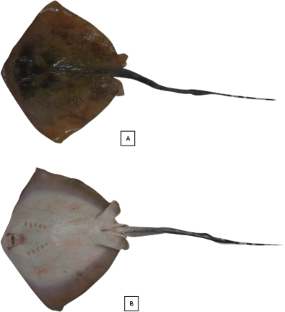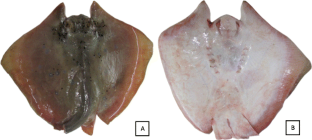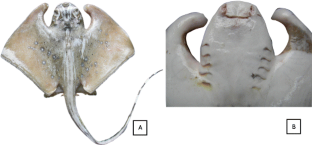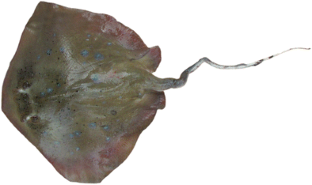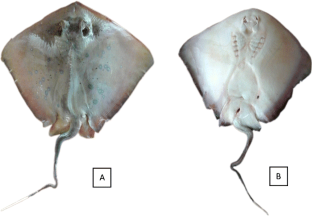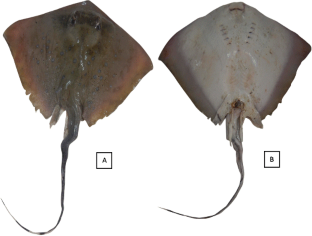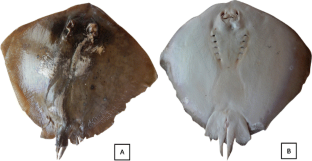 References
Afonso S, Niella YV, Cavalcanti E, Andrade MB, Afonso JS, Pinto PS, Hazin FHV (2016) Spinal deformities in free-ranging bull sharks, Carcharhinus leucas (Müller and Henle, 1839), from the western South Atlantic Ocean. J Appl Ichthyol 32(6):1217–1220

Barrera-García A, O'Hara T, Galván-Magaña F, Méndez-Rodríguez LC, Castellini JM, Zenteno-Savín T (2012) Oxidative stress indicators and trace elements in the blue shark (Prionace glauca) off the east coast of the Mexican Pacific Ocean. Comp Biochem Physiol, Part C: Toxicol Pharmacol 156(2):59–66

Bennet PS (1964) On an abnormal ray from Vizhingam. J Mar Biol Assoc India 6(2):316–317

Bigelow HB, Schroeder WC (1953) Fishes of the Gulf of Maine. Fish Bull 53:1–577

Blanco-Parra MP, Nino-Torres CA (2011) Morphological abnormality in a diamond stingray, Dasyatis dipterura (Jordan & Gilbert) (Chondrichthyes: Dasyatidae), from the Gulf of California, México. Cah Biol Mar 52:357–360

Bornatowski H, Abilhoa V (2008) Record of an anomalous embryo of Rhinobatos percellens (Elasmobranchii: Rhinobatidae) in the southern coast of Brazil. Mar Biodivers Rec 2:36

Casarini LM, Gomes UL, Gadig OBG (1996) Would be Santos harbour dredged material dumping a reason of teratogeny on Raja agassizi. In: Abstracts of the VII Congresso Latino-americano sobre Ciências do Mar Colacmar

Chhapgar BF (1964) A monster of the spotted duck billed ray, Aetobatus narinari. Copeia 1964(3):587–589

Clark E (1964) Spinal deformity noted in bull shark. Underw Nat 2:25–28

Compagno LJV (2005) Checklist of living Chondrichthyes. In Reproductive biology and phylogeny of chondrichthyes: sharks, batoids, and chimaeras (Hamlett, W. C., eds), pp. 501–548. Science Publishers, Inc, Enfield. pp. 501–548

Compagno LJV, Last P (1998) Dasyatidae. The living resources of the Western Central Pacific. FAO species identification guide for fisheries purposes. Batoid fishes, chimaeras and bony fishes part 1. FAO, Rome

Day F (1878) The fishes of India; being the natural history of the fishes known to inhabit the seas and fresh waters of India, Burma and Ceylon. Williams Dowson and Sons, London, 729 p

Devadoss P (1983) On some specimens of abnormal elasmobranchs. Matsya 9(10):486–488

Easwaran CR (1967) On an abnormal ray from the Gulf of Kutch. J Mar Biol Assoc India 9:198–200

Escobar-Sanchez O, Galvan-Magana F, Downton-Hoffmann CA, Carrera-Fernandez M, Alatorre-Ramırez VG (2009) First record of a morphological abnormality in the longtail stingray Dasyatis longa (Myliobatiformes: Dasyatidae) in the Gulf of California, Mexico. Mar Biodivers Rec 2(2):1–3

Escobar-Sanchez O, Galvan-Magana F, Rosíles-Martínez R (2011) Biomagnification of mercury and selenium in blue shark Prionace glauca from the Pacific Ocean off Mexico. Biol Trace Elem Res 144(1–3):550–559

Fahmi, White WT, Jacobsen IP (2015) Neotrygon kuhlii. The IUCN red list of threatened species 2015: e.T161590A68636167. Downloaded on 29 March 2018

Ford E (1930) Some abnormal fishes received at the Plymouth Laboratory. J Mar Biol Assoc U K 17:53–64

Frischknecht R, Wahli T, Meier W (1994) Comparison of pathological changes due to deficiency of vitamin C, vitamin E and combinations of vitamins C and E in rainbow trout, Oncorhynchus mykiss (Walbaum). J Fish Dis 17:31–45

Gill TN (1896) Notes on the genus Cephaleuthenis of Rafinesque, and other rays with aberrant pectoral fins (Propterygia and Hieroptera). Proc U S Natl Mus 18:195–198

Heupel MR, Simpfendorfer CA, Bennett MB (1999) Skeletal deformities in elasmobranchs from Australian waters. J Fish Biol 54:1111–1115

Hoenig JM, Walsh AH (1983) Skeletal lesions and deformities in large sharks. J Wildlife Dis 19:27–33

Hoisington G, Lowe CG (2005) Abundance and distribution of round stingray, Urobatis halleri, near a thermal outfall. Mar Environ Res 60:437–453

Honma Y, Sugihara C (1971) A stingray, Dasyatis akajei, with aberrant pectoral fins from the Japan Sea. Japanese. J Ichthyol 18:187–189

Jawad LA, Akyol O, Aydin I (2017) The first record of caudal fin deformity in the European Conger, Conger conger (Linnaeus, 1758) (Pisces: Anguilliformes) collected from Northern Aegean Sea (Çandarli Bay, Turkey). Thalassas: an international. J Mar Sci 34(1):1–6

Johnstone J (1906) Ichthyological notes. Report for 1905 on the Lancashire Sea-Fisheries. Laboratory 14:186–191

Lamarca F, Ribeiro N, Galheigo F, Vianna M (2017) The first record of diprosopus tetrophthalmus in the South Atlantic Ocean: the case of Prionace glauca (Elasmobranchii: Carcharhiniformes: Carcharhinidae) in Brazil. Acta Ichthyol Piscat 47(4):385–389

Lamilla J, Pequeno G, Kong I (1995) Dasyatis brevis (Garman, 1880) second species of Dasyatidae registered for Chile (Chondrichthyes, Myliobatiformes). Estudios Oceanolo'gicos 14:23–27

Last PR, Stevens JD (2009) Sharks and rays of Australia, Second edn. CSIRO Publishing, Collingwood

Last PR, White WT (2008). Resurrection of the genus Neotrygon Castelnau (Myliobatoidei: Dasyatidae) with the description of Neotrygon picta sp. nov., a new species from northern Australia, In: Last PR, White W, Pogonoski JJ (ed), Descriptions of New Australian Chondrichthyans. CSIRO Marine and Atmospheric Research Paper 022. pp 315–325

Last PR, White WT, Seret B (2016) Taxonomic status of maskrays of the Neotrygon kuhlii species complex (Myliobatoidei: Dasyatidae) with the description of three new species from the Indo-West Pacific. Zootaxa 4083(4):533–561

Lazarus S (1985) A note on a two headed embryo of the Javanese cownose ray Rhinoptera javanica Muller and Henle. J Mar Biol Assoc India 27(1&2):189–191

Luther G (1961) On an apparently specific type of abnormality in the white-spotted shovel nose ray Rhyncobatus djiddensis (Forskal). J Mar Biol Assoc India 3:198–203

Mancini PL, Casas AL, Amorim AF (2006) Morphological abnormalities in a blue shark Prionace glauca (Chondrichthyes: Carcharhinidae) foetus from southern Brazil. J Fish Biol 69:1881–1884

Moore ABM (2015) Morphological abnormalities in elasmobranchs. J Fish Biol 87(2):465–471

Nair KVS, Chellam A (1971) An abnormal sting-ray caught off Calicut. Indian J Fish 18:193–195

Narvaez K, Osaer F (2016) Morphological and functional abnormality in the spiny butterfly ray Gymnura altavela. Mar Biodivers Rec 9(95):1–5

Ochoa-Díaz MR, Rodriguez-Romero J, López-Martínez J, Maldonado-García MC (2016) First record of spine malformation of the round stingray Urobatis halleri off the Western Coast of Baja California Sur. México Marine Biodiversity Records 9(70):1–5

Officer RA, Clement JG, Rowler DK (1995) Vertebral deformities in a school shark, Galeorhinus galeus: circumstantial evidence for endoskeletal resorption? J Fish Biol 46:85–98

Pavan-Kumar A, Kumar R, Pitale P, Shen KN, Borsa P (2018) Neotrygon indica sp. nov., the Indian Ocean blue-spotted maskray (Myliobatoidei, Dasyatidae). C R Biol 341(2):120–130

Puckridge M, Last PR, White WT, Andreakis N (2013) Phylogeography of the Indo-West Pacific maskrays (Dasyatidae, Neotrygon): a complex example of chondrichthyan radiation in the Cenozoic. Ecol Evol 3:217–232

Ramaiyan V, Sivakumar R (1988) An abnormal sting-ray caught off Parangipettai on the south-eastern coast of India. J Fish Biol 33:659–660

Ranjith L, Ramkumar S, Behera PR, Kannan K, Kanthan KP (2014) Observations of morphological deformities in blue spotted stingray, Neotrygon khulii (Muller & Henle, 1841) from Thoothukkudi coast of India. In: Vindhya M, Neeraj S, Pradhan PK, Tyagi LK, Ravi K, Amit SB, Jena JK (eds) 10th Indian fisheries and aquaculture forum 10ifaf Asian fisheries society. Indian Branch & NBFGR, Lucknow, p 390

Ribeiro-Prado CC, Oddone MC, Gonzalez MMB, Amorim AF, Capapé C (2008) Morphological abnormalities in skates and rays (Chodrichthyes) from off southeastern Brazil. Arquivos de Ciências do Mar 41:21–28

Rosa RS, Gomes UL, Gadig OBF (1996) Um caso de teratogenia na raia de água doce Potamotrygon motoro (Natterer in Muller E Henle, 1841) (Chondrichthyes: Potamotrygonidae). Revista Nordestina de. Biologia 11:125–132

Schwartz FJ (1973) Spinal and cranial deformities in the elasmobranchs Carcharhinus leucas, Squalus acanthias, and Carcharhinus milberti. J Elisha Mitchell Sci Soc 89:74–77

Suresh TV, Raffi SM (2012) Pectoral fin anomalies in the long-tailed butterfly ray, Gymnura poecilura collected from Nagapattinam coastal waters, south-east coast of India. Mar Biodivers Rec 5(96):1–4

Tortonese E (1956) Fauna d'Italia. Vol. II. Leptocardia, Ciclostomata, Selachii. Edizioni Calderini, Bologna

Vannuccini S (1999) Shark utilization, marketing and trade. FAO Fisheries Technical Paper. No. 389. Rome, FAO. 470p

White WT, Dharmadi (2007) Species and size compositions and reproductive biology of rays (Chondrichthyes, Batoidea) caught in target and non-target fisheries in eastern Indonesia. J Fish Biol 70(6):1809–1837

White WT, Last P, Stevens JD, Yearsley GK, Fahmi, Dharmadi (2006) Economically important sharks and rays of Indonesia. Australian Centre for International Agricultural Research, Canberra, Australia

Wimberger PH (1993) Effects of vitamin C deficiency on body shape and skull osteology in Geophagus brasiliensis: implications for interpretations of morphological plasticity. Copeia 1993:343–351
Acknowledgments
The authors are very grateful to the Director, ICAR-Central Marine Fisheries Research Institute (CMFRI) for the encouragement during the course of this study. The author wishes to thank the Head, Marine Biodiversity Division and Demersal Fisheries Division for the support. We thank the staffs of Tuticorin Research Centre, ICAR-CMFRI and fishermen of Thoothukudi and Ramananthapuram Districts for the support. The first author acknowledges the online GIS program MAPTOOL provided by seaturtle.org.
Ethics declarations
Conflict of Interest
There is no conflict of interest among the authors contributed to this publication.
About this article
Cite this article
Ranjith, L., Saravanan, R., Kalidas, C. et al. Morphological Deformities in Neotrygon kuhlii (Muller & Henle, 1841) from Gulf of Mannar, Bay of Bengal, India. Thalassas 35, 49–56 (2019). https://doi.org/10.1007/s41208-018-0083-0
Received:

Published:

Issue Date:

DOI: https://doi.org/10.1007/s41208-018-0083-0
Keywords
Dasyatids

Blue-spotted stingray

Abnormalities

Pectorals

Vertebral column