Abstract
The Moorish Idol (Zanclus cornutus (Linnaeus, 1758)) is a tropical species that is distributed extensively in rocky and coral reefs in the Pacific Ocean, within the Gulf of California, its presence has been reported only in its southern region. In this work, the presence of Z. cornutus in the central and northern Gulf of California is confirmed, specifically in the Coronados islands (25.71534 ° N, −110.77567 ° W) and San Pedro Nolasco (27.9530 ° N, 111.3663 ° W). These records increase their distribution 200 km north of their known limit. This finding seems to be another example of a trend recently observed in several species of tropical fish, they have expanded their distribution towards the center and the north of the Gulf of California in possible response to the warming of the Gulf.
Access options
Buy single article
Instant access to the full article PDF.
USD 39.95
Price excludes VAT (USA)
Tax calculation will be finalised during checkout.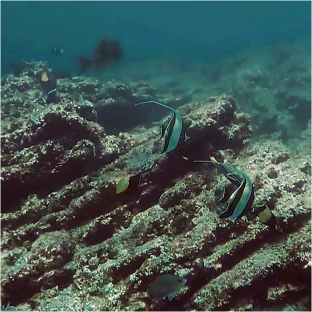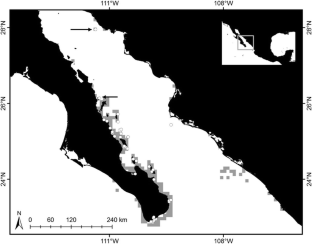 References
Barjau-González E, Rodríguez-Romero J, Galván-Magaña F, López-Martínez J (2012) Changes in the taxonomic diversity of the reef fish community of San José Island, Gulf of California, Mexico. Biodivers Conserv 21:3543–3554. https://doi.org/10.1007/s10531-012-0378-z

Booth DJ, Figueira WF, Gregson MA, Brown L, Beretta G (2007) Occurrence of tropical fishes in temperate southeastern Australia: role of the east Australian current. Estuar Coast Shelf Sci 72:102–114. https://doi.org/10.1016/j.ecss.2006.10.003

Carpenter KE, Lawrence A, Myers R (2016) Zanclus cornutus. The IUCN Red List of Threatened Species. http://dx.doi.org/10.2305/IUCN.UK.2016-3.RLTS.T69741115A69742744.en. Accessed 30 Dec 2016

Del Moral-Flores LF, González-Acosta AF, Espinosa-Pérez H, Ruiz-Campos G, Castro-Aguirre JL (2013) Lista anotada de la ictiofauna de las islas del golfo de California, con comentarios sobre sus afinidades zoogeográficas. Revista Mexicana de Biodiversidad 84:184–214. https://doi.org/10.7550/rmb.27335

Eschmeyer WN, Fricke R, van der Laan R (2017) Catalog of fishes: genera, species, references. California Academy of Sciences. https://www.calacademy.org/scientists/projects/catalog-of-fishes. Accessed 2 Dec 2017

Feary DA, Pratchett MS, Emslie MJ, Fowler AM, Figueira WF, Luiz OJ, Nakamura Y, Booth DJ (2014) Latitudinal shifts in coral reef fishes: why some species do and others do not shift. Fish Fish 15:593–615. https://doi.org/10.1111/faf.12036

Fernández-Rivera Melo FJ, Reyes-Bonilla H, Campos-Dávila L, Balart EF (2015) Extension of range of Lutjanus inermis (Peters, 1896) (Perciformes: Lutjanidae) to the central region of the Gulf of California, Mexico. J Appl Ichthyol 31:541–543. https://doi.org/10.1111/jai.12750

Froese R, Pauly D (2017) www.fishbase.org. Accessed 10 Dec 2017

Global Biodiversity Information Facility (2013) http://data.gbif.org. Accessed 30 Dec 2016

González-Acosta AF, Findley LT, Ruiz-Campos G, Burnes-Romo LA, Espinosa-Pérez H (2013) Extreme northern range extension of the pelican barracuda Sphyraena idiastes (Perciformes: Sphyraenidae) in the eastern Pacific. J Appl Ichthyol 29:655–657. https://doi.org/10.1111/jai.12102

González-Acosta AF, Miranda-Marín MI, De la Cruz-Torres J, Ruiz-Campos G (2016) New records and range extension of three fish species in the Gulf of California. Mar Biodivers. https://doi.org/10.1007/s12526-016-0612-0

González-Cuéllar OT, Reyes-Bonilla H, Fourriére M, Rojo M, Hernández-Velasco A, Sánchez-Alcántara I, Pfister T (2013) Range extensions of four species of parrotfishes (Scaridae) in the northern gulf of California, Mexico. Cybium 37:223–226

Hobson ES (1974) Feeding relationships of teleostean fishes on coral reefs in Kona, Hawaii. Fish Bull 72:915–1031

Martínez-Torres M, Reyes-Bonilla H, Fernández-Rivera Melo FJ, Sánchez-Alcántara I, González-Cuellar OT, Morales-Portillo CD (2014) Range extension of the blue and yellow damselfish Chromis limbaughi (Pomacentridae) to the northern gulf of California, Mexico. Mar Biodivers Rec. https://doi.org/10.1017/S1755267214000281

Munguía-Vega A, Torre J, Turk-Boyer P, Marinone SG, Lavín MF, Pfister T, Danemann G, Raimondi P, Castillo-López A, Cinti A, Duberstein JN, Moreno-Báez M, Rojo M, Soria G, Sánchez-Velasco L, Morzaria-Luna HN, Bourillón L, Rowell K, Cudney-Bueno R (2015) PANGAS: an interdisciplinary ecosystem-based research framework for small-scale fisheries in the northern gulf of California. J Southwest 57:337–390. https://doi.org/10.1353/jsw.2015.0003

Nelson JS (2006) Fishes of the world. Wiley, Hoboken

Ocean Biogeographic Information System (2013) http://www.iobis.org. Accessed 30 Dec 2016

Peterson W, Robert M, Bond N (2015) The warm blob - conditions in the northeastern Pacific Ocean. PICES Press 23:36–38

Randall JE (2001) Zanclidae. Moorish idol family. In: Carpenter KE, Niem V (eds) FAO identification guide for fishery purposes. The western Central Pacific. FAO, Rome, pp 3381–3421

Reyes-Bonilla H, López-Pérez RA (2009) Corals and coral reef communities in the Gulf of California. In: Johnson A, Ledezma-Vázquez J (eds) Atlas of coastal ecosystems in the western gulf of California. The University of Arizona Press, Tucson, pp 45–57

Robertson DR, Allen GR (2015) Shore fishes of the Tropical Eastern Pacific: online information system. http://biogeodb.stri.si.edu/sftep/es/pages. Accessed 30 Dec 2016

Sano M, Shimizu M, Nose Y (1984) Food habits of teleostean reef fishes in Okinawa Island, southern Japan. University of Tokyo Press, Tokyo

Wernberg T, Smale DA, Tuya F, Thomsen MS, Langlois TJ, de Bettignies T, Bennett S, Rousseaux CS (2013) An extreme climatic event alters marine ecosystem structure in a global biodiversity hotspot. Nat Clim Chang 3:78–82. https://doi.org/10.1038/nclimate1627
Acknowledgements
Grants to conduct field work and analyses of the data were provided by Consejo Nacional de Ciencia y Tecnología (project Fronteras en la Ciencia FON.INST./26/2016, to HRB), German Agency for International Cooperation (GIZ), Sandler Foundation and the NGOs Comunidad y Biodiversidad AC, Pronatura Noroeste and The Nature Conservancy.
Ethics declarations
Conflict of Interest
The authors declare that they have no conflict of interest.
About this article
Cite this article
Fernández-Rivera Melo, F.J., Reyes-Bonilla, H., Martínez-Castillo, V. et al. Northernmost Occurrence of Zanclus cornutus (Zanclidae) in the Eastern Pacific (Northern Gulf of California, Mexico). Thalassas 34, 301–304 (2018). https://doi.org/10.1007/s41208-017-0064-8
Received:

Published:

Issue Date:

DOI: https://doi.org/10.1007/s41208-017-0064-8
Keywords
Moorish idol

Record

Sea of Cortes

Distribution

Aquarium fish