Abstract
Τhe problem of the deterioration of the human environment and natural resources and its consequences for economic and social development have received great interest over the past few decades. To facilitate sustainable development, it has become imperative to manage the use of resources in an environmentally conscious manner. To this end, life cycle management is widely considered to be the only efficient approach enabling sustainable resource management and sustainable development. This paper focuses on the life cycle inventory of aluminium production, which—due to its full recyclability—is an excellent example of "cradle-to-cradle" and life cycle thinking. Life cycle inventory is considered the key but also (in most cases) the most demanding step in the assessment of the environmental impact of a product or process. The quantified life cycle inventory for aluminium described in the present work should provide useful material for environmental managers, product designers and decision-makers in industry when they attempt to integrate environmental considerations into their respective activities.
Access options
Buy single article
Instant access to the full article PDF.
US$ 39.95
Tax calculation will be finalised during checkout.
Subscribe to journal
Immediate online access to all issues from 2019. Subscription will auto renew annually.
US$ 119
Tax calculation will be finalised during checkout.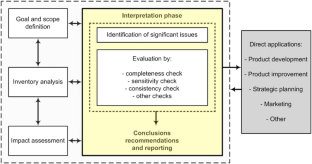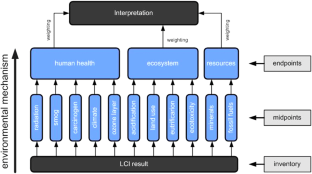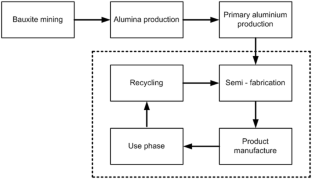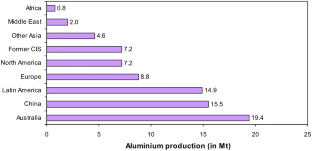 References
Achillas Ch, Vlachokostas Ch, Moussiopoulos N, Perkoulidis G, Banias G, Mastropavlos M (2011) Electronic waste management cost: a scenario-based analysis for Greece. Waste Manag Res 29(9):963–972

Albuquerque T, Mattos C, Scur G, Kissimoto K (2019) Life cycle costing and externalities to analyze circular economy strategy: comparison between aluminum packaging and tinplate. J Clean Prod 234:477–486

Agrawal S, Singh R (2019) Analyzing disposition decisions for sustainable reverse logistics: triple bottom line approach. Resour Conserv Recycl 150:104448

Association of Plastics Manufacturers in Europe (1994) Eco-profiles of the European plastics industry. Association of Plastics Manufacturers in Europe, Brussels

Banias G, Achillas Ch, Vlachokostas Ch, Moussiopoulos N, Stefanou M (2016) Environmental impacts in the life cycle of olive oil: a literature review. J Sci Food Agric 97(6):1686–1697

Bianco I, Blengini GA (2020) Life cycle inventory of technologies for stone quarrying, cutting and finishing: contribution to fill data gaps. J Clean Prod 231:419–427

Costa D, Quinteiro P, Dias AC (2019) A systematic review of life cycle sustainability assessment: current state, methodological challenges, and implementation issues. Sci Total Environ 686:774–787

Durucan S, Korre A, Munoz-Melendez G (2006) Mining life cycle modelling: a cradle-to-gate approach to environmental management in the minerals industry. J Clean Prod 14:1057–1070

EMPA (1989) Data acquired from ETH-Bereich. EMPA, Dübendorf

ESU-ETHZ (1996) Life cycle inventories of disposal processes—basics for integration of the disposal in life cycle assessments. In: Doka G, Huber F, Labhardt A, Menard M, Zimmermann P (eds) ESU series 1/96. Institute für Energietechnik, Gruppe Energie-Stoffe-Umwelt, ETH Zurich, Zurich

European Aluminium Association (1995) Bestimmungen für das Gütezeichen für anodisch erzeugte Oxidschichten auf Aluminium-Halbzeug in der Architektur. QUALANOD, Zürich

European Aluminium Association (2019) Official website. https://www.european-aluminium.eu. Accessed 26 Dec 2019

European Commission (2000) Developing the foundation for Integrated Product Policy in the EU. Report by Ernst & Young, DG Environment. EC, Brussels

European Commission (2011) European Parliament resolution of 24 May 2012 on a resource-efficient Europe. EC, Brussels

European Commission (2014) Development of guidance on extended producer responsibility (EPR). https://ec.europa.eu/environment/archives/waste/eu_guidance/introduction.html. Accessed 25 Jan 2020

Farjana SH, Huda N, Mahmud P (2019) Impacts of aluminum production: a cradle to gate investigation using life-cycle assessment. Sci Total Environ 663:958–970

Finnveden G, Hauschild M, Ekvall T, Guinée J, Heijungs R, Hellweg S, Koehler A, Pennington D, Suh S (2009) Recent developments in life cycle assessment. J Environ Manag 91(1):1–21

Fthenakis V, Wang W, Kim HC (2009) Life cycle inventory analysis of the production of metals used in photovoltaics. Renew Sustain Energy Rev 13(3):493–517

Goedkoop M, Mieras E, Gaasbeek A, Conteras S (2015) How to make the life cycle assessment team a business partner. In: Sonnemann G, Margni M (eds) Life cycle management. Springer Open, Dordrecht

Grimaud G, Perry N, Laratte B (2016) Life cycle assessment of aluminium recycling process: case of shredder cables. Proc CIRP 48:212–218

Guinée J, Heijungs R, Huppes G, Zamagni A, Masoni P, Buonamici R, Ekvall T, Rydberg T (2011) Life cycle assessment: past, present, and future. Environ Sci Technol 45(1):90–96

Guo Y, Zhu W, Yang Y, Cheng H (2019) Carbon reduction potential based on life cycle assessment of China's aluminium industry—a perspective at the province level. J Clean Prod 239:118004

Habashi F (1998) Handbook of extractive metallurgy. Wiley-VCH, New York

Hertwich E (2005) Life cycle approaches to sustainable consumption: a critical review. Environ Sci Technol 39(13):4673

Hiraki T, Akiyama T (2009) Exergetic life cycle assessment of new waste aluminium treatment system with co-production of pressurized hydrogen and aluminium hydroxide. Int J Hydrogen Energy 34(1):153–161

Hong J, Zhou J, Hong J, Xu X (2012) Environmental and economic life cycle assessment of aluminum-silicon alloys production: a case study in China. J Clean Prod 24:11–19

International Aluminium Institute (2019) Official website. https://www.world-aluminium.org. Accessed 26 Dec 2019

International Standards Organization (2006) ISO 14040:2006 on environmental management, life cycle assessment, principles and framework. ISO, Geneva

Jiang R, Wu P (2019) Estimation of environmental impacts of roads through life cycle assessment: a critical review and future directions. Transp Res Part D Transp Environ 77:148–163

Koroneos C, Achillas Ch, Moussiopoulos N (2009) Life cycle thinking in the use of natural resources. Presented at: LCM 2009: the Global Challenge of Managing Life Cycles, Cape Town, South Africa, 6–9 Sept 2009

Liu G, Müller D (2012) Addressing sustainability in the aluminum industry: a critical review of life cycle assessments. J Clean Prod 35:108–117

Mack-Vergara Y, John V (2017) Life cycle water inventory in concrete production—a review. Resour Conserv Recycl 122:227–250

Michailidou AV, Vlachokostas Ch, Moussiopoulos N, Maleka D (2016) Life cycle thinking used for assessing the environmental impacts of tourism activity for a Greek tourism destination. J Clean Prod 111:499–510

Niero M, Olsen SI (2016) Circular economy: to be or not to be in a closed product loop? A life cycle assessment of aluminium cans with inclusion of alloying elements. Resour Conserv Recycl 114:18–31

Norgate TE, Jahanshahi S, Rankin WJ (2007) Assessing the environmental impact of metal production processes. J Clean Prod 15(8–9):838–848

Paraskevas D, Kellens K, Dewulf W, Duflou J (2015) Environmental modelling of aluminium recycling: a life cycle assessment tool for sustainable metal management. J Clean Prod 105:357–370

Pazoki M, Zaccour G (2019) Extended producer responsibility: regulation design and responsibility sharing policies for a supply chain. J Clean Prod 236:117516

Peng T, Ou X, Yan X, Wang G (2019) Life-cycle analysis of energy consumption and GHG emissions of aluminium production in China. Energy Proc 158:3937–3943

Rubik F, Scholl G (2002) Integrated product policy (IPP) in Europe—a development model and some impressions. J Clean Prod 10(5):507–515

SAEFL (1992) Handbuch III zur Störfallverordnung (StFV)—Richtlinien für Verkehrswege. Swiss Agency for the Environment, Forests and Landscape, Bern

Shan H, Yang J (2020) Promoting the implementation of extended producer responsibility systems in China: a behavioral game perspective. J Clean Prod 250:119446

Shi X, Li X (2019) A symbiosis-based life cycle management approach for sustainable resource flows of industrial ecosystem. J Clean Prod 226:324–335

Stark J (2011) Product lifecycle management: 21st century paradigm for product realisation, 2nd edn. Springer, Berlin

Tan R, Khoo H (2005) An LCA study of a primary aluminum supply chain. J Clean Prod 13:607–618

Tsarouhas P, Achillas Ch, Aidonis D, Folinas D, Maslis V (2015) Life cycle assessment of olive oil production in Greece. J Clean Prod 93:75–83

United Nations Environment Programme (UNEP) (2004) Why take a life cycle approach?. United Nations Publications, Nairobi

Yang Y, Guo YG, Zhu WS, Huang JB (2019) Environmental impact assessment of China's primary aluminum based on life cycle assessment. Trans Nonferrous Met Soc China 29(8):1784–1792
Funding
On behalf of all the authors, the corresponding author states that no funding was received for the present work.
Ethics declarations
Conflict of interest
On behalf of all the authors, the corresponding author states that there is no conflict of interest.
Additional information
Communicated by D. Vagiona and G. Pozoukidou, Guest Editors.
About this article
Cite this article
Achillas, C., Vlachokostas, C. & Koroneos, C. Life cycle thinking: towards the sustainable management of resources in aluminium production. Euro-Mediterr J Environ Integr 5, 16 (2020). https://doi.org/10.1007/s41207-020-00153-3
Received:

Accepted:

Published:
Keywords
Aluminium

Life cycle management

Life cycle inventory

Resources management

Energy resources

Waste management