Abstract
A wetland is a complex ecosystem with high biodiversity; in some situations, the productivity of a wetland is comparable to those of a rain forest or coral reef. The stability of wetlands is under threat due to human activities. The study area of the work described here was Palo Laziale (Province of Rome), a characteristic Mediterranean woodland and wetland area in central Italy. Agricultural activities and urbanisation have considerably reduced this habitat. The first evidence of stress on the area's tree species was detected at the end of 1995, and this stress has gradually resulted in the complete collapse of the woodland habitat, with the deaths of more than 4000 individual trees. Physicochemical data, 87Sr/86Sr isotope data and saturation indices have been used to explore the trends in the characteristics of the aquifer over 15 years. We compared geochemical data from 2002 with new data collected in 2010 and 2016, which confirmed the brackish nature of the aquifer. The similarity of the 2010 and 2016 datasets and a comparison of those datasets with the 2002 dataset show that the system is resilient—it strongly buffers modifications without presenting any major alterations in function. The results demonstrate that the application of a hydrogeochemical approach emphasises the strong relationship between the level of wetland exposure and the nature of the wetland area at the monitoring scale applied.
Access options
Buy single article
Instant access to the full article PDF.
US$ 39.95
Tax calculation will be finalised during checkout.
Subscribe to journal
Immediate online access to all issues from 2019. Subscription will auto renew annually.
US$ 119
Tax calculation will be finalised during checkout.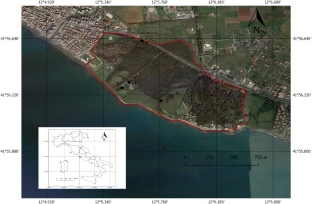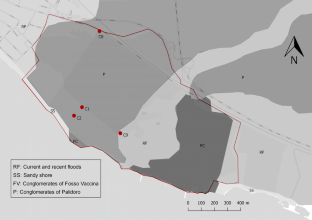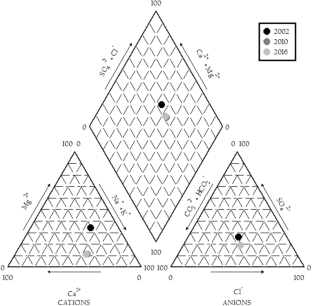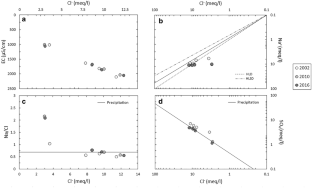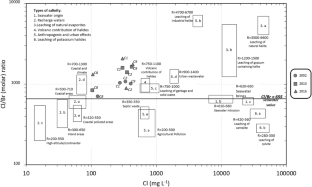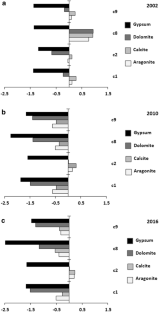 References
Alcalà FJ, Custodio E (2008) Using the Cl/Br ratio as a tracer to identify the origin of salinity in aquifers in Spain and Portugal. J Hydrol 359:189–207

Appelo CAJ, Postma D (2005) Geochemistry, groundwater and pollution, 2nd edn. CRC, Boca Raton

Barbieri M (2019) Isotopes in hydrology and hydrogeology. Water 11(2):291. https://doi.org/10.3390/w11020291

Barbieri M, Morotti M (2003) Hydrogeochemistry and strontium isotopes of spring and mineral water from Monte Vulture volcano, Italy. Appl Geochem 18:117–125

Barbieri M, Battistel M, Garone A (2013) The geochemical evolution and management of a coastal wetland system: a case study of the Palo Laziale protected area. J Geochem Explor 126:67–77

Barbieri M, Nigro A, Petitta M (2017) Groundwater mixing in the discharge area of San Vittorino Plain (Central Italy): geochemical characterization and implication for drinking uses. Environ Earth Sci 76(11):1

Boschetti T, Awaleh MO, Barbieri M (2018) Waters from the Djiboutian Afar: a review of strontium isotopic composition and a comparison with Ethiopian waters and red sea brines. Water 10(11):1700. https://doi.org/10.3390/w10111700

Brasier CM, Robredo F, Ferraz JFP (1993) Evidence for Phytophthora cinnamomi involvement in Iberian oak decline. Plant Pathol 42:140–145

Davidson NC, Finlayson CM (2007) Earth Observation for wetland inventory, assessment and monitoring. Aquat Conserv Mar Freshw Ecosyst 2007(17):219–228

Eaton AD, Clesceri LS, Greenberg AE (eds)(1995) Strandard methods for examination of water and wastewater, 18th edn. American Public Health Association (APHA), Washington, DC

EPA (2019) Why are wetlands important? https://www.epa.gov/wetlands/why-are-wetlands-important

Faure G (1986) Principles of isotope geology. Wiley, New York

Gomis-Yagues V, Boluda-Botella N, Ruiz-Bevia F (2000) Gypsum precipitation/dissolution as an explanation of the decrease of sulphate concentration during seawater intrusion. J Hydrol 228:48–55

Herczeg AL, Edmunds WM (1999) Inorganic ions as tracers. In: Cook PG, Herczeg AL (eds) Environmental tracers in subsurface hydrology. Kluwer Academic, Dordrecht, pp 31–77

Holling CS (1973) Resilience and stability of ecological systems. Annu Rev Ecol Syst 4:1–23

Manion PD (1991) Tree disease concepts. Prentice Hall, Englewood Cliffs

McArthur JM, Howarth RJ (2004) Strontium isotope stratigraphy. In: Gradstein F, Ogg J, Smith AG (eds) A geological timescale. Cambridge University Press, Cambridge, pp 96–105

Parkhurst DL, Appelo CAJ (1999) User's guide to PHREEQC (version 2). Water-Resources Investigations Report 99/4259. US Geological Survey, Reston

Piper AM (1940) A graphical procedure in the geochemical interpretation of water analysis. Am Geophys Union Trans 25:914–928

Plummer LN, Parkhurst DL, Fleming GW, Dunkle SA (1988) A computer program incorporating Pitzer's equations for calculation of geochemical reactions in brines. Water-Resources Investigations Report 88/4153. US Geological Survey, Reston

Sanchez A, Malak DA, Guelmami A, Perennou C (2015) Development of an indicator to monitor Mediterranean wetlands. PLoS One 10(3):e0122694. https://doi.org/10.1371/journal.pone.0122694

Vengosh AJ, Spivack Y, Artzi A, Ayalon A (1999) Geochemical and boron, strontium isotopic constraints on the origin of the salinity in groundwater from the Mediterranean coast of Israel. Water Resour Res 35:1877–1894

Ventriglia U (1988) Idrogeologia della Provincia di Roma, vol I. Regione Tolfetana. Edited by Amministrazione Provinciale di Roma, Italy

Xie Z, Xu X, Yan L (2010) Analyzing qualitative and quantitative changes in coastal wetland associated to the effects of natural and anthropogenic factors in a part of Tianjin, China. Estuar Coast Shelf Sci 86:379–386
Funding
The authors received no specific funding for this work.
Ethics declarations
Conflict of interest
On behalf of all the authors, the corresponding author states that there is no conflict of interest.
Additional information
Communicated by João Miguel Dias, Chief Editor.
About this article
Cite this article
Barbieri, M., Ricolfi, L., Battistel, M. et al. Monitoring wetland deterioration in a coastal protected area in central Italy: implications for management. Euro-Mediterr J Environ Integr 4, 37 (2019). https://doi.org/10.1007/s41207-019-0129-6
Received:

Accepted:

Published:
Keywords
Wetland

Hydrogeochemical modelling

Strontium isotopes

Water management