Abstract
Simultaneous photocatalytic and antimicrobial activity is considered a very promising technology for water treatment. By studying their antimicrobial activity, the present study evaluates effect of the association of porous hydroxyapatite with zinc oxide to improve the photodegradation of antibiotics in water and to trap the by-products. Coexistence in the nanocomposite of zinc oxide with porous apatite, prepared from phosphate rock, is a key factor promoting strong photocatalytic and antibacterial activities. Toxicity of the water discharged after the photocatalytic treatment was studied. Owing to the simplicity of the synthesis of ZnO–hydroxyapatite nanocomposites from Moroccan natural phosphate and their versatility, the present approach holds promise for the development of multifunctional photocatalysts and antibacterial agents for environmental applications.
Access options
Buy single article
Instant access to the full article PDF.
USD 39.95
Price excludes VAT (USA)
Tax calculation will be finalised during checkout.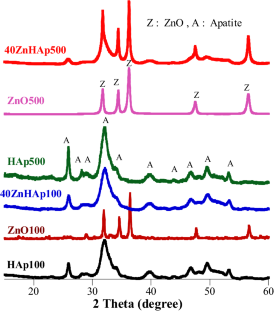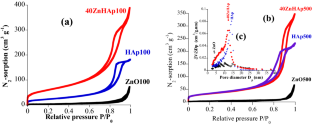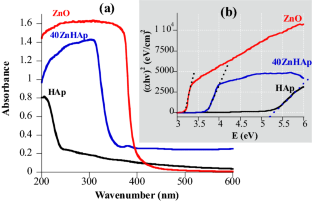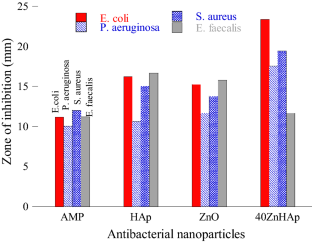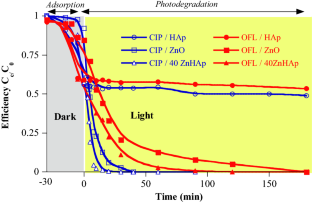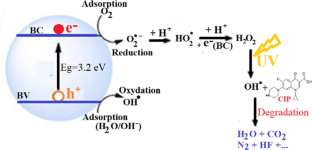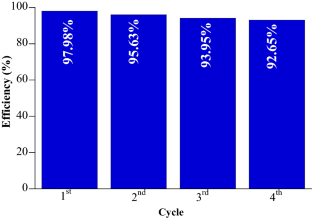 References
Simazaki D, Kubota R, Suzuki T, Akiba M, Nishimura T, Kunikane S (2015) Occurrence of selected pharmaceuticals at drinking water purification plants in Japan and implications for human health. Water Res. 76:187–200

Rivera-Utrilla J, Sánchez-Polo M, Ferro-García MA, Prados-Joya G, Ocampo-Pérez R (2013) Pharmaceuticals as emerging contaminants and their removal from water: a review. Chemosphere 93:1268–1287

Neppolian B, Sakthivel S, Arabindoo B, Palanichamy M, Murugesan V (1999) Degradation of textile dye by solar light using TiO2 and ZnO photocatalysts. J. Environ. Sci. Health Toxic/Hazard Part A 34:1829–1838

El Bekkali C, Bouyarmane H, Saoiabi S, El Karbane M, Rami A, Saoiabi A, Boujtita M, Laghzizil A (2016) Low-cost composites based on porous titania-apatite surfaces for the removal of patent blue V from water: Effect of chemical structure of dye. J Adv Res 7:1009–1017

Huber MM, Caninica S, Park GY, Gunten UV (2003) Oxidation of pharmaceuticals during ozonation and advanced oxidation processes. Environ Sci Technol 37:1016–1024

Wang W, Zhijia Q, Zhu Z, Zhang L, Zhong S, Lieu B (2019) Enhanced photocatalytic degradation performance of organic contaminants by heterojunction photocatalyst BiVO4/TiO2/RGO and its compatibility on four different tetracycline antibiotics. Adv Powder Technol 30:1882–1896

Heberer T, Reddersen K, Mechlinski A (2002) From municipal sewage to drinking water: fate and removal of pharmaceutical residues in the aquatic environment in urban areas. Water Sci Technol. 46:81–88

Andreozzi A, Raffaele M, Nicklas P (2003) Pharmaceuticals in STP effluents and their solar photodegradation in aquatic environment. Chemosphere 50:1319–1330

Jelic A, Gros M, Ginebreda M, Cespedes-Sánchez R, Ventura F, Petrovic M, Barcelo D (2011) Occurrence, partition and removal of pharmaceuticals in sewage water and sludge during wastewater treatment. Water Res 45:1165–1176

Zhang H, Chen WR, Huang CH (2008) Kinetic modeling of oxidation of antibacterial agents by manganese oxide. Environ Sci Technol 42:5548–5554

Figueroa RA, Leonard A, Mackay AA (2004) Modeling tetracycline antibiotic sorption to clays. Environ Sci Technol 38:476–483

Carrasquillo AJ, Bruland GL, Mackay AA, Vasudevan D (2008) Sorption of ciprofloxacinand oxytetracycline zwitterions to soils and soil minerals: Influence of compound structure. Environ Sci Technol 42:7634–7642

Shahzad K, Najam T, Bashir MS, Nazir MA, Rehman AU, Bashir MA, Shoaib S, Shah A (2021) Fabrication of periodic mesoporous organo silicate (PMOS) composites of Ag and ZnO: Photo-catalytic degradation of methylene blue and methyl orange. Inorg Chem Commun 123:108357

Nakata K, Fujishima A (2012) TiO2 photocatalysis: design and applications. J Photochem Photobiol C Photochem Rev 13:169–189

Liu J, Wang Y, Peng Y, Ma J, Wang A (2019) A review on bidirectional analogies between the photocatalysis and antibacterial properties of ZnO. J Alloys Compd 783:898–918

Tobajas M, Belver C, Rodriguez JJ (2017) Degradation of emerging pollutants in water under solar irradiation using novel TiO2-ZnO/clay nanoarchitectures. Chem Eng J 309:596–606

Parsai T, Kumar A (2020) Stability and characterization of mixture of three particle system containing ZnO-CuO nanoparticles and clay. Sci Total Environ Sci 740:140095

Zheng H, Wu D, Wang Y, Liu X, Gao P, Liu W, Wen J, Rebrov EV (2020) One-step synthesis of ZIF-8/ZnO composites based on coordination defect strategy and its derivatives for photocatalysis. J Alloys Compd 838:155219

El Bekkali C, Bouyarmane H, Karbane ML, Masse S, Saoiabi A, Coradin T, Laghzizil A (2018) Zinc oxide-hydroxyapatite nanocomposite photocatalysts for the degradation of ciprofloxacin and ofloxacin antibiotics. Colloids Surf A 539:364–370

Abdelhamid HN, Bhaisare ML, Wu HF (2014) Ceria nanocubic-ultrasonication assisted dispersive liquid–liquid microextraction coupled with matrix assisted laser desorption/ionization mass spectrometry for pathogenic bacteria analysis. Talanta 120:208–217

Gedda G, Abdelhamid HN, Khan MS, Wu HF (2014) ZnO nanoparticle-modified polymethyl methacrylate-assisted dispersive liquid–liquid microextraction coupled with MALDI-MS for rapid pathogenic bacteria analysis. RSC Adv. 4:45973–45983

El Asri S, Laghzizil A, Saoiabi A, Alaoui A, El Abassi K, M'Hamdi K, Coradin T (2009) A novel process for the fabrication of nanoporousapatites from Moroccan phosphate rock. Colloids Surf A350:73–78

Soussi L, Garmim T, Karzazi O, Rmili A, El Bachiri A, Louardi A, Erguig H (2020) Effect of (Co, Fe, Ni) doping on structural, optical and electrical properties of sprayed SnO2 thin film. Surf Interfaces 19:100467

Manohar A, Park J, Geleta DD, Krishnamoorthi C, Thangam R, Kang H, Lee J (2021) Synthesis and characterization of ZnO nanoparticles for photocatalysis, antibacterial and cytotoxicity in kidney cancer (A498) cell lines. J Alloys Compd 874:159868

Yamamoto O (2001) Influence of particle size on the antibacterial activity of zinc oxide. Int J Inorg Mater 3:643–646

Paul D, Sutanu S, Dibya D, Sethi P, Neagi S (2021) Bi-functional NiO-ZnO nanocomposite: synthesis, characterization, antibacterial and photo assisted degradation study. Adv Powder Technol 32:131–143

Joshi P, Chakraborti S, Chakrabarti P, Haranath D, Shanker V, Ansari Z, Singh SP, Gupta V (2009) Role of surface adsorbed anionic species in antibacterial activity of ZnO quantum dots against Escherichia coli. J Nanosci Nanotechnol 9:6427–6433

Hsu A, Liu F, Leung YH, Ma AP, Djurišić AB, Leung FC, Chan WK, Lee HK (2014) Is the effect of surface modifying molecules on antibacterial activity universal for a given material? Nanoscale 6:10323–10331

Kirkinezos IG, Moraes CT (2001) Reactive oxygen species and mitochondrial diseases. Semin Cell Dev Biol 12:449–457

Song W, Zhang J, Guo J, Zhang J, Ding F, Li F, Sun Z (2010) Role of the dissolved zinc ion and reactive oxygen species in cytotoxicity of ZnO nanoparticles. Toxicol Lett 199:389–397

Sirelkhatim A, Mahmud S, Seeni A, Kaus NHM, Ann LC, Bakhori SKM, Hasan H, Mohamad D (2015) Review on zinc oxide nanoparticles: antibacterial activity and toxicity mechanism. Nano-Micro Lett 7:219–242

Kasemets K, Ivask A, Dubourguier HC, Kahru A (2009) Toxicity of nanoparticles of ZnO, CuO and TiO2 to yeast Saccharomyces cerevisiae. Toxicol In Vitro 23:1116–1122

Padmavathy N, Vijayaraghavan R (2008) Enhanced bioactivity of ZnO nanoparticles-an antimicrobial study. Sci Technol Adv Mat 9:35004–35010

Sawai J, Kawada E, Kanou F, Igarashi H, Hashimoto H, Kokugan T, Shimizu M (1996) Detection of active oxygen generated from ceramic powders having antibacterial activity. J Chem Eng Jpn 29:627–633
Ethics declarations
Conflict of interest
The authors declare that they have no known competing financial interests or personal relationships that could have appeared to influence the work reported in this paper. They have seen and approved the final version of the manuscript being submitted. They warrant that the article is the authors' original work, has not received prior publication, and is not under consideration for publication elsewhere. They also certify that they have no affiliations with or involvement in any organization or entity with any financial interest or non-financial interest in the subject matter or materials discussed in this manuscript.
Additional information
Publisher's Note
Springer Nature remains neutral with regard to jurisdictional claims in published maps and institutional affiliations.
About this article
Cite this article
El Bekkali, C., Labrag, J., Oulguidoum, A. et al. Porous ZnO/hydroxyapatite nanomaterials with effective photocatalytic and antibacterial activities for the degradation of antibiotics. Nanotechnol. Environ. Eng. 7, 333–341 (2022). https://doi.org/10.1007/s41204-021-00172-7
Received:

Accepted:

Published:

Issue Date:

DOI: https://doi.org/10.1007/s41204-021-00172-7
Keywords