Abstract
A novel approach to fabricate an efficient portable water purification device was tested. The polyacrylonitrile/chitosan (PAN–CTN) and polyacrylonitrile/biochar (PAN–BC) composite membranes were made through electrospinning, and laccase was immobilized on PAN–BC membrane (PAN–BC–LAC). Three layers of composite membrane (PAN–CTN, PAN–BC–LAC, and PAN–BC) were placed in a series for purification of water measured in terms of microorganisms, micropollutants, and turbidity. The system provided around 83% of micropollutant removal, 99% removal of microorganisms, and up to 77% of turbidity reduction within < 5 min of the contact time. This device does not need an energy source for functioning and can prevent using plastic water bottles for activities in remote areas.
This is a preview of subscription content, log in to check access.
Access options
Buy single article
Instant access to the full article PDF.
US$ 39.95
Price includes VAT for USA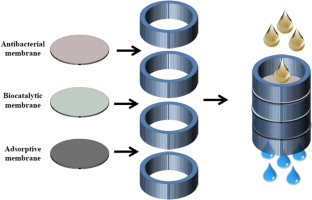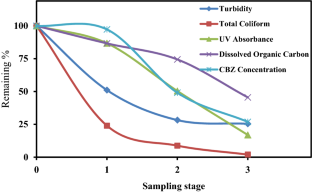 References
1.

Camper AK, LeChevallier MW, Broadaway SC, McFeters GA (1986) Bacteria associated with granular activated carbon particles in drinking water. Appl Environ Microbiol 52(3):434–438

2.

Chauhan S, Gupta K, Singh J, Morar G (2015) Purification of drinking water with the application of natural extracts. J Global Biosci 4(1):1861–1866

3.

Cleceri L, Greenberg A, Eaton A (1998) Standard methods for the examination of water and wastewater. American Public Health Association, American Water Works Association, and Water Environment Association, Washington

4.

El-Harbawi M (2010) Design of a portable dual purposes water filter system. J Eng Sci Technol 5(2):165–175

5.

Kim SS, Lee J (2014) Antibacterial activity of polyacrylonitrile–chitosan electrospun nanofibers. Carbohyd Polym 102:231–237. https://doi.org/10.1016/j.carbpol.2013.11.028

6.

Lakhote A, Ahire P, Dabholkar P, Dhadambe V, Gharat S (2016) Comparative analysis of design of water filter for rural areas. Int J Innov Res Adv Eng 3(12):23–27

7.

Lemma SM, Esposito A, Mason M, Brusetti L, Cesco S, Scampicchio M (2015) Removal of bacteria and yeast in water and beer by nylon nanofibrous membranes. J Food Eng 157:1–6. https://doi.org/10.1016/j.jfoodeng.2015.02.005

8.

Makaremi M, Lim CX, Pasbakhsh P, Lee SM, Goh KL, Chang H, Chan ES (2016) Electrospun functionalized polyacrylonitrile-chitosan Bi-layer membranes for water filtration applications. RSC Adv 6(59):53882–53893. https://doi.org/10.1039/C6RA05942B

9.

Mintz E, Bartram J, Lochery P, Wegelin M (2001) Not just a drop in the bucket: expanding access to point-of-use water treatment systems. Am J Public Health 91(10):1565–1570

10.

Mohapatra DP, Brar SK, Tyagi RD, Picard P, Surampalli RY (2012) Carbamazepine in municipal wastewater and wastewater sludge: ultrafast quantification by laser diode thermal desorption-atmospheric pressure chemical ionization coupled with tandem mass spectrometry. Talanta 99:247–255. https://doi.org/10.1016/j.talanta.2012.05.047

11.

Naghdi M, Taheran M, Brar SK, Kermanshahi-pour A, Verma M, Surampalli RY (2017) Immobilized laccase on oxygen functionalized nanobiochars through mineral acids treatment for removal of carbamazepine. Sci Total Environ 584–585:393–401. https://doi.org/10.1016/j.scitotenv.2017.01.021

12.

Obiora-Okafo IA, Onukwuli O (2013) Utilization of sawdust (Gossweilerodendron balsamiferum) as an adsorbent for the removal of total dissolved solid particles from wastewater. Int J Multidiscip Sci Eng 4(4):45–53

13.

Onda K, LoBuglio J, Bartram J (2012) Global access to safe water: accounting for water quality and the resulting impact on MDG progress. Int J Environ Res Public Health 9(3):880

14.

Prasad V (2002) Low-cost domestic water filter: the case for a process-based approach for the development of a rural technology product. Water SA 28(2):139–148

15.

Rollinger Y, Dott W (1987) Survival of selected bacterial species in sterilized activated carbon filters and biological activated carbon filters. Appl Environ Microbiol 53(4):777–781

16.

Taheran M, Brar SK, Verma M, Surampalli RY, Zhang TC, Valero JR (2016) Membrane processes for removal of pharmaceutically active compounds (PhACs) from water and wastewaters. Sci Total Environ 547:60–77. https://doi.org/10.1016/j.scitotenv.2015.12.139

17.

Taheran M, Naghdi M, Brar SK, Knystautas EJ, Verma M, Ramirez AA, Surampalli RY, Valero JR (2016) Adsorption study of environmentally relevant concentrations of chlortetracycline on pinewood biochar. Sci Total Environ 571:772–777. https://doi.org/10.1016/j.scitotenv.2016.07.050

18.

Taheran M, Naghdi M, Brar SK, Knystautas EJ, Verma M, Surampalli RY (2017) Covalent immobilization of laccase onto nanofibrous membrane for degradation of pharmaceutical residues in water. ACS Sustain Chem Eng 5(11):10430–10438. https://doi.org/10.1021/acssuschemeng.7b02465

19.

Vörösmarty CJ, McIntyre PB, Gessner MO, Dudgeon D, Prusevich A, Green P (2010) Global threats to human water security and river biodiversity. Nature 467(7315):555

20.

Weishaar JL, Aiken GR, Bergamaschi BA, Fram MS, Fujii R, Mopper K (2003) Evaluation of specific ultraviolet absorbance as an indicator of the chemical composition and reactivity of dissolved organic carbon. Environ Sci Technol 37(20):4702–4708. https://doi.org/10.1021/es030360x
Acknowledgements
The authors are sincerely thankful to the Natural Sciences and Engineering Research Council of Canada (Discovery Grant 355254 and Strategic Grants) and Ministère des Relations Internationales du Québec (122523) (coopération Québec-Catalanya 2012–2014) for financial support. INRS-ETE is thanked for providing Mr. Mehrdad Taheran "Bourse d'Excellence" scholarship for his Ph.D. studies. The views or opinions expressed in this article are those of the authors.
Ethics declarations
Conflict of interest
Authors declare that there is no conflict of interest for this manuscript.
Ethical approval
This article does not contain any studies with human participants or animals performed by any of the authors.
Additional information
Publisher's Note
Springer Nature remains neutral with regard to jurisdictional claims in published maps and institutional affiliations.
About this article
Cite this article
Taheran, M., Kumar, P., Naghdi, M. et al. Development of an advanced multifunctional portable water purifier. Nanotechnol. Environ. Eng. 4, 7 (2019). https://doi.org/10.1007/s41204-019-0054-6
Received:

Accepted:

Published:
Keywords
Portable water purifier

Micropollutants

Microorganisms

Turbidity

Membrane

Enzyme