Abstract
Herein, the magnetic nanoparticles (MNPs) were produced by the solgel technique. This magnetic carrier was characterized by transmission electron microscopy, Fourier-transform infrared spectroscopy and X-ray diffraction. The size of the MNPs was determined to be 10.33 nm from the diffraction patterns, and also, least agglomeration was observed in TEM. The presence of required peaks in FT-IR confirmed MNPs formation, and their significant shifts confirmed the lipase binding. Then, lipase was immobilized onto MNPs by covalent attachment following surface modification and activation. The study reported maximum immobilization percentage as 92.3% which reduced on successive lipase loadings. Excellent thermostability and reusability were exhibited by the lipase-bound MNPs in the activity assay. At optimum pH (7.5), relative activity of the immobilized lipase showed no notable change, whereas, at higher temperature, it was higher than that of free lipase. This can be inferred that good thermal resistance was provided by the MNPs to lipase from unconditional disturbances. Increased Vmax showed the negligible steric hindrance in the active sites of immobilized lipase. At the eighth cycle of the process, it was observed that enzyme attained half of its maximum activity. Hence, this magnetite carrier may be considered as the best choice for immobilization of industrially important enzyme such as lipase and their efficient application.
This is a preview of subscription content, log in to check access.
Access options
Buy single article
Instant access to the full article PDF.
US$ 39.95
Price includes VAT for USA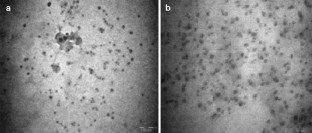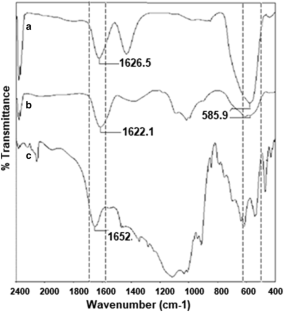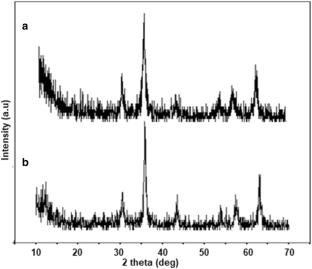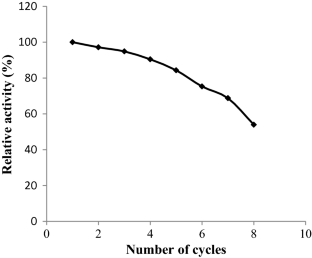 References
1.

Liu Y, Jia S, Wu Q, Ran J, Zhang W, Wu S (2011) Studies of Fe3O4–chitosan nanoparticles prepared by co-precipitation under the magnetic field for lipase immobilization. Catal Commun 12:717–720

2.

Carrea G, Riva S (2000) Properties and synthetic applications of enzymes in organic solvents. Angew Chem Int Ed 39:2226–2254

3.

Clapes P, Torres J-L, Adlercreutz P (1995) Enzymatic peptide synthesis in low water content systems: preparative enzymatic synthesis of [Leu]- and [Met]-enkephalin derivatives. Bioorg Med Chem Lett 3:245–255

4.

Sakai S, Liu Y, Yamaguchi T, Watanabe R, Kawabe M, Kawakami K (2010) Production of butyl-biodiesel using lipase physically-adsorbed onto electrospun polyacrylonitrile fibers. Biores Technol 101:7344–7349

5.

Aravindan R, Anbumathi P, Viruthagiri T (2007) Lipase applications in food industry. Indian J Biotechnol 6:141–158

6.

Houde A, Kademi A, Leblanc D (2004) Lipases and their industrial applications. Appl Biochem Biotechnol 118:155–170

7.

Andrade LH, Rebelo LP, Netto CGCM, Toma HE (2010) Kinetic resolution of a drug precursor by Burkholderia cepacia lipase immobilized by different methodologies on superparamagnetic nanoparticles. J Mol Catal B Enzym 66:55–62

8.

Seenuvasan M, Kumar KS, Malar CG, Kumar MA, Balaji N (2014) Characterization, analysis, and application of fabricated Fe3O4–chitosan–pectinase nanobiocatalyst. Appl Biochem Biotechnol 172:2706–2719

9.

Chang SW, Shaw JF, Yang KH, Chang SF, Shieh CJ (2008) Studies of optimum conditions for covalent immobilization of Candida rugose lipase on polyglutamic acid by RSM. Biores Technol 99:2800–2805

10.

Kose O, Tuter M, Aksoy HA (2002) Immobilized Candida antarctica lipase catalyzed alcoholysis of cotton seed oil in a solvent-free medium. Biores Technol 83:125–129

11.

Zhang S, Shi J, Deng Q, Zheng M, Wan C, Zheng C, Li Y, Zuand F (2017) Preparation of carriers based on ZnO nanoparticles decorated on graphene oxide (GO) nanosheets for efficient immobilization of lipase from Candida rugosa. Molecules 22:1205–1220

12.

Seenuvasan M, Malar CG, Preethi S, Balaji N, Iyyappan J, Kumar MA, Kumar KS (2013) Immobilization of pectinase on co-precipitated magnetic nanoparticles for enhanced stability and activity. Res J Biotech 8:24–30

13.

Wu Y, Wang Y, Luo G, Dai Y (2010) Effect of solvents and precipitant on the properties of chitosan nanoparticles in a water-in-oil microemulsion and its lipase immobilization performance. Biores Technol 101:841–844

14.

Lu AH, Salabas EL, Schuth F (2007) Magnetic nanoparticles: synthesis, protection, functionalization and application. Angew Chem Int Ed 46:1222–1244

15.

Lu Y, Yin Y, Mayers BT, Xia Y (2002) Modifying the surface properties of superparamagnetic iron oxide nanoparticles through a sol–gel approach. Nano Lett 2:183–186

16.

Seenuvasan M, Malar CG, Preethi S, Balaji N, Iyyappan J, Kumar MA, Kumar KS (2013) Fabrication, characterization and application of pectin degrading Fe3O4–SiO2 nanobiocatalyst. Mater Sci Eng, C 33:2273–2279

17.

Koneracka M, Kopcansky P, Antalik M, Timko M, Ramchand CN, Loba D, Mehta R, Upadhyay RV (1999) Immobilization of proteins and enzymes to fine magnetic particles. J Magn Magn Mater 201:427–430

18.

Lowry OH, Rosebrough NJ, Farr AL, Randall RL (1951) Protein measurement with the Folin phenol reagent. J Biol Chem 193:265–275

19.

Seenuvasan M, Selvi PK, Kumar MA, Iyyappan J, Kumar KS (2014) Standardization of non-edible Pongamia pinnata oil methyl ester conversion using hydroxyl content and GC–MS analysis. J Taiwan Inst Chem Eng 45:1485–1489

20.

Malar CG, Seenuvasan M, Kumar KS (2018) Prominent study on surface properties and diffusion coefficient of urease-conjugated magnetite nanoparticles. Appl Biochem Biotechnol. https://doi.org/10.1007/s12010-018-2719-1
Ethics declarations
Conflict of interest
On behalf of all authors, the corresponding author states that there is no conflict of interest.
Additional information
Publisher's Note
Springer Nature remains neutral with regard to jurisdictional claims in published maps and institutional affiliations.
About this article
Cite this article
Malar, C.G., Seenuvasan, M. & Kumar, K.S. Basic study on lipase-immobilized magnetic nanoparticles. Nanotechnol. Environ. Eng. 4, 2 (2019). https://doi.org/10.1007/s41204-018-0048-9
Received:

Accepted:

Published:
Keywords
Immobilization

Kinetic parameters

Lipase

Magnetic nanoparticles