Abstract
The copper oxide/reduced graphene oxide (CuO/RGO) nanocomposite (NC) was synthesized via simple and green hydrothermal method. The prepared NC was characterized by XRD, SEM, EDS, FTIR and UV-DRS for structural and morphological studies. The experimental results proved that pure nanocomposite is formed by the hydrothermal route. The FTIR spectra of prepared composite reveal the observed three peaks at 600–400 cm−1, confirming the formation of composite is monoclinic CuO. The photocatalytic activity of synthesized NC was tested by degradation of ortho and para nitrophenols (NP) under visible light illumination. The CuO/RGO NC served as visible photo-driven catalyst for degradation of both ortho and para nitrophenols in 120 and 180 min, respectively; this may be due to lower bandgap of CuO nanoparticles in NC by the addition of RGO.
This is a preview of subscription content, log in to check access.
Access options
Buy single article
Instant access to the full article PDF.
US$ 39.95
Price includes VAT for USA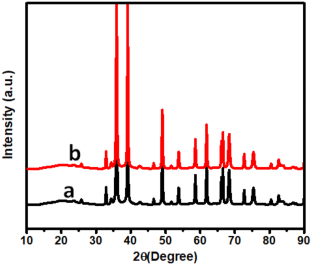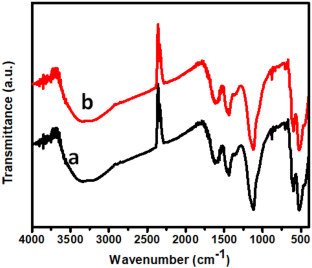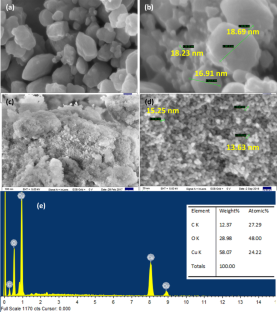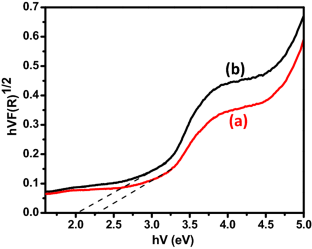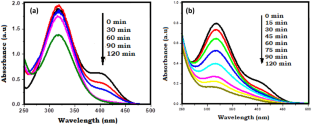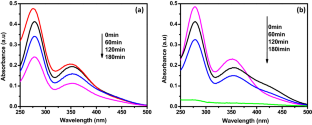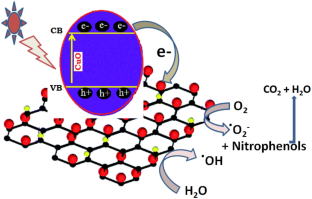 References
1.

Botsa SM, Dharmasoth R, Basavaiah K (2018) Sonochemical assisted synthesis of CuO for degradation of nitrobenzene under visible light irradiation and antimicrobial activity. J Nanosci Technol 4(5):467–470

2.

Ravi K, Sathish Mohan B, Satya Sree G, Manga Raju I, Basavaiah K, Venkateswara Rao B (2018) ZnO/RGO nanocomposite via hydrothermal route for photocatalytic degradation of dyes in presence of visible light. Int J Chem Stud 6(6):20–26

3.

Xiong P, Fu Y, Wang L, Wang X (2012) Multi-walled carbon nanotubes supported nickel ferrite: a magnetically recyclable photocatalyst with high photocatalytic activity on degradation of phenols. Chem Eng J 195–196:149–157

4.

Mehrizad A, Zare K, Aghaie H, Dastmalchi S (2012) Removal of 4-chloro-2-nitrophenol occurring in drug and pesticide waste by adsorption onto nano-titanium dioxide. Int J Environ Sci Technol 9(2):355–360

5.

Fan CM, Zhang LF, Wang SS, Wang DH, Lu LQ, Xu AW (2012) Novel CeO2 yolk-shell structures loaded with tiny Au nanoparticles for superior catalytic reduction of p-nitrophenol". Nanoscale 4(21):6835–6840

6.

Zou M, Feng L, Ganeshraja AS, Xiong F, Yang M (2016) Defect induced nickel, nitrogen-codoped mesoporous TiO2 microspheres with enhanced visible light photocatalytic activity. Solid State Sci 60:1–10

7.

Sundaram GA, Kanniah R, Zhu K, Li X, Subramani T, Xu W, Zhang J, Yang M, Krishnamoorthy A, Wang J (2016) Facile synthesis of iron oxide coupled and doped titania nanocomposites: tuning of physicochemical and photocatalytic properties. RSC Adv 6:72791–72802

8.

Ren G, Hu D, Cheng EW, Vargas-Reus MA, Reip P, Allaker RP (2009) Int J Antimicrob Agents 33(6):587–590

9.

Gao XP, Bao JL, Pan GL, Zhu HY, Huang PX, Wu F, Song DY (2004) Preparation and electrochemical performance of polycrystalline and single crystalline CuO nanorods as anode materials for Li ion battery. J Phys Chem B 108(18):5547–5551

10.

Zhang J, Liu J, Peng Q, Wang X, Li Y (2006) Nearly monodisperse Cu2O and CuO Nanospheres: preparation and applications for sensitive gas sensors. Chem Mater 18(4):867–871

11.

Anandan S, Lee GJ, Wu JJ (2012) Sonochemical synthesis of CuO nanostructures with different morphology. Ultrason Sonochem 19(3):682–686

12.

Borgohain K, Mahamuni S (2002) Formation of single-phase CuO quantum particles. J Mater Res 17(05):1220–1223

13.

Zhu J, Li D, Chen H, Yang X, Lu L, Wang X (2004) Highly dispersed CuO nanoparticles prepared by a novel quick-precipitation method. Mater Lett 58:3324–3327

14.

Balaji Anjaneyulu R, Sathish Mohan B, Parasuram Naidu G, Muralikrishna R (2018) Visible light enhanced photocatalytic degradation of methylene blue by ternary nanocomposite, MoO3/Fe2O3/RGO. Asian J Ceram Mater 6(3):183–195

15.

Huang XD, Zhou XF, Zhou L, Qian K, Wang YH, Liu ZP, Yu CZ (2011) A facile one-step solvothermal synthesis of SnO2/graphene nanocomposite and its application as an anode material for lithium-ion batteries. Chem Phys Chem 12:278

16.

Koo HY, Lee HJ, Go HA, Lee YB, Bae TS, Kim JK, Choi WS (2011) Graphene-based multifunctional iron oxide nanosheets with tunable properties. Chem Eur J 17:1214

17.

Julkapli NM, Bagheri S (2015) Graphene supported heterogeneous catalysts: an overview Int. J Hydrog Energy 40:948–979

18.

Hsu HC, Shown I, Wei HY, Chang YC, Du HY, Lin YG, Tseng CA, Wang CH, Chen LC, Lin YC, Chen KH (2013) Graphene oxide as a promising photocatalyst for CO2 to methanol conversion. Nanoscale 5:262–268

19.

Low J, Cheng B, Yu J, Jaroniec M (2016) Carbon-based two-dimensional layered materials for photocatalytic CO2 reduction to solar fuels. Energy Storage Mater 3:24–35

20.

Botsa Sathish Mohan, Dharmasoth Ramadevi, Basavaiah Keloth (2018) Facile sonochemical assisted synthesis of Cu2O and CuO nanoparticles. Curr Nanosci 15:1–5

21.

Trass A, ElShamy H, El-Mehasseb I, El-Kemary M (2011) CuO nanoparticles: synthesis, characterization, optical properties and interaction with amino acids. Appl Surf Sci 258:2997–3001

22.

Muhamad EN, Irmawati R, Abdullah AH, Taufiq-Yap Y, Hamid SBA (2007) Effect of number of washing on the characteristics of copper oxide nanopowders. Malays J Anal Sci 11(1):294–301

23.

Jagadeesh Babu M, Sathish Mohan B, Balaji Anjaneyulu R, Sailaja Lakshmi ChC, Muralikrishna R (2018) Hydrothermal assisted synthesis of FeWO4 for degradation of 2-nitrophenol under visible light illumination. IJSRST 4(2):417–422

24.

Anjaneyulu RB, Mohan BS, Naidu GP, Babu MJ, Rani SJ, Muralikrishna R (2018) Wastewater disinfection by insitu hydrothermal synthesis of rgo supported MoO3/Fe2O3 ternary nanocomposite. World J Pharm Res 7(3):1260–1277
Acknowledgement
The author Sathish Mohan Botsa expressed his gratitude to University Grants Commission (UGC), Delhi, for providing Rajiv Gandhi National Fellowship (RGNF-SC–2016-17-AND-9309).
Ethics declarations
Conflict of interest
The authors clearly declared that there is no conflict of interest.
About this article
Cite this article
Botsa, S.M., Basavaiah, K. Removal of Nitrophenols from wastewater by monoclinic CuO/RGO nanocomposite. Nanotechnol. Environ. Eng. 4, 1 (2019). https://doi.org/10.1007/s41204-018-0045-z
Received:

Accepted:

Published:
Keywords
CuO/RGO

Hydrothermal

Photocatalysis

Nitrophenol

Visible light