Abstract
This study focuses on the rural migrant distress in the context of poverty, informality, and difficulties in adopting livelihoods, which is emphasized during droughts. The research was conducted in rural villages in a drought-prone region of Kalaburagi district, Karnataka, where recurrent weather variability leads to distress migration of poor rural households. The study finds that farming practices in the region primarily rely on rain-fed agriculture. Fluctuating rainfall and low irrigation intensity result in lower crop output and farmer income. As a survival strategy, marginal farmers, small farmers, and landless agriculture labourers from poverty-stricken sections of the population move to developed regions in search of employment. However, distress migration does not significantly improve the migrants' present income or quality of life. The study's core outcome sheds light on the challenges faced by poor rural households, emphasizing the need for policies that promote sustainable livelihoods in rural areas. It contributes to the growing body of literature on rural development and provides insights for policymakers and practitioners seeking to address rural migrant distress and promote sustainable livelihoods in drought-prone regions of India.
Access options
Buy single article
Instant access to the full article PDF.
USD 39.95
Price excludes VAT (USA)
Tax calculation will be finalised during checkout.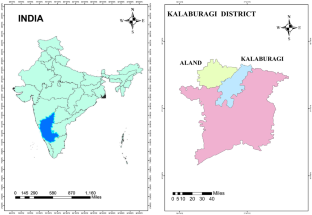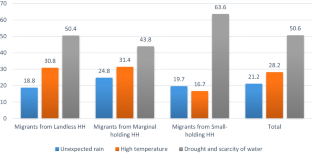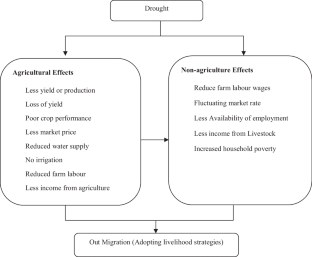 References
Agarwal, S. (1998). Rural-urban migration in an industrial sector: The case of Surat textile industry. The Indian Journal of Labour Economics, 41(4), 802.

Ahmad, M., Yaseen, M., & Saqib, S. (2022). Climate change impacts of drought on the livelihood of dryland smallholders: Implications of adaptation challenges. International Journal of Disaster Risk Reduction, 80. https://doi.org/10.1016/j.ijdrr.2022.103210

Bhagat, R. B., & Keshri, K. (2010). Temporary and seasonal migration in India. GENUS, LXV, I(3), 25–45.

Breman, J. (1996). Footloose labour working in India's informal economy. Cambridge University Press.

Census of India. (2011). District census handbook Gulbarga- village and town directory. Karnataka: Director of Census Operation.

Chatterjee, S. N. (1983). Seasonal migration and rural development in Burdwan. Social Change, 13(1), 15–17.

Deaton, A., & Dreze, J. (2002). Poverty and inequality in India: A re-examination. Economic and Political Weekly, 36(37), 3729–3748.

Debnath, M., & Nayak, D. K. (2020). Assessing drought-induced temporary migration as an adaptation strategy: Evidence from rural India. Migration and Development, 1–22. https://doi.org/10.1080/21632324.2020.1797458

Deogankar, C. (2008). A baseline survey of minority concentration district of India. Institute for Human Development. New Delhi: Ministry of Minority Affairs Government of India and Indian Council of Social Science Research.

Deshingkar, P., & Akter, S. (2009). Migration and human development in India. New York: United Nations Development Programme, Human Development Reports. Retrieved from https://hdr.undp.org/system/files/documents/hdrp200913pdf.pdf

Emma, H., & Bastagli, F. (2016). Internal migrants and social protection: A review of eligibility and take-up. (pp. 1–47). ODI.

Government of Karnataka. (2004). Karnataka State Gazetteer-Gulbarga. https://gazetteer.karnataka.gov.in/info-2/District+Gazetteer/Gulbarga+District+2005++(English)/en

Government of Karnataka. (2019). Economic Survey of Karnakata 2018–19. Bangalore: Programme Monitoring and Statistics Department.

Guha, S. B. (2011). Status of rural migrant workers in Chinese cities. Economic & Political Weekly, XLVI(26&27), 33–37.

Intergovernmental Panel on Climate Change (IPCC). (2007). Climate change 2007: Impacts, Adaptation and Vulnerability, Contribution of Working. Cambridge University Press.

International Labour Organisation. (2018). World employment social outlook. ILO. https://www.ilo.org/wcmsp5/groups/public/---dgreports/---dcomm/---publ/documents/publication/wcms_615594.pdf

Iyer, S. (2017). Circular migration and localized urbanization in rural India. Environment and Urbanization Asia, 8(1), 105–119.

Jha, C. K., Gupta, V., Chattopadhyay, U., & Sreeraman, B. A. (2018). Migration as adaptation strategy to cope with climate change a study of farmers' migration in rural India. International Journal of Climate Change Strategies and Management, 1(10), 123–124. https://doi.org/10.1108/IJCCSM-03-2017-0059

Keshri, K., & Bhagat, R. (2012). Temporary and seasonal migration: Regional pattern, characteristics and associated factors. The Economic and Political Weekly, 47(4), 81–88. https://www.epw.in/journal/2012/04/review-rural-affairs-review-issues-specials/temporary-and-seasonal-migration?0=ip_login_no_cache%3D49d6ae59ef2e85ea17c1ea0784ebfab4

Kumar, N., & Bhagat, B. R. (2017). Interaction between migration and development: A study of income and workforce diversification in rural Bihar. Environment and Urbanization Asia, 8(1), 120–136.

Kundu, A. (2007). Migration and urbanisation in India in the context of poverty alleviation. International Conference and Workshop on Policy Perspectives on Growth, Economic Structures and Poverty Reduction. http://networkideas.org/ideasact/jun07/Beijing_Conference_07/Amitabh_Kundu.pdf

Mcleman, R. A. (2014). Climate and human migration: Post experiences, future challenges. Cambridge University Press.

Ministry of Rural Development, Government of India. (2015). A framework for the establishment and operations of a migration support centre. Deen Dayal Upadhyaya–Grameen Kaushalya Yojana and AAjeevika. https://rural.nic.in/en/pressrelease/review-deen-dayal-upadhyaya-grameen-kaushalya-yojana-ddu-gky

Muktiar, P., & Sharma, C. K. (2019). In search of a better future: Nepali rural out-migration from Assam. Sociological Bulletin, 68(3), 307–324.

National Sample Survey (NSS) Office (MoSPI). (2013). Key indicators of situation of agricultural households in India. Government of India. http://microdata.gov.in/nada43/index.php/catalog/133

National Sample Survey Office. (2014). Key indicators of situation of agricultural households in India. (NSSO 70th Round). New Delhi: NSSO. https://pib.gov.in/newsite/printrelease.aspx?relid=113796

Parida, J. K. (2016). MGNREGS, distress migration and livelihood conditions: A study in Odisha. Journal of Social and Economic Development., 18(1), 17–39. https://doi.org/10.1007/s40847-016-0021-z

Rahman, A., & Singh, C. (2018, May 4). Agrarian distress: what options do farmers have? Asia & The Pacific Policy Society. https://www.policyforum.net/agrarian-distress-options-farmers/

Sengupta, S., & Jha, M. K. (2020). Social policy, COVID-19 and impoverished migration: Challenges and prospects in locked down India. The International Journal of Community and Social Development, 2(2), 152–172. https://doi.org/10.1177/2516602620933715

Shah, A. (2010). Land degradation and migration in a dry land region in India: Extent, nature and determinants. Environment and Development Economics, 15(2), 173–196. https://doi.org/10.1017/S1355770X09990131

Sucharita, S. (2020). Socio-economic determinants of temporary labour migration in Western Jharkhand, India. Millennial Asia, 11(2), 226–251. https://doi.org/10.1177/0976399620925451

United Nations. (2016). International migration report 2015. New York: Department of Economic and Social Affairs. https://www.un.org/en/development/desa/population/migration/publications/migrationreport/docs/MigrationReport2015_Highlights.pdf
Ethics declarations
Conflict of Interest
The authors declare no competing interests. .
Additional information
Publisher's Note
Springer Nature remains neutral with regard to jurisdictional claims in published maps and institutional affiliations.
Rights and permissions
Springer Nature or its licensor (e.g. a society or other partner) holds exclusive rights to this article under a publishing agreement with the author(s) or other rightsholder(s); author self-archiving of the accepted manuscript version of this article is solely governed by the terms of such publishing agreement and applicable law.
About this article
Cite this article
Bellampalli, P.N., Yadava, N. Distress Out-Migration from Rural India: Exploring Livelihood Realities and Interventions to Mitigate. J. Hum. Rights Soc. Work 8, 262–272 (2023). https://doi.org/10.1007/s41134-023-00258-z
Accepted:

Published:

Issue Date:

DOI: https://doi.org/10.1007/s41134-023-00258-z
Keywords