Abstract
This article's objective is to highlight the different forms of agriculture present in the Argentinian Pampas, to analyse their logics, in particular in their relationships to the territory, and to discuss the relationships they have with each other. The theoretical framework adopted is that of "territorial pacts". This framework makes it possible to define for each form of agriculture through three dimensions of its local integration into the territory (territorial mediation) and through four dimensions of its integration into institutions (agricultural development model). This theoretical framework was taught and put into practice by a team of 7 or 8 researchers and teacher-researchers and 80 fifth-year students of agronomy within the framework of a 1-week study trip repeated in three consecutive years in Santa Fe province. This is an interesting province for studying this subject because of the historical importance of family farming and the growth of large business farms. The method includes analyses of the agronomist's skills and reflections with students. Three agricultural development models could be distinguished and analysed: business farming, small-scale family farming and conventional farming. These models highlight the roles of technicians, cities, markets, symbolic issues and personal projects. In conclusion, it appears that relationships between these different models are more along the lines of a co-presence and not of a coexistence. The latter would require the construction of a local public space and a profound change in the models' current strategies. Nevertheless, a plural conception—and one that is open to dialogue—of the study programmes of the university faculties of agronomy could be a first step towards coexistence, since it appears that these faculties are at the centre of the tensions arising from co-presence.
Access options
Buy single article
Instant access to the full article PDF.
USD 39.95
Price excludes VAT (USA)
Tax calculation will be finalised during checkout.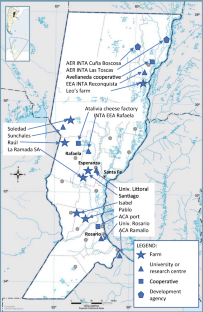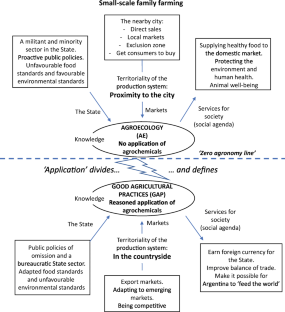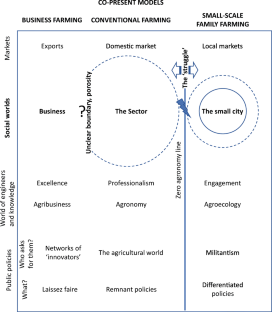 Notes
CREA: Consorcios Regionales de Experimentación Agropecuaria (Regional Consortia for Agricultural Experimentation), development groups inspired by Consortia for Agricultural Technology Experimentation (CETA) in France.

We applied the structural analysis of the narrative to the most complete interviews of the other models, too, which allowed us to confirm that the theoretical model accounts well for the actors' thought systems.

We use this term because we are dealing not only with a long process of accumulation of heterogeneous techniques, but also of their transformation over time, especially under the pressure of the advent and accumulation of new objects and techniques.

AAPRESID, Argentine Association of Direct Sowing Producers, the most passionate defender of the use of GMOs and glyphosate.

FAA, Argentine Agrarian Federation, union of small (mainly Pampean) farmers.
References
Albaladejo, C. (2001). Una Argentina discreta... La integración social y territorial de las innovaciones de las familias rurales en el partido de Saavedra. Revista Universitaria de Geografía, Argentina, 10(1&2), 131–148.

Albaladejo, C. (2004). Innovations discrètes et re-territorialisation de l'activité agricole en Argentine, au Brésil et en France. In C. Albaladejo & R. B. Cara (Eds.), Desarrollo local y nuevas ruralidades en Argentina (pp. 413–456). Bahía Blanca: Editorial UNS.

Albaladejo, C. (2008). ¿El "productor silencioso" o silenciado? In VI Jornadas de Sociología Actores sociales, problemas públicos y espacios de ciudadanía, Buenos Aires, 2 y 3 de octubre de 2008, (pp. 7): Universidad Nacional de General Sarmiento.

Albaladejo, C. (2009). Médiations territoriales locales et développement rural. Mémoire de HDR en Géographie. Toulouse: Université du Mirail.

Albaladejo, C. (2017). Coexistencia en el territorio de diferentes modelos de desarrollo agropecuario: la teoría de los pactos territoriales. Trabajos, Comunicaciones y Conferencias, Universidad Nacional de La Plata, Facultad de Humanidades, 31, 27–52.

Albaladejo, C., & Cittadini, R. (2017). El productor silencioso: destino del gran actor de la modernización de los años 1960-70 en la actual copresencia de agriculturas de la región pampeana argentina. Revista Interdisciplinaria de Estudios Territoriales, Argentina, 16, 9–34.

Archetti, E. P., & Stölen, K. A. (1975). Explotación familiar y acumulación de capital en el campo argentino. Buenos Aires: Siglo XXI Editores.

Arendt, H. (1958). The Human Condition. Chicago & London: The University of Chicago Press.

Bisang, R., Anlló, R., & Campi, M. (2008). Una revolución (no tan) silenciosa. Claves para repensar el agro en Argentina. Desarrollo Económico, Buenos Aires, 48(190–191), 165–207.

Cobb, R., & Elder, C. (1971). The politics of agenda-building: an alternative perspective for a modern democratic theory. The Journal of Politics (Arizona, USA), 33(4), 892–915.

Demazière, D., & Dubar, C. (1997). Analyser les entretiens biographiques. Paris: Nathan.

Di Méo, G. (1998). Géographie sociale et territoires. Paris: Nathan.

Dodier, N. (1995). Les hommes et les machines. Paris: Métailié.

Giacaglia, M. (2002). Hegemonía. Concepto clave para pensar la política, Tópicos. Revista de Filosofía de Santa Fe (Argentina), 1, 151–159.

Giarracca, N. (1990). El campesinado en Argentina : un debate tardío. Desarrollo Económico, Buenos Aires, 94, 55–65.

Giddens, A. (1984). The constitution of society. Berkeley & Los Angeles: University of California Press.

Giele, J. Z., & Elder Jr., G. H. (1998). Methods of life course research. London: Sage Publications.

Gras, C., & Bidaseca, K. (2011). Herencia, territorio e identidad en los pueblos sojeros. Buenos Aires: Ciccus.

Halbwachs, M. (1925). Les cadres sociaux de la mémoire. Paris: Albin Michel.

Hernández, V., & Gras, C. (Eds.). (2009). La Argentina rural. De la agricultura familiar a los agronegocios. Buenos Aires: Biblos.

Lévi-Strauss, C. (1962). La pensée sauvage. Paris: Plon.

Mastrangelo, M. E., & Laterra, P. (2015). From biophysical to social-ecological trade-offs: integrating biodiversity conservation and agricultural production in the Argentine Dry Chaco. Ecology and Society, 20(1), 20–28.

Nogueira, M. E. (2011). Estado y sector lechero. In Historia reciente de la construcción de políticas públicas: Argentina, 1983–2008. Rosario: Protohistoria Ediciones.

Nogueira, M. E., & Urcola, M. (2013). La jerarquización de la agricultura familiar en las políticas de desarrollo rural en Argentina y Brasil (1990-2011). Revista IDeAs (Interfaces em Desenvolvimento, Agricultura e Sociedade), 7(2), 96–137.

Obschatko, E. (2009). Las explotaciones agropecuarias familiares en la República Argentina. Buenos Aires: Ministerio de Agricultura de la Nació.

Oszlak, O., & O'Donnell, G. (1995). Estado y políticas estatales en América Latina: hacia una estrategia de investigación. Redes, Universidad Nacional de Quilmes, 2(4), 99–128.

Piotte, J.-M. (1970). La pensée politique de Gramsci. Montréal: Parti-Pris.

Raffestin, C. (1987). Repères pour une théorie de la territorialité humaine. Cahier du Groupe Réseaux, 7, 263–279.

Santos, M. (1997). La nature de l'espace. Paris: L'Harmattan.

Tulet, J.-C., Albaladejo, C., & Bustos Cara, R. (2001). Une Pampa en mosaïque. Paris: L'Harmattan.

Vanloqueren, G., & Baret, P. V. (2009). How agricultural research systems shape a technological regime that develops genetic engineering but locks out agroecological innovations. Resarch Policy, 38, 971–983.

Wezel, A., Bellon, S., et al. (2009). Agroecology as a science, a movement and a practice. A review, Agronomy for Sustainable Development, 29, 503–515.
Acknowledgments
The research was funded by the National University of La Plata (UNLP), Faculty of Agricultural and Forestry Sciences (Argentina), Taller de Integración Curricular, UNLP SeCyT Project A329 and INRAE's AgriteRRIs International Research Network (France).
Additional information
Publisher's note
Springer Nature remains neutral with regard to jurisdictional claims in published maps and institutional affiliations.
About this article
Cite this article
Albaladejo, C. The impossible and necessary coexistence of agricultural development models in the Pampas: the case of Santa Fe province (Argentina). Rev Agric Food Environ Stud 101, 213–240 (2020). https://doi.org/10.1007/s41130-020-00102-2
Received:

Accepted:

Published:

Issue Date:

DOI: https://doi.org/10.1007/s41130-020-00102-2
Keywords