Abstract
This paper aims at analysing the competitiveness of rice production in Benin in 2010. It uses the policy analysis matrix (PAM) as a tool and the heterogeneous agent model. Unlike previous studies, it assesses the competitiveness at the microeconomic level. The data used were collected in Benin from 265 rice farmers selected randomly. The results indicate that rice production is financially profitable for 84.2 % of the farmers and economically profitable for 63.4 % of them. Rice farmers do not have a comparative advantage on average in rice production. However, the analysis of the distribution of domestic resource costs (DRC) indicates that 63.4 % of rice farmers have a comparative advantage in rice production. The effective and nominal protection coefficients indicate that the majority of producers are subsidized. Yield, unit cost of labour and price of fertilizers are the main determinants of the producers' competitiveness.
Access options
Buy single article
Instant access to the full article PDF.
US$ 39.95
Tax calculation will be finalised during checkout.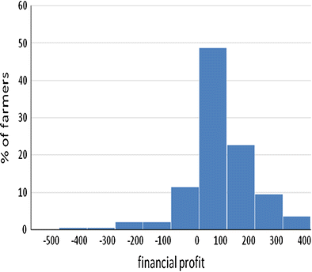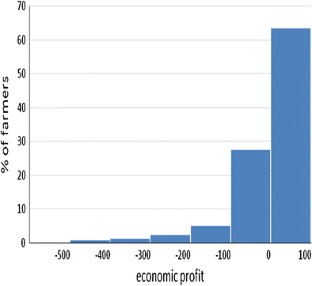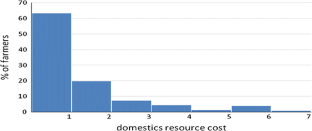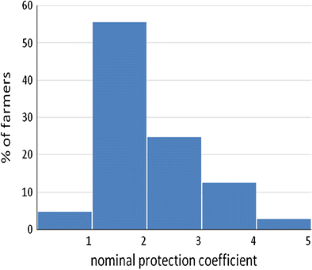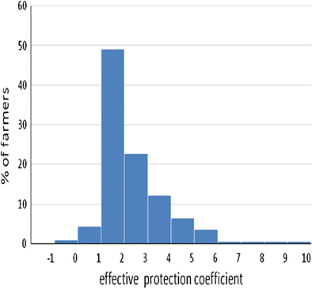 Notes
1.

The free on board price is a term of sale under which the price invoiced or quoted by a seller includes all charges up to placing the goods on board a ship at the port of departure specified by the buyer.
References
Adégbola P, Sodjinou E (2003) Analyse de la compétitivité de la riziculture béninoise, rapport définitif du Ministère de l'Agriculture, de l'Elevage et de la Pêche, PAPA/INRAB, Porto-Novo, Bénin, 21 p

Adégbola P, Akoha S, Diallo B (2011a) Analyse de la compétitivité du riz local au Bénin, résumé n 2-2011-12-Riz, Programme de Renforcement et de Recherche sur la Sécurité Alimentaire en Afrique de l'Ouest (PRESAO), 8 p

Adégbola P, Akoha S, Adekambi SA, Kinkingninhoun F, Diagne A (2011b) Evaluation d'impact ex-post du Nerica au Bénin, rapport pour le Ministère de l'agriculture, de l'élevage et de la Pêche (MAEP), PAPA/INRAB/AfricaRice, Bénin, 75 p

Akintayo I, Cissé B, Zadji L (2008) Guide pratique de la culture des NERICA de plateau, Centre du riz pour l'Afrique (ADRAO), Cotonou, Bénin, 36 p

An S, Chang Y, Kim S (2009) Can a representative-agent model represent a heterogeneous-agent economy. Am Econ J: Macroecon 1(2):29–54

Arouna A, Affomassè D (2005) Analyse de la compétitivité de la filière ananas au Bénin, rapport définitif CRA-A / PAPA, INRAB, 27 p

Brinkman G (1987) The competitive position of Canadian agriculture. Rev Can D'Agroéconomie 35(2):263–288

Chanou P (2006) Efficacité économique de la gestion des bas-fonds rizicoles de la Commune de Gogounou dans une perspective d'accroissement de leurs performances, Thèse d'ingénieur agronome, Faculté Agricole, Université de Parakou, Parakou, Benin, 97 p

Chesnais F (1986) Science, technology and competitiveness. STI Rev 1:85–129

Courleux F, Dedieu M (2012) Compétitivité des filières agroalimentaires : une notion relative aux déterminants multiples, Ministère de l'agriculture, de l'alimentation et de la pêche, Paris, France, Centre d'Etudes et de Prospective n°42, 4 p

Danhousi S (2007) Analyse économique de la gestion de l'eau en relation avec une production rizicole durable dans la commune de Malanville, Faculté d'Agronomie, Université de Parakou, Parakou, Bénin, 120 p

FAO (2013) FAO database, http://faostat.fao.org, Consulted 18th April 2012

Grossman G, Helpman E (1990) Trade, innovation and growth. Am Econ Rev 80(2):86–92

Harrison R, Kinnedy P (1997) A neoclassical economic and strategic management approach to evaluation global agribusiness competitiveness. Competitiveness Rev: Int Bus J 7(1):14–25

Honkpehedji R, Agbo J (2009) Analyse des déterminants de la production des cultures vivrières au Bénin : cas du maïs et de l'igname, Mémoire de master, Université d'Abomey-Calavi, Bénin

Houndékon V. (1996) Analyse économique des systèmes de production du riz dans le Nord Bénin, Thèse de doctorat, CIRES, Faculté des Sciences Economiques, Abidjan, Côte d'Ivoire, 237 p

Jacquemin A (1987) The new industrial organisation: market forces and strategic behaviour. MIT Press, Cambridge, 217 p

Kinkingninhoun MF (2003) Etude sociale et économique des périmètres rizicoles en vue de leur réhabilitation dans le cadre du développement local : cas du périmètre rizicole de Koussin-Lèlè dans la commune de Cové, Mémoire de master, Faculté des Sciences Agronomiques, Université d'Abomey-Calavi, Abomey-Calavi, Bénin, 143 p

Kirman A (1992) Whom or what does the representative individual represent. J Econ Perspect 6(2):117–136

Krugman P (1994) Competitiveness: a dangerous obsession. Foreign Aff 73(2):28–44

Lachaal L. (2001) Compétitivité : concepts, définitions et applications, in : Laajimi A. (ed.), Arfa L.(ed.), Le futur des échanges agro-alimentaires dans le bassin méditerranéen : Les enjeux de la mondialisation et les défis de la compétitivité, Zaragoza, CIHEAM, 29–36 (Cahiers Options Méditerranéennes n° 57)

Lançon F (2000) Etude de la compétitivité de la riziculture guinéenne, in : Rapport de la 2 ème mission d'appui de l'ADRAO, 20 oct. - 05 nov

Latruffe L (2010) Competitiveness, productivity and efficiency in the agricultural and agri-food sectors, OECD Food, Agriculture and Fisheries papers n°30, 63 p

Lucas R (1976) Econometric policy evaluation: a critique. Carn-Roch Conf Ser Public Policy 1:19–46

Monke E, Pearson S (1989) The policy analysis matrix for agricultural development: the role of agricultural policy analysis. Cornell University Press, Ithaca, 279 p

Nelson G, Panggabean M (1991) The costs of Indonesian sugar policy: a policy analysis matrix approach. Am J Agric Econ 73(3):703–712

Nézeys B (1993) Les politiques de compétitivité. Economica, Paris, 112 p

Nwanze KF (2006) Production du nouveau riz pour l'Afrique (Nérica) : une opportunité pour le Bénin, quotidien national d'information du Bénin La Nation, édition du 05 octobre 2006, Article de presse de Bruno Sewadé

Porter M (1990) The competitive advantage of nations, Harvard Business Review, March–April, New York, USA, 73–94

Tallec F, Bockel L (2005) L'approche aux filières. Analyse aux prix de référence, module 046, FAO, Rome, Italie, 26 p

Yegbemey R (2010) Analyse économique des exploitations rizicoles de la commune de Malanville, Thèse d'Ingénieur Agronome, Faculté d'Agronomie/ Université de Parakou, Parakou, Bénin, 75 p
About this article
Cite this article
Codjo, S.O., Biaou, G., Fiamohe, R. et al. Microeconomic analysis of the competitiveness of rice production in Benin. Rev Agric Food Environ Stud 97, 149–158 (2016). https://doi.org/10.1007/s41130-016-0019-0
Received:

Accepted:

Published:

Issue Date:
Keywords
Competitiveness

Rice

Heterogeneous agent model

Benin
JEL Classification