Abstract
There is a paucity of studies investigating how sexual activity is perceived to influence sleep, despite conceptions about significant gender differences regarding this issue. In all, 4000 persons, aged between 18 and 55 years, were randomly drawn from the Norwegian Population Registry and invited to participate in a postal survey. The respondents were asked how sexual activity with another person, with or without orgasm, and how masturbation, with and without orgasm, influenced sleep latency and sleep quality. A total of 1080 persons participated (response rate 28.2%) of which 56.1% were women. The mean age of the sample was 38.7 years (SD = 10.8). Sexual activity with an orgasm was perceived to have a soporific effect by both men and women. Sexual activity with another person, with an orgasm, was perceived to have a relatively stronger effect on men compared to women in terms of sleep quality. Sexual activity without an orgasm was by men reported to have a sleep impairing effect, whereas the perceived effect reported by women was equivocal. Sexual activity with orgasms was perceived as having a soporific effect in both men and women. Sexual activity without an orgasm had an equivocal perceived effect on sleep.
Access options
Buy single article
Instant access to the full article PDF.
US$ 39.95
Tax calculation will be finalised during checkout.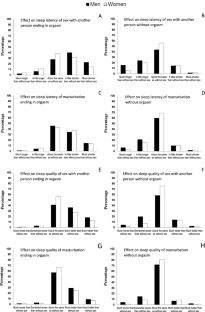 References
1.

Petersen M, Kristensen E, Berg S, Giraldi A, Midgren B. Sexual function in female patients with obstructive sleep apnea. J Sex Med. 2011;8(9):2560–8.

2.

Subramanian S, Bopparaju S, Desai A, Wiggins T, Rambaud C, Surani S. Sexual dysfunction in women with obstructive sleep apnea. Sleep Breath. 2010;14(1):59–62.

3.

Andersen ML, Alvarenga TF, Mazaro-Costa R, Hachul HC, Tufik S. The association of testosterone, sleep, and sexual function in men and women. Brain Res. 2011;1416:80–104.

4.

Hyde Z, Flicker L, Hankey GJ, Almedia OP, McCaul KA, Chubb SA, et al. Prevalence and predictors of sexual problems in men aged 75–95 years: a population-based study. J Sex Med. 2012;9(2):442–53.

5.

Kalmbach DA, Arnedt JT, Pillai V, Ciesla JA. The impact of sleep on female sexual response and behavior: a pilot study. J Sex Med. 2015;12(5):1221–32.

6.

Dement WC. Daytime sleepiness and attacks. In: Guilleminault C, Dement WC, Passouant P, editors. Narcolepsy: advances in sleep reseach. New York: Spectrum Publications; 1976. p. 17–42.

7.

Kaplan HS. The new sex therapy. New York: Brunner-Mazel; 1974.

8.

Brissette S, Montplaisir J, Godbout R, Lavoisier P. Sexual activity and sleep in humans. Biol Psychiatry. 1985;20(7):758–63.

9.

Lastella M, O'Mullan C, Paterson JL, Reynholds AC. Sex and sleep: perceptions of sex as a sleep promoting behavior in the general adult population. Front Public Health. 2019;7:33.

10.

Graziottin A. Similarities and differences between female and male sexual functions and dysfunctions. J Mens Health Gend. 2004;1(1):71–6.

11.

Levine SB. The nature of sexual desire: a clinician perspective. Arch Sex Behav. 2003;32(3):279–85.

12.

Beutel ME, Stobel-Richter Y, Brahler E. Sexual desire and sexual activity of men and women across their lifespans: results from a representative German community survey. BJU Int. 2008;101(1):76–82.

13.

Fahs B, Swank E. Social identities as predictors of women's sexual satisfaction and sexual activity. Arch Sex Behav. 2011;40(5):903–14.

14.

Pallesen S, Bjorvatn B, Nordhus IH, Sivertsen B, Hjørnevik M, Morin CM. A new scale for measuring insomnia: the Bergen Insomnia Scale. Percept Mot Skills. 2008;107(3):691–706.

15.

American Academy of Sleep Medicine. International classification of sleep disorders. 3rd ed. Darien: American Academy of Sleep Medicine; 2014.

16.

Carmicheal MS, Warburton VL, Dixen J, Davidson JM. Relationships among cardiovascular, muscular, and oxytocin responses during human sexual activity. Arch Sex Behav. 1994;23(1):59–79.

17.

Exton MS, Krüger THC, Koch M, Paulson E, Knapp W, Hartmann U, et al. Coitus-induced orgasm stimulates prolactin secretion in healthy subjects. Psychoneuroendocrinology. 2001;26(3):287–94.

18.

Koneru A, Satyanarayana S, Rizwan S. Endogenous opioids: their physiological role and receptors. Glob J Pharmacol. 2009;3(3):149–53.

19.

Palmeri ST, Kostis JB, Sleeper LA, Lu M, Nezgoda J, Rosen RS. Heart rate and blood pressure response in adult men and women during exercise and sexual activity. Am J Cardiol. 2007;100(12):1795–801.

20.

Kredlow MA, Capozzoli MC, Hearon BA, Calkins AW, Otto MW. The effects of physical activity on sleep: a meta-analytic review. J Behav Med. 2015;38(3):427–49.

21.

Frappier J, Toupin I, Levy JJ, Aubertin-Leheudre M, Karelis AD. Energy expenditure during sexual activity in young healthy couples. PLoS One. 2013;8(10):e79342.

22.

Miller SA, Byers ES. Actual and desired duration of foreplay and intercourse: discordance and misperceptions within heterosexual couples. J Sex Res. 2004;41(3):301–9.

23.

Trivers RL. Parental investment and sexual selection. In: Campbell B, editor. Sexual selection and the descent of man. Chigaco: Aldine; 1972. p. 1871–971.

24.

Paterson LQP, Shou E, Amsel R, Binik YM. Gender similarities and differences in sexual arousal, desire, and orgasmic pleasure in the laboratory. J Sex Res. 2014;51(7):801–13.

25.

Richters J, Visser R, Rissel C, Smith A. Sexual practices at last heterosexual encounter and occurrence of orgasm in a national survey. J Sex Res. 2006;43(3):217–26.

26.

Tourangeau R, Yan T. Sensitive questions in surveys. Psychol Bull. 2007;133(5):859–83.

27.

Morton SMB, Bandara DK, Robinson EM, Carr PEA. In the 21st Century, what is an acceptable response rate? Aust N Z J Public Health. 2012;36(2):106–8.

28.

Jorm AF. Using the Delphi expert consensus method in mental health research. Aust N Z J Psychiatry. 2015;49(10):887–97.

29.

Catania JA, Binson D, van der Straten A, Stone V. Methodological research on sexual behavior in the AIDS era. Annu Rev Sex Res. 1995;6(1):77–125.

30.

Graham CA, Catania JA, Brand R, Duong T, Canchola JA. Recalling sexual behavior: a methodological analysis of memory recall bias via interview using the diary as the gold standard. J Sex Res. 2003;40(4):325–32.

31.

Carney CE, Buysse DJ, Ancoli-Israel S, Edinger JD, Kystal AD, Lichstein K, et al. The consensus sleep diary: standardizing prospective sleep self-monitoring. Sleep. 2012;35(2):287–302.

32.

Mah K, Binik YM. Do all orgasms feel alike? Evaluating a two-dimensional model of the orgasm experience across gender and sexual context. J Sex Res. 2002;39(2):104–13.

33.

Brown SG, Morrison LA, Calibuso MJ, Christiansen TM. The menstrual cycle and sexual behavior: relationship to eating, exercise, sleep, and health patterns. Women Health. 2008;48(4):429–44.

34.

Bullivant SB, Sellergren SA, Stern K, Spencer NA, Jacob S, Mennnella JA, et al. Women's sexual experience during the menstrual cycle: identification of the sexual phase by noninvasive measurement of luteinizing hormone. J Sex Res. 2004;41(1):82–93.
Funding
This work was support by a grant from the Norwegian Competence Center for Sleep Disorders, Haukeland University Hospital and also financed by the University of Bergen, Norway.
Ethics declarations
Conflict of interest
The authors have no potential conflicts of interest.
Ethical permission
Regional Committee for Medical and Health Related Research Ethics in Western Norway (2015/2047). The study was conducted in line with the Declaration of Helsinki.
Research involved human participants
Consent was regarded provided by completing the survey—in line with approval from the Regional Committee for Medical and Health Related Research Ethics in Western Norway.
Additional information
Publisher's Note
Springer Nature remains neutral with regard to jurisdictional claims in published maps and institutional affiliations.
About this article
Cite this article
Pallesen, S., Waage, S., Thun, E. et al. A national survey on how sexual activity is perceived to be associated with sleep. Sleep Biol. Rhythms 18, 65–72 (2020). https://doi.org/10.1007/s41105-019-00246-9
Received:

Accepted:

Published:

Issue Date:
Keywords
Gender differences

Orgasm

Sexual activity

Sleep onset latency

Sleep quality

Soporific effect