Abstract
The aim of this study is to determine whether there is a significant relationship between certain insomnia symptoms and drinking water shortly before bedtime as seen anecdotally in a clinical setting. A survey was done of 1223 patients receiving standard physical exams at a large hospital in Taiwan. Every patient was asked whether they were willing to answer a series of questions; if they agreed, they were given the questionnaire. Information in questionnaire form was gathered concerning demographic information and about pre-bedtime lifestyle habits of the respondents, including whether they drank specified beverages. Analysis of the data revealed three discrete classes based on the degree of their insomnia symptoms: Group 1, Group 2, and Group 3. From the multivariate logistic regression mode, Group 2 and Group 3 show a higher proportion of beverage-drinking behavior of study participants before going to bed than Group 1. Group 3 and Group 2 have ORs of 1.59 (P < 0.05) and 1.78 (P < 0.01), respectively. Further, females have higher rates of Group 2 at 1.49 times those of Group 1 (P < 0.05). In terms of age, younger participants have higher degrees of being in Group 3, compared to Group 1; the age groups of 45–64 and above 65 show ORs of 0.45 (P < 0.001) and 0.11 (P < 0.001). Most participants in Group 2 are in the 45–64 and above 65 age cohorts (OR 1.69, P < 0.05). Finally, most participants without regular exercise are in Group 3 (OR 1.53, P < 0.05). Scant research has been done in the area of insomnia and ingestion of fluids shortly before bed. The findings in this study offer some of the first evidence revealing a significant relationship between sleep disorder symptoms and beverage drinking before bedtime; consequently, it can be the impetus for further research in this field as an aid to personal and public health.
Access options
Buy single article
Instant access to the full article PDF.
USD 39.95
Price excludes VAT (USA)
Tax calculation will be finalised during checkout.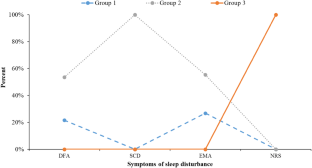 References
Ford ES, Wheaton AG, Cunningham TJ, Giles WH, Chapman DP, Croft JB. Trends in outpatient clinic visits for insomnia, sleep apnea, and prescriptions for sleep medications among US adults: findings from the National Ambulatory Medical Care Survey 1999–2010. Sleep. 2014;37(8):1283–93.

AASM. International classification of sleep disorders, 3rd edn. Darien: American Academy of Sleep Medicine; 2014.

Grandner MA, Petrov ME, Rattanaumpawan P, Jackson N, Platt A, Patel NP. Sleep symptoms, race/ethnicity, and socioeconomic position. J Clin Sleep Med. 2013;9:897–905 (905A–905D).

Roth T, Zammit G, Lankford A, et al. Nonrestorative sleep as a distinct component of insomnia. Sleep. 2010;33:449–58.

Ford ES, Wheaton AG, Cunningham TJ, et al. Trends in outpatient visits for insomnia, sleep apnea, and prescriptions for sleep medications among US adults: findings from the National Ambulatory Medical Care survey 1999–2010. Sleep. 2014;37:1283.

Bergman AM, Sih AM, Weiss JP. Nocturia: an overview of evaluation and treatment. Bladder. 2015;2(2):e13.

Tyagi S, Resnick NM, Perera S, Monk TH, Hall MH, Daniel J. Buysse; behavioral treatment of chronic insomnia in older adults: does nocturia matter? Sleep. 2014;37(4):681–687.

Ancoli-Israel S, Roth T. Characteristics of insomnia in the United States: results of the 1991 National Sleep Foundation Survey. I Sleep. 1999;22(Suppl 2):347-53.

Morin CM, LeBlanc M, Daley M, Gregoire JP, Merette C. Epidemiology of insomnia: prevalence, self-help treatments, consultations, and determinants of help-seeking behaviors. Sleep Med. 2006;7:123–30.

Ohayon MM. Epidemiology of insomnia: what we know and what we still need to learn. Sleep Med Rev. 2002;6:97–111.

Shochat T, Umphress J, Israel AG, Ancoli-Israel S. Insomnia in primary care patients. Sleep 1999;22 Suppl 2:359-65.

Gallup Organization. Sleep in America. Princeton: Gallup Organization; 1991.

Liang J, Shaw BA, Krause N, Bennett JM, Kobayashi E, Fukaya T, Sugihara Y. How does self-assessed health change with age? A study of older adults in Japan. J Gerontol B Psychol Sci Soc Sci. 2005;60:224–32.

Collins LM, Lanza ST. Latent class and latent transition analysis: with applications in the social, behavioral, and health sciences. Hoboken: John Wiley & Sons, Inc.; 2010.

Healey ES, Kales A, Monroe LJ, Bixler EO, Chamberlin K, Soldatos CR. Onset of insomnia: role of life-stress events. Psychosom Med. 1981;43:439–51.

Mellinger GD, Balter MB, Uhlenhuth EH. Insomnia and its treatment. Prevalence and correlates. Arch Gen Psychiatry. 1985;42:225–32.

Kim WH, Kim BS, Kim SK, Chang SM, Lee DW, Cho MJ, Bae JN. Prevalence of insomnia and associated factors in a community sample of elderly individuals in South Korea. Int Psychogeriatr. 2013;25:1729–37.

Foley DJ, Monjan AA, Izmirlian G, Hays JC, Blazer DG. Incidence and remission of insomnia among elderly adults in a biracial cohort. Sleep. 1999;22(Suppl 2):373–8.

Weiss JP, Blaivas JG. Nocturia. J Urol. 2000;163:5–12.

Ohayon MM, Hong SC. Prevalence of insomnia and associated factors in South Korea. J Psychosom Res. 2002;53:593–600.

Ford DE, Kamerow DB. Epidemiologic study of sleep disturbances and psychiatric disorders. An opportunity for prevention?. JAMA. 1989;262:1479–84.

Breslau N, Roth T, Rosenthal L, Andreski P. Sleep disturbance and psychiatric disorders: a longitudinal epidemiological study of young adults. Biol Psychiatry. 1996;39:411–8.

Hsu YW, Ho CH, Wang JJ, Hsieh KY, Weng SF, Wu MP. Longitudinal trends of the healthcare-seeking prevalence and incidence of insomnia in Taiwan: an 8-year nationally representative study. Sleep Med. 2013;14:843–9.

Dawson A, Bigby BG, Poceta JS, Mitler MM. Effect of bedtime alcohol on inspiratory resistance and respiratory drive in snoring and nonsnoring men. Alcohol Clin Exp Res. 1997;21:183–90.

Peppard PE, Austin D, Brown RL. Association of alcohol consumption and sleep disordered breathing in men and women. J Clin Sleep Med. 2007;3:265–70.

Roehrs T, Roth T. Sleep, sleepiness, sleep disorders and alcohol use and abuse. Sleep Med Rev. 2001;5:287–97.

Brower KJ. Alcohol's effects on sleep in alcoholics. Alcohol Res Health. 2001;25:110–25.
Acknowledgements
This study was supported in part by Cheng Ching General Hospital–Chung Kang Branch, Taichung City, Taiwan with Grant Number of CH10300172.
Ethics declarations
Conflict of interest
No potential conflict of interest was reported by the authors.
Additional information
Publisher's Note
Springer Nature remains neutral with regard to jurisdictional claims in published maps and institutional affiliations.
About this article
Cite this article
Tsai, CH., Weng, SJ., Liu, SC. et al. A preliminary study of fluid intake before bedtime and insomnia symptoms. Sleep Biol. Rhythms 17, 251–258 (2019). https://doi.org/10.1007/s41105-019-00206-3
Received:

Accepted:

Published:

Issue Date:

DOI: https://doi.org/10.1007/s41105-019-00206-3
Keywords
Insomnia

Latent class analysis

Multivariate logistic regression