Abstract
The purpose was to determine whether the instability of parasympathetic nerve (PN) function is associated with fragmentation of sleep and the instability can be improved by CPAP treatment in obstructive sleep apnea (OSA). Fifty-three OSA and 50 non-OSA subjects were examined by full-PSG and pulse rate variability (PRV) was recorded simultaneously using a photoplethysmograph and evaluated by instantaneous time–frequency analysis using the complex demodulation method. PN and sympathetic nerve (SN) activity were assessed by the mean high-frequency (HF) amplitude and ratio of low-frequency (LF) and HF amplitude (LF/HF ratio), respectively. Furthermore, the shift in central frequency (CF) of the main HF peak over time was monitored continuously. The relative times over which the same main HF peak was sustained for at least 20 s and 5 min in total recording time (%HF20s and %HF5min) were considered as markers of PN stability. Twenty-two of 53 patients with OSA also examined under the treatment with continuous positive airway pressure (CPAP). A significant increase in mean LF/HF ratio and decrease in HF amplitude were observed in severe OSA. Furthermore, both %HF20s and %HF5min were significantly decreased not only in mild-to-moderate OSA but also in severe OSA, and %HF20s was the strongest independent determinant for arousal index. Treatment with
CPAP significantly decreased the LH/HF ratio and increased both %HF20s and %HF5min. These findings suggest that the stability of PN function is impaired by arousal due to repeated apnea and hypopnea in OSA, and that CPAP therapy improves SN activity and PN dysfunction.
Access options
Buy single article
Instant access to the full article PDF.
USD 39.95
Price includes VAT (USA)
Tax calculation will be finalised during checkout.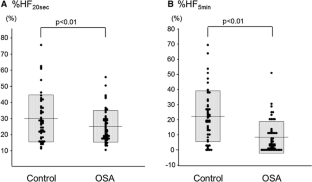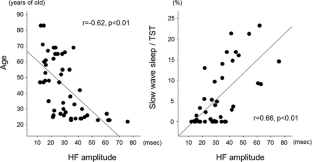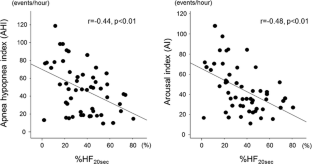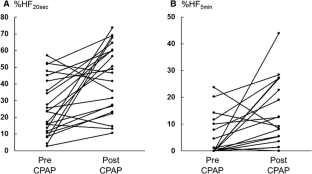 References
1.

Somers VK. Sympathetic neural mechanisms in obstructive sleep apnea. J Clin Invest. 1995;96:1897–904.

2.

Carlson JT, Hedner J, Elam M, Ejnell H, Sellgren J, Wallin BG. Augmented resting sympathetic activity in awake patients with obstructive sleep apnea. Chest. 1993;103:1763–8.

3.

Abboud F, Kumar R. Obstructive sleep apnea and insight into mechanisms of sympathetic overactivity. J Clin Invest. 2014;124:1454–7.

4.

Peppard PE, Young T, Palta M, Skatrud J. Prospective study of the association between sleep-disordered breathing and hypertension. N Engl J Med. 2000;342:1378–84.

5.

Peker Y, Carlson J, Hedner J. Increased incidence of coronary artery disease in sleep apnoea: a long-term follow-up. Eur Respir J. 2006;28:596–602.

6.

Arzt M, Young T, Finn L, Skatrud JB, Bradley TD. Association of sleep-disordered breathing and the occurrence of stroke. Am J Respir Crit Care Med. 2005;172:1447–51.

7.

Marin JM, Carrizo SJ, Vicente E, Agusti AG. Long-term cardiovascular outcomes in men with obstructive sleep apnoea-hypopnoea with or without treatment with continuous positive airway pressure: an observational study. Lancet. 2005;365:1046–53.

8.

Young T, Finn L, Peppard PE, Szkio-Coxe M, Austin D, Nieto FJ, Stubbs R, Hla KM. Sleep disordered breathing and mortality: eighteen-year follow-up of the Wisconsin sleep cohort. Sleep. 2008;31:1071–8.

9.

Jurysta F, van de Borne P, Miqeotte PF, Dumont M, Lanquart JP, Deqaute JP, Linkowski P. A study of the dynamic interactions between sleep EEG and heart rate variability in healthy young men. Clin Neurophysiol. 2003;114:2146–55.

10.

Malliani A, Pagani M, Lombardi F, Cerutti S. Cardiovascular neural regulation explored in the frequency domain. Circulation. 1991;84:482–92.

11.

Tobaldini E, Nobili L, Strada S, Casali KR, Braghiroli A, Montano N. Heart rate variability in normal and pathological sleep. Front Physiol. 2013. https://doi.org/10.3389/fphys.2013.00294.

12.

Szollosi I, Krum H, Kaye D, Nauqhton MT. Sleep apnea in heart failure increases heart rate variability and sympathetic dominance. Sleep. 2007;30:1509–14.

13.

Guilleminault V, Connolly S, Winkle R, Melvin K, Tilkian A. Cyclical variation of the heart rate in sleep apnoea syndrome. Mechanisms, and usefulness of 24 h electrocardiography as a screening technique. Lancet. 1984;1:126–31.

14.

Shiomi T, Guilleminault C, Sasanabe R, Hirota I, Maekawa M, Kobayashi T. Augmented very low frequency component of heart rate variability during obstructive sleep apnea. Sleep. 1996;19:370–7.

15.

Keyl C, Lemberqer P, Pfeifer M, Hochmuth K, Geisler P. Heart rate variability in patients with daytime sleepiness suspected of having sleep apnoea syndrome: a receiver-operating characteristic analysis. Clin Sci. 1997;92:335–43.

16.

Berger RD, Saul JP, Cohen RJ. Transfer function analysis of autonomic regulation, 1: canine atrial rate response. Am J Physiol. 1989;256:H142–52.

17.

Jo JA, Blasi A, Valladares E, Juarez R, Baydur A, Khoo MC. Determinants of heart rate variability in obstructive sleep apnea syndrome during wakefulness and sleep. Am J Physiol Heart Circ Physiol. 2005;288:H1103–12.

18.

Chapleau MW, Sabharwal R. Methods of assessing vagus nerve activity and reflexes. Heart Fail Rev. 2011;16:109–27.

19.

Hayano J, Taylor JA, Yamada A, Mukai S, Hori R, Asakawa T, Yokoyama K, Watanabe Y, Takata K, Fujinami T. Continuous assessment of hemodynamic control by complex demodulation of cardiovascular variability. Am J Physiol. 1993;264:H1229–38.

20.

Hayano J, Taylor JA, Mukai S, Okada A, Watanabe Y, Takata K, Fujinami T. Assessment of frequency shifts in R-R interval variability and respiration with complex demodulation. J Appl Physiol. 1994;77:2879–88.

21.

Yamaguchi K, Ohki N, Kobayashi M, Satoya N, Inoue Y, Onizawa S, Maeda Y, Sekiguchi H, Suzuki M, Tsuji T, Aoshiba K, Nagai A. Estimation of parasympathetic nerve function during sleep in patients with obstructive sleep apnea by instantaneous time-frequency analysis. Sleep Med. 2014;15:33–41.

22.

American Academy of Sleep Medicine: International Classification of Sleep Disorders, 3rd edn. Darien, IL, American Academy of Sleep Medicine, 2014.

23.

Hayano J, Barros AK, Kamiya A, Ohte N, Yasuma F. Assessment of pulse rate variability by the method of pulse frequency demodulation. Biomed Eng Online 2005, 4:62 https://doi.org/10.1186/1475-925X-4-62.

24.

Iber C, Ancoli-Israel S, Chesson AL, Quan SF. The American academy sleep medicine manual for the scoring of sleep and associated events, rules, terminology and technical specifications. Westchester, IL: American Academy Sleep Medicine; 2007.

25.

Hayano J, Yasuma F. Hypothesis: respiratory sinus arrhythmia is an intrinsic resting function of cardiopulmonary system. Cardiovasc Res. 2003;58:1–9.

26.

Roche F, Gaspoz JM, Court-Fortune I, Minini P, Pichot V, Duverney D, Costes F, Lacour JR, Barthelemy JC. Screening of obstructive sleep apnea syndrome by heart rate variability analysis. Circulation. 1999;100:1411–5.

27.

Akselrod S, Gordon D, Ubel FA, Shannon DC, Berger AC, Cohen RJ. Power spectrum analysis of heart rate fluctuation: a quantitative probe of beat-to-beat cardiovascular control. Science. 1981;213:220–2.

28.

Task Force of the European Society of Cardiology and the North American Spociety of Pacing Electrophysiology. Circulation. 1996; 93:1043–65.

29.

Scholz UJ, Bianchi AM, Cerutti S, Kubicki S. Vegetative background of sleep: spectral analysis of the heart rate variability. Physiol Behav. 1997;62:1037–43.

30.

Werner GG, Ford BQ, Mauss IB, Schabus M, Blechert J, Wilhelm FH. High cardiac vagal control is related to better subjective and objective sleep quality. Biol Physiol. 2015;106:79–85.

31.

Yang AC, Tsai SJ, Yang CH, Kuo CH, Chen TJ, Hong CJ. Reduced physiologic complexity is associated with poor sleep in patients with major depression and primary insomnia. J Affect Disord. 2011;131:179–85.

32.

Gong X, Huang L, Liu X, Li C, Mao X, Liu W, Huang X, Chu H, Wang Y, Wu W, Lu J. Correlation analysis between polysomnography diagnostic indices and heart rate variability parameters among patients with obstructive sleep Apnea Hypopnea syndrome. PLoS One. 2016. https://doi.org/10.1371/journal.pone.0156628. Accepted 2 Jun 2016.

33.

Jurysta F, Lanquart JP, van de Borne P, Migeotte PF, Dumont M, Degaute JP, Linkowski P. The link between cardiac autonomic activity and sleep delta power is altered in men with sleep apnea-hypopnea syndrome. Am J Physiol Regul Integr Comp Physiol. 2006;291:R1165–71.

34.

Stein PK, Pu Y. Heart rate variability, sleep and sleep disorders. Sleep Med Rev. 2012;16:47–66.

35.

Roche F, Court-Fortune I, Pichot V, Duverney D, Costes F, Emonot A, Vergnon JM, Geyssant A, Lacour JR, Barthélémy JC. Reduced cardiac sympathetic autonomic tone after long-term nasal continuous positive airway pressure in obstructive sleep apnoea syndrome. Clin Physiol. 1999;19:127–34.
Acknowledgements
We thank Toshiro Momose and Haruka Suzuki, polysomnography technicians, and students (Aoki M, Kitagawa M, and Harada M) of the Shinshu University School of Health Sciences for their help and support. This research did not receive any specific Grant from funding agencies in the public, commercial, or not-for-profit sectors.
Funding
This study did not receive any specific Grant from funding agencies in the public, commercial, or not-for-profit sectors.
Ethics declarations
Conflict of interest
The authors did not receive any specific grants from funding agencies in the public, commercial, or not-for-profit sectors, and report no conflicts of interest in this work.
Ethical approval
This study was conducted in accordance with the International Conference on Harmonisation-Good Clinical Practice and the Declaration of Helsinki (2008), and was approved by the institutional research ethics committee of Shinshu University School of Medicine (No. 2099).
Informed consent
All subjects were given an adequate explanation of the study and provided written informed consent.
About this article
Cite this article
Fujimoto, K., Ura, M., Yamazaki, H. et al. Instability of parasympathetic nerve function evaluated by instantaneous time–frequency analysis in patients with obstructive sleep apnea. Sleep Biol. Rhythms 16, 323–330 (2018). https://doi.org/10.1007/s41105-018-0153-y
Received:

Accepted:

Published:

Issue Date:
Keywords
Autonomic nerve function

Obstructive sleep apnea

Heart rate variability

Photoplethysmograph

Continuous positive airway pressure (CPAP)