Abstract
Accurate measurement of time at lights out is essential for calculation of several measures of sleep in wrist-activity monitors. While some devices use subjective reporting of time of lights out from a sleep diary, others utilise an automated proprietary scoring algorithm to calculate time at lights out, thereby negating the need for a sleep diary. This study aimed to compare sleep measures from two such devices to polysomnography (PSG) measures (In laboratory) and against each other when worn at home (At home). Fifty middle-aged adults from the Raine Study underwent overnight PSG during which they wore an ActiGraph™ and a Readiband™. They also wore both devices at home for 7 nights. The Readiband uses an automated proprietary algorithm to determine time at lights out whereas the ActiGraph requires completion of a sleep diary noting this time. In laboratory, compared to PSG: Readiband underestimated time at lights out, sleep onset, and wake after sleep onset, overestimated sleep latency and duration (p < 0.001 for all); while ActiGraph underestimated sleep latency and wake after sleep onset and overestimated sleep efficiency and duration (p < 0.001 for all). Similar differences between devices were observed on the laboratory night and when at home. In conclusion, an automated algorithm such as the Readiband may be used in the same capacity as the ActiGraph for the collection of sleep measures including time at sleep onset, sleep duration and time at wake. However, Readiband and ActiGraph measures of sleep latency, efficiency and wake after sleep onset should be interpreted with caution.
This is a preview of subscription content, log in to check access.
Access options
Buy single article
Instant access to the full article PDF.
US$ 39.95
Price includes VAT for USA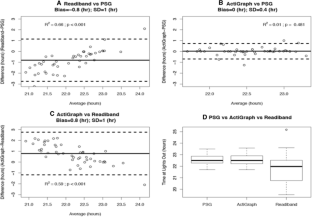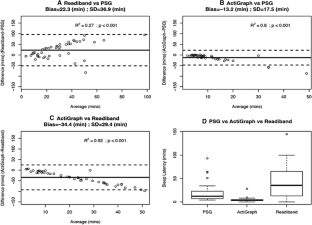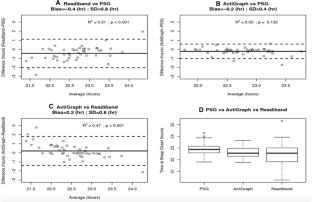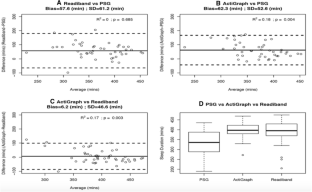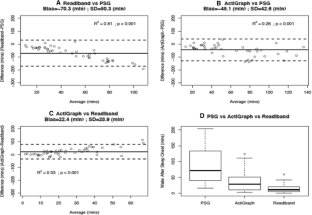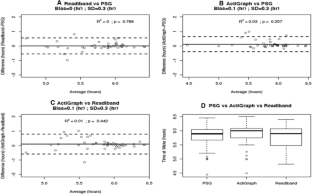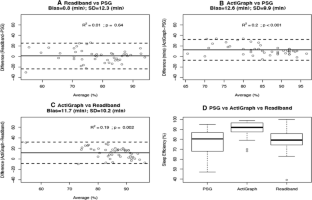 References
1.

Hirshkowitz M. The history of polysomnography: tool of scientific discovery. In: Chokroverty S, Billiard M, editors. Sleep medicine. New York: Springer; 2015.

2.

Deutsch P, Simmons M, Wallace J. Cost-effectiveness of split-night polysomnography and home studies in the evaluation of obstructive sleep apnea syndrome. J Clin Sleep Med. 2006;2(2):145–53.

3.

Evenson KR, Goto MM, Furberg RD. Systematic review of the validity and reliability of consumer-wearable activity trackers. Int J Behav Nutr Phys Act. 2015;12(1):159.

4.

Leeder J, Glaister M, Pizzoferro K, Dawson J, Pedlar C. Sleep duration and quality in elite athletes measured using wristwatch actigraphy. J Sports Sci. 2012;30(6):541–5.

5.

Lee SJ. chapter 41 actigraphy, what is actigraphy? Amercian Academy of Sleep Technologists Wolters Kluwer, Lippincott Williams & Wilins; 2012. p. 474.

6.

Sadeh A, Sharkey KM, Carskadon MA. Activity-based sleep—wake identification: an empirical test of methodological issues. Sleep. 1994;17(3):201–7.

7.

Cole RJ, Kripke DF, Gruen W, Mullaney DJ, Gillin JC. Automatic sleep/wake identification from wrist activity. Sleep. 1992;15(5):461–9.

8.

Slater JA, Botsis T, Walsh J, King S, Straker LM, Eastwood PR. Assessing sleep using hip and wrist actigraphy. Sleep Biol Rhythms. 2015;13(2):172–80.

9.

Morgenthaler T, Alessi C, Friedman L, Owens J, Kapur V, Boehlecke B, et al. Practice parameters for the use of actigraphy in the assessment of sleep and sleep disorders: an update for 2007. Sleep. 2007;30(4):519–29.

10.

Kim Y, Beets MW, Welk GJ. Everything you wanted to know about selecting the "right" Actigraph accelerometer cut-points for youth, but…: a systematic review. J Sci Med Sport. 2012;15(4):311–21.

11.

Lambiase MJ, Gabriel KP, Kuller LH, Matthews KA. Sleep and executive function in older women: the moderating effect of physical activity. J Gerontol A Biol Sci Med Sci. 2014;69(9):1170–6.

12.

O'Connell SE, Griffiths PL, Clemes SA. Seasonal variation in physical activity, sedentary behaviour and sleep in a sample of UK adults. Ann Hum Biol. 2014;41(1):1–8.

13.

Carney CE, Buysse DJ, Ancoli-Israel S, Edinger JD, Krystal AD, Lichstein KL, et al. The consensus sleep diary: standardizing prospective sleep self-monitoring. Sleep. 2012;35(2):287–302.

14.

Russell CA CJ, Arand D, Myers LJ, Wubbels P, Downs H. Controlling fatigue risk with the fatigue science ReadiBand actigraph and associated sleep/wake classification algorithms: use case and validation. Fatigue Science: Fatigue Science. In: Archinoetics L, editors. 700 Bishop St, Suite 2000, Honolulu, HI 96813, Fatigue Science BS, Suite 2000, Honolulu, HI 96813, Kettering Health Networks Sleep Disorders Ctr SB, Kettering, OH 45429, San Diego: Vivonoetics HC; 2006. p.92117.

15.

Bowen J, Hinze A, Cunningham SJ, Parker R. Evaluating Low-cost Activity Trackers for Use in Large-scale Data Gathering of Forestry Workers. Proceedings of the Annual Meeting of the Australian Special Interest Group for Computer Human Interaction; Parkville, VIC, Australia. 2838741: ACM; 2015. p. 474–82.

16.

James SM, Vila B. Police drowsy driving: predicting fatigue-related performance decay. Policing. 2015;38(3):517–38.

17.

Amann U, Holmes A, Caldwell J, Hilditch C. Sleep and sleepiness of pilots operating long-range airplane emergency medical missions. Aviat Space Environ Med. 2014;85(9):954–9.

18.

Noor ZM, Smith AJ, Smith SS, Nissen LM. Feasibility and acceptability of wrist actigraph in assessing sleep quality and sleep quantity: a home-based pilot study in healthy volunteers. Health (London). 2013;05(08):10.

19.

McCormick F, Kadzielski J, Landrigan CP, Evans B, Herndon JH, Rubash HE. Surgeon fatigue: a prospective analysis of the incidence, risk, and intervals of predicted fatigue-related impairment in residents. Arch Surg. 2012;147(5):430–5.

20.

Johnsons R. Mitigating sleep loss: assessment of omega-3 fatty acids. Carlsbad: DTIC Document; 2011.

21.

Fullagar HH, Duffield R, Skorski S, White D, Bloomfield J, Kolling S, et al. Sleep, travel and recovery responses of national footballers during and following long-haul international air travel. Int J Sports Physiol Perform. 2015.

22.

Fowler P, Duffield R, Vaile J. Effects of domestic air travel on technical and tactical performance and recovery in soccer. Int J Sports Physiol Perform. 2014;9(3):378–86.

23.

Dennis J, Dawson B, Heasman J, Rogalski B, Robey E. Sleep patterns and injury occurrence in elite Australian footballers. J Sci Med Sport. 2016;19(2):113–6.

24.

Straker LM, Hall GL, Mountain J, Howie EK, White E, McArdle N, et al. Rationale, design and methods for the 22 year follow-up of the Western Australian Pregnancy Cohort (Raine) Study. BMC Public Health. 2015;15:663.

25.

Conrad Iber SA-I, Andrew L, Chesson, Stuart F, Quan. The AASM manual for the scoring of sleep and asscioted events—rules ,terminology and technical specifications. 1st ed. Westchester: Illinois American Academy of Sleep Medicine; 2007.

26.

Berry RB, Budhiraja R, Gottlieb DJ, Gozal D, Iber C, Kapur VK, et al. Rules for scoring respiratory events in sleep: update of the 2007 AASM manual for the scoring of sleep and associated events. Deliberations of the sleep apnea definitions task force of the american academy of sleep medicine. J Clin Sleep Med. 2012;8(5):597–619.

27.

Shapiro CM, Bortz R, Mitchell D, Bartel P, Jooste P. Slow-wave sleep: a recovery period after exercise. Science. 1981;214(4526):1253–4.

28.

Cellini N, Buman MP, McDevitt EA, Ricker AA, Mednick SC. Direct comparison of two actigraphy devices with polysomnographically recorded naps in healthy young adults. Chronobiol Int. 2013;30(5):691–8.

29.

Readiband FDA, Approval FS. FDA approval for Readiband-K111514-SBV2. Honolulu: Federal Drug Administration; 2011. p. 6.

30.

Bland JM, Altman DG. Statistical methods for assessing agreement between two methods of clinical measurement. The Lancet. 1986;1(8476):307–10.

31.

Team RDC. R: A language and environment for statistical computing. R Foundation for Statistical Computing Vienna, Austria. 2016. http://www.r-project.org/. Accessed 20 Feb 2017.

32.

Mantua J, Gravel N, Spencer RM. Reliability of sleep measures from four personal health monitoring devices compared to research-based actigraphy and polysomnography. Sensors (Basel). 2016;16(5).

33.

M.J.T. American Academy of Sleep Medicine: International classification of sleep disorders: diagnostic and coding 698. 2nd ed. Westchester: American Academy of Sleep Medicine; 2005.

34.

Martin JL, Hakim AD. Wrist actigraphy. Chest. 2011;139(6):1514–27.

35.

Kosmadopoulos A, Sargent C, Darwent D, Zhou X, Roach GD. Alternatives to polysomnography (PSG): a validation of wrist actigraphy and a partial-PSG system. Behav Res Methods. 2014;46(4):1032–41.

36.

de Zambotti M, Baker FC, Colrain IM. Validation of sleep-tracking technology compared with polysomnography in adolescents. Sleep. 2015;38(9):1461–8.

37.

Paquet J, Kawinska A, Carrier J. Wake detection capacity of actigraphy during sleep. Sleep. 2007;30(10):1362–9.

38.

Meltzer LJ, Walsh CM, Traylor J, Westin AM. Direct comparison of two new actigraphs and polysomnography in children and adolescents. Sleep. 2012;35(1):159–66.

39.

Lichstein KL, Stone KC, Donaldson J, Nau SD, Soeffing JP, Murray D, et al. Actigraphy validation with insomnia. Sleep. 2006;29(2):232–9.

40.

Hedner J, Pillar G, Pittman SD, Zou D, Grote L, White DP. A novel adaptive wrist actigraphy algorithm for sleep-wake assessment in sleep apnea patients. Sleep. 2004;27(8):1560–6.

41.

Bradshaw DA, Yanagi MA, Pak ES, Peery TS, Ruff GA. Nightly sleep duration in the 2-week period preceding multiple sleep latency testing. J Clin Sleep Med. 2007;3(6):613–9.

42.

Garcia-Diaz E, Quintana-Gallego E, Ruiz A, Carmona-Bernal C, Sanchez-Armengol A, Botebol-Benhamou G, et al. Respiratory polygraphy with actigraphy in the diagnosis of sleep apnea-hypopnea syndrome. Chest. 2007;131(3):725–32.

43.

Rupp TL, Balkin TJ. Comparison of motionlogger watch and actiwatch actigraphs to polysomnography for sleep/wake estimation in healthy young adults. Behav Res Methods. 2011;43(4):1152–60.

44.

Chow CM, Wong SN, Shin M, Maddox RG, Feilds KL, Paxton K, et al. Defining the rest interval associated with the main sleep period in actigraph scoring. Nat Sci Sleep. 2016;8:321–8.

45.

Gupta L, Morgan K, Gilchrist S. Does elite sport degrade sleep quality? A systematic review. Sports Med. 2016.

46.

Sadeh A, Hauri PJ, Kripke DF, Lavie P. The role of actigraphy in the evaluation of sleep disorders. Sleep. 1995;18(4):288–302.
Acknowledgements
We acknowledge and thank the Raine Study participants, their families Raine study team for cohort management and data collection. Many thanks to Fatigue Science, Vancouver, British Columbia for the supply of Readibands™.
Ethics declarations
Conflict of interest
Ian C Dunican and John A Caldwell have previously undertaken consultancy work for Fatigue Science, but neither are currently engaged in any capacity with the company. The Raine Study 22-year follow-up was supported by NHMRC Project Grants 10277449, 1021858, 1031617 and 1044840. Core funding for cohort management was provided by the University of Western Australia, the Telethon Institute for Child Health Research, Raine Medical Research Foundation, University of Western Australia Faculty of Medicine, Dentistry and Health, Women's and Infant's Research Foundation, Edith Cowan University and Curtin University. Professors Straker and Eastwood were funded by National Health and Medical Research Council of Australia (NHMRC) Senior Research Fellowships (1019980, 1042341).
Ethical approval
All procedures performed in studies involving human participants were in accordance with the ethical standards of the institutional and/or national research committee and with the 1964 Helsinki declaration and its later amendments or comparable ethical standards. Informed consent was obtained from all individual participants included in the study and ethical approval was obtained from the University of Western Australia Human Research Ethics Committee.
About this article
Cite this article
Dunican, I.C., Murray, K., Slater, J.A. et al. Laboratory and home comparison of wrist-activity monitors and polysomnography in middle-aged adults. Sleep Biol. Rhythms 16, 85–97 (2018). https://doi.org/10.1007/s41105-017-0130-x
Received:

Accepted:

Published:

Issue Date:
Keywords
Actigraphy

Algorithm

Validation

Polysomnography

Sleep

Technology