Abstract
Insomnia is the most common sleep disorder. Although treatments such as cognitive-behavioral therapy have been shown to be effective, there are limitations in terms of effects, accessibility, and cost. It is thus of interest to supplement treatment with more accessible means to increase treatment effects. Little research exists concerning the effects of nutrition on sleep. Kiwi fruit contains rich levels of nutrients, such as antioxidants, flavonoids, carotenoids, anthocyanins, folate, and melatonin, all of which could possibly facilitate sleep. Thus, the purpose of this study was to investigate whether kiwi had beneficial effects on sleep compared to a control fruit chosen on the basis of differences in relevant nutritional content. In this randomized controlled trial, 74 students suffering from chronic insomnia symptoms were instructed to ingest either 130 g of kiwi or pear, the latter comprising the control condition, 1 h before bedtime every day for 4 weeks following 1 week of baseline assessment. Outcome measures consisted of sleep diaries and actigraphy. In addition, we administered the Bergen Insomnia Scale and Pittsburgh Sleep Questionnaire Index. Results showed that on a total of two out of 12 outcome variables (sleep quality and daytime functioning as reported using sleep diary), there was a statistically significant group × time interaction effect favoring the kiwi condition compared to pear. Although there were no such effects using objective measures, the results suggest that kiwi may possess some sleep improving properties. Strengths and limitations of the study are discussed.
This is a preview of subscription content, log in to check access.
Access options
Buy single article
Instant access to the full article PDF.
US$ 39.95
Price includes VAT for USA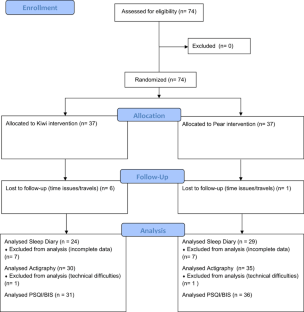 References
1.

Morin CM, Benca R. Chronic insomnia. Lancet. 2012;379(9821):1129–41.

2.

American Psychiatric Association. Diagnostic and statistical manual of mental disorders, 5th ed. 2013. American Psychiatric Association, Washington, DC.

3.

Ohayon MM. Epidemiology of insomnia: what we know and what we still need to learn. Sleep Med Rev. 2002;6(2):97–111.

4.

Pallesen S, et al. Prevalence of insomnia in the adult Norwegian population. Sleep. 2001;24(7):771–9.

5.

Pallesen S, et al. A 10-year trend of insomnia prevalence in the adult Norwegian population. Sleep Med. 2014;15:173–9.

6.

Sivertsen B, et al. Does insomnia predict sick leave? The Hordaland Health Study. J Psychosom Res. 2009;66:67–74.

7.

Sivertsen B, et al. The long-term effect of insomnia on work disability—the HUNT-2 historical cohort study. Am J Epidemiol. 2006;163:1018–24.

8.

Baglioni C, et al. Insomnia as a predictor of depression: a meta-analytic evaluation of longitudinal epidemiological studies. J Affect Disord. 2011;135:10–9.

9.

Sivertsen B, et al., Midlife insomnia and subsequent mortality: the Hordaland health study. BMC Public Health, 2014. 14:article no. 720.

10.

Rybarczyk B, et al. Cognitive behavioral therapy for insomnia in older adults: background, evidence, and overview of treatment protocol. Clin Gerontol. 2013;36:70–93.

11.

Qaseem A, et al. Management of chronic insomnia disorder in adults: a clinical practice guideline from the American College of Physicians Management of Chronic Insomnia Disorder in Adults. Ann Intern Med. 2016;165:125–33.  

12.

Edinger JD, Means MK. Cognitive-behavioral therapy for primary insomnia. Clin Psychol Rev. 2005;25(5):539–58.

13.

Harvey AG, NKY Tang. Cognitive behaviour therapy for primary insomnia: can we rest yet? Sleep Med Rev. 2003;7(3):237–62.

14.

Morselli L, et al. Role of sleep duration in the regulation of glucose metabolism and appetite. Best Pract Res Clin Endocrinol Metab. 2010;24(5):687–702.

15.

Spiegel K, et al., Sleep loss: a novel risk factor for insulin resistance and Type 2 diabetes. J Appl Physiol (1985), 2005. 99(5):2008–19.

16.

Pieters G, et al. Sleep variables in anorexia nervosa: evolution with weight restoration. Int J Eat Disord. 2004;35(3):342–7.

17.

Peuhkuri K, Sihvola N, Korpela R. Diet promotes sleep duration and quality. Nutr Res. 2012;32:309–19.

18.

Ebben M, Lequerica A, Spielman A. Effects of pyridoxine on dreaming: a preliminary study. Percept Mot Skills. 2002;94:135–40.

19.

Ohta T, et al. Treatment of persistent sleep-wake shcedule disorders in adolescents with methylcobalamin (vitamin-B12). Sleep. 1991;14:414–8.

20.

Gominak SC, Stumpf WE. The world epidemic of sleep disorders is linked to vitamin D deficiency. Med Hypotheses. 2012;79(2):132–5.

21.

Huang W, et al. Improvement of pain, sleep, and quality of life in chronic pain patients with vitamin D supplementation. Clin J Pain. 2013;29(4):341–7.

22.

Kordas K, et al. The effects of iron and/or zinc supplementation on maternal reports of sleep in infants from Nepal and Zanzibar. J Dev Behav Pediatr. 2009;30:131–9.

23.

Held K, et al. Oral Mg(2+) supplementation reverses age-related neuroendocrine and sleep EEG changes in humans. Pharmacopsychiatry. 2002;35:135–43.

24.

Spring B, et al. Effects of protein and carbohydrate meals on mood and performance—interactions with sex and age. J Psychiatr Res. 1983;17:155–67.

25.

Hansen AL, et al. Fish consumption, sleep, daily functioning, and heart rate variability. J Clin Sleep Med. 2014;10(5):567–75.

26.

Stepanski EJ, Wyatt JK. Use of sleep hygiene in the treatment of insomnia. Sleep Med Rev. 2003;7(3):215–25.

27.

Lin HH, et al. Effect of kiwifruit consumption on sleep quality in adults with sleep problems. Asia Pac J Clin Nutr. 2011;20(2):169–74.

28.

Tsaluchidu S, et al. Fatty acids and oxidative stress in psychiatric disorders. BMC Psychiatry. 2008;8(1):1–3.

29.

Indrawati et al. Comparative study on pressure and temperature stability of 5-methyltetrahydrofolic acid in model systems and in food products. J Agric Food Chem. 2004;52(3):485–92.

30.

Kelly GS, Folates. supplemental forms and therapeutic applications. Altern Med Rev. 1998;3(3):208–20.

31.

Hattori A, et al. Identification of melatonin in plants and its effects on plasma melatonin levels and binding to melatonin receptors in vertebrates. Biochem Mol Biol Int. 1995;35(3):627–34.

32.

Buscemi N, et al. The efficacy and safety of exogenous melatonin for primary sleep disorders. A meta-analysis. J Gen Intern Med. 2005;20(12):1151–8.

33.

Bonnefont-Rousselot D, Collin F, Melatonin. Action as antioxidant and potential applications in human disease and aging. Toxicology. 2010;278(1):55–67.

34.

Pallesen S, et al. A new scale for measuring insomnia: the Bergen Insomnia Scale. Percept Mot Skills. 2008;107(3):691–706.

35.

Faul F, et al. G*Power 3: a flexible statistical power analysis program for the social, behavioral, and biomedical sciences. Behav Res Methods. 2007;39(2):175–91.

36.

Huang X, Mazza G. Simultaneous analysis of serotonin, melatonin, piceid and resveratrol in fruits using liquid chromatography tandem mass spectrometry. J Chromatogr A. 2011;1218(25):3890–9.

37.

Szeto YT, Tomlinson B, Benzie IF. Total antioxidant and ascorbic acid content of fresh fruits and vegetables: implications for dietary planning and food preservation. Br J Nutr. 2002;87(1):55–9.

38.

Carney CE, et al. The consensus sleep diary: standardizing prospective sleep self-monitoring. Sleep. 2012;35(2):287–302.

39.

Sadeh A. The role and validity of actigraphy in sleep medicine: an update. Sleep Med Rev. 2011;15(4):259–67.

40.

American Psychiatric Association. Diagnostic and statistical manual of mental disorders, 4th ed. 1994. American Psychiatric Association, Washington, DC.

41.

Buysse DJ, et al. The Pittsburgh Sleep Quality Index: a new instrument for psychiatric practice and research. Psychiatry Res. 1989;28(2):193–213.

42.

Pallesen S, et al. Pittsburgh sleep quality index. Tidsskrift for Norsk Psykologforening. 2005;42(8):714.

43.

Orne MT. On the social psychology of the psychological experiment: with particular reference to demand characteristics and their implications. Am Psychol. 1962;17(11):776.

44.

Rubin M, Paolini S, Crisp RJ. A processing fluency explanation of bias against migrants. J Exp Soc Psychol. 2010;46(1):21–8.

45.

Matteson-Rusby SE, et al. Why treat insomnia? Primary Care Companion J Clin Psychiatry. 2010;12(1):PCC.08r00743.

46.

Perlis ML, et al. Placebo effects in primary insomnia. Sleep Med Rev. 2005;9(5):381–9.

47.

Voderholzer U, et al. Are there gender differences in objective and subjective sleep measures? A study of insomniacs and healthy controls. Depress Anxiety. 2003;17(3):162–72.

48.

Lund HG, et al. The discrepancy between subjective and objective measures of sleep in older adults receiving CBT for comorbid insomnia. J Clin Psychol. 2013;69(10):1108–20.

49.

Carskadon MA, Dement WC. Normal human sleep: an overview. Principles Pract Sleep Med. 2005;4:13–23.

50.

Rosenthal R. Covert communication in the psychological experiment. Psychol Bull. 1967;67(5):356.
Ethics declarations
Ethical approval
Regional Committee for Medical and Health Research Ethics in Western Norway No. 2014/2174/REK West.
Conflict of interest
None of the authors declares any conflicts of interest.
Funding
University of Bergen and the Regional Research Council of Norway provided funding.
About this article
Cite this article
Nødtvedt, Ø.O., Hansen, A.L., Bjorvatn, B. et al. The effects of kiwi fruit consumption in students with chronic insomnia symptoms: a randomized controlled trial. Sleep Biol. Rhythms 15, 159–166 (2017). https://doi.org/10.1007/s41105-017-0095-9
Received:

Accepted:

Published:

Issue Date:
Keywords
Insomnia

Nutrition

Sleep

Kiwi

Fruit

Randomized controlled trial