Abstract
Not much evidence exists concerning the effects on sleep and mood of transcranial bright light. In this study, 50 students, all with wake-up time 9:00 a.m. or later in weekends/free days, participated in a double-blind placebo-controlled experiment comparing the effects of bright light (n = 27; 8.0 lm) and placebo (n = 23; 0.1 lm). Data collection consisted of sleep assessment, with both sleep diaries and actigraphy. In addition, the Fatigue Severity Scale and the Profile of Mood States (POMS) were administered. Following 1 week of baseline recording, the therapy was initiated, aiming to phase advance the sleep–wake period. The therapy lasted for 2 weeks and consisted of gradually advancing daily light exposure of 12 min' transcranial bright light. Subjects in the two conditions did not change differently from baseline to post-treatment on any sleep parameters. A significant condition × time interaction was found for one of six subscales (vigor–activity) of the POMS, suggesting a more favorable development from baseline to post-treatment in the placebo compared to the bright light condition. No differences in terms of side-effects were reported between conditions. It is concluded that transcranial bright light, at times where conventional light therapy has phase-advancing properties, did not influence any sleep parameters differently than placebo. Transcranial bright light was associated with a less favorable development from baseline to post-treatment on one mood parameter compared to placebo.
This is a preview of subscription content, log in to check access.
Access options
Buy single article
Instant access to the full article PDF.
US$ 39.95
Price includes VAT for USA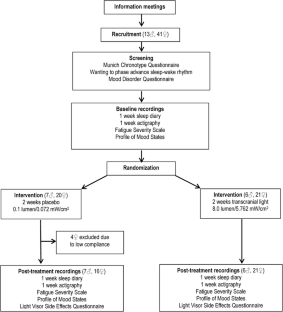 References
1.

Czeisler CA, Duffy JF, Shanahan TL, Brown EN, Mitchell JF, Rimmer DW, et al. Stability, precision, and near-24-hour period of the human circadian pacemaker. Science. 1999;284:2177–81.

2.

Johnson CH, Elliott JA, Foster R. Entrainment of circadian programs. Chronobiol Int. 2003;20:741–74.

3.

Khalsa SBS, Jewett ME, Cajochen C, Czeisler CA. A phase response curve to single bright light pulses in human subjects. J Physiol (Lond). 2003;549:945–52.

4.

Rajaratnam SM, Arendt J. Health in a 24-h society. Lancet. 2001;358:999–1005.

5.

Bjorvatn B, Pallesen S. A practical approach to circadian rhythm sleep disorders. Sleep Med Rev. 2009;13:47–60.

6.

Folkard S, Monk TH. Shiftwork and performance. Hum Factors. 1979;21:489–92.

7.

Hattar S, Liao HW, Takao M, Berson DM, Yau KW. Melanopsin-containing retinal ganglion cells: architecture, projections, and intrinsic photosensitivity. Science. 2002;295:1065–70.

8.

Terman M, Terman JS. Light therapy. In: Kryger MH, Roth T, Dement WC, editors. Principles and practice of sleep medicine. 5th ed. St. Louis: Elsevier Saunders; 2011. p. 1682–95.

9.

Ruger M, St Hilaire MA, Brainard GC, Khalsa SBS, Kronauer RE, Czeisler CA, et al. Human phase response curve to a single 6.5 h pulse of short-wavelength light. J Physiol (Lond). 2013;591:353–63.

10.

Cole RJ, Smith JS, Alcala YC, Elliott JA, Kripke DF. Bright-light mask treatment of delayed sleep phase syndrome. J Biol Rhythms. 2002;17:89–101.

11.

Lack L, Bramwell T, Wright H, Kemp K. Morning blue light can advance the melatonin rhythm in mild delayed sleep phase syndrome. Sleep Biol Rhythms. 2007;5:78–80.

12.

Sharkey KM, Carskadon MA, Figueiro MG, Zhu Y, Rea MS. Effects of an advanced sleep schedule and morning short wavelength light exposure on circadian phase in young adults with late sleep schedules. Sleep Med. 2011;12:685–92.

13.

Terman M, Terman JS. Circadian rhythm phase advance with dawn simulation and negative air ionization for seasonal affective disorder. Am J Psychiatry. 2006;163:2126–33.

14.

Boulos Z, Macchi MM, Sturchler MP, Stewart KT, Brainard GC, Suhner A, et al. Light visor treatment for jet lag after westward travel across six time zones. Aviat Space Environ Med. 2002;73:953–63.

15.

Terman M, Terman JS. Light therapy for seasonal and nonseasonal depression: efficacy, protocol, safety, and side effects. CNS Spectr. 2005;10:647–63.

16.

Ruger M, Gordijn MCM, Beersma DGM, de Vries B, Daan S. Acute and phase-shifting effects of ocular and extraocular light in human circadian physiology. J Biol Rhythms. 2003;18:409–19.

17.

Starck T, Nissilä J, Aunio A, Abou-Elseoud A, Remes J, Nikkinen J, et al. Stimulating brain tissue with bright light alters functional connectivity in brain at the resting state. World J Neurosci. 2012;2:81–90.

18.

Timonen M, Nissila J, Liettu A, Jokelainen J, Jurvelin H, Aunio A, et al. Can transcranial brain-targeted bright light treatment via ear canals be effective in relieving symptoms in seasonal affective disorder? A pilot study. Med Hypotheses. 2012;78:511–5.

19.

Jurvelin H, Takala T, Nissila J, Timonen M, Ruger M, Jokelainen J, et al. Transcranial bright light treatment via the ear canals in seasonal affective disorder: a randomized, double-blind dose-response study. BMC Psychiatry. 2014;14:article no. 288.

20.

Bromundt V, Frey S, Odermatt J, Cajochen C. Extraocular light via the ear canal does not acutely affect human circadian physiology, alertness and psychomotor vigilance performance. Chronobiol Int. 2014;31:343–8.

21.

Burgess HJ, Eastman CI. The dim light melatonin onset following fixed and free sleep schedules. J Sleep Res. 2005;14:229–37.

22.

Wright H, Lack L, Bootzin RR. Relationships between dim light melatonin onset and the timing of sleep in sleep onset insomniacs. Sleep Biol Rhythms. 2006;4:78–80.

23.

Benloucif S, Guico MJ, Reid KJ, Wolfe LF, L'Hermite-Baleriaux M, Zee PC. Stability of melatonin and temperature as circadian phase markers and their relation to sleep times in humans. J Biol Rhythms. 2005;20:178–88.

24.

Saxvig IW, Pallesen S, Wilhelmsen-Langeland A, Molde H, Bjorvatn B. Prevalence and correlates of delayed sleep phase in high school students. Sleep Med. 2012;13:193–9.

25.

Short MA, Gradisar M, Lack LC, Wright HR, Dohnt H. The sleep patterns and well-being of Australian adolescents. J Adolesc. 2013;36:103–10.

26.

Roenneberg T, Wirz-Justice A, Merrow M. Life between clocks: daily temporal patterns of human chronotypes. J Biol Rhythms. 2003;18:80–90.

27.

Hirschfeld RMA, Williams JBW, Spitzer RL, Calabrese JR, Flynn L, Keck PE, et al. Development and validation of a screening instrument for bipolar spectrum disorder: the mood disorder questionnaire. Am J Psychiatry. 2000;157:1873–5.

28.

Krupp LB, Larocca NG, Muirnash J, Steinberg AD. The Fatigue Severity Scale—application to patients with multiple-sclerosis and systemic lupus-erythematosus. Arch Neurol. 1989;46:1121–3.

29.

Norcross JC, Guadagnoli E, Prochaska JO. Factor structure of the Profile of Mood States (POMS)—2 partial replications. J Clin Psychol. 1984;40:1270–7.

30.

Orne MT. On the social psychology of the psychological experiment: with particular reference to demand characteristics and their implications. Am Psychol. 1962;17:776–83.

31.

Levitt AJ, Joffe RT, Moul DE, Lam RW, Teicher MH, Lebegue B, et al. Side-effects of light therapy in seasonal affective-disorder. Am J Psychiatry. 1993;150:650–2.

32.

Sadeh A. The role and validity of actigraphy in sleep medicine: an update. Sleep Med Rev. 2011;15:259–67.

33.

Faul F, Erdfelder E, Lang AG, Buchner A. G*Power 3: a flexible statistical power analysis program for the social, behavioral, and biomedical sciences. Behav Res Methods. 2007;39:175–91.

34.

Saxvig IW, Wilhelmsen-Langeland A, Pallesen S, Vedaa O, Nordhus IH, Bjorvatn B. A randomized controlled trial with bright light and melatonin for delayed sleep phase disorder: effects on subjective and objective sleep. Chronobiol Int. 2014;31:72–86.

35.

Gradisar M, Dohnt H, Gardner G, Paine S, Starkey K, Menne A, et al. A randomized controlled trial of cognitive-behavior therapy plus bright light therapy for adolescent delayed sleep phase disorder. Sleep. 2011;34:1671–80.

36.

Jurvelin H, Takala T, Heberg L, Nissila J, Ruger M, Leppaluoto J, et al. Transcranial bright light exposure via ear canals does not suppress nocturnal melatonin in healthy adults—a single-blind, sham-controlled, crossover trial. Chronobiol Int. 2014;31:855–60.

37.

Lewy AJ, Wehr TA, Goodwin FK, Newsome DA, Markey SP. Light suppresses melatonin secretion in humans. Science. 1980;210:1267–9.

38.

Jurvelin H, Jokelainen J, Takala T. Transcranial bright light and symptoms of jet lag: a randomized, placebo-controlled trial. Aerosp Med Hum Perform. 2015;86(4):1–8.

39.

Magnusson A, Partonen T. The diagnosis, symptomatology, and epidemiology of seasonal affective disorder. CNS Spectr. 2005;10:625–34.

40.

Haimov I, Arendt J. The prevention and treatment of jet lag. Sleep Med Rev. 1999;3:229–40.
Acknowledgments
The authors received 12,000 Euros from Valkee® covering expenses related to the conduct of the present study.
About this article
Cite this article
Pallesen, S., Nødtvedt, Ø., Saxvig, I.W. et al. A new light source (Valkee©) does not alter sleep–wake parameters and does not improve mood in phase delayed subjects. Sleep Biol. Rhythms 14, 97–105 (2016). https://doi.org/10.1007/s41105-015-0027-5
Received:

Accepted:

Published:

Issue Date:
Keywords
Transcranial bright light

Sleep–wake rhythm

Mood

Randomized controlled trial