Abstract
The preference ranking organization method for enrichment evaluation (PROMETHEE) technique is a comprehensive and efficient multi-criteria decision-making (MCDM) method. This research study is devoted to establishing an improved version of the PROMETHEE approach based on 2-tuple linguistic Fermatean fuzzy sets (2TLFFS) to address the MCDM problems when decision-makers use linguistic variables to convey their judgments about alternatives. The membership and non-membership functions of 2TLFFS are used to evaluate the weight of each criterion and the evaluation of each alternative for each criterion. We propose a new pairwise deviation formula using the score function, which is then employed to develop preference functions. To get the preferences for the alternatives, we take Gaussian and usual preference functions and use them to create a preference index matrix. The PROMETHEE I method is used to determine the partial order of alternatives by evaluating the positive outranking flow and negative outranking flow of alternatives. Furthermore, the PROMETHEE II approach obtains the total ranking of the alternatives by calculating the net outranking flow. Moreover, a flowchart is used to demonstrate the method proposed by the 2TLFF-PROMETHEE. Using a numerical example, specifically the choice of an appropriate bank manager, we establish the practical implications and realism of the proposed method. The results of the proposed work are then compared with those of the existing approach to more accurately reflect the capacity and effectiveness of the proposed work. Finally, we conclude that the 2TLFF-PROMETHEE technique established within a 2TFFS framework is highly effective and reliable in addressing MCGDM issues.
Access options
Buy single article
Instant access to the full article PDF.
USD 39.95
Price excludes VAT (USA)
Tax calculation will be finalised during checkout.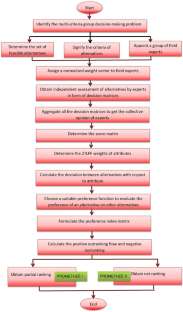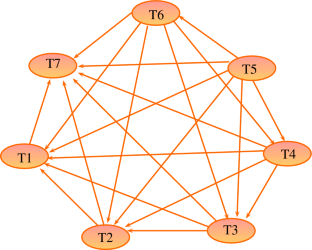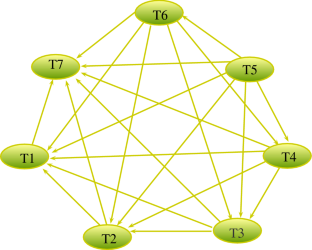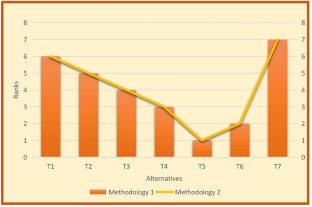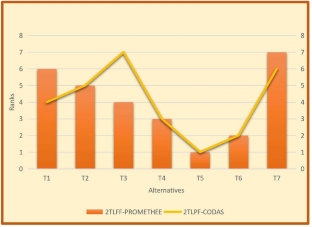 Data availability
No data were used to support this study.
References
Abedi M, Torabi SA, Norouzi GH, Hamzeh M, Elyasi GR (2012) PROMETHEE II: a knowledge-driven method for copper exploration. Comput Geosci 46:255–263

Acampora G (2022) Vitiello A Improving quantum genetic optimization through granular computing. Granul Comput. https://doi.org/10.1007/s41066-022-00348-9

Akram M, Bibi R, Al-Shamiri MA (2022) A decision-making framework based on 2-Tuple linguistic Fermatean fuzzy Hamy mean operators. Math Probl Eng. https://doi.org/10.1155/2022/1501880

Akram M, Shumaiza S, Alcantud JCR (2020) An m-polar fuzzy PROMETHEE approach for AHP-assisted group decision-making. Math Comput Appl 25(2):26

Akram M, Khan A, Ahmad U (2022) Extended MULTIMOORA method based on 2-tuple linguistic Pythagorean fuzzy sets for multi-attribute group decision-making. Granul Comput. https://doi.org/10.1007/s41066-022-00330-5

Akram M, Ramzan N, Feng F (2022) Extending COPRAS method with linguistic Fermatean fuzzy sets and Hamy mean operators. J Math. https://doi.org/10.1155/2022/8239263

Akram M, Sattar A, Saeid AB (2022) Competition graphs with complex intuitionistic fuzzy information. Granul Comput 7:25–47

Akram M, Shahzadi G, Alcantud JCR (2022) Multi-attribute decision-making with q-rung picture fuzzy information. Granul Comput 7(1):197–215

Akram M, Sultan M, Alcantud JCR, Ali Al-Shamiri MM (2022) Extended fuzzy N-Soft PROMETHEE method and its application in robot butler selection. Math Biosci Eng 20(2):1774–1800

Akram M, Niaz Z, Feng F (2022) Extended CODAS method for multi-attribute group decision-making based on 2-tuple linguistic Fermatean fuzzy Hamacher aggregation operators. Granul Comput. https://doi.org/10.1007/s41066-022-00332-3

Akram M, Noreen U, Pamucar D (2022) Extended PROMETHEE approach with 2-tuple linguistic m-polar fuzzy sets for selection of elliptical cardio machine. Expert Syst. https://doi.org/10.1111/exsy.13178

Amaral TM, Costa AP (2014) Improving decision-making and management of hospital resources: an application of the PROMETHEE II method in an Emergency Department. Oper Res Health Care 3(1):1–6

Atanassov KT (1986) Intuitionistic fuzzy sets. Fuzzy Sets Syst 20(1):87–96

Brans JP, Vincke P (1985) Note-A Preference Ranking Organisation Method: (The PROMETHEE Method for Multiple Criteria Decision-Making). Manage Sci 31(6):647–656

Brans JP, Vincke P, Mareschal B (1986) How to select and how to rank projects: The PROMETHEE method. Eur J Oper Res 24(2):228–238

Chabaane D, Kheffache D (2022) Multi-criteria decision-making based on novel fuzzy generalized divergence and knowledge measures. Granul Comput. https://doi.org/10.1007/s41066-022-00352-z

Chen TY (2019) A novel PROMETHEE-based method using a Pythagorean fuzzy combinative distance-based precedence approach to multiple criteria decision making. Appl Soft Comput 82:105560

Chen CT, Hung WZ, Cheng HL (2011) Applying linguistic PROMETHEE method in investment portfolio decision-making. Int J Electron Bus 9(2):139

Chen YH, Wang TC, Wu CY (2011) Strategic decisions using the fuzzy PROMETHEE for IS outsourcing. Expert Syst Appl 38(10):13216–13222

Dammak F, Baccour L, Alimi AM (2020) Intuitionistic Fuzzy PROMETHEE II Technique for Multi-criteria Decision Making Problems Based on Distance and Similarity measures. In: 2020 IEEE International Conference on Fuzzy Systems (FUZZ-IEEE), pp 1–8

Deng X, Wang J, Wei G, Lu M (2018) Models for multiple attribute decision making with some 2-tuple linguistic Pythagorean fuzzy Hamy mean operators. Mathematics 6(11):236

Espinilla M, Halouani N, Chabchoub H (2015) Pure linguistic PROMETHEE I and II methods for heterogeneous MCGDM problems. Int J Comput Intell 8(2):250–264

Feng F, Xu Z, Fujita H, Liang M (2020) Enhancing PROMETHEE method with intuitionistic fuzzy soft sets. Int J Intell Syst 35(7):1071–1104

Feng F, Zheng Y, Sun B, Akram M (2022) Novel score function of generlized orthopair fuzzy membership grades with application to multi attibute decision making. Granul Comput 7:95–111

Garg H, Shahzadi G, Akram M (2020) Decision-making analysis based on Fermatean fuzzy Yager aggregation operators with application in COVID-19 testing facility. Math Probl Eng. https://doi.org/10.1155/2020/7279027

Goumas M, Lygerou V (2000) An extension of the PROMETHEE method for decision making in fuzzy environment: ranking of alternative energy exploitation projects. Eur J Oper Res 123(3):606–613

Gul M, Celik E, Gumus AT, Guneri AF (2018) A fuzzy logic based PROMETHEE method for material selection problems. Beni-Suef Univ J Basic Appl Sci 7(1):68–79

Herrera F, Herrera-Viedma E (2000) Linguistic decision analysis: steps for solving decision problems under linguistic information. Fuzzy Sets Syst 115(1):67–82

Herrera F, Martínez L (2000) A 2-tuple fuzzy linguistic representation model for computing with words. IEEE Trans Fuzzy Syst 8(6):746–752

He T, Zhang S, Wei G, Wang R, Wu J, Wei C (2020) CODAS method for 2-tuple linguistic Pythagorean fuzzy multiple attribute group decision making and its application to financial management performance assessment. Technol Econ Dev 26(4):920–932

Hwang CL, Yoon K (1981) Methods for multiple attribute decision making. In: Multiple attribute decision making, Berlin Springer, pp 58-191

Kirişci M, Demir I, Şimşek N (2022) Fermatean fuzzy ELECTRE multi-criteria group decision-making and most suitable biomedical material selection. Artif Intell Med 127:102278

Krishankumar R, Ravichandran KS, Saeid AB (2017) A new extension to PROMETHEE under intuitionistic fuzzy environment for solving supplier selection problem with linguistic preferences. Appl Soft Comput 60:564–576

Krylovas A, Zavadskas EK, Kosareva N, Dadelo S (2014) New KEMIRA method for determining criteria priority and weights in solving MCDM problem. Int J Inf Technol 13(06):1119–1133

Liu P, Chen SM (2017) Group decision making based on Heronian aggregation operators of intuitionistic fuzzy numbers. IEEE Trans Cybern 47(9):2514–2530

Liu P, Jin F (2012) Methods for aggregating intuitionistic uncertain linguistic variables and their application to group decision making. Inf Sci Lett 205:58–71

Liu D, Liu Y, Chen X (2019) Fermatean fuzzy linguistic set and its application in multicriteria decision making. Int J Intell Syst 34(5):878–894

Liao H, Xu Z (2014) Multi-criteria decision making with intuitionistic fuzzy PROMETHEE. J Intell Fuzzy Syst 27(4):1703–1717

Liu P, Cheng S (2020) An improved MABAC group decision-making method using regret theory and likelihood in probability multi-valued neutrosophic sets. Int J Inf Technol Decis Making 19(05):1353–1387

Molla MU, Giri BC, Biswas P (2021) Extended PROMETHEE method with Pythagorean fuzzy sets for medical diagnosis problems. Soft Comput 25(6):4503–4512

Montajabiha M (2016) An extended PROMETHE II multi-criteria group decision making technique based on intuitionistic fuzzy logic for sustainable energy planning. Group Decis Negotiation 25(2):221–244

Opricovic S, Tzeng GH (2004) Compromise solution by MCDM methods: a comparative analysis of VIKOR and TOPSIS. Eur J Oper Res 156(2):445–455

Ozsahin DU, Uzun B, Musa MS, Sentürk N, Nurçin FV, Ozsahin I (2017) Evaluating nuclear medicine imaging devices using fuzzy PROMETHEE method. Procedia Comput Sci 120:699–705

Rani P, Jain D (2017) Intuitionistic fuzzy promethee technique for multi-criteria decision making problems based on entropy measure. Int Conf Adv, pp 290-301

Roy B (1990) The outranking approach and the foundations of ELECTRE methods. In: Readings in multiple criteria decision aid. Springer, Berlin, pp 155–183

Senapati T, Yager RR (2020) Fermatean fuzzy sets. J Ambient Intell Humaniz 11(2):663–674

Senapati T, Yager RR (2019) Some new operations over Fermatean fuzzy numbers and application of Fermatean fuzzy WPM in multiple criteria decision making. Informatica 2:391–412

Senapati T, Yager RR (2019) Fermatean fuzzy weighted averaging/geometric operators and its application in multi-criteria decision-making methods. Eng Appl Artif Intell 85:112–121

Singh A, Gupta A (2020) Best criteria selection based PROMETHEE II to aid decision-making under 2-tuple linguistic framework: case-study of the most energy efficient region worldwide. Int J Inf Technol Decis Making 19(1):44–65

Singh A, Gupta A, Mehra A (2015) An AHP-PROMETHEE II method for 2-tuple linguistic multicriteria group decision making. In 2015 4th International Conference on Reliability, Infocom Technologies and Optimization (ICRITO)(Trends and Future Directions) pp 1–6

Teng F, Liu P, Zhang L, Zhao J (2019) Multiple attribute decision-making methods with unbalanced linguistic variables based on Maclaurin symmetric mean operators. Int J Inf Technol Decis Making 18(01):105–146

Wei GW (2019) 2-tuple intuitionistic fuzzy linguistic aggregation operators in multiple attribute decision making. Iran J Fuzzy Syst 16(4):159–174

Yager RR, Abbasov AM (2013) Pythagorean membership grades complex numbers and decision making. Int J Intell Syst 28(5):436–452

Yang G, Jen CT, Hung K (2012) A novel intuitionistic fuzzy PROMETHEE II approach for military affair outsourcing decision analysis. In: International conference on business and information, Sapporo pp 3–5

Zadeh LA (1975) The concept of a linguistic variable and its application to approximate reasoningI. Inf Sci Lett 8(3):199–249

Zadeh LA (1965) LA Fuzzy sets. Inf Control 8(3):338–353

Zhao H, Peng Y, Li W (2013) Revised PROMETHEE II for improving efficiency in emergency response. Procedia Comput Sci 17:181–188

Zhou LP, Wan SP, Dong JY (2022) A Fermatean fuzzy ELECTRE method for multi-criteria group decision-making. Informatica 33(1):181–224
Ethics declarations
Conflict of interest
The authors declare no conflict of interest.
Additional information
Publisher's Note
Springer Nature remains neutral with regard to jurisdictional claims in published maps and institutional affiliations.
Rights and permissions
Springer Nature or its licensor (e.g. a society or other partner) holds exclusive rights to this article under a publishing agreement with the author(s) or other rightsholder(s); author self-archiving of the accepted manuscript version of this article is solely governed by the terms of such publishing agreement and applicable law.
About this article
Cite this article
Akram, M., Bibi, R. Multi-criteria group decision-making based on an integrated PROMETHEE approach with 2-tuple linguistic Fermatean fuzzy sets. Granul. Comput. (2023). https://doi.org/10.1007/s41066-022-00359-6
Received:

Accepted:

Published:

DOI: https://doi.org/10.1007/s41066-022-00359-6
Keywords
2-Tuple linguistic Fermatean fuzzy set

PROMETHEE I method

PROMETHEE II method

MCGDM