Abstract
Buckling of piles may play an important role in the pile's design especially for piles that are partially embedded in soil or when the upper layers of the fully embedded piles are loose or weak soils. In this paper, the elastic stability of partially embedded piles subjected to axial force is developed considering all the parameters that may be affecting the buckling load. These parameters are the ratio of the embedded length to the pile length, the elastic modulus of the soil, the pile overall length, and the flexural stiffness of pile that represents the cross section of the pile and its material. Both of the methods of finite element and the minimum potential energy are performed to obtain the buckling loads and then the effective length of the considered pile. The soil is considered as a continuous elastic medium that is replaced by many equally spaced elastic supports of equal rigidity in the finite element modelling. The numerical results are presented in charts to clarify the effect of each parameter on the effective length coefficient of the considered piles. The results of the coefficient of effective length that obtained by the energy technique and the finite element method are also compared in this paper.
This is a preview of subscription content, log in to check access.
Access options
Buy single article
Instant access to the full article PDF.
US$ 39.95
Price includes VAT for USA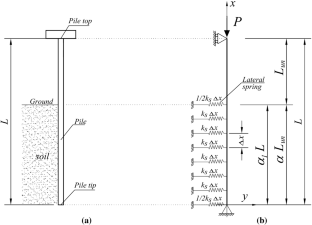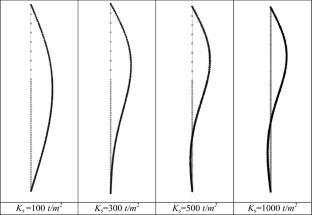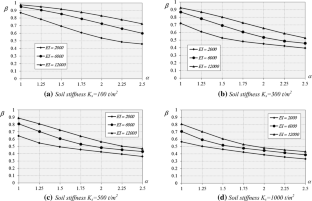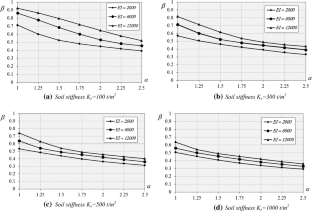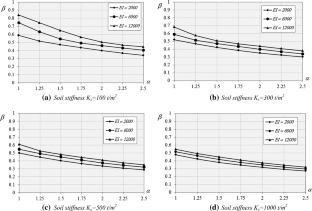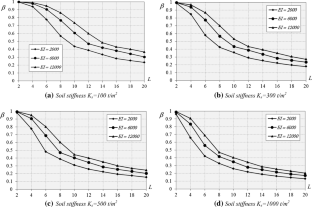 References
1.

Terzaghi K (1955) Evalution of coefficient of subgrade reaction. Geotechnique 5:297–326

2.

Timoshenko SP, Gere JM (1983) Theory of elastic stability. McGraw-Hill Book Company, London

3.

Davission MT, Robinson KE (1965) Bending and buckling of partially embedded piles. In: 6th international conference on soil mechanics and foundation engineering 2:243–246

4.

Heelis ME, Pavlović MN, West RP (2004) The analytical prediction of the buckling loads of fully and partially embedded piles. Géotechnique 54(6):363–373

5.

Seval Ç, Hikmet H (2006) Buckling analysis of partially embedded pile in elastic soil using differential transform method. Struct Eng Mech 24(2):247–268

6.

Khodair Y, Hassiotis S (2007) Buckling behaviour of single pile and pile bent in the Scotch Road Bridge. Geomech Geoeng 1(4):291–298. https://doi.org/10.1080/17486020600834621

7.

Kumar SP, Kamaraj SKA, Parameswaran P (2007) Buckling behaviour of axially loaded partially embedded concrete piles in sand. J Eng Appl Sci 2(9):1394–1398

8.

Jesmani M, Nabavi SH, Kamalzare M (2014) Numerical analysis of buckling behaviour of concrete piles under axial load embedded in sand. Arab J Sci Eng. 39:2683. https://doi.org/10.1007/s13369-014-0970-5

9.

Shatri V, Bozo L, Shefkiu B, Shatri B (2014) Analysis of buckling of piles fully embedded in ground according to finite element method. Int J Curr Eng Technol 4(1):201–205

10.

Lu W, Zhao D (2017) Analysis on calculated length for buckling stability of steel pipe pile based on energy method. Open Civ Eng J 11:167–175. https://doi.org/10.2174/1874149501711010167

11.

El Kamash W, El Naggar H (2018) Numerical study on buckling of end-bearing piles in soft soil subjected to axial loads. Geotech Geol Eng 1:1. https://doi.org/10.1007/s10706-018-0529-4
About this article
Cite this article
Salama, M.I., Basha, A.M. Elastic buckling loads of partially embedded piles in cohesive soil. Innov. Infrastruct. Solut. 4, 12 (2019). https://doi.org/10.1007/s41062-019-0198-z
Received:

Accepted:

Published:
Keywords
Stability

Piles

Energy approach

Finite element method

Partially embedded

SAP2000