Abstract
The main purpose of this paper was to evaluate landslide hazards at Herth, Chitral, Pakistan. Based on a comprehensive cross-disciplinary research methodology, it was found that the geology of the area is complex with deformations in various directions. In a semiarid climate (BSk), large variations in rainfall (80 mm in spring and 8 mm in summer) and temperature (− 1 °C in January and 35 °C in July) affect the temporal distribution of landslides in the area. Overlaying weak weathered rocks, the 6–12 m thick soft soils exhibit up to 8-m-deep tension cracks and several shallow slope failures. Likewise, the high-relief mountains (2235–3155 m) mainly face southwards (40%) and northwards (35%) with 58% areas at inclinations of 15°–45° and 39% area with up to 15° slopes. The surface soils are mainly clayey sands with occasional silts and remain unsaturated due to high drainage in the field. The stress–strain behavior is identical to loose sands with the residual friction angle close to the peak value (32°–34°) indicating the lowest possible shear strength. Finally, the landslide areas have generally increased from 1985 through 2014 for Karimabad (0.32–0.84 km2), Ajrandeh (0.3–0.74 km2) and Shah (0.13–0.42 km2).
This is a preview of subscription content, log in to check access.
Access options
Buy single article
Instant access to the full article PDF.
US$ 39.95
Price includes VAT for USA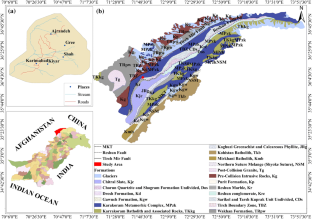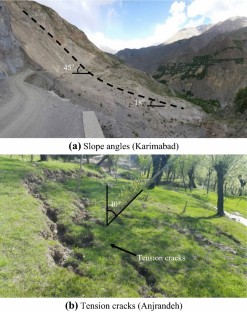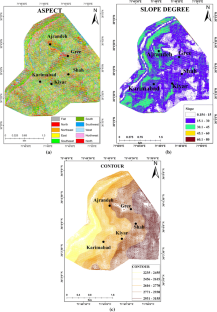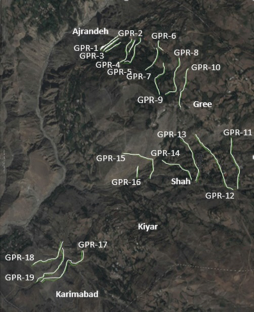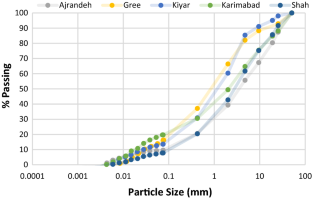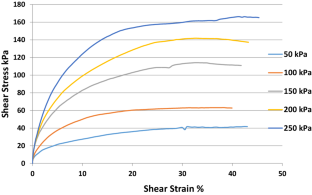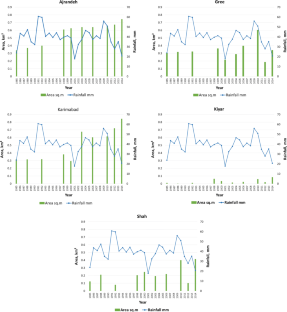 References
1.

Dunning SA, Mitchell WA, Rosser NJ, Petley DN (2007) The Hattian Bala rock avalanche and associated landslides triggered by the Kashmir Earthquake of 8 October 2005. Eng Geol 93:130–144

2.

Farooq SM (2000) Geotechnical study for landslide problems along Murree Muzaffarabad Road Pakistan. PhD Thesis, University of Punjab, Lahore, Pakistan

3.

Flageollet JC, Maquaire O, Martin B, Weber D (1999) Landslides and climatic conditions in the Barcelonnette and Vars basins (Southern French Alps, France). Geomorphology 30:65–78

4.

Hafeez S (2017) Geotechnical evaluation of the effects of climate change on Mayoon Landslide, Hunza-Nagar District, Gilgit-Baltistan and Herth Landslide, Chitral District, Khyber Pakhtunkhwa, Pakistan. Master's thesis, University of Peshawar, Pakistan

5.

Haq EU (2007) Community response to climatic hazards in northern Pakistan. Mt Res Dev 27(4):308–312

6.

Holtz WG, Kovacs WD (1981) An introduction to geotechnical engineering. Prentice-Hall, New Jersey

7.

IUCN (2014) Metallic minerals including precious metals and Gemstones District Chitral Eastern Hindukush, Pakistan—follow-up exploration targets. Directorate General Mines and Minerals Development Department, Khyber Pakhtunkhwa, Pakistan

8.

Kamp U, Growley BJ, Khattak GA, Owen LA (2008) GIS-based landslide susceptibility mapping for the 2005 Kashmir earthquake region. Geomorphology 101:631–642

9.

Kamp U, Haserodt K, Shroder JF (2004) Quaternary landscape evolution in the eastern Hindu Kush, Pakistan. Geomorphology 57:1–27

10.

Khan AM, Haneef M, Khan SA, Tahirkheli T (2013) Debris-flow hazards on tributary junction fans, Chitral, Hindu Kush Range, Northern Pakistan. J Asian Earth Sci 62:720–733

11.

Malet JP, Durand Y, Remaitre A, Maquaire O, Etchevers P, Guyomarch G, Deque M, Van Beek LPH (2007) Assessing the influence of climate change on the activity of landslides in the Ubaye Valley. In: Landslides and climate change–challenges and solutions. Taylor and Francis

12.

Park HJ, Lee JH, Woo IK (2013) Assessment of rainfall-induced shallow landslide susceptibility using a GIS-based probabilistic approach. Eng Geol 161:1–15

13.

Owen LA, Kamp U, Spencer JQ, Haserodt K (2002) Timing and style of Late Quaternary glaciation in the eastern Hindu Kush, Chitral, northern Pakistan: a review and revision of the glacial chronology based on new optically stimulated luminescence dating. Quat Int 97–98:41–55

14.

Searle M, Khan AM, Fraser J, Gough S, Jan QM (1999) The tectonic evolution of the Kohistan-Karakoram collision belt along the Karakoram Highway transect, North Pakistan. Tectonics 18(6):929–949

15.

Sökefeld M (2012) The Attabad landslide and the politics of disaster in Gojal, Gilgit-Baltistan. In: Luig U (ed) Negotiating disasters: politics, representation, meaning. Peter Lang, Frankfurt, pp 175–204

16.

Tariq S, Gomes C (2017) Landslide environment in Pakistan after the earthquake-2005: information revisited to develop safety guidelines for minimizing future impacts. J Geogr Nat Disasters 7(3):1–11

17.

Wasson RJ (1978) A debris flow at Reshūn, Pakistan Hindu Kush. Geogr Ann Ser A Phys Geogr 60(3/4):151–159
Acknowledgements
The authors would like to acknowledge the financial support provided by Focus Humanitarian Assistance Pakistan. Thanks to the National Centre of Excellence in Geology, University of Peshawar, Pakistan, for providing laboratory space and field logistics.
About this article
Cite this article
Hafeez, S., Ahmed, W., Azam, S. et al. Evaluation of landslide hazards at Herth, Chitral, Pakistan. Innov. Infrastruct. Solut. 4, 13 (2019). https://doi.org/10.1007/s41062-019-0197-0
Received:

Accepted:

Published:
Keywords
Landslide hazards

Geology and climate

Site investigations

Geotechnical testing