Abstract
Oil contamination can affect the mechanical and physical properties of soil, making its reuse a challenge. In the present study, the effect of kerosene contamination on two types of poorly graded sand (S1 and S2) was investigated. Geotechnical tests for compaction, direct shear and constant head permeability were conducted. The compaction test revealed that dry density increased at a 3% and 6% kerosene content for S1 and S2 soil, respectively. A further increase in kerosene content caused the dry density to decrease for both S1 and S2. The optimum moisture content of kerosene-contaminated soil samples decreased. The direct shear test showed that kerosene contamination increased cohesion and decreased the internal friction angle and shear strength. The permeability test results indicated that kerosene caused a reduction in the permeability of the soil studied.
This is a preview of subscription content, log in to check access.
Access options
Buy single article
Instant access to the full article PDF.
US$ 39.95
Price includes VAT for USA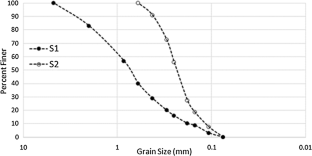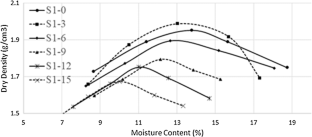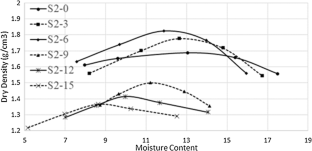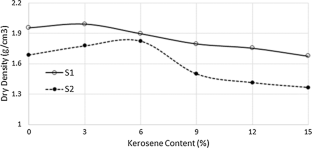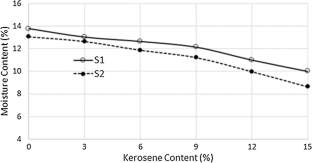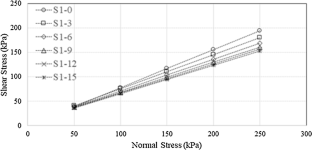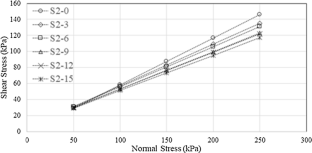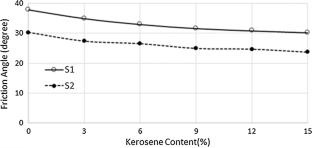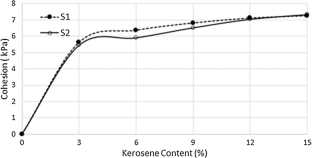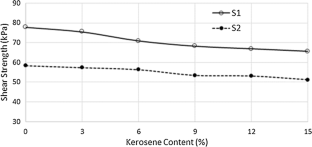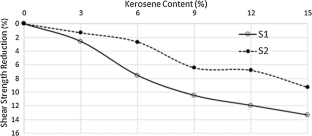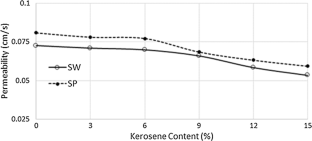 References
1.

Abousnina RM, Manalo A, Shiau J, Lokuge W (2015) Effects of light crude oil contamination on the physical and mechanical properties of fine sand. Soil Sediment Contam Int J 24:833–845

2.

Abousnina RM, Manalo A, Lokuge W, Shiau J (2015) Oil contaminated sand: an emerging and sustainable construction material. Proc Eng 118:1119–1126

3.

Shin EC, Das BM (2000) Some physical properties of unsaturated oil-contaminated sand. Geo-Denver. https://doi.org/10.1061/40510(287)9

4.

Puri VK (2000) Geotechnical aspects of oil-contaminated sands. J Soil Contam 9:359–374

5.

Nazir AK (2011) Effect of motor oil contamination on geotechnical properties of over consolidated clay. Alex Eng J 50:331–335

6.

Khosravi E, Ghasemzadeh H, Sabour MR, Yazdani H (2013) Geotechnical properties of gas oil-contaminated kaolinite. Eng Geol 166:11–16

7.

Nasehi SA, Uromeihy A, Nikudel MR, Morsali A (2015) Influence of gas oil contamination on geotechnical properties of fine and coarse-grained soils. Geotech Geol Eng 34:333–345

8.

Kermani M, Ebadi T (2012) An the effect of oil contamination on the geotechnical properties of fine-grained soils. Soil Sediment Contam 21:655–671

9.

Estabragh AR, Beytolahpour I, Moradi M, Javadi AA (2017) Mechanical behavior of a clay soil contaminated with glycerol and ethanol. Eur J Environ Civ Eng 20:503–519

10.

Safehian H, Rajabi AM, Ghasemzadeh H (2018) Effect of diesel contamination on the geotechnical properties of illite soil. Eng Geol 241:55–63

11.

Al-aghbari M, Dutta R, Mohamedzeini Y (2011) Effect of diesel and gasoline on the properties of sands—a comparative study. Int J Geotech Eng 5:61–68

12.

American Society for Testing and Materials D422 (1999) Standard test method for particle size analysis of soils. Annual Books of ASTM Standards

13.

Budhu M (2010) Soil mechanics and foundations, 3rd edn. Wiley, New York

14.

American Society for Testing and Materials D854 (1999) Standard test method for specific gravity of soils. Annual Books of ASTM Standards

15.

American Society for Testing and Materials D2438-68 (1999) standard test method for permeability of granular soils (constant head). Annual Books of ASTM standards

16.

American Society for Testing and Materials D698 (1999) Standard test method for laboratory compaction characteristic. Annual Books of ASTM Standards

17.

American Society for Testing and Materials D3080 (1999) Standard test method for direct shear test of soils under consolidated drained conditions. Annual Books of ASTM Standards

18.

Farahani MZ, Hamidi A (2015) Consolidation behavior and geotechnical parameters of oil contaminated kaolinite clay. Iran J Pet Geol 4:1–15

19.

American Society for Testing and Materials D2216 -10 (1999) standard test method for laboratory determination of water (moisture) content of soil rock by mass. Annual Books of ASTM Standards

20.

Khamehchiyan M, Charkhabi AH, Tajik M (2007) Effects of crude oil contamination on geotechnical properties of clayey and sandy soils. Eng Geol 89:220–229

21.

AI-Sanad HA, Eid WK, IsmaeI NF (1995) Geotechnical properties of oil contaminated Kuwaiti sand. J Geotech Eng 33:407–412
About this article
Cite this article
Sarmadi, M.S., Zohrevand, P. & Rezaee, M. Effect of kerosene contamination on the physical and mechanical properties of sandy soil. Innov. Infrastruct. Solut. 4, 7 (2019). https://doi.org/10.1007/s41062-019-0196-1
Received:

Accepted:

Published:
Keywords
Kerosene

Sandy soil

Compaction test

Direct shear test

Constant head permeability test