Abstract
Catalysts are the jewel in the crown of the chemical industry, accelerating reaction kinetics and augmenting the efficiency of desired reaction paths. Natural feedstock is a renewable resource capable of providing valuable functional products; in addition, it confers an opportunity to create catalysts. As an alternative to stoichiometric reagents, and as a part of a sustainable approach, the implications of using natural feedstocks as a source of new catalysts has attracted considerable interest. Natural feedstock-derived catalysts can promote chemical transformations more efficiently. Recent reports have highlighted the significant role of these biogenic, cost-effective, innocuous, biodegradable materials as catalysts in many biologically and pharmacologically important protocols. This review outlines the decisive organic transformations for which feedstock-derived catalysts have been employed effectively and successfully, along with their economic and environmental benefits over traditional catalytic systems.
Graphic Abstract

Access options
Buy single article
Instant access to the full article PDF.
USD 39.95
Price excludes VAT (USA)
Tax calculation will be finalised during checkout.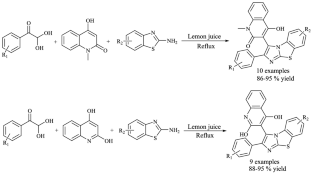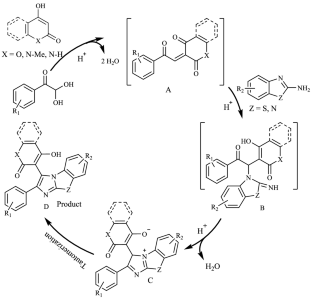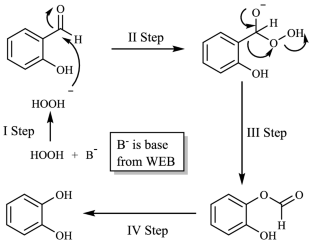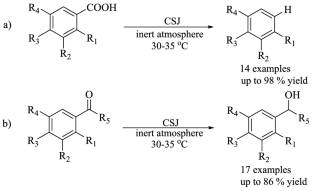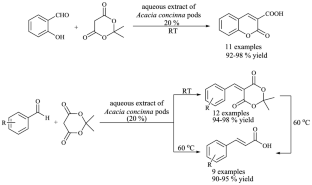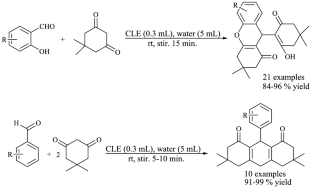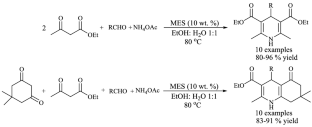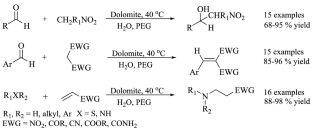 References
Bennett J, Wilson K, Lee AF (2016) J Mater Chem A 4:3617–3637

Gao B, Yu Y, Zhou H, Lu J (2012) Environ Toxic Chem 31:1231–1238

Khaiwal R, Laszlo B, Rene VG (2004) Sci Total Environ 318:1–3

Clare LSW, Fathi Z (2012) Sci Total Environ 407:2493–2500

Hagen J (2015) Industrial Catalysis: A Practical Approach. Wiley-VCH, Weinheim

Joshi SS, Bhatnagar A, Ranade VV (2016) In: Joshi S (ed) Industrial Catalytic Processes for Fine and Specialty Chemicals. Elsevier, Amsterdam

Rajkumari K, Das D, Pathak G, Rokhum L (2019) New J Chem 43:2134–2140

McClellan JE, Dorn H (2006) Science and Technology in World History: An Introduction, 3rd edn. JHU, Maryland

Degryse C (2005) L'économie en 100 et quelques mots d'actualité. 3rd edn. De Boeck, Paris

Mubofu EB, Mgaya JE (2018) Top Curr Chem 376:1–15

Tchibambelela B (2009) Global Hunger Trade: a strategy of positive rupture in Congo-Brazzaville. L'Harmattan, Paris

Scott SA, Davey MP, Dennis JS, Horst I, Howe CJ, Lea-Smith DJ, Smith AG (2010) Curr Opin Biotech 21:277–286

Verser DW, Eggman TJ (2009) US Patent No. US 507562B2

Hossain ABMS, Ibrahim NA, Aleissa MS (2016) Data Brief 8:286–294

Maria RD, Diaz I, Rodriguez M, Saiz A (2013) Int J Chem React Eng 11:469–477

Ukpai PA, Nnabuchi MN (2012) Adv Appl Sci Res 3:1864–1869

Kuhlborn J, Grob J, Opatz T (2019) Nat Prod Rep 37:380–424

Zhan M, Wool RP, Xiao JQ (2011) Compos Part A Appl Sci Manuf 42:229–233

Alcantara R, Amores J, Canoira L, Fidalgo E, Franco MJ, Navarro A (2000) Biomass Bioenerg 18:515–527

Khan MA, Khan T, Ali H (2019) Mater Res 50:1–20

Hulle A, Kadole P, Katkar P (2015) Fibers 3:64–75

Sinclair WB, Eny DM (1945) Bot Gaz 107:231–242

Wu G et al (2018) Nature 554:311–316

Garcia-Salas P et al (2013) Food Chem 141:869–878

He D, Shan Y, Wu Y, Liu G, Chen B, Yao S (2011) Food Chem 127:880–885

Kelebek H, Selli S (2011) J Sci Food Agric 91:1855–1862

Wu GA, Terol J et al (2018) Nature 554:311

Morton J (1987) In: Morton J (ed) Fruits of warm climates. Miami, FL

Economos C, Clay WD (1999) Food Nutr Agric 24:11–18

Abu-Dief AM, Mohamed IMA (2015) Beni-Suef Univ J Basic Appl Sci 4:119–133

Patil SS, Jadhav SD, Patil UP (2012) Arch Appl Sci Res 4:1074–1078

Vekariya RH, Patel KD, Patel HD (2016) Res Chem Intermed 42:7559–7579

Petronijevic J et al (2017) Green Chem 19:707–715

Bhat SI, Choudhury AR, Trivedi DR (2012) RSC Adv 2:10556–10563

Hosseini-Sarvari M, Sharghi H, Etemad S (2007) Chin J Chem 25:1563–1567

Deshmukh MB, Patil SS, Jadhav SD, Pawar PB (2012) Synth Commun 45:1177

Keri RS, Patil MR, Patil SA, Budagumpi S (2015) Eur J Med Chem 89:207–251

Chikhale RV, Pant AM, Menghani SS, Wadibhasme PG, Khedekar PB (2017) Arab J Chem 10:715–725

Patil M, Karhle S, Ubale P, Helavi V (2017) Der Chemica Sinica 8:198–205

Khan MM, Khan S, Saigal SSC (2018) ChemistrySelect 3:1371–1380

Kodape MA, Gawhale ND, Awjare NV (2015) Indian J Chem 54B:671–675

Selvam NP, Perumal PT (2006) Tetrahedron Lett 47:7481–7483

Hajipour AR, Ghayeb Y, Sheikhan N, Ruoho AE (2009) Tetrahedron Lett 50:5649–5651

Kotadia DA, Soni SS (2012) J Mol Catal A 353:44–49

Patil M, Karhle S, Ubale P, Helavi V (2017) Der Pharm Chem 9:28–32

Morbale ST, Jadhav SD, Deshmukh MB, Patil SS (2015) RSC Adv 5:84610–84620

Bakht MA (2015) Bull Environ Pharmacol Life Sci 4:79–85

Saha A, Jana A, Choudhury LH (2018) New J Chem 42:17909–17922

Hafez EAA, Elnagdi MH, Elagamey AGA, El-Taweel FMAA (1987) Heterocycles 26:903–907

Sofan MA, El-Taweel FM, Elagamey AGA, Elnagdi MH (1989) Liebigs Ann Chem 9:935–936

Bonsignore L, Loy G, Secci D, Calignano A (1993) Eur J Med Chem 28:517–520

Bhosale HD et al (2018) Eur Chem Bull 7:120–122

Britannica, T. Editors of Encyclopaedia (2020). Banana. Encyclopedia Britannica. https://www.britannica.com/plant/banana-plant. Accessed 31 May 2021

Nayar NM (2010) In Janick J (ed) Horticultural Reviews, vol 36. Wiley-Blackwell, Hoboken, NJ

Netshiheni RK et al (2019) In: Jideani AIO (ed) Banana Bioactives: Absorption, Utilization and Health Benefits. https://doi.org/10.5772/intechopen.83369

Cheesman EE (1948) Kew Bull 3:145–153

Voora V et al (2020) In: Balino S (ed) Global Market Report: Bananas. International Institute for Sustainable Development, Canada

Archibald JG (1949) J Dairy Sci 32:969–971

Sarma AK et al (2014) Catal Lett 144:1344–1353

Ho LH et al (2012) Int Food Res J 19:1479–1485

Pathak S, Deka DC (2016) J Chem Pharm Res 8:486–491

Basumatary S (2015) Int J Chem Tech Res 7:2265–2271

Fan M et al (2019) Green Energy Environ 4:322–327

Morais DR et al (2017) J Braz Chem Soc 28:308–318

Anhwange BA (2008) J Food Technol 6:263–266

Dakin HD (1909) Am Chem J 42:477–498

Saikia B, Borah P, Barua NC (2015) Green Chem 17:4533–4536

Miyaura N, Yamada K, Suzuki A (1979) Tetrahedron Lett 20:3437–3440

Kotha S, Lahiri K, Dhurke K (2002) Tetrahedron 58:9633–9695

Boruah PR, Ali AA, Saikia B, Sarma D (2015) Green Chem 17:1442–1445

Henry L (1895) C R Chim 120:1265–1268

Ono N (2001) The nitro group in organic synthesis. Wiley-VCH, New York

Surneni N, Barua NC, Saikia B (2016) Tetrahedron Lett 2814–2817

Marinkovic DM et al (2016) Renew Sustain Energy Rev 56:1387–1408

Pathak G, Rajkumari K, Rokhum L (2019) Nanoscale Adv 1:1013–1020

Betiku E, Mistura-Akintunde A, Ojumu V (2016) Energy 103:797–806

Rajkumari K, Rokhum L (2020) Biomass Conv Bioref 10:839–848

Dwivedi KD, Borah B, Chowhan LR (2020) Front Chem 7:944

Bagul SD, Rajput JD, Bendre RS (2017) Environ Chem Lett 15:725–731

Saikia B (2008) Lett Org Chem 15:503–507

Sangeetha M, Rajendran S, Sathiyabama J, Prabhakar P (2012) J Nat Prod Plant Resour 2:601–610

Allahi A, Akhlaghinia B (2020) Phosphorus Sulfur Silicon Relat Elem 196:328–336. https://doi.org/10.1080/10426507.2020.1835905

Kantharaju K, Hiremath PB, Khatavi SY (2019) Indian J Chem 58B:706–713

Yong JWH, Ge L, Ng YF, Tan SN (2009) Molecules 14:5144–5164

Fonseca AM, Monte FJQ, Oliveira MCF, Mattos MC, Cordell GA, Braz-Filho R, Lemos TLG (2009) J Mol Catal B: Enzymatic 57:78–82

Pore S, Rashinkar G, Mote K, Salunkhe R (2010) Chem Biodivers 7:1796–1800

Mote K, Pore S, Rashinkar G, Kamble S, Kumbhar A, Salunkhe R (2010) Arch Appl Sci Res 2:74–80

Patil SS, Jadhav SD, Mane SY (2011) Inter J Org Chem 1:125–131

Losfeld G et al (2012) Green Chem Lett Rev 5:451–456

Leyva E et al (2012) Rev Latinoam Quim 40:140–147

Sarmah M, Diwan A, Mondal M, Thakur AJ, Bora U (2016) RSC Adv 6:28981–28985

Patil UP, Patil RC, Patil SS (2019) J Hetero Chem 56:1898–1913

Maity HS, Misra K, Mahata T, Nag A (2016) RSC Adv 6:24446–24450

Patil RC, Patil UP, Jagdale AA, Shinde SK, Patil SS (2020) Res Chem Intermed 46:3527–3543

Pal R (2014) Indian J Chem 53B:763–768

Howden AJM, Preston GM (2009) Microb Biotechnol 2:441–451

Thimann KV, Mahadevan S (1964) Arch Biochem Biophys 105:133–141

DeSantis et al (2002) J Am Chem Soc 124:9024

Taghavi F, Gholizadeh M, Saljooghi AS, Ramezani M (2016) RSC Adv 6:87082–87087

Adrom B, Maghsoodlou MT, Lashkari M, Hazeri N, Doostmohammadi R (2016) Syn React Inorg Metaorg Nanometal Chem 46:423–427

Shinde S, Damate S, Morbale S, Patil M, Patil SS (2017) RSC Adv 7:7315

Chavan HV, Bandgar BP (2013) Sustain Chem Eng 1:929–936

Nazeruddin GM, Shaikh YI (2014) Der Pharmacia Sinica 5:64–68

Jadhav GD et al (2020) Curr Organocatal 7:140–148

Mali S, Shinde S, Damte S, Patil SS (2018) R Soc Open Sci 5:170333

Ohwaki Y, Hirata H (2012) Soil Sci Plant Nutr 38:235–243

Patil UP, Patil RC, Patil SS (2021) Org Prep Proced Int 53:190–199

Clark J, Deswarte F (2015) Introduction to chemicals from biomass. Wiley, Oxford, UK

Rascio N, Navari-Izzo F (2011) Plant Sci 180:169–181

Zeng Q, Chen R, Zhao X, Wang H, Shen R (2011) Pedosphere 21:358–364

McCutcheon SC, Schnoor JL (2003) Phytoremediation: transformation and control of contaminants. Wiley, Hoboken, NJ

Haverkamp RG, Marshall AT, Agterveld D (2007) J Nanopart Res 9:697–700

Watanabe T, Osaki M, Yoshihara T, Tadano T (1998) Plant Soil 201:165–173

Escande V, Olszewski TK, Grison C (2014) C R Chim 17:731–737

Losfeld G et al (2012) Catal Today 189:111–116

Viriya-empikul N et al (2010) Bioresour Technol 101:3765–3767

Obadiah A, Swaroopa GA, Kumar SV, Jeganathan KR, Ramasubbu A (2012) Bioresour Technol 116:512–516

Kracke F, Wong AB, Maegaard K, Deutzmann JS, Hubert MA, Hahn C, Jaramillo TF, Spormann AM (2019) Commun Chem 2:45

Patil SS, Jadhav SD, Deshmukh MB (2013) J Chem Sci 125:851–857

Konwar M, Chetia M, Sharma D (2019) Topic Curr Chem 377:6

Morbale ST, Shinde SK, Jadhav SD, Deshmukh MB, Patil SS (2015) Der Pharm Lett 7:169–182

Patil UP, Patil RC, Patil SS (2020) Reac Kinet Mech Cat 129:679–691

Taleb MA et al (2016) J Mater Environ Sci 7:4580–4588

Ding X, Zhang X, Dong C, Guan Z, He YH (2018) Catal Lett 148:757–763

Li Z, Hong H, Lv G (2015) Adv Mater Sci Eng 1–2

Rosas-Hernandez A, Steinlechner C, Junge H et al (2018) Top Curr Chem 376:1

Carney JR, Dillon BR, Thomas SP (2016) Eur J Org Chem 23:3912–3931

Dhakshinamoorthy A, Pitchumani K (2005) Appl Catal A Gen 292:305

Tamaddon F, Tayefi M, Hosseini EH, Zare E (2013) J Mol Catal A Chem 366:36–42

The known unknowns of plastic pollution. The Economist (2018) https://www.economist.com/international/2018/03/03/the-known-unknowns-of-plastic-pollution

Mathieu-Denoncourt J, Wallace SJ, Solla SR, Langlois VS (2015) Gen Comp Endocrinol 219:74–88

Lopez A, Marco L, Caballero BM, Laresgoiti MF, Adrados A, Aranzabal A (2011) Appl Catal B-Environ 104:211–219

Liu Q, Xin R, Li C, Xu C, Yang J (2013) J Environ Sci 25:823–829

Dar BA, Mohasin M, Basit A, Farooqui M (2013) J Saudi Chem Soci 17:177–180

Sheikhhosseini E et al (2016) Iran J Chem Chem Eng 35:43–50

Wada S, Suzuki H (2003) Tetrahedron Lett 44:399–401
Ethics declarations
Conflict of interest
The authors declare no conflict of interest.
Consent for publication
All authors approved the manuscript.
Additional information
Publisher's Note
Springer Nature remains neutral with regard to jurisdictional claims in published maps and institutional affiliations.
Supplementary Information
Below is the link to the electronic supplementary material.
About this article
Cite this article
Patil, U.P., Patil, S.S. Natural Feedstock in Catalysis: A Sustainable Route Towards Organic Transformations. Top Curr Chem (Z) 379, 36 (2021). https://doi.org/10.1007/s41061-021-00346-6
Received:

Accepted:

Published:

DOI: https://doi.org/10.1007/s41061-021-00346-6
Keywords