Systematic Review on Cytotoxic and Anticancer Potential of N-Substituted Isatins as Novel Class of Compounds Useful in Multidrug-Resistant Cancer Therapy: In Silico and In Vitro Analysis
Abstract
As the emergence of resistance to clinical cancer treatments poses a significant problem in cancer management, there is a constant need to explore novel anticancer agents which have the ability to overcome multidrug resistance (MDR) mechanisms. The search for the development of novel isatin-based antitumor agents accelerated after the approval by the Food and Drug Administration (FDA) of sunitinib malate, a C-3 isatin derivative, as a multitargeted receptor tyrosine kinase inhibitor. However, it is interesting to note that, over the last decade, various N-substituted analogs of isatin with intact carbonyl functionalities have been found to show more promising anticancer potential than its C-3 derivatives. Microtubule-targeting agents are a class of anticancer drugs which affect mitosis by targeting microtubules and suppressing their dynamic behavior. This review presents a systematic compilation of the in vitro cytotoxic and anticancer properties of various N-substituted isatins and illustrates their mechanism of action to overcome MDR by acting as microtubule-destabilizing agents. Predictions of the biological activities and cytotoxic effects of potential N-substituted isatins against various cancer cell lines have also been performed using the PASS computer-aided drug discovery program. Findings from such in vitro and in silico studies will act as a guide for the development of structure–activity relationship and will facilitate the design and exploration of more potent analogs of isatin with high potency and lower side effects for treatment of drug-resistant cancer.
Graphical Abstract
Mechanism of action of
N
-substituted isatin as microtubule-destabilizing agent on tumor cells.
N
-Substituted isatins bind to colchicine binding site on β-tubulin, which inhibits microtubule polymerization and thereby destabilizes microtubule dynamics, resulting in mitotic arrest leading to tumor cell growth suppression.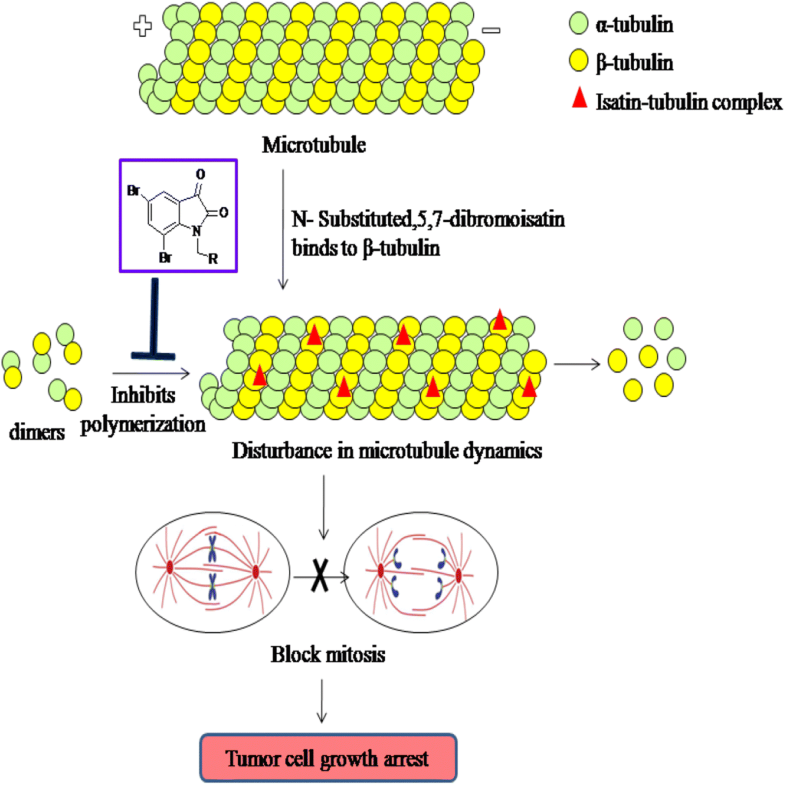 Keywords
N-Substituted isatins 
Multidrug resistance 
Microtubule 
Anticancer 
Notes
Acknowledgements
A.K.G. acknowledges the Department of Science and Technology (SR/WOS-A/CS-26/2014) for financial support under the Women Scientist Project Scheme (WOS-A).
Compliance with Ethical Standards
Conflict of Interest
Authors Alpana K. Gupta, Mausumi Bharadwaj, Sonam Tulsyan, and Ravi Mehrotra declare that they have no conflicts of interest.
Copyright information
© Springer Nature Switzerland AG 2019