Abstract
P(O)–X (X = S, N, O, P) bond-containing compounds have extensive application in medicinal chemistry, agrochemistry, and material chemistry. These useful organophosphorus compounds also have many applications in organic synthesis. In light of the importance of titled compounds, there is continuing interest in the development of synthetic methods for P(O)–X bonds construction. In the last 4 years, the direct coupling reaction of P(O)–H compounds with thiols, alcohols, and amines/amides has received much attention because of the atom-economic character. This review aims to give an overview of new developments in cross-dehydrogenative coupling reactions between P(O)–H and X–H (X = S, N, O, P) bonds, with special emphasis on the mechanistic aspects of the reactions.
This is a preview of subscription content, log in to check access.
Access options
Buy single article
Instant access to the full article PDF.
US$ 39.95
Price includes VAT for USA
Subscribe to journal
Immediate online access to all issues from 2019. Subscription will auto renew annually.
US$ 199
This is the net price. Taxes to be calculated in checkout.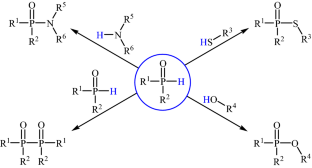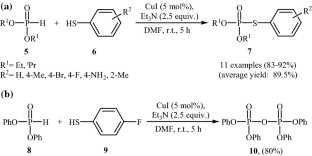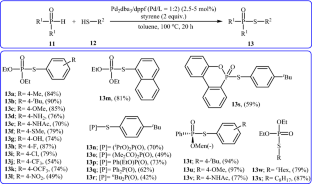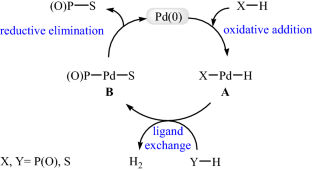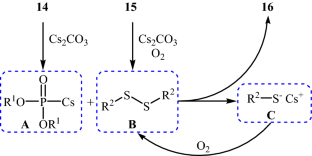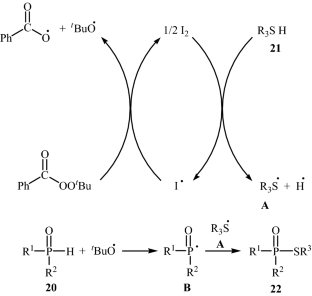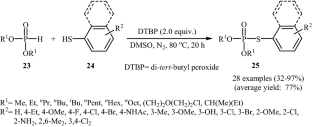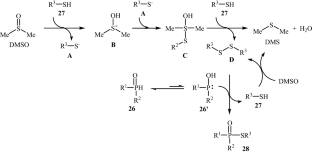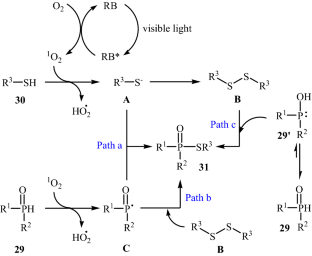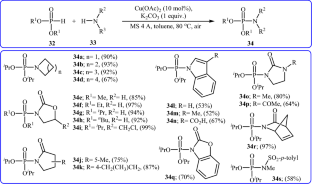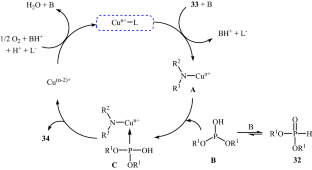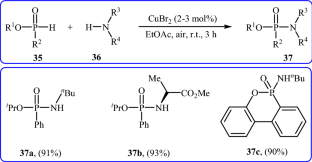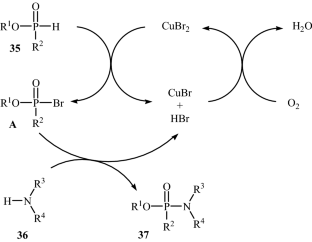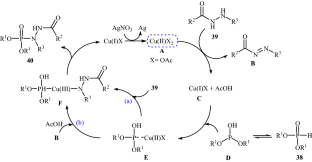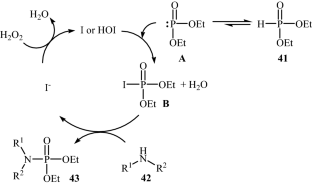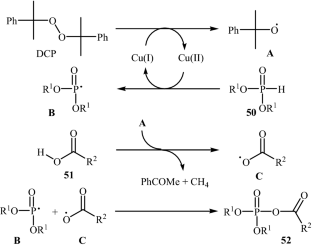 References
1.

Yudelevich V, Komarov E, Ionin B (1985) Pharm Chem J 19:382

2.

Levchik SV, Weil ED (2006) J Fire Sci 24:345

3.

Johnson DW, Hils JE (2013) Lubricants 1:132

4.

Nifantiev EE, Grachev MK, Burmistrov SY (2000) Chem Rev 100:3755

5.

Kouvaris JR, Kouloulias VE, Vlahos LJ (2007) Oncologist 12:738

6.

Becker B, Gage T (1960) Arch Ophthalmol 63:102

7.

Aapro M, Carides A, Rapoport BL, Schmoll H-J, Zhang L, Warr D (2015) Oncologist 20:450

8.

Hadziyannis SJ, Tassopoulos NC, Heathcote EJ, Chang TT, Kitis G, Rizzetto M, Marcellin P, Lim SG, Goodman Z, Ma J (2006) Gastroenterology 131:1743

9.

Au-Yeung T-L, Chan K-Y, Chan W-K, Haynes RK, Williams ID, Yeung LL (2001) Tetrahedron Lett 42:453

10.

Timperley CM, Saunders SA, Szpalek J, Waters MJ (2003) J Fluor Chem 119:161

11.

Zhou Y, Wang G, Saga Y, Shen R, Goto M, Zhao Y, Han L-B (2010) J Org Chem 75:7924

12.

Le Corre SS, Berchel M, Couthon-Gourvès H, Haelters J-P, Jaffrès P-A (2014) Beilstein J Org Chem 10:1166

13.

Han F-S (2013) Chem Soc Rev 42:5270

14.

Yi H, Zhang G, Wang H, Huang Z, Wang J, Singh AK, Lei A (2017) Chem Rev 117:9016

15.

Lakshman MK, Vuram PK (2017) Chem Sci 8:5845

16.

Ruiz-Castillo P, Buchwald SL (2016) Chem Rev 116:12564

17.

Beletskaya IP, Ananikov VP (2011) Chem Rev 111:1596

18.

Abdoli M, Mirjafary Z, Saeidian H, Kakanejadifard A (2015) RSC Adv 5:44371

19.

Vessally E, Didehban K, Hosseinian A, Edjlali L, Khosroshahi ES (2018) RSC Adv 8:291

20.

Vessally E, Didehban K, Mohammadi R, Hosseinian A, Babazadeh M (2018) J Sulfur Chem. https://doi.org/10.1080/17415993.2018.1436711

21.

Vessally E, Mohammadi R, Hosseinian A, Didehban K, Edjlali L (2018) J Sulfur Chem. https://doi.org/10.1080/17415993.2018.1436712

22.

Yu T-Q, Hou Y-S, Jiang Y, Xu W-X, Shi T, Wu X, Zhang J-C, He D, Wang Z (2017) Tetrahedron Lett 58:2084

23.

Zhu M, Wei W, Yang D, Cui H, Wang L, Meng G, Wang H (2017) Org Biomol Chem 15:4789

24.

Girard SA, Knauber T, Li CJ (2014) Angew Chem Int Ed 53:74

25.

Lv L, Li Z (2016) Top Curr Chem 374:1

26.

Chen T, Zhang J-S, Han L-B (2016) Dalton Trans 45:1843

27.

Kaboudin B, Abedi Y, Kato J-y, Yokomatsu T (2013) Synthesis 45:2323

28.

Zhu Y, Chen T, Li S, Shimada S, Han L-B (2016) J Am Chem Soc 138:5825

29.

Song S, Zhang Y, Yeerlan A, Zhu B, Liu J, Jiao N (2017) Angew Chem Int Ed 56:2487

30.

He W, Hou X, Li X, Song L, Yu Q, Wang Z (2017) Tetrahedron 73:3133

31.

Wang J, Huang X, Ni Z, Wang S, Wu J, Pan Y (2015) Green Chem 17:314

32.

Wang J, Huang X, Ni Z, Wang S, Pan Y, Wu J (2015) Tetrahedron 71:7853

33.

Sun J-G, Weng W-Z, Li P, Zhang B (2017) Green Chem 19:1128

34.

Sun J-G, Yang H, Li P, Zhang B (2016) Org Lett 18:5114

35.

Jin X, Yamaguchi K, Mizuno N (2013) Org Lett 15:418

36.

Wang G, Yu Q-Y, Chen S-Y, Yu X-Q (2013) Tetrahedron Lett 54:6230

37.

Fraser J, Wilson LJ, Blundell RK, Hayes CJ (2013) Chem Comm 49:8919

38.

Zhou Y, Yang J, Chen T, Yin S-F, Han D, Han L-B (2013) Bull Chem Soc Jpn 87:400

39.

Zhang J-Q, Xiong Y-S, Chan AS, Lu G (2016) RSC Adv 6:84587

40.

Dhineshkumar J, Prabhu KR (2013) Org Lett 15:6062

41.

Dar BA, Dangroo NA, Gupta A, Wali A, Khuroo MA, Vishwakarma RA, Singh B (2014) Tetrahedron Lett 55:1544

42.

Meazza M, Kowalczuk A, Shirley L, Yang JW, Guo H, Rios R (2016) Adv Synth Catal 358:719

43.

Li C, Chen T, Han L-B (2016) Dalton Trans 45:14893

44.

Fu H, Yang T, Shang J-Q, Zhou J-L, Sun M, Li Y-M (2017) Org Chem Front 4:1777

45.

Zhou Y, Yin S, Gao Y, Zhao Y, Goto M, Han LB (2010) Angew Chem Int Ed 49:6852
Acknowledgements
The authors wish to acknowledge Dr. Khadijeh Didehban and Azam Monfared for their suitable comments on our paper.
About this article
Cite this article
Hosseinian, A., Farshbaf, S., Fekri, L.Z. et al. Cross-Dehydrogenative Coupling Reactions Between P(O)–H and X–H (X = S, N, O, P) Bonds. Top Curr Chem (Z) 376, 23 (2018). https://doi.org/10.1007/s41061-018-0200-9
Received:

Accepted:

Published:
Keywords
Cross-dehydrogenative couplings

Phosphorylation

P(O)–H bond

P(O)–S bond

P(O)–O bond

P(O)–S bond

P(O)–P(O) bond