Abstract
This paper revitalizes the debate of an ethics of contemporary famine. Famine constitutes a distinct development challenge that has only received moderate public and academic attention. Singer's Famine Relief Argument from 1972 emphasizing a strong obligation of charitable benevolence towards victims of famine, for example, continues to constitute the dominant ethical principle of famine. The paper argues this revisionary principle still constitutes a strong and convincing ethical argument. However, the dynamics of contemporary famine makes it necessary to expand this ethical obligation outside the realm of pure philanthropy. Concretely, the paper argues for the obligation of criminalizing famine and prosecuting the perpetrators of famine that have either callously allowed famine to unfold or have intentionally created and exacerbated the conditions for famine. While such an obligation is not void of ethical dilemmas, a famine ethics relying on obligations of charity as well as obligations of criminal prosecution constitutes a superior ethical principle for the alleviation of famine.
This is a preview of subscription content, log in to check access.
Access options
Buy single article
Instant access to the full article PDF.
US$ 39.95
Tax calculation will be finalised during checkout.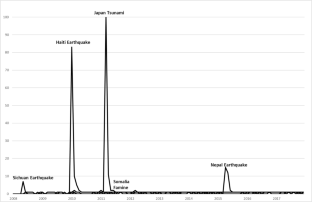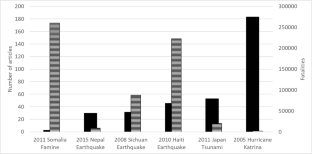 Notes
1.

The data does not distinguish between singular/plural or the chronology of words. Restricting the sample to news searches produces a similar outcome but with fewer observations. The use of English search terms, although a potential source for bias, cannot be responsible for the marked difference between famine and other types of disasters.

2.

In the period after Singer's influential article in 1972, only 19 articles in the Ethics category of the Web of Science's database mentioned "Famine Relief Argument" or just "famine" in the abstract/title/or the author keywords (if no author keywords were available, KeyWord Plus was applied). The impact of these articles appears limited. While Singer's article has been cited 954 times (as of July 24, 2019), the average number of citations for the subsequent 19 articles was three.

3.

Naturally, these two categories do not cover all ethical objections that been waged against Singer's principle. Hardin (1974) argued that Singer's principle was downright immoral because it would lead to overpopulation and thus greater suffering. Kekes (2002) argued against the principle along the same lines by arguing that impoverished families are responsible for their own plight, as they should have realized the easily foreseeable consequences of having more children. Lastly, Jamieson (2005) rendered Singer's principle invalid due to a long litany of flaws with development aid and humanitarian interventions.

4.

5.

Thanks to an anonymous reviewer on a previous version of a related manuscript for this argument.
References
Aloyo, E. 2013. Improving global accountability: The ICC and nonviolent crimes against humanity. Global Constitutionalism 2 (3): 498–530.

Appel, B. 2018. In the shadow of the international criminal court does the ICC deter human rights violations? Journal of Conflict Resolution 62 (1): 3–28.

Banik, D. 2010. Poverty and elusive development. Oslo: Universitetsforlaget.

Banik, D. 2016. The hungry nation: Food policy and food politics in India. Food Ethics 1 (1): 29–45.

Boin, A., P. Hart, E. Stern, and B. Sundelius. 2005. The politics of crisis management: Public leadership under pressure. Cambridge: Cambridge University Press.

Burchi, F. 2011. Democracy, institutions and famines in developing and emerging countries. Canadian Journal of Development Studies 32 (1): 17–31.

Checchi, F. and W. Robinson 2013. Mortality among populations of southern and Central Somalia affected by severe food insecurity and famine during 2010–2012. Rome and Washington D.C. http://www.fews.net/sites/default/files/documents/reports/Somalia_Mortality_Estimates_Final_Report_1May2013_upload.pdf. Accessed July 24, 2019.

Cullity, G. 2004. The moral demands of affluence. Oxford: Oxford University Press.

Currie, B. 2000. The politics of hunger in India. London: Palgrave Macmillan.

De Waal, A. 1993. War and famine in Africa. IDS Bulletin 24 (4): 33–40.

De Waal, A. 1997. Famine Crimes. London: Villiers Publications.

De Waal, A. 2018. Mass starvation: The history and future of famine. Cambridge: Polity.

DeFalco, R. 2011. Accounting for famine at the extraordinary chamber in the courts of Cambodia: The crimes against humanity of extermination, inhumane acts and persecution. The International Journal of Transitional Justice 5: 142–158.

DeFalco, R. 2016. Conceptualizing famine as a subject of international criminal justice: Towards a modality-based approach. University of Pennsylvania Journal of International Law 38 (1): 1113–1187.

Devereux, S., ed. 2007. The new famines: Why famines persist in an era of globalization. Abingdon: Routledge.

Duthie, R. 2014. Transitional justice, development, and economic violence. In Justice and economic violence in transition, ed. Dustin Sharp, 165–201. New York: Springer.

Economist. 2017. Charting the news of: 2017 https://www.economist.com/news/christmas-specials/21732709-years-events-most-grabbed-worlds-attention-charting-news-2017. Accessed July 24, 2019.

Edkins, J. 2007. The criminalization of mass starvations: From natural disaster to crime against humanity. In The new famines, ed. Stephen Devereux, 50–66. Abingdon: Routledge.

EM-DAT. 2019. The international disaster database. http://www.emdat.be/. Accessed July 24, 2019.

FAO, IFAD, UNICEF, WFP and WHO. 2017. The state of food security and nutrition in the world 2017. Rome. http://www.fao.org/3/a-I7695e.pdf. Accessed July 24, 2019.

FAO, IFAD, UNICEF, WFP and WHO. 2019. The state of food security and nutrition in the world 2019. Rome. http://www.fao.org/3/ca5162en/ca5162en.pdf . Accessed July 24, 2019.

Fergusson, J. 2013. The World's most dangerous place – inside the outlaw state of Somalia. London: Black Swan Publishing.

Ferris, E. and D. Petz. 2012. The year that shook the rich – A review of natural disasters in 2011. https://www.brookings.edu/wp-content/uploads/2016/06/03_natural_disaster_review_ferris.pdf. Accessed July 24, 2019.

Flores, A., and A. Smith. 2013. Leader survival and natural disasters. British Journal of Political Science 43 (4): 821–843.

Forbes. 2018. The World's billionaires. https://www.forbes.com/billionaires/list/. Accessed July 24, 2019.

Goodin, R. 1988. What is so special about our fellow countrymen? Ethics 98 (4): 663–686.

Google. 2018. Google trends. https://trends.google.com/trends/. Accessed July 4, 2018.

Haggard, S., and N. Noland. 2007. Famine in North Korea. New York: Columbia University Press.

Hardin, G. 1974. Living on a lifeboat. Bioscience 24 (10): 561–568.

Heaton, L. 2012. Somalia famine relief: A view from Mogadishu. https://enoughproject.org/files/somalia-famine-relief-view-mogadishu.pdf. Accessed July 24, 2019.

Howard-Hassmann, R. 2005. Genocide and state-induced famine: Global ethics and Western responsibility for mass atrocities in Africa. Perspectives on Global Development and Technology 4 (3–4): 487–516.

Howard-Hassmann, R. 2016. State food crimes. Cambridge: Cambridge University Press.

Howe, P. 2018. Famine systems: A new model for understanding the development of famines. World Development 105: 144–155.

Howe, P., and S. Devereux. 2004. Famine intensity and magnitude scales: A proposal for an instrumental definition of famine. Disasters 28 (4): 353–372.

Integrated Phase Classification (IPC). 2012. Integrated food security phase classification: Technical manual version: 2.0. Retrieved from http://www.ipcinfo.org/fileadmin/user_upload/ipcinfo/docs/IPC-Manual-2-Interactive.pdf Accessed July 24, 2019.

International Criminal Court. 1998. Rome statute of the international criminal court. Rome: ICC http://www.icc-cpi.int/NR/rdonlyres/ADD16852-AEE9-4757-ABE7-9CDC7CF02886/283503/RomeStatutEng1.pdf. Accessed July 24, 2019.

Jackson, A., and A. Aynte. 2013. Talking to the other side. HPG working paper. http://www.refworld.org/pdfid/5346928c4.pdf. Accessed July 24, 2019.

James, S. 2007. Good samaritans, good humanitarians. Journal of Applied Philosophy 24 (3): 238–254.

Jamieson, D. 2005. Duties to the distant: Aid, assistance, and intervention in the developing world. The Journal of Ethics 9 (1–2): 151–170.

Jo, H., and B. Simmons. 2016. Can the international criminal court deter atrocity? International Organization 70 (03): 443–475.

Kahn, M. 2005. The death toll from natural disasters: The role of income, geography, and institutions. The Review of Economics and Statistics 87 (2): 271–284.

Kearney, D. 2013. Food deprivations as crimes against humanity. New York University Journal of International Law and Politics 46: 253–289.

Keen, D. 1994. The benefits of famine. Princeton: Princeton University Press.

Kekes, J. 2002. On the supposed obligation to relieve famine. Philosophy 77 (4): 502–517.

Kuper, A. 2002. More than charity: Cosmopolitan alternatives to the 'singer solution'. Ethics & International Affairs 16 (2): 107–120.

MacAskill, W., A. Mogensen, and T. Ord. 2018. Giving isn't demanding. In The ethics of giving: Philosophers' perspectives on philanthropy, ed. Paul Woodruff, 178–201. Oxford: Oxford University Press.

Malk, B.Y. 2017. State-induced famine in Eritrea: Persecution and crime against humanity. Journal of Politics and Law 10 (4): 1–14.

Marcus, D. 2003. Famine crimes in international law. The American Journal of International Law 97: 245–281.

Martins, J., M. Toledo Florêncio, P. Grillo, P. Franco M. Do Carmo, A. Martins, G. Clemente, C. Santos, M. Vieira, and L. Sawaya. 2011. Long-lasting effects of undernutrition. International Journal of Environmental Research and Public Health 8 (6): 1817–1846.

Maxwell, D., and M. Fitzpatrick. 2012. The 2011 Somalia famine: Context, causes and complications. Global Food Security 1 (1): 5–12.

Maxwell, D., and N. Majid. 2016. Famine in Somalia. London: Hurst & Company.

Mercy Corps. 2017. Quick facts: What you need to know about famine. https://reliefweb.int/report/world/quick-facts-what-you-need-know-about-famine. Accessed July 24, 2019.

Miller, D. 2007. National Responsibility and global justice. Oxford: Oxford University Press.

Niang, M. 2017. Africa and the legitimacy of the ICC in question. International Criminal Law Review 17 (4): 615–624.

OCHA. 2011. Humanitarian funding analysis for Somalia - drought and famine scale-up. Available at: http://reliefweb.int/sites/reliefweb.int/files/resources/Full_report_229.pdf. Accessed July 24, 2019.

Ó Gráda, C. 2009. Famine – A short history. New Jersey: Princeton University Press.

Otteson, J. 2000. Limits on our obligation to give. Public Affairs Quarterly 14 (3): 183–203.

Plümper, T., and E. Neumayer. 2009. Famine mortality, rational political inactivity, and international food aid. World Development 37 (1): 50–61.

Rachels, S. 2014. The immorality of having children. Ethical Theory and Moral Practice 17 (3): 567–582.

Roach, S.C. 2016. Why moral commitments matter: Mapping the ethics and politics of responsible and accountable global governance. Cambridge Review of International Affairs 29 (1): 309–326.

Rubin, O. 2009a. The merits of democracy in famine protection - fact or fallacy? European Journal of Development Research 21: 699–717.

Rubin, O. 2009b. The Niger famine: A collapse of entitlements and democratic responsiveness. Journal of Asian and African Studies 44 (3): 279–298.

Rubin, O. 2019. The precarious state of famine research. The Journal of Development Studies 55 (8): 1633–1653.

Sankey, D. 2014. Towards recognition of subsistence harms: Reassessing approaches to socioeconomic forms of violence in transitional justice. The International Journal of Transitional Justice 8: 121–140.

Seipel, P. 2016. Philosophy, famine relief, and the skeptical challenge from disagreement. Ratio 29 (1): 89–105.

Sen, A. 1981. Poverty and famines. Oxford: Oxford University Press.

Sen, A. 1995. Nobody need starve. In Granta 52: Food - the vital stuff, ed. G. Swift, J.M. Coetzee, and J. Lanchester, 213–220. Penguin: London.

Sen, A. 1999. Development as freedom. New York: Knopf.

Singer, P. 1972. Famine, affluence, and morality. Philosophy and Public Affairs 1 (3): 229–243.

Singer, P. 2007. Review essay on the moral demands of affluence. Philosophy and Phenomenological Research 85: 475–483.

Singer, P. 2009. The life you can save. London: Picador.

Small, D., G. Loewenstein, and P. Slovic. 2007. Sympathy and callousness: The impact of deliberative thought on donations to identifiable and statistical victims. Organizational Behavior and Human Decision Processes 102: 143–153.

Sumner, A. 2012. Where do the poor live? World Development 40 (5): 865–877.

Swanton, C. 2009. Virtue ethics and the problem of demandingness. In The problem of moral demandingness, ed. Timothy Chappell, 104–123. Hampshire: Palgrave MacMillan.

Thompson, P.B. 2010. Food aid and the famine relief argument (brief return). Journal of Agricultural and Environmental Ethics 23 (3): 209–227.

Timmerman, T. 2015. Sometimes there is nothing wrong with letting a child drown. Analysis 75 (2): 204–212.

Timmerman, T. 2018. Save (some of) the children. Philosophia 46 (2): 465–472.

U.S. Mission to the UN Agencies in Rome. 2017. 20 Million people in four countries face famine. https://usunrome.usmission.gov/mission/20-million-people-four-countries-face-famine/. Accessed July 24, 2019.

UN Human Rights Council. 2014. Report of the detailed findings of the commission of inquiry on human rights in the Democratic People's Republic of Korea. http://www.ohchr.org/EN/HRBodies/HRC/CoIDPRK/Pages/CommissionInquiryonHR inDPRK.aspx. Accessed July 24, 2019.

UN NEWS. 2017. Famine declared in region of South Sudan. http://www.un.org/apps/news/story.asp?NewsID=56205#.Wak7wMhJa70. Accessed July 24, 2019.

UNDP. 2018. Zero hunger. http://www.undp.org/content/undp/en/home/sustainable-development-goals/goal-2-zero-hunger.html. Accessed July 24, 2019.

Unger, P. 1996. Living high and letting die: Our illusion of innocence. Oxford: Oxford University Press.

Web of Science. 2019. The social sciences citation index and the arts & humanities citation index. https://webofknowledge.com. Accessed July 24, 2019.

World Development Indicators. 2018. https://data.worldbank.org/indicator/sn.itk.defc.zs, Accessed August 6, 2018.

World Food Programme. 2018. Fighting famine. http://www1.wfp.org/fighting-famine. Accessed July 24, 2019.
Acknowledgements
I am grateful to Howard-Hassmann for detailed comments on an earlier draft of this paper.
Ethics declarations
Conflict of Interest
The corresponding author states that there is no conflict of interest.
Additional information
Publisher's Note
Springer Nature remains neutral with regard to jurisdictional claims in published maps and institutional affiliations.
About this article
Cite this article
Rubin, O. Famine Ethics. Food ethics 4, 123–138 (2019). https://doi.org/10.1007/s41055-019-00047-3
Accepted:

Published:

Issue Date:
Keywords
Famine relief argument

Philanthropy

Famine attention

Famine criminalization

ICC